Travel to Vietnam but do not know the current period where is at the right time with the weather and has the most beautiful natural scenery? You do not want to be disappointed when traveling excitedly to one place in your Vietnam vacation but the weather is raining or the scene is not as expected? Then, keep this article as your essential guide because we have noted all the beautiful times of all the tourist attractions in Vietnam, from North to South during 12 months.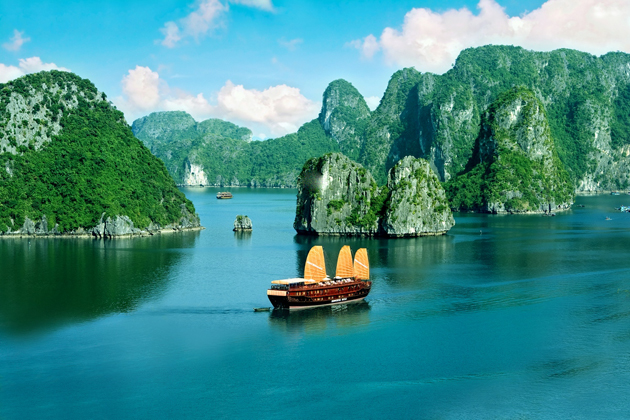 Best Things to Do & See in Vietnam in January
Is January a Good Time to Visit Vietnam?
Winter dominates Northern Vietnam while monsoon season brings rains to the South. It is the best time to conquer the mountainous areas and enjoy the beach in Central and Southern Vietnam.
Vietnam Attractions in January
Ha Giang
January in Ha Giang, plum blossoms and peach blossoms are very beautiful, along with the low temperature (sometimes below 0 degrees C) so you can watch flowers and the snowfall at the same time. January is the best time to have perfect Ha Giang tours as well as to admire the most charming beauty of this place.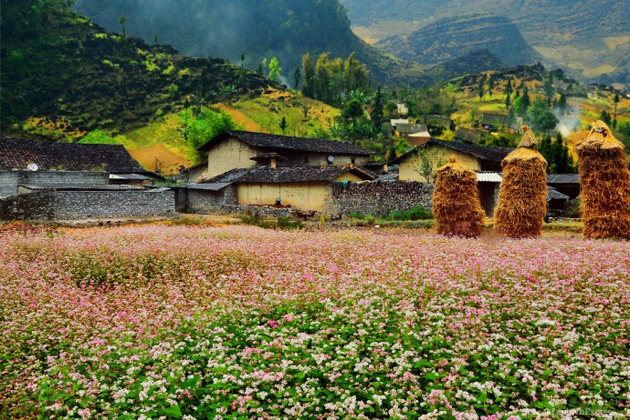 Thai Binh
January is the harvest time in Thai Binh. If you come here this time, you will be witnessing the gorgeous rice fields with beautiful yellow color featured on the blue sky background. Thai Binh is a suitable destination for who loves exploring rather than for who likes relaxing.
Quy Nhon
Quy Nhon beaches are clearest and most quite from January to September each year. At this time, the air in Quy Nhon is also cool, not too hot, not too cold and the sea is calm so there is a lot of seafood, which will satisfy all your five senses.
Vietnam Festivals in January
January in the solar calendar or December in the lunar calendar, traditional Vietnamese festivals usually held on the local and regional scale.
Coc Village Festival
In the northern provinces, we can mention to Coc village festival (Yen Hung district, Quang Ninh Province). The festival is usually held on the 4th and 5th December of the lunar calendar with many ceremonial sacrifices and fun activities, bearing bold folk of the northern region and it's also a worthy event if you have the opportunity to go to Quang Ninh at this time.
Other traditional local festivals in this period include: Nghinh Ca Ong festival (Khanh Hoa Province),  An Xa village festival (Hung Yen province) with worshiping and parades, Dinh Mai festival (Hanoi), and My Duong festival (Ha Tinh province)…
Best Things to Do & See in Vietnam in February
Is February a Good Time to Visit Vietnam?
February is the time Vietnamese people celebrate the Lunar New Year with hundreds of festivals taken place all around the country. The weather shares the similarities with January but it is a little warmer in the North as well as the number of downpours decreases in the South. Spring fills Vietnam with its pleasant atmosphere and romantic sceneries.
Vietnam Attractions in February
Tay Nguyen (Central Highland)
If you intend to travel to Tay Nguyen, you should come around February because this is the time the climate in Tay Nguyen most pleasant in the year, it does not rain and the temperature is very cool. Besides, it is suitable for you to visit the coffee and rubber forests, learn more about Vietnamese culture in the village and explore the majestic mountains and forests of Central Highland.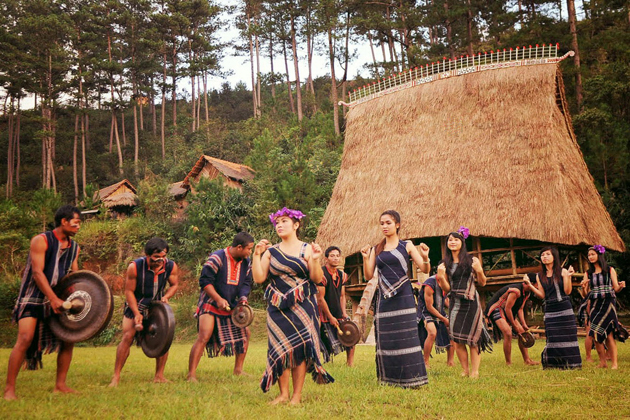 Ninh Binh
Ninh Binh owns Bai Dinh Pagoda, Tam Coc Bich Dong cave and Trang An landscape complex, which are beautiful and attract many tourists in February each year.  In February, the number of tourists to Ninh Binh is very crowded so you will be much more difficult to choose the means to move to Ninh Binh. However, many people have now shifted to choosing Limousine to Ninh Binh to save time and comfort.
Tam Dao, Vinh Phuc
You can come to Tam Dao, Vinh Phuc Province all year round but if you want to see the best scenery with fog and clouds all over the way in Tam Dao, you should come here in February.
Quang Tri
You should travel to Quang Tri from December to April but around February is the most beautiful time of Quang Tri. You should avoid traveling here in May and June because in these months there is very dry south wind and also July and November because it is the rainy season.
Nam Dinh
Nam Dinh has sea, but mainly for the purpose of exploiting seafood, so the most attractive tourist season of this place is not summer. In February every year, immediately after the Lunar New Year, many big festivals of Nam Dinh took place such as Phu Day festival, seal opening ceremony at Tran Temple,…
Ho Chi Minh City
In addition to the beautiful weather, February is also a perfect time for you to have Ho Chi Minh City Tours to attend the Festival of the fifteenth of the lunar month and the great Tet Festival on Saigon River.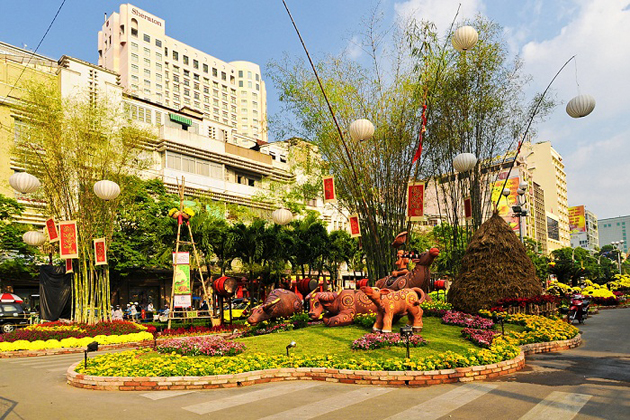 Sapa, Lao Cai
Sapa is the most beautiful sight of snow in Vietnam. If you want to come and witness this scene, the most appropriate time is from December to February every year.
Lang Son
Like Nam Dinh, February is the time when Lang Son has many tourist sites which hold interesting festivals such as Tam Thanh Pagoda festival, Ky Lua firecracker festival, Bac Le Temple festival,…
Moc Chau, Son La
January and February every year is plum blossom season on Moc Chau. However February is the best month to visit this place, the climate is not too cold anymore so you can be spoiled for sightseeing.
Vietnam Festivals in February
Swift Boat Racing Festival
2019 is the 5th year of the Swift boat racing festival in Muong Lay commune, Dien Bien Province. On the first day of the lunar year, local people, tourists, and boat teams gather here to exchange experiences, strengthen solidarity, preserve and restore the traditional boat race.
Cam Muong Festival
The northern mountainous region is home to the most traditional Vietnamese festivals. From the beginning of January to the third of March in lunar calendar, the people of Lai Chau province hold the Cam Muong festival for the people to make offerings to the god of the river, the god of mountains, the god of stream, the dragon god to bless for the village. Besides food, drinks, and offerings for the gods, there are also 18 paper boats in green and yellow color, representing the vast forests and fragrant rice fields of abundance and prosperity.
Tet Dance festival
Tet dance or the "Nhiang Cham Dao" festival is a ritual offering to the Royal family of Dao ethnicity occurs from the full moon or 25 December in lunar calendar, just before Lunar New Year one day. This festival is held in many regions of the country such as Phu Tho, Hoa Binh, Lao Cai, Thanh Hoa or Ba Vi (Hanoi).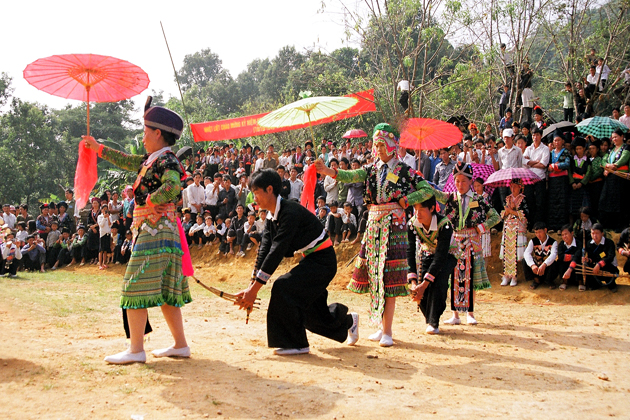 According to legend, during the migration to the sea of Vietnam for finding the way of life of the 12 Dao families, after months of drift on the sea, unexpectedly the boat encountered a storm, life threatened. In the endangered, Dao families prayed to Ban Vuong and his ancestors to help overcome the accident, to land safely and promised to give thanksgiving. From then on, the Dao family, including the Red Dao, Dao tien or Dao quan chet dance to celebrate Tet to thank the ancestors.
Dong Da Festival
On the 5th of the lunar year, Hanoian headed to Dong Da district to celebrate the merit of King Quang Trung. The ceremony was solemnly organized with flags, canals, crowds, and palms from the Khuong Thuong communal house to Dong Da mound. The highlight is the procession "Thang Long fire dragon", the symbol of victory of the entire nation at that time.
Huong Pagoda Festival
Huong Pagoda festival is held in My Duc district, Hanoi from the 6th to the end of March in lunar calendar. This is one of the biggest and longest festivals in Vietnam. When the Huong Son forest opens, the flowers bloom white over the hills, clouds and early fog mixed together, thousands of people prepare pilgrimage and pray the Buddha on the occasion of spring.
Besides, there are several festivals that you shouldn't miss in your Vietnam vacation this month: Giong festival (Phu Dong commune, Gia Lam district), Spring festival (Yen Tu Pagoda, Quang Ninh province), Lim festival (Bac Ninh Province), Tran temple festival, Bai Dinh Pagoda festival (Ninh Binh Province), Xoan festival (Phu Tho Province), Ba Den mountain festival,…
Best Things to Do & See in Vietnam in March
Is March a Good Time to Visit Vietnam?
Spring continues its appearance in Vietnam but drizzles make it inconvenient for outdoor activities in the North. But it is said that these light rains are the unique beauty of this period as you cannot get wet by them but they bring the soul of Vietnamese spring. In the South, mornings of sun and afternoons of rains is the featured climate in this month.
Vietnam Attractions in March
You can still visit the destinations in March but should consider some wonderful places below
Dien Bien
In March, the land is filled by blossoming flowers which is absolutely worth your visit to behold the paradise of floras. Remember to visit Dien Bien Phu, the well-known historical site in the war against French invaders in the 2oth century.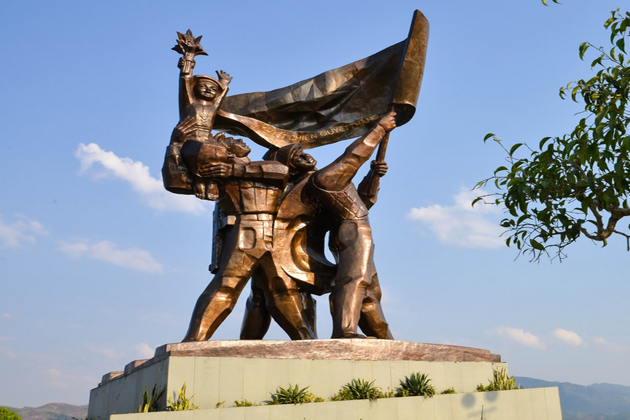 Nghe An
If you like to take photos with sunflower field in Nghe An then you should come in annual March and November.
Dalat, Lam Dong
The "little Paris" is the paradise of flowers and romantic sceneries. Stroll around Xuan Huong Lake to immerse in peaceful moments, sit on elephant's back to explore all attractions in Dalat and spend a night out shopping and eating at Hell Night Market.
Vietnam Festivals in March
Dinh Co Festival
Dinh Co festival takes place from the 10th to 12th day of lunar February in Long Hai town, Long Dien district, Ba Ria Vung Tau province. Dinh Co is a shrine to worship a dead virgin, lying on the windswept hill at Long Hai Beach. Dinh Co was built with the belief and the inherent faith of the local people.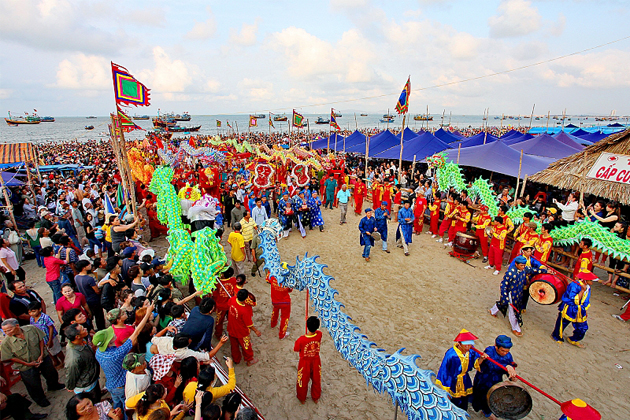 Quan The Am Festival
Goddess of mercy festival or Quan The Am festival is a traditional Vietnamese festival symbolizing a national prayer of peace and harmony. This is a chance for all people to enjoy the festive atmosphere and build up kindness.
Cat Ba Fish Village Festival
Occurring from the 25th to 31st of March, which is February in the lunar calendar, the festival of Cat Ba fish village is crowded with locals and visitors. The fish village festival in Cat Ba plays an important role in the belief of the fishermen as well as the meaning of protecting the ecology and sovereignty of the island.
Best Things to Do & See in Vietnam in April
Is April a Good Time to Visit Vietnam?
When drizzles stop and the sunshine fills all the land, summer is coming to Vietnam. Nature wakes up after the cold winter and prepares for showing its beauty. In southern Vietnam, rains seldom occur while beaches are warmer for swimming and water-based activities.
Vietnam Attractions in April
Sapa, Lao Cai
April in Sapa is the season of transplanting rice seedlings. Everywhere people are busy in the field, you can try to do it with the locals, which is a quite interesting experience.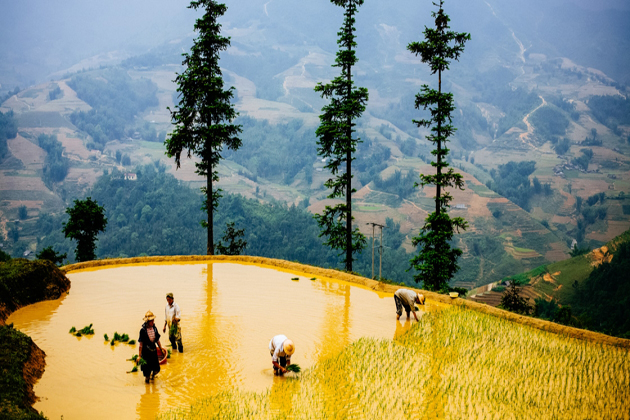 Ha Giang
If you come to Ha Giang this month, you will be attending Khau Vai love market, one of the traditional cultural characteristics of ethnic people here.
Phu Tho
10th March in lunar calendar or April in solar calendar is the anniversary of Hung King's death so you should not miss this opportunity to come to Phu Tho.
Quang Nam
Quang Nam owns a dozen tourist attractions combining of the sea and the forest but you should only travel this destination from April to August. From September to December, Quang Nam often has flash floods, which is very dangerous.
Vietnam Festival in April
Thay Pagoda Festival
From the 5th to the 7th of lunar March every year, Thay Pagoda festival is held solemnly in Ha Tay, gathering monks, nuns, and Buddhists everywhere. After the statue bathing ceremony, bathing water was scattered all over, bath towels were brought to make a safe amulet for children.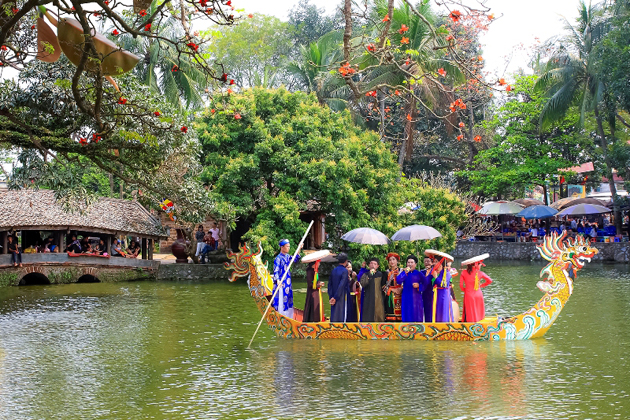 Elephant Racing festival
Organized every two years in March in lunar calendar, the elephant racing festival in Dak Lak province is one of the most important festivals of people in Tay Nguyen, honoring the spirit of martial arts and elephants.
Thap Ba Ponagar Festival
The festival of Thap Ba Ponagar in Khanh Hoa Province is also known as the Thien Y A Na Thanh Mau or Via Ba Festival, held on the 20th to the 23rd day in lunar March. Ponagar is the mother of the Cham people, whose full name is Yang Po Inu Nagar, a spiritual centerpiece.
Best Things to Do & See in Vietnam in May
Is May a Good Time to Visit Vietnam?
It is absolutely summertime. May is the first month of summer with sea travel, island excursions and the fragrant of sweet fruits and seafood.
Vietnam Attractions in April
Halong Bay, Quang Ninh
Few people know that the most beautiful time to travel to Halong Bay, Quang Ninh is in May. At this time, the weather is not too hot, the sun is not too bright so it is suitable for you to swim as well as visit the tourist sites such as Thien Cung cave, Trong Mai Stone,…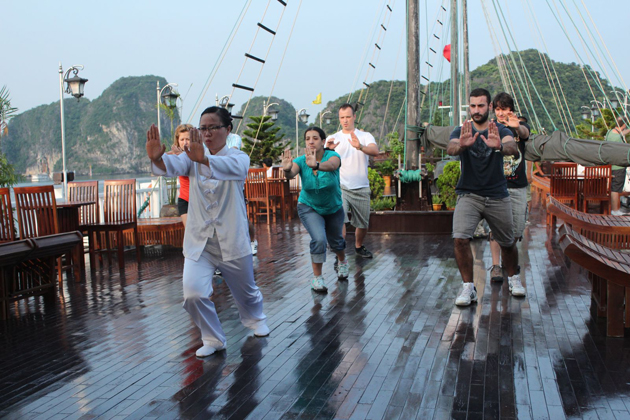 Yen Bai
If you do not have time to visit Sapa to see the terraced fields in the fall season, then in May, you can go to Yen Bai, where the gorgeous terraced fields appearing.
Dien Bien
To relive the moments of heroic victory of Dien Bien Phu, come to Dien Bien on 7th May to join in the joyful and heroic spirit of the people here.
Bac Kan
If you want to visit and explore Ba Be Lake, the most suitable time is from May to July. At this time the water in the lake is very quiet and calm, many fish and shrimp for you to enjoy
Cat Ba Island, Hai Phong
Hai Phong and Quang Ninh are two places close together, so the weather and the atmosphere are quite similar. This is also a suitable time for you to travel and enjoy your holiday in Cat Ba island as well as Cat Ba National Park.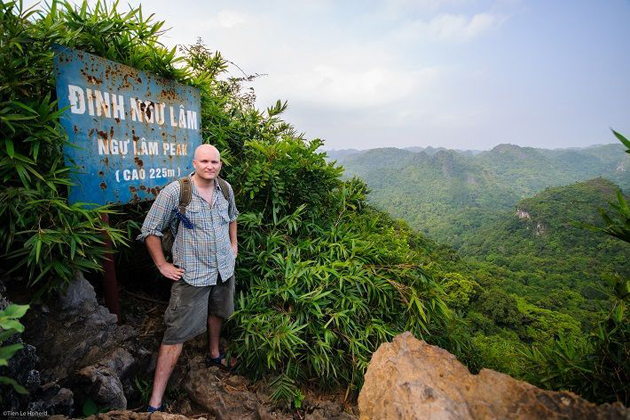 Sam Son Beach, Thanh Hoa
Another tourist attraction is Sam Son beach, Thanh Hoa. Sam Son beach has the advantage of clear water, strong waves and many combinations of resorts and entertainment. The location is quite close to Hanoi and the cost of tourism is not too expensive so it attracts many tourists in May every year.
Cua Lo, Nghe An
A bit further than Sam Son beach is Cua Lo beach, Nghe An. Cua Lo beach is very clear, the seafood is also cheap so this place is on the list of many families and agencies in May.
Vietnam Festivals in May
Fireworks Festival in Danang
Danang International fireworks festival (DIFF) lasts two months with many nights starting from April 30th, which is considered to be Asia's biggest festival event, with the participation of eight teams from several countries which have fireworks tradition.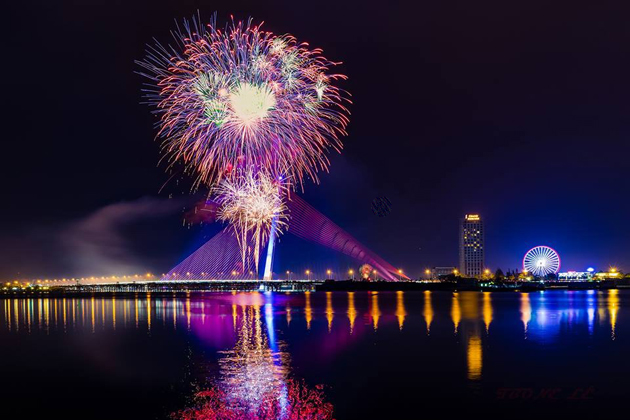 Halong Carnival Festival
Also on April 30th, Halong city, Quang Ninh province is jubilantly in the colorful Halong Carnival festival in 30/10 square. In the festive atmosphere of the street, visitors flock to Halong to enjoy the parade, music, and lighting of more than 1000 artists and singers in and outside the country. This is a grandiose festival space invested with large and modern scale.
Ba Chua Xu Festival
Going to An Giang and joining the festival at Ba Chua Xu temple from night 23rd to 27th April in lunar calendar is an annual habit of many people in the West of Vietnam.
Best Things to Do & See in Vietnam in June
Is June a Good Time to Visit Vietnam?
The wonderful summer continues in June but is sometimes interrupted by downpours. But they end as fast as they come and your travel can restart after a short break. June is also the first month of the dry season in the South. The weather becomes hotter in the daytime but completely cool and windy at night.
Vietnam Attractions in June
Hoa Binh
Come to Hoa Binh in the summer, you can go to Mai Chau for relaxation, or to see the Hoa Binh hydroelectric dam at the best time of the year.
Thai Nguyen 
The land of green tea leaves will be an attractive destination for those who are feeling the urge, uncomfortable with the atmosphere of hot and sultry of the capital.
Bac Giang
Coming to Bac Giang in June, you will be spoiled for enjoying the ripe delicious lychee everywhere. Bac Giang is extremely full of lychee, you can buy as a gift for your friends and family.
Danang
The best time to visit Danang is from June to August. The temperature in Danang this time is very pleasant, both able to swim and also go outside without getting tired. Danang beach is also very quiet.
Hoi An Ancient Town, Quang Nam
Hoi An is a tourist attraction, which is quite close to Danang so visitors often combine travel in these two locations at the same time. However, you should avoid Quang Nam in the period from September to December because of frequent flash floods.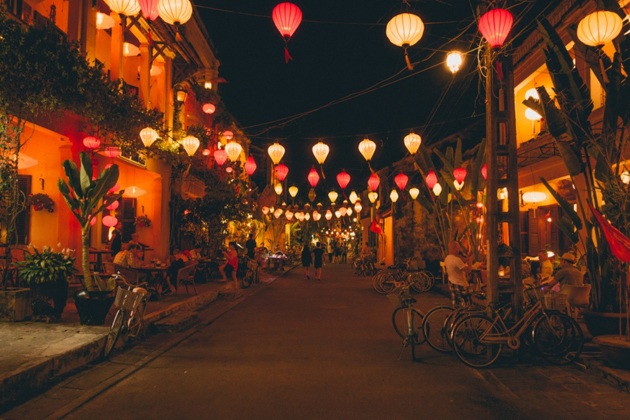 Quang Ngai
Quang Ngai weather is also quite similar to Quang Nam so you can travel this two destinations at the same time. In addition, June is also the time for you to find out and enjoy the tropical garden at some tourist attractions in Vietnam such as Binh Phuoc, Binh Duong, Dong Nai, Ba Ria – Vung Tau and Mekong Delta.
Vietnam Festivals in June
My Long Sea Festival
The festival of My Long Sea (also called Nghinh Ong Festival) takes place from lunar May 11th to lunar May 13th in the shrine of Ba Chua Xu in Tra Vinh. The festival started from worshiping Ong Nam Hai (whales) of local fishermen with the desire of nice weather, full shrimp and fish on the boats and good fortune.
Southern Fruit Festival
From June 1st, the Southern Fruit Festival attracts people from all over the country to come and enjoy the delicious fruits of the tropics. Most of the famous fruits with sweet fragrant are gathered at the festival. Guests can visit, buy fruit as gifts or spoiled for taking pictures in a forest of colorful flowers.
Best Things to Do & See in Vietnam in July
Is July a Good Time to Visit Vietnam?
Summer is less attractive in July due to steaming weather as well as cats and dogs rains. According to fishermen, July is considered the beginning of storm season so check the weather forecasts carefully before planning a beach enjoyment.
Vietnam Attractions in July
Sapa, Lao Cai
Sapa still keeps its position in Vietnam tourism map in July. It is the best place to escape from the heat of summer and behold the spectacular panoramic views from Mount Fansipan – the rooftop of Indochina.
Nha Trang, Khanh Hoa
From July to September, the place where you should go most is Nha Trang beach, Khanh Hoa. At this time, Nha Trang beach is very crystal and blue, the scenery is very romantic that makes you feel great when visiting here.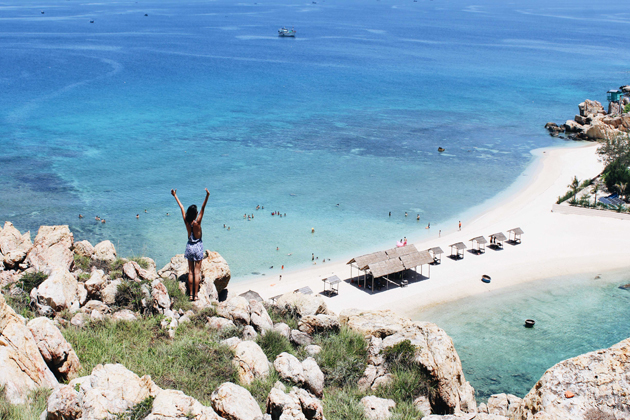 Hue
In July, Hue show out all of its beauty and impression. The weather brings advantages for outdoor activities and sightseeing. Hue Imperial City, Thien Mu Pagoda, and Tu Duc Tomb should be included in your Hue tour itineraries.
Vietnam Festivals in July
Festival of Ba Xa Temple
The festival of Ba Xa Temple in Ung Hoa district, Hanoi is held on June 12th in lunar calendar. The festival was organized to commemorate the merit of Mac Trau, who taught the people to stop the water and plant rice varieties suitable for each season to escape poverty.
Quan Lan Festival
In order to remember Tran Khanh Du's fighting against Mongol invaders, on 10th to 20th lunar June, Quang Ninh people solemnly held the Quan Lan festival.
Best Things to Do & See in Vietnam in August
Is Vietnam a Good Time to Visit Vietnam?
After the peak month of summer, August comes and brings a nicer weather of light sunshine and fewer rains. Therefore it is an ideal time for sightseeing and beach activities.
Cao Bang
Going to Cao Bang without visiting Ban Gioc Waterfall is wasting all the trip. Coming to Ban Gioc Waterfall without choosing the time of August, then you have missed the most beautiful scenery of this tourist destination.
Mui Ne, Binh Thuan
August to December is a wonderful occasion to travel Mui Ne, Binh Thuan. You should not come here in the rainy season, from about May to the end of July because this is the time when seaweed multiplies rapidly to make the water very turbid.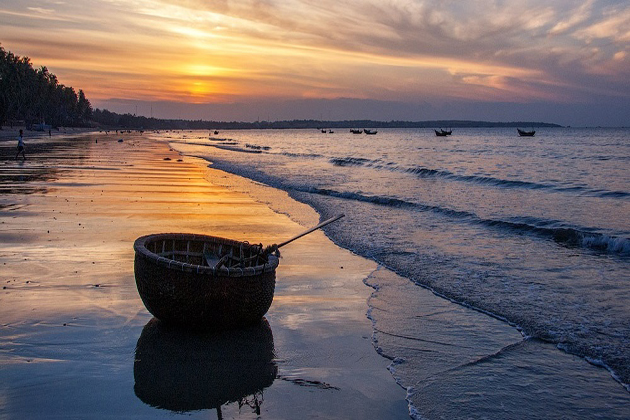 Vietnam Festivals in August
Wandering Soul's Day
Wandering Soul's Day originates from Buddhism, but it has become a very important event and is attended by virtually all people in Vietnam, thanks to the humanistic nature of our desire to remember to be thankful to be born and to cherish while still having parents through each year. It held annually on the 15th of the 7th month of the lunar calendar.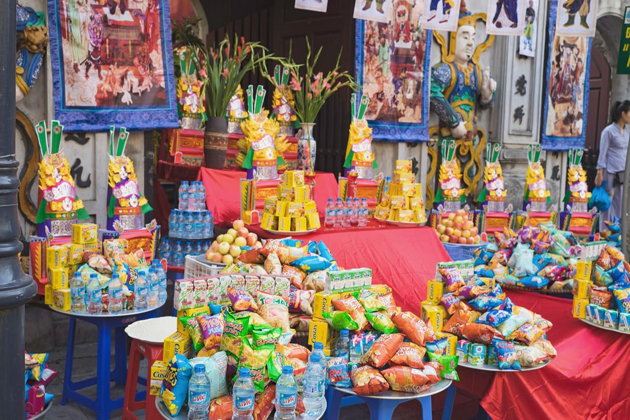 Some traditional Vietnamese festivals, although not large in scale, are also cultural highlights in the spiritual life of Vietnamese people in August: Rice washing ceremony (Hoa Binh province) – To commemorate those who found the land of Muong village; Dao Xa festival (Phu Tho province); Swimming festival on Canh River (Vinh Phuc province); Cao Dai village festival (Nam Dinh province); Festival of Ba Chua Temple (Hanoi);…
September
Best Things to Do & See in Vietnam in September
Is September a Good Time to Visit Vietnam?
When the sky becomes deep blue and is covered by white clouds, autumn is taking the position of summer by its cool wind and nicer weather. The number of rains decreases from North to South.
Vietnam Attractions in September
Moc Chau, Son La
Coming to Moc Chau in September, you will not only enjoy the beautiful natural scenery but also attend the Independence Day – the largest and most magnificent Tet of the ethnic minorities in Moc Chau.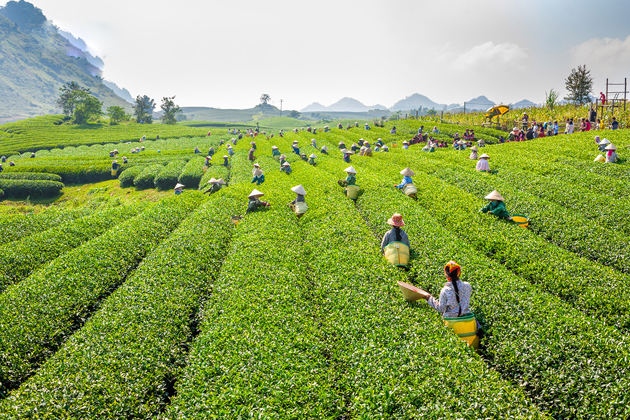 Yen Bai
From September to mid-October, the rice fields in Yen Bai were dyed with beautiful and brilliant yellow color.
Lai Chau
If you want to explore the wild nature of Lai Chau, you should come here from September to October. Avoid the rainy season because the frequent flash floods and landslides are very dangerous.
Hanoi
Hanoi autumn – autumn Hanoi, it is not natural that people referred to the fall of Hanoi so much. Is it because Hanoi is the most beautiful, romantic and sweetest in this time out of all 4 seasons? The unique ancient constructions such as Hanoi Old Quarter and French colonial architecture is raised it beauty thanks to this wonderful season.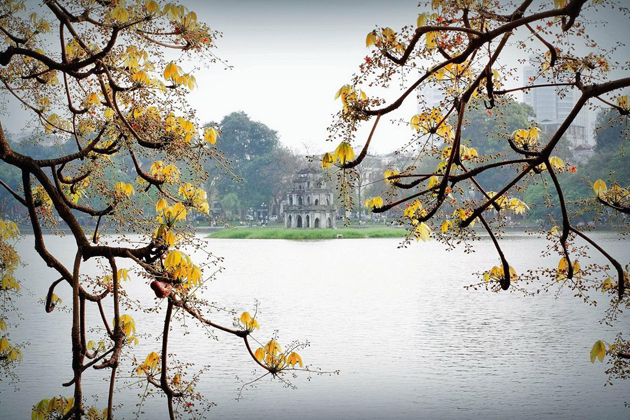 Vietnam Festivals in September
In the north of Vietnam, there are many big festivals in September such as Dong Bang Temple Festival (Thai Binh province), which is celebrated on the 20th of the eighth lunar month in memory of King Bat Hai Dong Dinh; Chan Temple festival (Nam Dinh province), – from 15th to 20th August in lunar calendar to commemorate the 14 King of Chan Dynasty with many processions, sacrifices, cheo singing, sword dance, wrestling,…
In the South, at this time in An Giang Province, there is Don-ta festival and the bull race fest, stretching from August 29th to the September 1st in lunar calendar. This is considered a great holiday by the Khmer community, with solemn rituals. It is also a highlight of spiritual tourism during the year.
Best Things to Do & See in Vietnam in October
Is October a Good Time to Visit Vietnam?
Autumn really fills all over the country. In Northern Vietnam, flowers blossom to welcome the wonderful weather and let winds bring their aroma to everywhere. Although rainy season starts in Central and Southern Vietnam, island explorations are still worth your while in your Vietnam tour.
Vietnam Attractions in October
Ha Giang
Ha Giang buckwheat flowers season is in October and November. Remember to take advantage of Ha Giang this time to bring back your most beautiful photos.
Con Dao Island, Vung Tau
For your information, October is the best time to visit Con Dao, which is considered the safest and most secure in this time.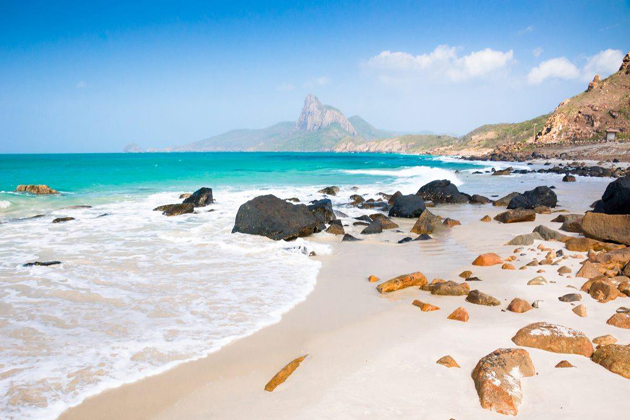 Phu Quoc Island, Kien Giang
The gorgeous pearl in Southwest Vietnam will never make you disappointed by dozens of beautiful beaches and specialties only found in Phu Quoc.
Vietnam Festivals in October
Keo Pagoda Festival
Keo Pagoda Festival (Hanh Thien Village, Xuan Hong Commune, Xuan Truong District, Nam Dinh Province) takes place every year from 8th to 16th lunar September to commemorate the monk Khong Lo – a person with great contribution to the country.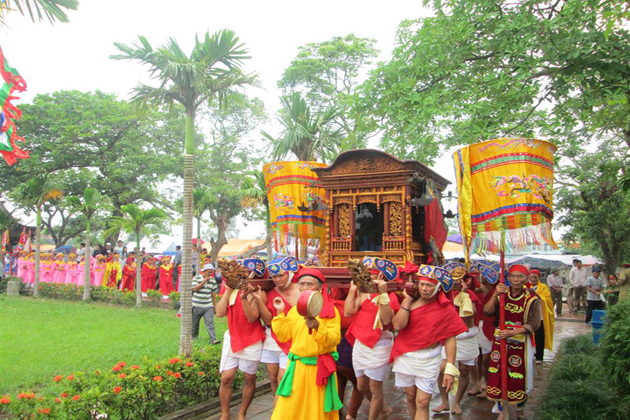 In addition, there are other big traditional festivals such as Kin Lau Khau Mau Festival (also known as Thanksgiving, New Rice Festival), held in Lai Chau; Festival of Co Le Pagoda (Nam Dinh province); Festival of Hat Mon (Hanoi); Temple of Am and Lai Tri (Thai Binh province), Trung Cuu Festival (Vung Tau city),…
November
Best Things to Do & See in Vietnam in November
Is November a Good Time to Visit Vietnam?
The first cold monsoon from China brings winter to Northern Vietnam. The sky turns grey and the weather becomes humid with little sunshine while locals go out with warm clothes. If you do not want to taste this cold, travel to the South to enjoy the yellow sunlight and dry weather.
Vietnam Attractions in November
Nghe An
Take photos with sunflowers field in Nghe An is the best experience you can try in your trip to Vietnam in November as well as visit the home country of President Ho Chi Minh.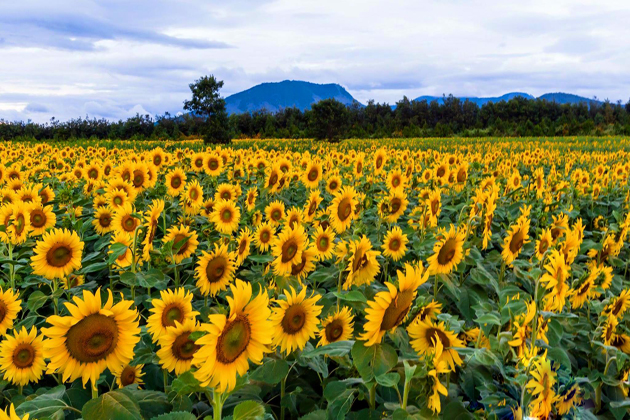 Moc Chau
November is the season of white cabbage flowers bloomed in Moc Chau. Don't miss this beautiful moment.
Mekong Delta
Vietnam Festivals in November
Ook Om Bok Festival
Ook Om Bok, also known as Khmer moon worship, usually takes place on October 14th and 15th in lunar calendar. Wherever there is a Khmer, there will certainly be a feast of moon offerings, however, if, in terms of scale and excitement, the most bustling is probably in Soc Trang and Tra Vinh – where Khmer people is the most crowded.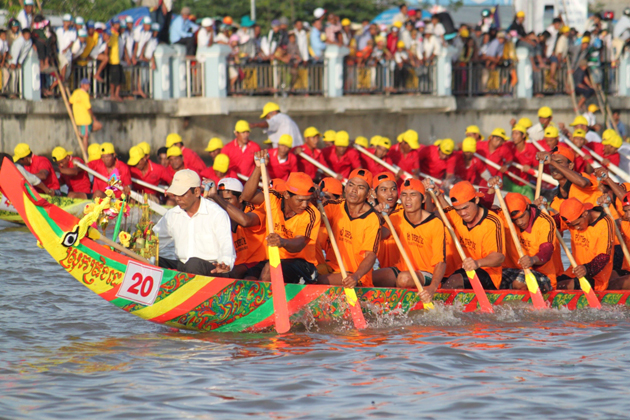 Buckwheat Flowers Festival
November is the blossoming time of buckwheat flowers in Ha Giang that is a beautiful scene that you cannot miss.
Best Things to Do & See in Vietnam in December
Is December a Good Time to Visit Vietnam?
Winter strengthens its power in December but the low humidity in the air makes weather more comfortable than November. The cold even spreads its effects in Southern Vietnam which is strong enough to make the nights here cooler.
Vietnam Attractions in December
Moc Chau, Son La
Get out of a gloomy Hanoi in winter, Moc Chau will completely fire your imaginations with a colorful landscape of flowers and green lush tea hills. Start your day in this wonderful land by sipping a cup of warm tea, then strolling around villages of ethnic minorities, wear traditional costumes, and take great pictures with scenic beauties.
Ban Gioc Waterfall
Continue your Vietnam tour discovering the natural attractions by a visit to Ban Gioc Waterfall. The greatest and most beautiful waterfall in Vietnam deserves your explorations thanks to its magnificence and the blooming season of local floras. Remember to spend time traveling to Nguom Ngao Cave and Cao Bang Geopark to make your trip more memorable.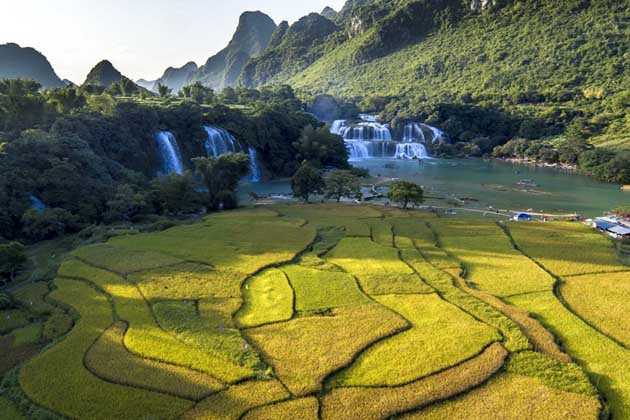 Mui Ne, Binh Thuan
If you are tired of cold weather in Northern Vietnam, move to the South and enjoy your warm sunlight and blue sky. Conquer the sand dunes by jeeps and immerse your body in cool water of Mui Ne beach will satisfy any travelers.
Ho Chi Minh City
December is the beginning of dry season in Saigon but the weather is still pleasant lasting from the wet one. It is an ideal time to visit all historical relics in Ho Chi Minh City such as Notre Dame Cathedral, Central Post Office, Opera House, and Ben Thanh Market. From history to modern, Ho Chi Minh City offers the impressive constructions such as Landmark 81 and Bitexco Financial Tower to prove its prosperity and development. Move to the northwest to unlock the mystery of Cu Chi Tunnels in the Vietnam War.
Phu Quoc Island, Kien Giang
If you reach Saigon, why don't you plan two more days to explore one of the most gorgeous islands in Southeast Asia? With a similar area to Singapore, Phu Quoc Island is a rich mix of pristine nature with beaches, related islets, and a national park of diverse floras and faunas. You can enjoy the most luxurious services with five-star resorts and hotels or get closed to local life when visiting traditional villages and tasting Phu Quoc specialties.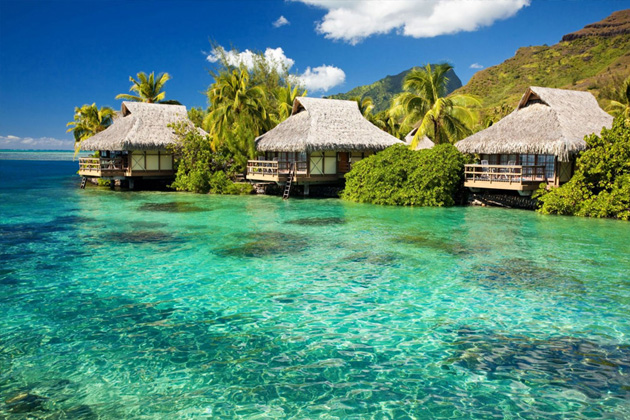 Vietnam Festivals in December 
Go Thap Festival
Go Thap festival is a large traditional festival in Dong Thap. Go Thap festival is held twice a year, in March and November in lunar calendar. Every year, in this festive season, Dong Thap is crowded with tourists, mainly to pray for fortune and pilgrimage.
New Rice Festival
In Tay Nguyen, the new rice festival of the Ede lasts for 7 days and nights, all over the village full of laugh and gong sounds with a fun atmosphere to celebrate a promising crop coming. Other festivals take place in December: Nguyen Cong Tru temple festival (Kim Son, Ninh Binh province) lasts from 13th to 15th lunar November, the festival of Ngu Xa village (Hanoi),…