Vietnam is a multi ethnic country with 54 distinct groups and each with its own cultural heritage and specific styles of clothing. Common traits often include splendid color, seemingly contradicting one another in each outfit: black and red, blue and red or blue and white…
Female Dress
The Ao Dai (Long silk tunic) has been the traditional dress for Vietnamese women a long time ago. After period of custom practiced, there are many different kinds of Ao Dai: the four-part flowing tunic had two equal front flaps that women tied together, while the five-part flowing tunic had an additional small flap that buttoned up onto the right side of the dress.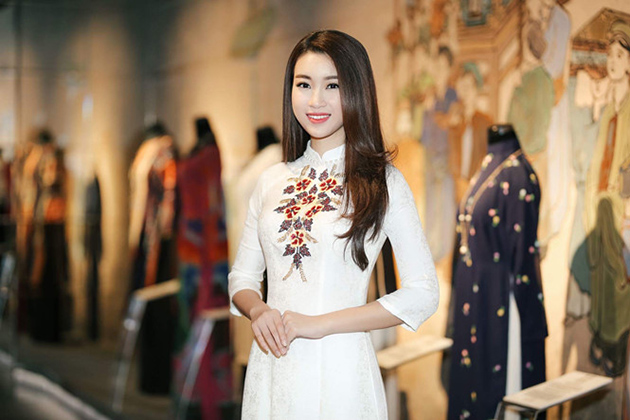 Each of distinct region around Vietnam has its own style of flowing tunic. For instance, in the North, females usually wear the four-part (called Ao Tu Than in Vietnam) with a long skirt. Also, Ao Tu Than is well worn with a large hat made of leaves called Non Quai Thao. Nowadays, tourists can only see Vietnamese women in Ao Tu Than going along with Non Quai Thao in traditional musical performances such as Cheo, Tuong, …
Instead of Non Quai Thao, sometimes women just simply wear a scarf as a variety. In the past, this combination is for female when going on the farm.
In the Central Region and in the South of Vietnam, Ao Dai is worn much like today. It is a long flowing tunic that consists of only two parts and it is worn over a loose-fitting pair of trousers. These pants are often in white, black or colorfully dyed. The dress splits into a front and back panel from the waist down. The Ao Dai is said to "cover everything but hide nothing" since it promotes all the beautiful curve of a Vietnamese woman. In some high schools, Ao Dai is compulsory as their female students' uniform.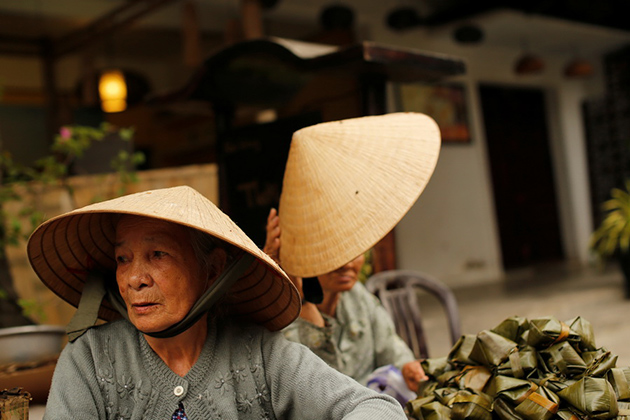 The cone-shaped hat is called "Non La", which is used indeed like a hat to protect one from the heat of the sun or from the rain or in everyday life situations. Also, conical palm hat is used as a decorative fashion item or a souvenir in Vietnam. They usually known as a Non Bai Tho as people traditionally write poetry on it. Tourists can easily find conical palm hat everywhere in Vietnam but it is highly recommended for Hue Citadel – where the first Non Bai Tho was created and developed.
Men attire
If you have seen the exquisite costumes worn by Vietnamese women, then you will effortlessly recognize the similarities in the traditional dress for the male. Both costumes are tailored from the same fabric, worn with the conventional snug collar and buttoned down on the left side to the waist, and with no crease in front of back. There is a small difference that the male dress extends only to the knees (while for female is up to over the ankles). In the past especially in the feudal period, there are many variations for men due to his level in the society. Gold is the national color and the dragon heads the fabulous mythical animal world. Purple is the color reserved for high-ranking court mandarins while blue is for those at lower rank.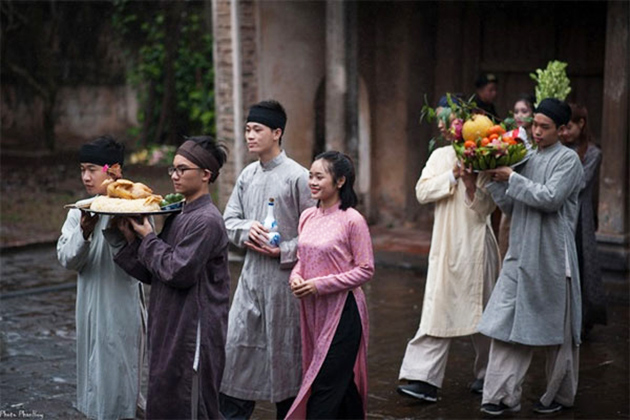 Ethnic Minorities
In general, Vietnamese clothing is very diverse. Every ethnic group has their own unique of dressing and festival is the best occasion for them to wear all their favorite clothes. Over thousands of years, the traditional dress of all ethnic group in Vietnam has changed a lot, but each of them has separately maintained their own characteristics.
In the mountainous areas, locals wear trousers or skirts and indigo vests with design motifs imitating wild flowers or beasts. In some ethnic minorities' tradition, the young women have made skirts and vests with beautiful and colorful decoration in a style convenient for farm working in terraced fields or to travel on hilly slopes and mountain gorges. Almost all dress of Vietnamese ethnic minorities are handmade and carefully embroidered by the females of the village. They sometimes sell them on the night markets for money or for tourists who want a traditional costume as a gift when finishing a Vietnam vacation.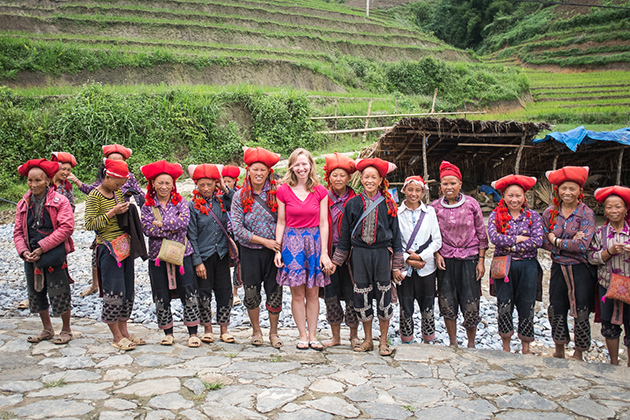 Above all, traditional costumes of the Vietnamese tend to be very simple and modest. Through the time of developing, clothing of Vietnamese ethnic groups have been influenced by the foreign dress, some traditional clothes have been lost, substituted with more modern and suitable interpretations. However, the charming beauty comes from the unique dress of the Vietnamese remains the attraction for travelers when coming to this stunning S-shaped country.