Hoi An Tours, Day Trips & Excursions - Viet Vision Travel
Located on the bank of Thu Bon River, Hoi An is a popular tourist town famous for its typical Vietnamese riverside town and idyllic countryside area nearby as well as a white sand beach of Cua Dai. The old town of Hoi An was recognized as a Cultural World Heritage site by UNESCO. Hoi An is well preserved and still keeps its core of historic architecture, a stunning mix of Vietnamese, Japanese, Chinese, and European styles from 18 century. At Viet Vision Travel, we offer a wide choice of Hoi An tours, day trips, and excursions in Hoi An as well as to some nearby highlights. Each of our tours to Hoi An is well designed with interesting activities and visiting sites.
Tour Route: Da Nang - Hoi An - My Son Sanctuary - Hue Riverboats - La Vang Church
Tour Highlights
Arrival in Danang, transfer to Hoi An for a walking tour of the ancient town.
Visit Tra Kieu Center of Pilgrimage and explore My Son Sanctuary, a UNESCO World Cultural Heritage site.
Discover Danang's architectural gems including the Chicken Church and Linh Ung Pagoda.
Embark on a scenic riverboat ride along the Perfume River and visit King Tu Duc's Tomb in Hue.
Explore La Vang Church, a significant pilgrimage site, and enjoy shopping at Dong Ba market in Hue.
---
Top 8 Things To Do & See for Hoi An Tours
Hoi An – The poetic riverside city has been an inspiration for many generations of Vietnamese poets, novelists, and artists and has left a deep impression on every foreigner who has visited the country. Different from the other bustling cities of Vietnam, Hoi An enchants tourists with its charming beauty of landscape and people. This ancient city is packed with wonderful sights to see, special cuisine, unique colorful architecture, and is surrounded by gorgeous countryside. Here are the top 5 things to do and see in Hoi An we recommended to you.
Wander around Hoi An Old Town
Hoi An Old Town gets the top position on the list of must-see destinations in Hoi An tours. As a major Southeast Asian trading post from the 15th to the 19th century, this ancient town is a special museum consisting of a series of historic buildings influenced by Chinese architecture. Zigzag on the narrow and winding roads of the town to explore many unique highlights such as the Japanese Covered Bridge, the three so-called Old Houses, and the Quan Cong Temple. Drop at a tailor's shop to get a beautiful dress or suit. Remember to watch the incredible folk music performances held several times each day at the Hoi An Handicraft Workshop.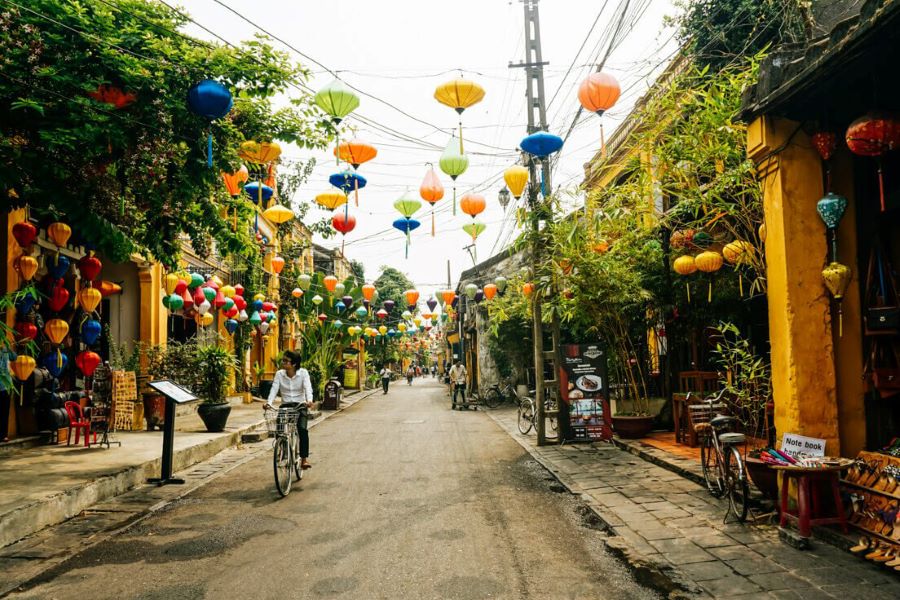 Visit Tan Ky House
Tan Ky house was built by an ethnically Vietnamese family two centuries ago. This house is the most invaluable property which has been preserved through seven generations. This ancient house is a perfect combination of Chinese, Japanese and Vietnamese architecture. You can easily recognize the ceiling is affected by Japanese architectural styles with three progressively shorter beams or the Chinese characters are presented by columns decorated with special mother-of-pearl Chinese poems. Tourists will be impressed by the carving of crossed sabers wrapped in silk ribbon where force and flexibility converged.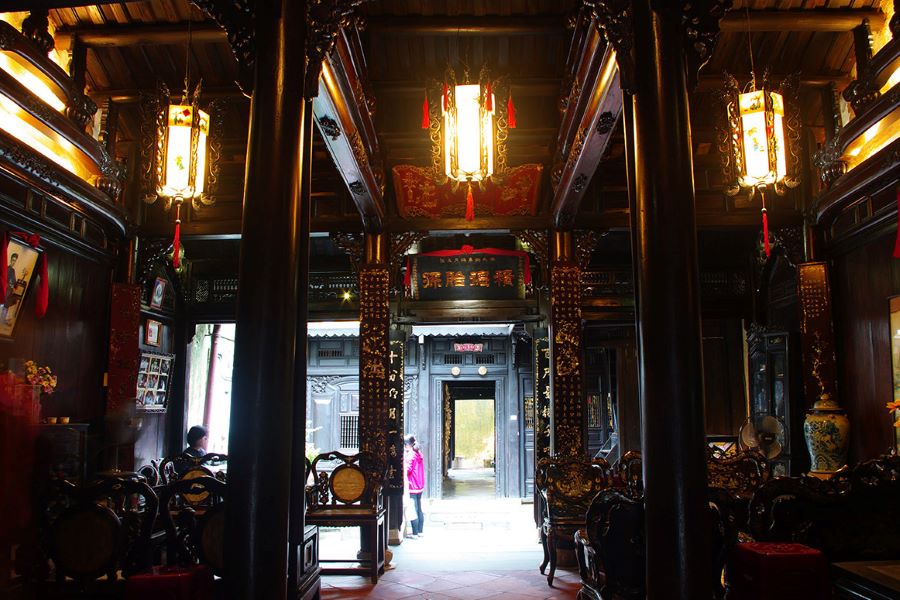 Admire the Japanese Covered Bridge
Like the iconic image of Hoi An, the Japanese-covered bridge impresses tourists with its pure beauty of being graceful curves and the inspiration for Zen spirit. This ancient bridge distinguishes itself by Japanese character unlike most other buildings in the old town, which are decorated according to flamboyant Chinese and Vietnamese architectural styles. This is such an ideal place for those who love taking photos, with a magnificent historical background and amazing red faded color. See it at night…awesome!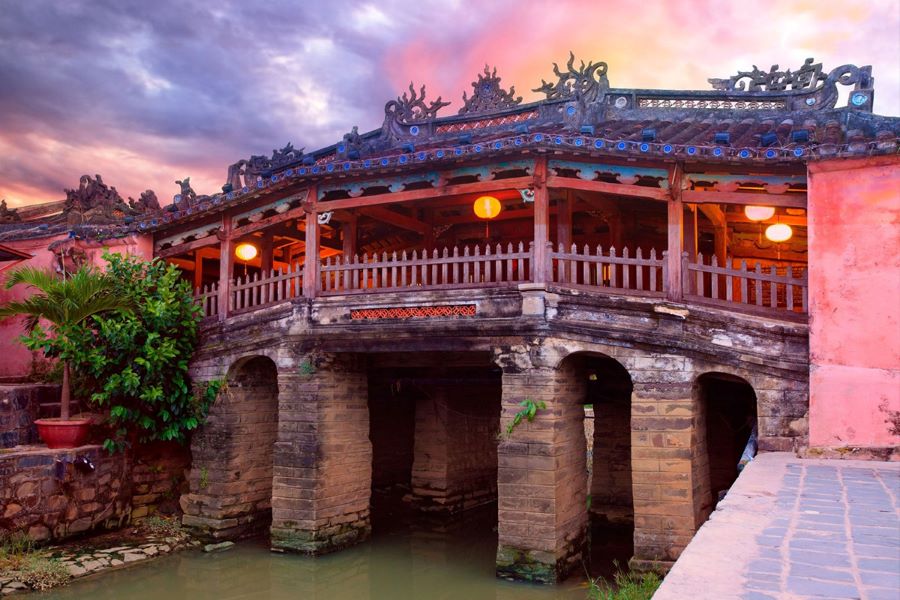 Hit the Cua Dai Beach
As one of the top beaches of Vietnam, Cua Dai is well-known for its pristinely soft white sand, crystal-clear yet deep blue water, crispy sunshine, cool salty breeze, slightly sloped seafloor, and the gentle waves. This unspoiled and clean beach guarantees you an amazing experience. Relax on the deck chair and sip a cool cocktail or take part in a lot of fun activities, it depends on you. Do not skip this destination in your Hoi An tour if you are not a big fan of beaches!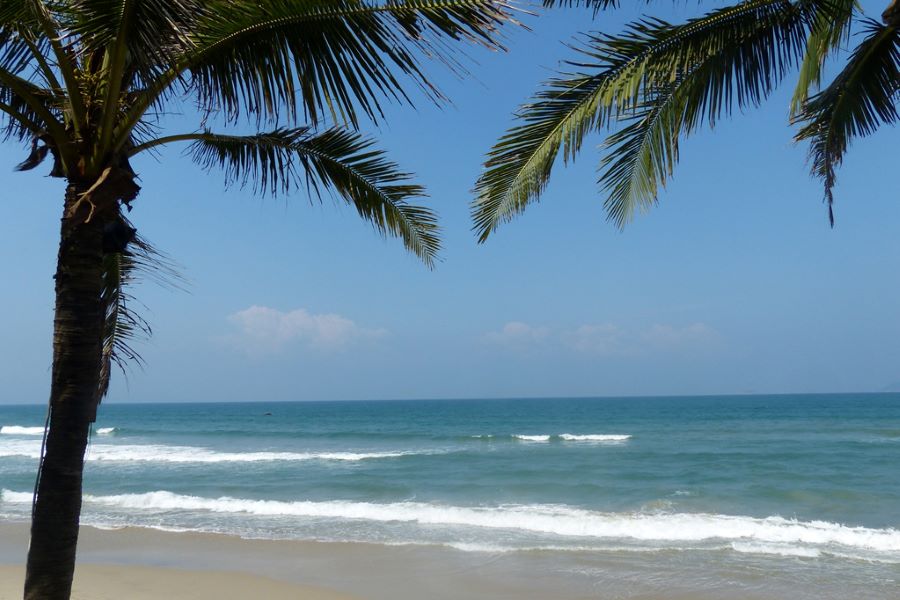 Taste Cao Lau
Cao Lau is one of the most mouthwatering dishes you must try during your Hoi An tour. With the attractive brown color and unusual flavor, this unique dish satisfies everyone even fastidious people. It's the combination of hand-cut noodles, sliced pork, crunchy rice crackers, spices, big handfuls of fresh herbs, and super-tasty broth. Drop at a restaurant or stall in the riverside food market to taste this special dish.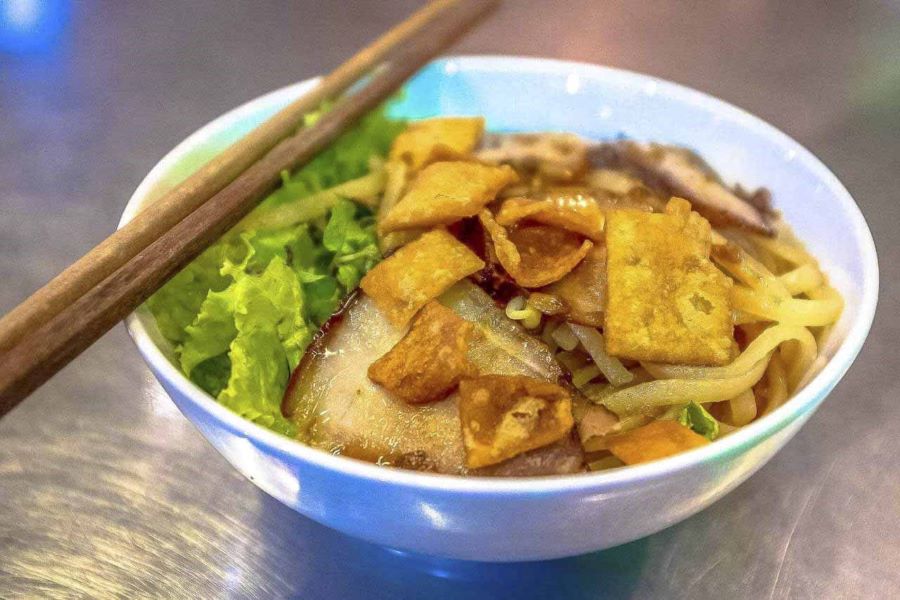 Visit Tra Que Vegetable Village
You can easily realize that most meals in Hoi An also served with vegetables and herbs, so where your lunch is grown? Let's find the answer! Located between town and An Bang beach, Tra Que fresh-veg village grows many types of vegetables from spring onions, and tomatoes to hefty taro. Visitors can wander the plots, try to identify plants, and chat with farmers there. Come to Baby Mustard restaurant for your delicious lunch and do not forget to try "three friends" – bundles of pork, prawn, and mint, tied with spring onion!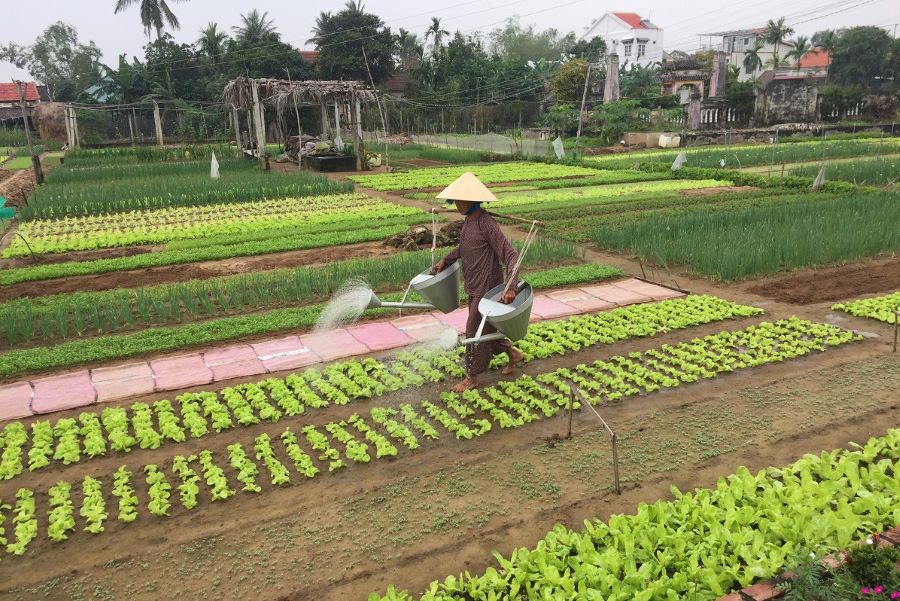 Soak Into Hoi An Night Market
Located on Nguyen Hoang Street, Hoi An night market is a paradise for shopaholics and foodies. The market opens around 5 pm every day when more than 500 vendors open up their stalls. The visitors will be mesmerized by a ton of local products from unique souvenirs to fresh fruits and mouthwatering street foods. Perhaps the most-spotted item for sale is the colorful paper lantern, which glows vividly after nightfall like a beautiful flower. Pick up a colorful lantern to cast a glow as you shop or take it home as a way to remember the colors, vibrant, and excitement of the Hoi An Night Market. A lantern is also a lovely gift for your friends.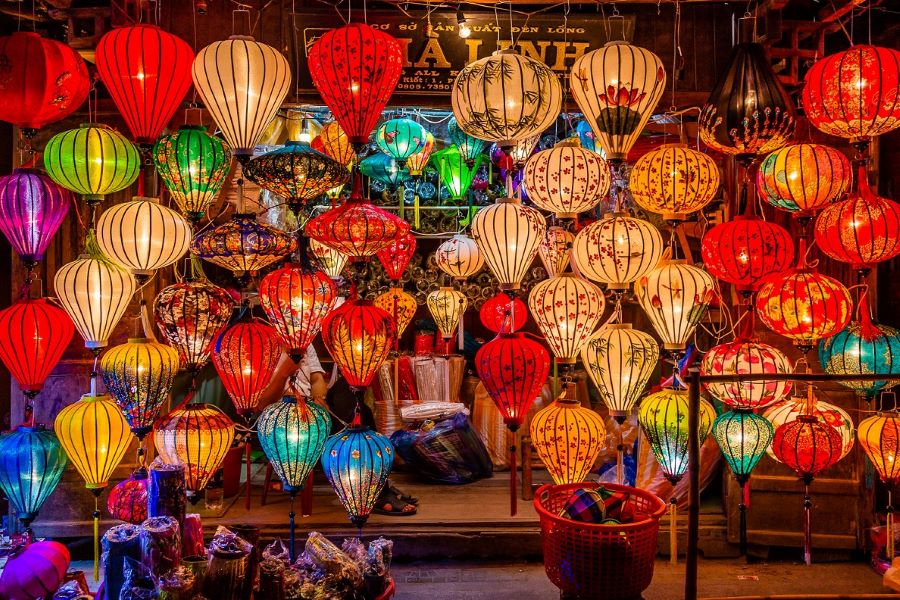 Attending a Cooking Class
During your Hoi An tour, you will have a chance to discover how tasty the local cuisine truly is and bring home its flavor by taking a cooking class. It often starts with a tour around markets in Hoi An to buy fresh ingredients for the cooking lesson. Then you will learn how to mix all the flavors in the tasty treats. Nothing is more wonderful than cooking yourself delicious dishes and tasting them. Names of recommendation are Red Bridge Cooking School and Gioan Cooking School.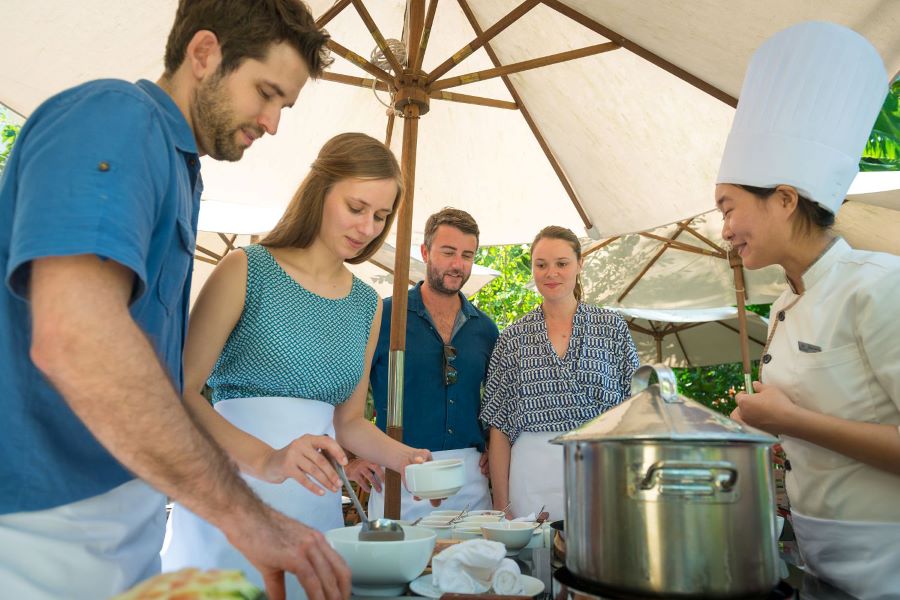 Best Time to Visit Hoi An
Hoi An Lantern Festival is organized on the 14th Day of Every Month (Lunar calendar). From 7 pm to 9 pm, electric lights are turned off and colorful lanterns are lit up instead with the space of folk music and cultural activities like dragon and lion dances. Visitors to Hoi An on this occasion will see the town full of nostalgic but extremely bustling, splendid experiences.
Weather in Hoi An
Hoi An is divided into two distinct seasons: the dry (from January to July) and wet season (from August to December). Hoi An is sometimes also cold in January, which creates unique feelings for the ancient town. The best time to visit Hoi An is the difficult question as each season has its featured beauty. It looks like this ancient town, regardless of sun or rain, still attracts a lot of visitors whenever they arrive here.
From February to April
This is the time when the weather in Hoi An becomes especially pleasant and cool. The light sunshine during the daytime and slight winds at night make Hoi An really suitable for relaxation. The time from February to April is the best occasion for outdoor activities in Hoi An such as sightseeing, taking photos, and visiting old heritages. In addition, the Tet holiday often happens in February so you can explore how different this biggest festival of Vietnam is celebrated in Hoi An.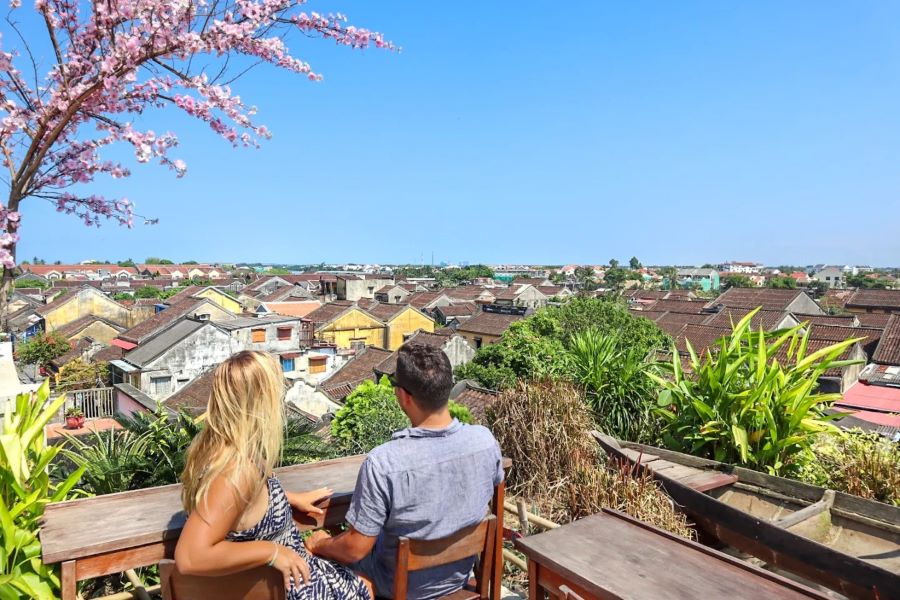 From May to July
The last months of the dry season in Hoi An is the exciting summertime with activities on the beach. If the hot weather gets you tired after visiting the ancient town, swimming and surfing on Cua Dai beach will completely refresh you for the next days of your visit.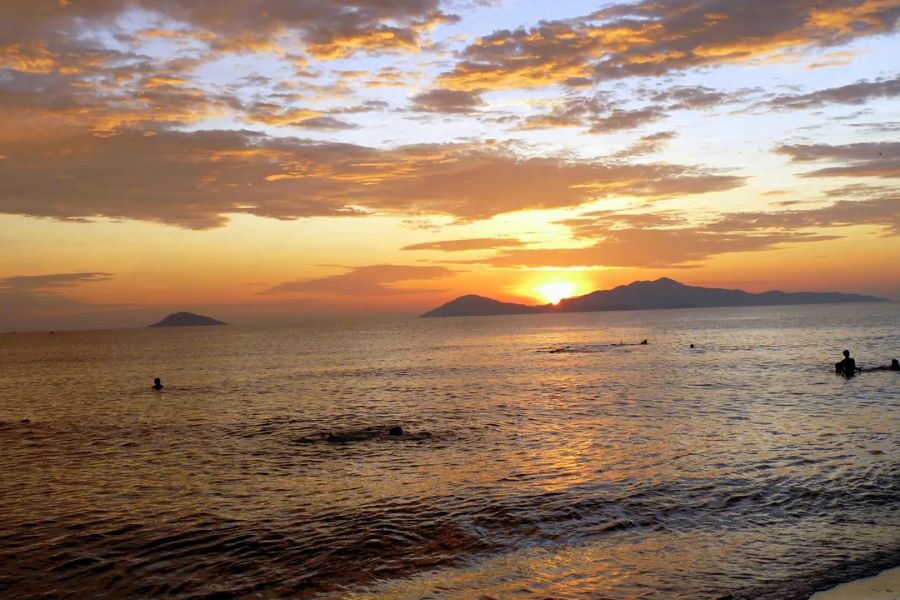 From October to December
The rains at this time may interrupt your travel to Hoi An. Moreover, the Thu Bon River is rising and the ancient town will be submerged in the water. If you want to discover Venice in Vietnam by traveling by boat, consider visiting Hoi An on this occasion.
Hoi An Travel Guide
Hoi An General Information
Location: Central Vietnam, Quang Nam province
Population:  Approximately 150,000 (2018)
Language: Vietnamese
Currency: Vietnam Dong (VND)
National Condition: Mostly delta, Thu Bon River in the North
Ocean in the East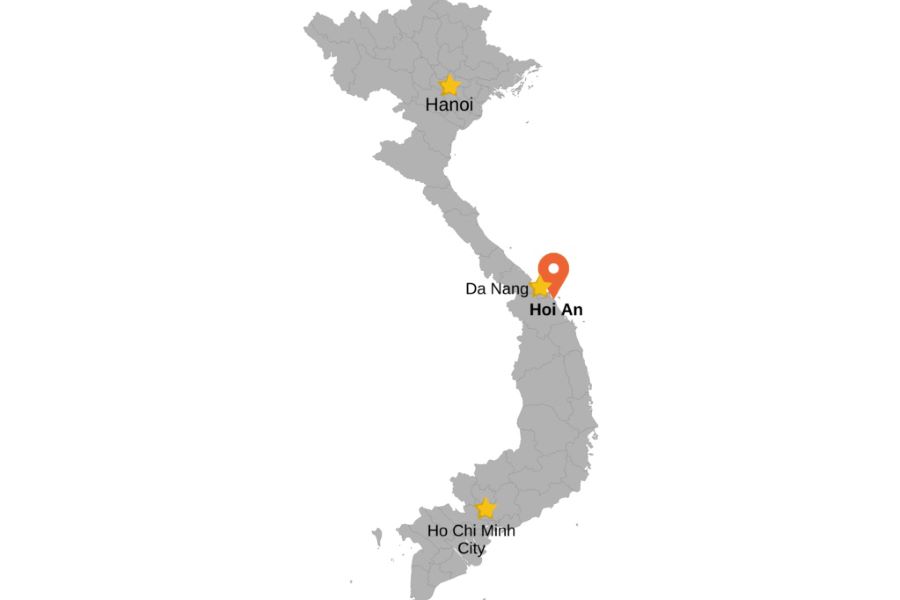 People, History & Culture in Hoi An
Hoi An People
People in Hoi An are rustic, simple, and similar to their ancient town. Time flies but Hoi An has still maintained the streets with ancient houses having green pile roofs of moss. Hoi An is generally quiet and peaceful. There are sometimes light laughs, greetings as well as chats citizens. Visitors to Hoi An are always welcome by the locals with friendly and hospitable attitudes. Besides, Hoi An is not commercialized like some other destinations because the locals prefer focusing on popularizing the image of their country to earn themselves the profits.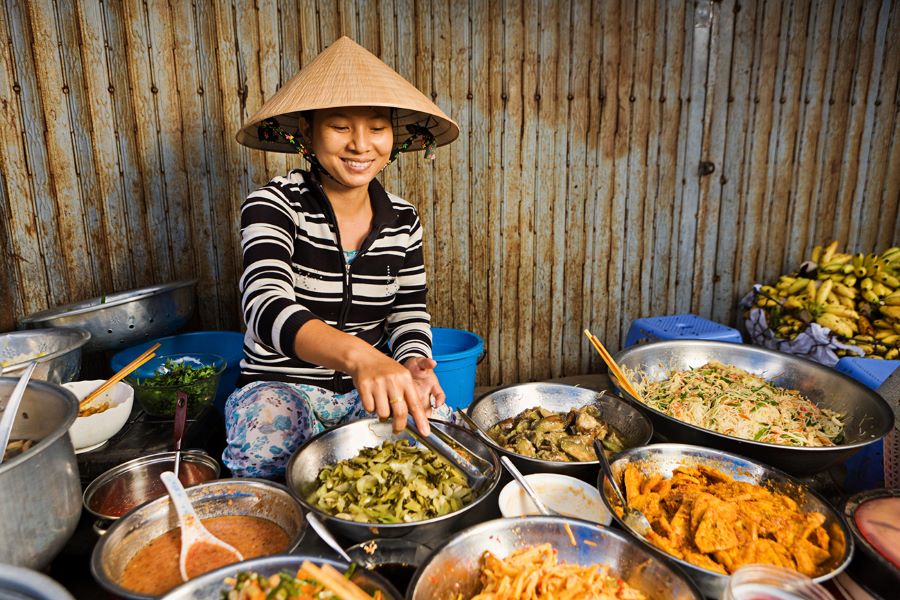 Hoi An History
At the end of the 15th century, Hoi An was inhabited by Dai Viet (the old name of Vietnam). Together with the reclamation, and establishment of the village, the Vietnamese also created a number of professions in accordance with natural and social conditions in Hoi An. From the end of the 16th century to the 17th century, more Chinese and Japanese settlers came to Hoi An and helped this town grow. Combined with the appropriate geographic location, Hoi An quickly became a prosperous trading port for centuries. In the Nguyen Dynasty (1802-1945), Hoi An lost its position due to many unfavorable causes: the limited economic policies of the feudal court and the disadvantaged changes in natural conditions.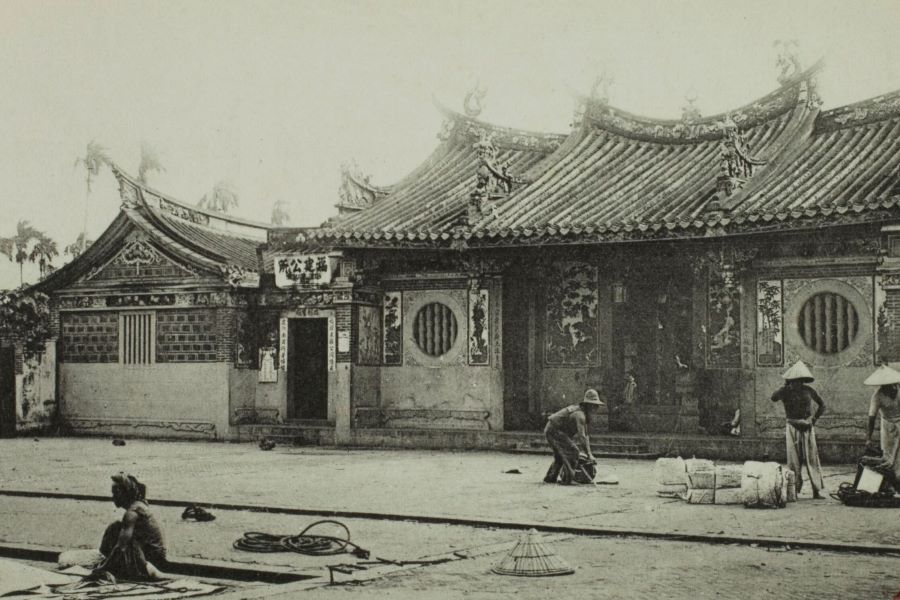 Nowadays, the Vietnamese government in association with local authorities have been preserving the traditional heritages and villages in Hoi An such as carpentry, pottery arts, lantern, etc.
Hoi An Culture
In 1999, Hoi An was recognized by UNESCO as a world cultural heritage of its features of the traditional port in Southeast Asia along with the traditional architecture from the 17th century to the 19th century. Visitors can feel the melting pot of art and architecture from France, China, Japan, and Vietnam through the rows of ancient houses, temples, and other constructions. The cultural values of Hoi An ancient town are shown by the rich and diverse intangible culture of habits, customs, beliefs, folk arts, and cultural festivals which are still well-preserved. Hoi An, today, is the old town of Bai Choi folk music performed by outstanding artisans on the river, diverse street cuisine such as Quang noodle or "white rose" cake, and colorful nights of Hoi An Lantern Festival.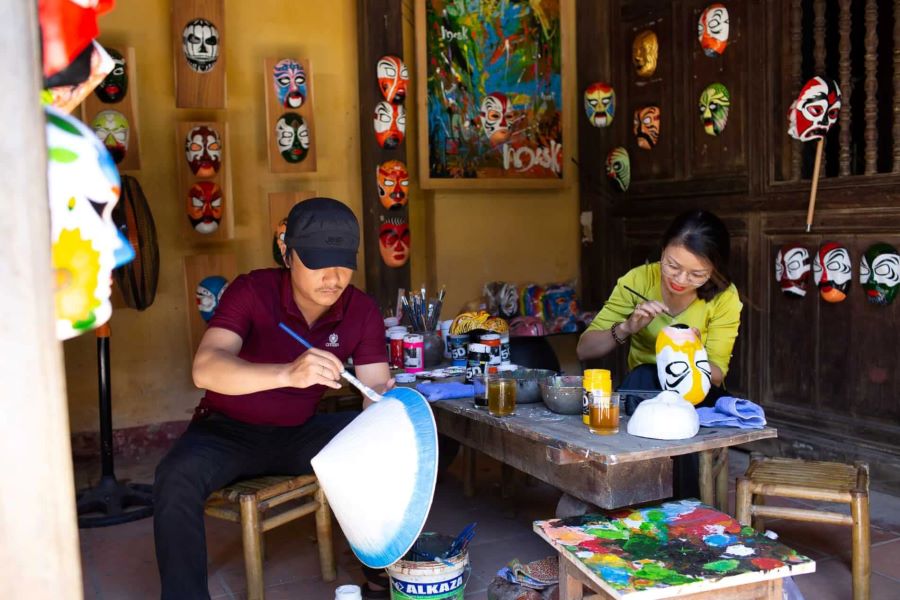 How to Get to Hoi An
To reach Hoi An, you have to get to Danang first. From Danang, there are some choices of transportation.
Bus
Distance: about 30km from Danang bus station to Hoi An bus station
Daily operating hours: From 5.30 am to 17.30 pm
Ticket price: around 25,000 VND
Motorbike
This is an opportunity for visitors to freely explore Hoi An and see nature along the roads. Ask the staff of your hotel you stay for the stores which you can hire motorbikes. About the route, you can follow the road signs on the national route 1A or ask for help from the hotel's staff.
Taxi
This is the most convenient way to travel from Danang to Hoi An. It takes about 45 - 55 minutes depending on transportation conditions. However, the price of the taxi service is quite high from 350,000 VND to 450,000 VND one way.
Transportation in Hoi An
Hoi An citizens always have awareness of protecting the environment. Motorbikes and cars are hardly found in the town. They have developed the habit of walking and cycling. Hoi An was the first city in Vietnam to host the event "A Day Without Smoke - Car Free Day" in 2012. Since April 1st, 2014, every citizen in Hoi An has gone to work by bike to contribute to environmental protection, aiming to build Hoi An - a city of ecology, culture, and tourism. Cyclos is also the recommended transportation in Hoi An. A slow journey by cyclo around the ancient town will leave tourists with astonishing memories.
Mobile & Internet Connection in Hoi An
The mobile network is available in Hoi An. International roaming service and other associated costs require the registry with mobile operators from foreign tourists. Viettel, Mobifone, and Vinaphone are names of recommendation. SIM cards can also be bought from their stores in Hoi An. Internet access and Wi-Fi connections are available in restaurants, coffee shops, museums, and other public places.
Useful Information for a Perfect Hoi An tour
Wear elegantly in Hoi An to show your respects to Vietnam. Sexy clothes are considered impoliteness and despiser.
You can pay US dollars in Hoi An. But for easy purchase, VND is highly recommended.
Massage in Hoi An is worth your try with only around $15.
Attend the cooking class to learn how to cook specialties in Hoi An and taste them.
Loan a bicycle to travel around Hoi An. Most hotels provide this service for a reasonable fee.
If you want something tailored in Hoi An, remember to ask for prices, lead time (often 2 days), and styles. Reputable shops are worth your while.
In the wet season, remember to carry a raincoat or an umbrella. Boots are recommended instead of sandals or sneakers.
In the dry season, T-shirts, jeans, sneakers or sandals, hats, and sunglasses are the advised set of clothes. Apply sunscreen for skin protection. Carry a bottle of freshwater for keeping hydrated.
Although most of the vendors in Hoi An are quite nice, some still cheat the tourists with higher prices and unprofessional services. Be careful with them. Ask the price clearly before making the purchases.
Top 4 Must-buy Souvenirs in Hoi An Tours & Ideal Places To Purchase
Hoi An is not only known well for its ancient landscape, and mouthwatering cuisine but also for a ton of unique souvenirs. Here are the Top 3 Must-buy souvenirs in Hoi An. Check and make sure you do not forget to take them home before living in this elegant city!
Colorful Silk Lanterns
A colorful silk lantern is considered one of the symbols of Hoi An town. If you are in Hoi An you will witness the town lightened by many beautiful lanterns blossoming like flowers in the evening. The lanterns can be made of many kinds of fabric but silk lanterns are the most popular. If you want to buy silk lanterns as souvenirs for family members and friends you can go to Hung An lantern shop on Nguyen Thi Minh Khai street over the Japanese Bridge. Only VND20,000 for two small lanterns and VND140,000 for a large hand-painted design.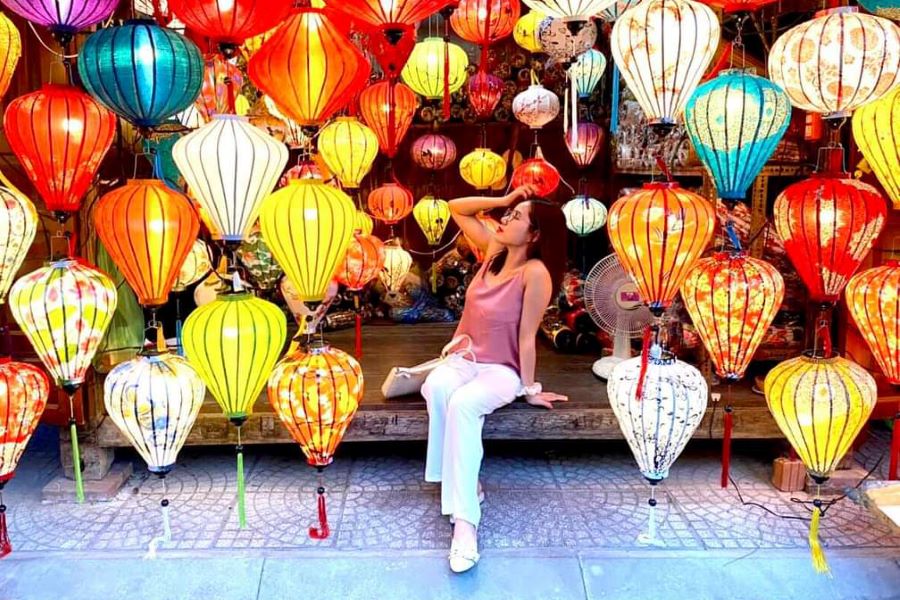 Souvenirs
Keychains, floating cards, and ceramic animal statues are so cute and special gifts for your friends and family at very reasonable prices. Keychains are mainly sold at shops near pagodas and ancients house with prices around VND 5,000. Floating cards are not only available in luxury shops but also on the sidewalk with many models like lotus or Bridge Temple. A card often costs VND40,000. Thanh Ha Pottery is a paradise of ceramic animal statues with prices around VND5,000 for three statues.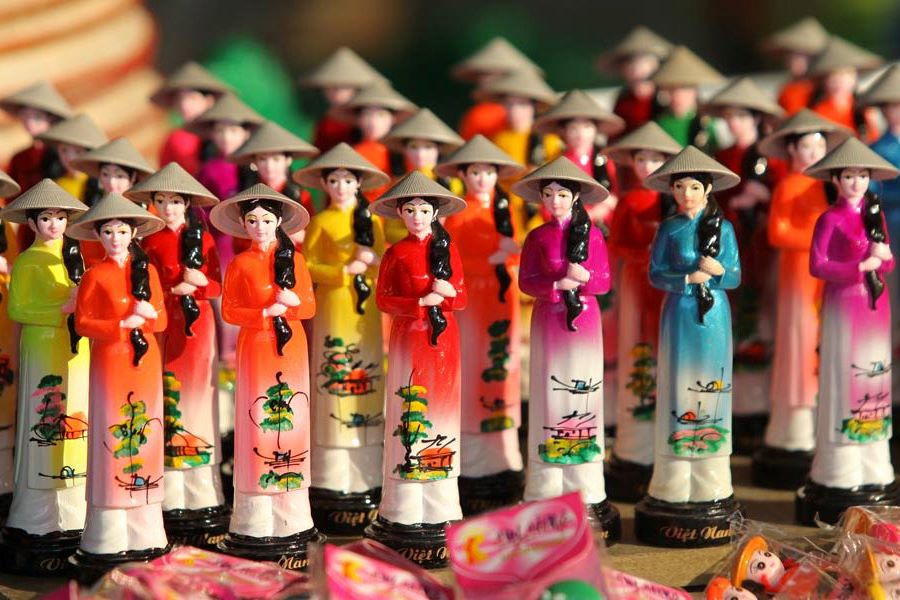 Shoes
Footwears in Hoi An look unique and soft so that you can pick some pair of shoes for your lover and friends. Shopping in Hoi An you will be mesmerized by a hundred shoes with diverse designs and colors. Travelers may be lost through a series of shoe shops in Hoi An. Among those, The Friendly shoe shop seems to be the most recommended by experienced travelers with high-quality leather and good customer service. Most of the formers customers of the shop are extremely satisfied with the shoes they ordered. Especially, this shop does a great sell customer care by warranting the shoes for up to 3 months after the order. Find it at No.18, Tran Phu street to have perfect shoes.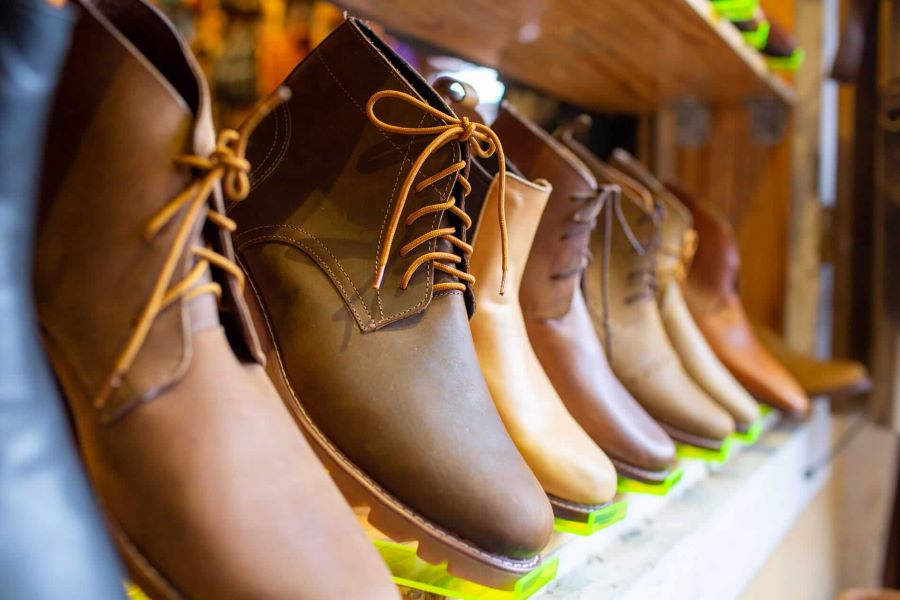 Tailor-made Outfits
To have a tailor-made outfit for your own or your friend as a gift, you should select yourself cloth from the Cloth Market where the source of high-quality silk is sold out. There is plenty of fabric exhibited there so you just need to opt for your favorite one and do not forget to haggle politely on price. The Cloth Market is located at No.01, Tran Phu Street, Hoi An. After that wander around the Hoi An Old Town to find a tailor shop. One of the most popular shops is Trang Tailors with 25 skillful craftsmen standing head and shoulders above other craftsmen in Hoi An. You can find it at No.43 Tran Hung Dao Street, Hoi An.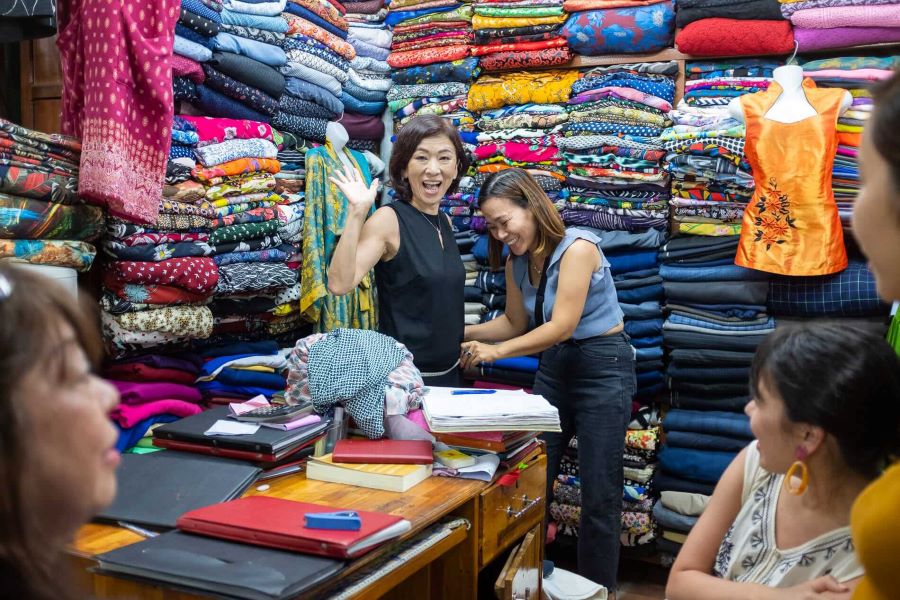 With the useful above information, hope you have a wonderful Hoi An tour! Visit our website to find a variety of Vietnam vacation packages and tours.