Mai Chau Tours | Top 5 Mai Chau Day Trips from Hanoi
According to local legend, in around the 14th century, a group of White Thai migrated south from their heartland further north in modern Lai Chau, Lao Cai, and Yen Bai Provinces to the Mai Chau valley. This group, along with their cousins further south in Thanh Hoa and Nghe An Provinces, subsequently developed into a distinct sub-group of the White Thai.
The Mai Chau valley became part of Hoa Binh Province during the French colonial period. During the course of the last 20 years, it has changed from an isolated farming community into one of northern Vietnam's most popular short-stay tourist destinations. However, its tranquil valley setting, engaging White Thai inhabitants, and superb rice wine continue to make Mai Chau tours a very worthwhile overnight stop on your Vietnam vacation.
This one-week Hanoi - Mai Chau - Halong tour is specially designed for the one who looking for a soft adventure combines with cultural exploration. The trip allows you to visit the best attractions of Hanoi, visit the picturesque mountainous areas in Mai Chau and stay with a local family, marvel in the thousand of islands in Halong and stay overnight on this seclude Bay on a junk cruise. It will surely stir your sense of imagination.
---
Top 10 Attractions in Mai Chau Tours
Lac Village
Like the other Thai villages in Mai Chau, Lac Village is typical of the traditional stilt houses with green bamboo trees and rice fields covered around. Besides, Lac village is also loved by the colorful brocade booths, friendly people with professional travel services, and delicious food. The village is home to traditional art activities and festivals which make your Mai Chau tour unforgettable.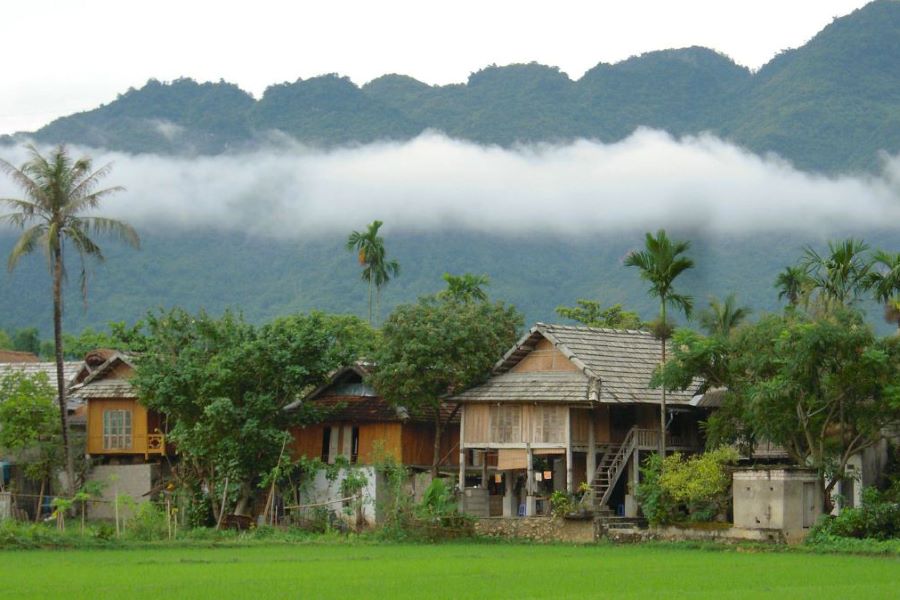 Chieu Cave
Chieu Cave is a national monument located in the town of Mai Chau, the road to the cave is 1200 steps of stone with a height of 700m. Every afternoon, when the sun shines into the cave, the light emulsion is sparkling which is extremely unique. An exploration of this mysterious cave will leave you interesting experience during your Mai Chau tour.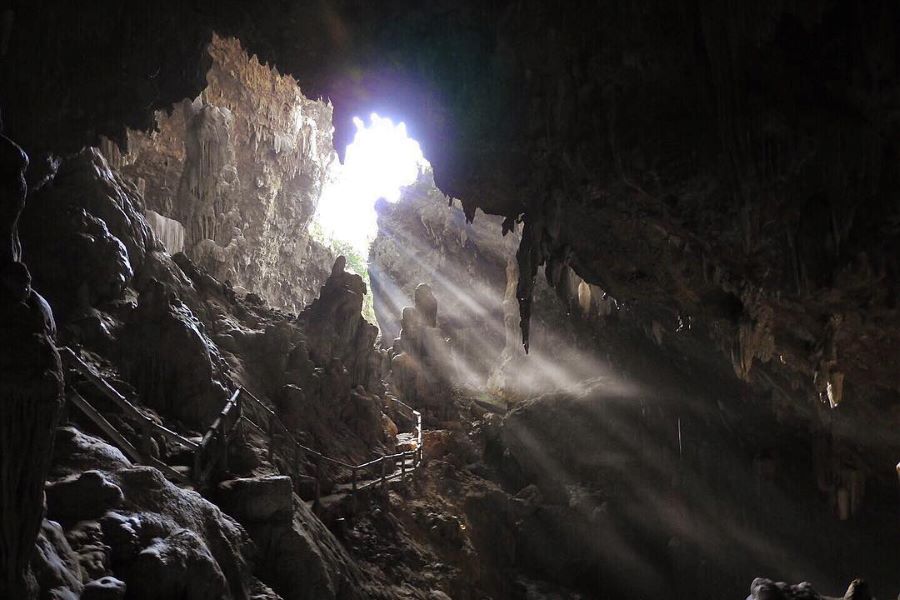 Mo Luong Cave (Bo Luong Cave)
Located about 1km from Lac Village, not as high as Chieu cave but Mo Luong Cave has beautiful and unique stalactites. Recently, Mo Luong Cave is under the management of Mai Chau Lodge.
Van Village
It is a small village near the town of Mai Chau. Not as busy as Lac Village but Van Village impresses tourists on Mai Chau tours with the terraced fields successively along the road to the village. The villagers are quite friendly and hospitable. In addition, the village also has a park for growing broccoli, white cabbage, and other flowers. If you have a chance to stay here, you will enjoy the morning sunrise over the beautiful terraces.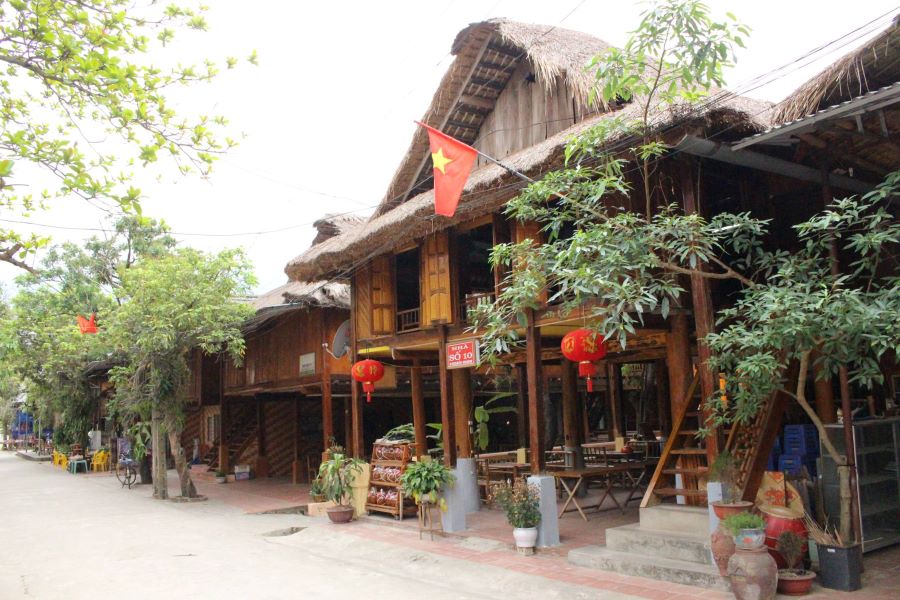 Thai Exhibition House
The exhibition house kept the ancient Thai artifacts, collected by Mr. Kien for 10 years to express his love for his lost wife. All the artifacts are now transferred and stored at the Van cultural house. In there, you will admire the ancient objects of the Thai people throughout the hundreds of years of development, the priceless collection of ancient coins is carefully collected and preserved.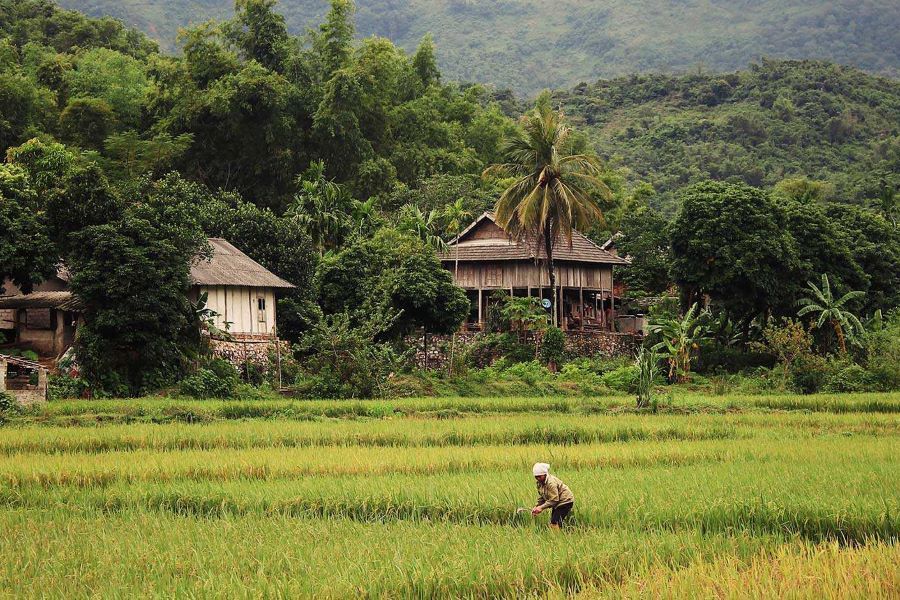 Go Lao Waterfall
Situated in Phuc San commune, about 15 km from Mai Chau, Go Lao waterfall is one of the most beautiful waterfalls that should be visited on Mai Chau tours. From Tong Dau crossroads to Mai Chau, you will easily find the way to this waterfall. The scenery along the road to the waterfall is a series of vivid beautiful images and the Go Lao waterfall is like a soft silk strip across the foot of the mountain.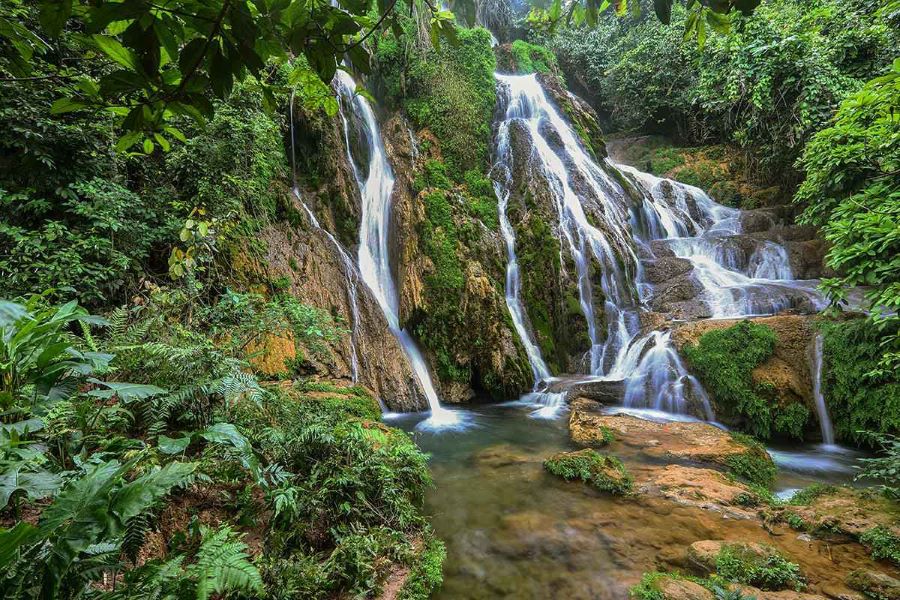 Ba Khan Valley
The valley is located at Ba Khan commune of Mai Chau located along Hoa Binh hydropower reservoir, stretching from Phu Cuong, through Thung Khe Pass. This is also a watershed area so you can rent a boat to travel around a lake. Boat rental is about VND 300,000 - 350,000/ hour. Tourism here is not yet developed and is quite wild.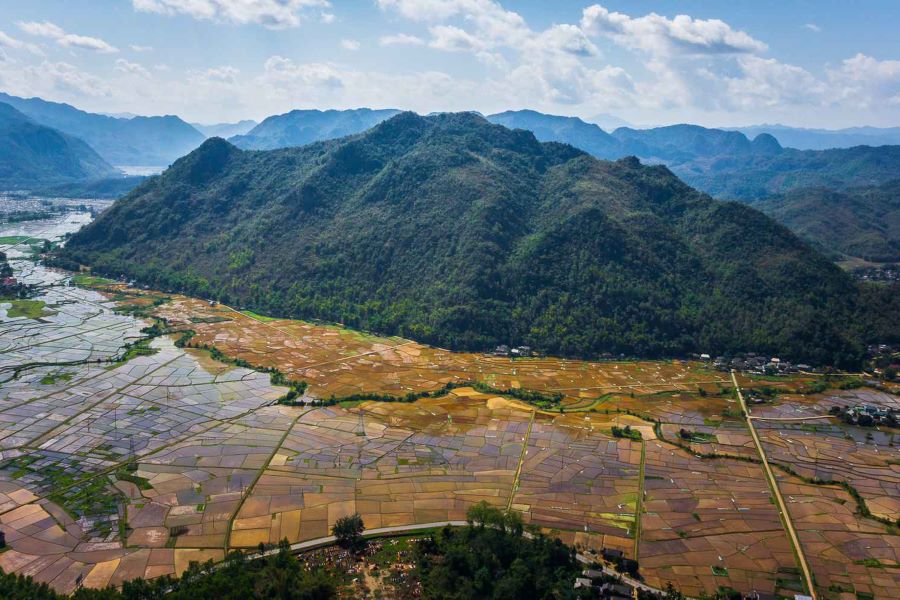 Amazing Evenings in Mai Chau
After a day visiting the scenic beauty of Mai Chau tour, what will you do in the evening? Absolutely spend it for the fascinating festival with the locals. You will dance and sing around a big fire in the ambiance filled with smiles and folk music. On feeling already exhausted and the cold night comes, gather around the fire, sip some tube wine and listen to the mysterious stories of this land told by the locals.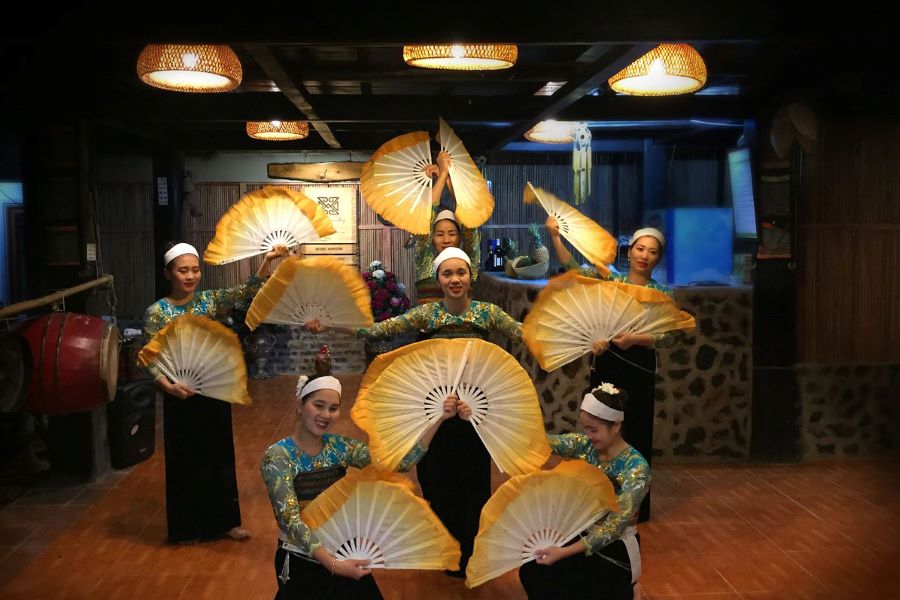 Specialties in Mai Chau
Talking about Mai Chau - Hoa Binh tourism, we must mention the extremely special culinary culture here. These dishes are the essence of the Thai people. Bamboo-tube rice, black pig pork, grilled stream fish, Mai Ha wine, five-colored sticky rice ... are the dishes you definitely have to try when visiting Mai Chau.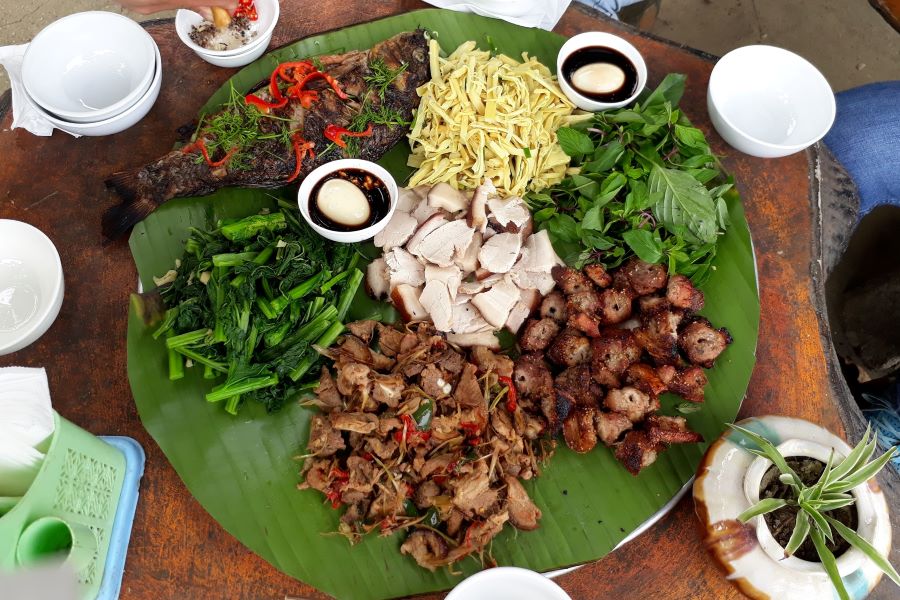 Tea Hills
Growing on the soil of Mai Chau is a high-quality tea with a unique smell and taste. Mai Chau tours will take tourists to the mass fields of tea on the hill with a color of lush green. You can join with local people to harvest tea leaves, process them, and finally enjoy a cup of warm tea to feel the taste of Mai Chau nature.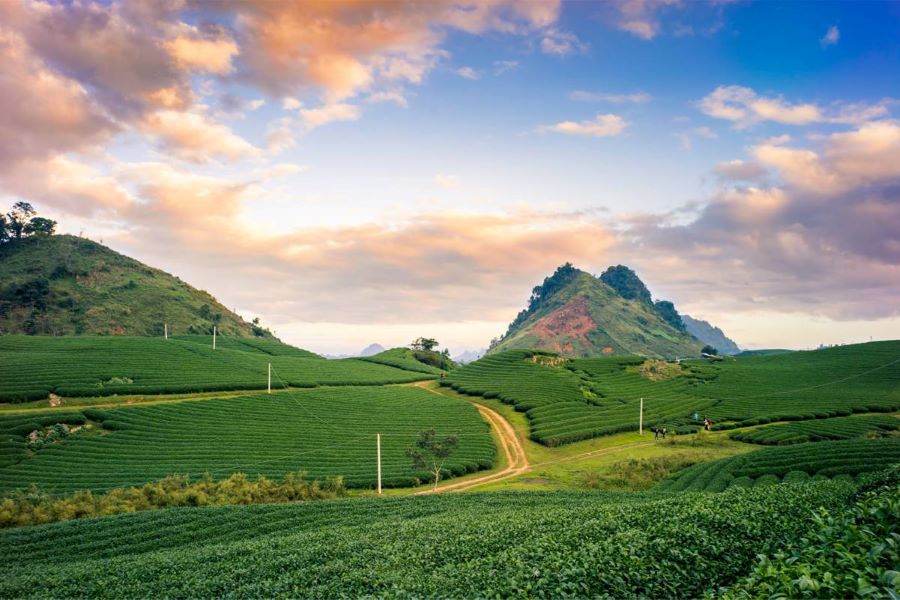 Best Time to Visit Mai Chau
Mai Chau is a valley surrounded by mountains so the weather in Mai Chau is generally dry all year round. You can go to Mai Chau any season. Spring is probably a great season for traveling Mai Chau. If you go to Mai Chau in March, you will be pleased to see the peach blossom, plum blossom and a variety of kinds of flowers bloom all over the forest.
However, September and October is the most wonderful time to admire the beauty of Mai Chau. It is the season of ripening rice fields in Mai Chau. The valley itself is covered with the golden yellow ripening rice fields. The weather in autumn is cool without rain so it is the most ideal time to travel to Mai Chau.
Mai Chau Travel Guide
Mai Chau General Information
Location: Northwest Vietnam, Hoa Binh Province
Population: About 55,000 (2016)
Language: Vietnamese and languages of ethnic minorities
Currency: Vietnam Dong (VND)
Natural Condition: Mostly mountainous areas
People, Nature & Culture in Mai Chau
People in Mai Chau
Mai Chau is the convergence of ten ethnic groups living: Thai, Dao, Mong, Muong, Hoa, Tay ... Each ethnic group has a distinctive identity, and unique cultural nuances blended with the scenic nature of the land which has created an attractive Mai Chau.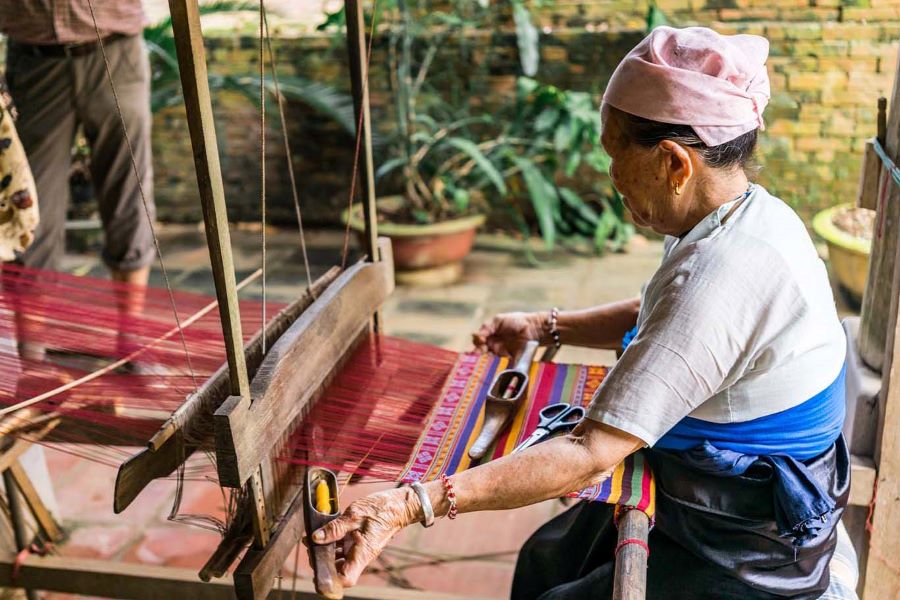 Humility is featured in the communication of people in Mai Chau. They do not consider themselves good enough and always try to get ahead in life. Mai Chau people are hospitable, always united in helping each other, and never jealous or narrow-minded with others. It is the fine tradition of the peoples living in the fanciful "foggy valley", which instill humanity.
Mai Chau Nature
Located at an altitude of 200 - 1,500m above sea level, Mai Chau has a fresh, cool climate all year round. Mai Chau as a gift of nature creates a community tourist areas such as Lac Village, Pom Coong, Van Village,... In Mai Chau, visitors will be impressed by the natural scenery with peaceful stilts, and lovely rows of areca palms in the mist. It is more interesting to come here in the spring, summer or late autumn, early winter. In the spring, Mai Chau is colorful with white plum blossoms and red peach blossoms all over the forest.
In the summer, the scene here is covered by a green color, which is the green of forest trees, rice fields, and cornfields... Especially, at the end of the autumn or early winter, Mai Chau stands out with its rich beauty and warm and brilliant yellow colors. The terraced fields are in the season of rice and yellow flowers are covered all over the hills, interspersed in the simple stilt house of ethnic people.
Mai Chau Culture
In Mai Chau, visitors will experience the cultural activities of ethnic groups such as Xen Ban festival, Xen Muong festival, rain festival, ... in which there are indispensable folk games such as "keng long", " to le" and "nem con ". All these activities are held annually. In addition, the ethnic songs in the ethnic languages and the classes teaching ethnic languages attract a lot of people. Activities such as singing and dancing are organized at festivals. Besides, the ethnic culture in Mai Chau is also reflected by the traditional crafts, formed brocade products with very good color and quality. The delicious specialties of Mai Chau are also very attractive.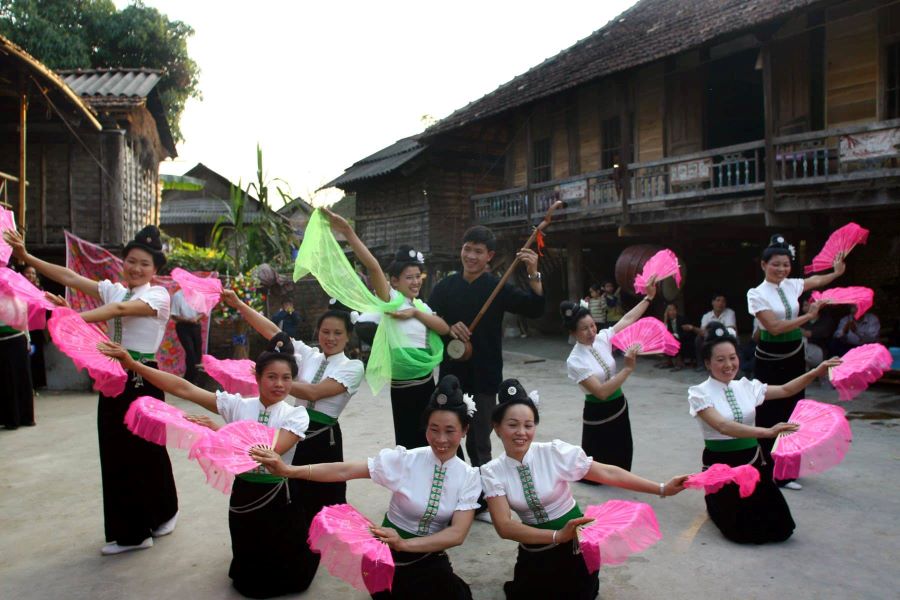 Transportation in Mai Chau
Motorbike
If you do not want to waste your time and energy during your Mai Chau tour, the motorcycle will be the best choice. However, the terrain in Mai Chau is quite dangerous so it requires good control from drivers. You can easily hire a motorbike in rental stores in Mai Chau at reasonable prices.
Bike
Mai Chau tours always encourage tourists to use this eco-friendly transportation to enjoy this land at its best. Like hiring a motorbike, you can hire a bike in rental stores or homestays and hotels in Mai Chau.
Trekking
In terms of the mountainous areas, trekking is a must, especially in Mai Chau. It will give you a chance to behold the spectacular scenes of this land as well as experience the best peaceful moments ever.
Where to Stay during Mai Chau Tours
In Mai Chau you will have several choices of accommodations:
Stilt House in Mai Chau
It is the most popular accommodation form in Mai Chau, you have to sleep in the stilt house once to feel all the interest of the Northwest mountain areas. When you wake up early in the morning, the wind blows from the fragrant rice field through the windows of the stilt house. The traditional Thai stilt house is characterized by bamboo stilts and bamboo flooring, which helps to warm up in the winter and cool in the summer.
Hotels in Mai Chau
If you want more facilities, you can choose to stay at the motel or hotel in Mai Chau town or near Lac village.  There are some good quality hotels in Mai Chau for your consideration: Khoa Thanh Hotel, Binh Minh Hotel, Mai Chau Lodge, Mai Chau Valley View, Mai Chau Sunset Boutique, and Mai Chau Villas with the price from VND 500,000 – 1,800,000/night.
In addition to Mai Chau hotels, there are ecological resorts called bungalows, and some luxury bungalows: Mai Chau Riverside Bungalow, Sol Bungalow, Mai Chau Sunrise Village ... The price is from VND 1,400,000 – 2,000,000/night.
Mobile & Internet Access in Mai Chau
Due to the mountainous area, the mobile connection is not too fast and even lost in some places. If you want to purchase SIM cards and register for other services, you need to reach the city center in Hoa Binh, which has agencies of Vietnamese mobile operators such as Viettel, Vinaphone, and Mobifone.
Internet access and Wi-Fi connection are also limited in Mai Chau and only a few public places provide this service.
Useful Information for a Perfect Mai Chau Tours
As one of the most beautiful places in Vietnam, Mai Chau is a perfect choice for travelers who want to admire stirring rice fields, tranquil scenes, and the real daily life of locals. Visit Mai Chau to witness people working on the rice fields, cows or oxen walking with no chains or herdsmen's supervision, and meet super friendly locals who are always happy and smiling when tourists come to their village. Here are some tips that you need to know before traveling to Mai Chau.
Choose the Right Time
It is true that Mai Chau is beautiful all year long but not every weather is good for cycling and hiking so you need to choose the right time before hitting Mai Chau. If you are fond of sunny weather you should visit Mai Chau in October, November, March, April, or May. Taking your Mai Chau tour from June to September is also a good choice but due to the monsoon season, it may be raining quite often. Although from December to February is the coldest month in Mai Chau, sometimes the weather is quite warm and you can admire the beauty of cherry blossoms in this land.
Take Enough Medicines
Because Mai Chau is a small village, it is quite hard to find a doctor or good pharmacy there. It is even harder to find a hospital that has doctors speaking English. Remember to take all the medicines you may need to use, especially, painkillers, antidiarrheal and anti-emetics drugs because the most common sickness for tourists in Asia is stomach illness.
Have Enough Time
Many tourists think that Mai Chau is quite close to Hanoi (just only 130km) so it will take around 3 hours to get there. In fact, because of the traffic jam, it takes longer. To avoid unnecessary anxiety or delay, come back one day earlier in case you need to be back in Hanoi at the exact time.
Pack Suitable Clothes
Because the most popular activities in Mai Chau are cycling and hiking, do not forget to put your sportswear in your package. A comfortable sneaker and tracksuit are must-haves. Remember to take sun-cream and hats if you visit Mai Chau in summer. Take a jacket, cap, scarf, and gloves in case you get there during the winter. Moreover, if you are planning to spend a lot of time outdoors, sunglasses will be useful all over the year.
Support the Locals
In tourists' minds, Mai Chau is a beautiful and charming village with nice and friendly locals. You also can support their economy and culture by buying some hand-made things like bags or scarves. Those things also are unique souvenirs for friends and family members.
Take your Camera
Mai Chau is an ideal place for photography thanks to its stunning landscapes. It is true that this land is beautiful enough to look great in any picture. Make sure that you take your camera if you do not want to miss a ton of amazing photos. Buy a local sim card to share your photos any time you want.
Take Enough Cash
While ATMs are easy to find in Hanoi, it is quite hard to find in a small town like Mai Chau. If you often pay by a card or withdraw a little amount of money every day, you will be disappointed. Remember to take enough cash when you head to Mai Chau.
Choose the Right Place to Stay
Choosing the right place to stay is a very important part of Mai Chau tours because not everywhere you will feel comfortable enough to be able to relax and enjoy spending time with locals. Mai Chau Ecolodge is a good hotel in Mai Chau with a swimming pool and delicious Thai foods. This modern hotel is both luxurious and eco.
Mai Chau Foods
Mai Chau has many delicious dishes from rice, and noodles to soups. Especially, you should also try fresh oranges from the local orchards in Mai Chau. They are not only so sweet and tasty but also don't have any preservatives that make them extremely healthy.
Choose the Most Convenient Way to Travel
Actually, there are many ways to travel to Mai Chau such as taking one or two days to Mai Chau from Hanoi or organizing everything by yourself. Buy one trip if you prefer to travel in a group.
Stop on Top before Getting to the Village to Take some Awesome Photos from above
Although the village of Mai Chau is situated in the valley when you go from Hanoi, you need to be on the top of the mountain first and then go down to the village. Ask your driver to stop when you see the beautiful view like in the picture below.
Viet Vision Travel offers a variety of choices for any type of Vietnam day trips, please feel free to contact us if you need more information about the Mai Chau tours package or any destinations throughout Vietnam. Hope you have a memorable Mai Chau tour!