Dalat Tours, Day Trips & Excursions – Viet Vision Travel
Locals would say, if you are in love, a Dalat tour will make your love turn into a happy ending. Truly, Dalat is the land of flowers and romance. Overlooking from the altitude of 1,500m, Dalat is set by the banks of Cam Ly River. Thanks for favorable location, The Land of Flower has a refreshingly cool change from the heat and humidity of the central coast. Unlike the freezing cold in Sapa, the weather here is always like a pleasant autumn.
Welcome to the land of diversified flora and fauna with endless pine tree forests and numerous kinds of flower. For nature-lovers, this city is like heaven on earth. You can freely discover the beauty of this land and lose yourself in green spaces to forget all the sorrow and stress. Dalat is formally established following the order of Paul Doumer, Governor – General of French Indochina at the beginning of the 20th century. Until now, most of the architectures in Dalat still remain its inherent French look. The ancient beauty attracts thousands of tourists to visit this wonderful place every year.
Indulge yourself in days of sightseeing covering the essence of Dalat tours or exciting excursions on Elephant's back. Whatever your passion, you'll find it when you traveling with us! Have a look at our ready-made Dalat tours for some inspirations or contact us to tailor a unique Vietnam vacation that exclusively for you.
Get overwhelmed by this undimmed Southern Vietnam Highlight tour bringing you to attractions at one half of S-shaped country. From dreaming beaches, great sand dunes to romantic cities, floating markets, and exciting streets, all of them are included in more than a week. This trip will absolutely leave you unforgettable memories.
Discover romantic Vietnam through 10-day Saigon - Nha Trang - Dalat honeymoon holiday for your affectionate honeymoon with gorgeous scenery and candlelit dinner in an elegant restaurant next to a gently meandering river. After exploring major historical sites in Saigon, head to Dalat – the "city of love" and be immersed in enthralling flowery gardens. Dalat is a breathtakingly scenic destination for newly-wed couples to enjoy a fantastic journey. Leave Dalat for a visit to Nha Trang, and dive into sun-drenched beaches and the shimmering water of Whale Island. Then, refresh your honeymoon by soaking up a mud bath in Thac Ba for relaxation and health improvement.
Dalat city is located on the Langbiang Plateau in the Southern parts of the Central Highland region. This is a capital of Lam Dong Province. The weather stands in contrast to Vietnam's otherwise tropical climate. Mist covering the valleys almost year around leads to its name "City of eternal spring".
---
Top 10 Attractions for Dalat Tours
Dalat – The City of Love is known for the spring-like weather all year round and a ton of beautiful destinations that you cannot find anywhere else. This city boasts a variety of colorful flowers fields and a series of elegant French-colonial villas. Here are the most distinctive and seductive attractions in Dalat tours we recommend for you.
Langbiang Mountain
Located on Langbiang Plateau, Langbiang Mountain or Lam Vien Mountain is one of the most attractive must-see sites in Dalat tours. The special name of this mountain is the combination of the name of a couple who was deeply in love with each other – the man named K'lang and the woman named Ho Biang. Langbiang mountain is famous for the breathtaking view of the whole wide region full of colorful flowers from poetic Dalat city, dreamy forests and silver waterfalls. Langbiang offers a variety of choices for visitors from joyful activities such as camping, bird- watching, exploring the natural floras to adventurous activities like mountain climbing, trekking, and paragliding, etc. This mountain is also the home to many ethnic minority groups - a perfect choice for culture lovers.
Dalat Station
Another attraction you cannot miss is in your Dalat tour is Dalat Railway Station – the oldest station in Vietnam which was built by the French in 1932. The wonderful art-deco train station impresses tourists with the unique architectural style with three conical roofs referring to three Langbiang mountain tops or the hollow of mountain Highlands. This station only serves tourists on the route Dalat – Trai Mat – Linh Phuoc Pagoda.
Address:
No. 1 Quang Trung St
Opening hours:
8.00 am to 5.00 pm
Linh Phuoc Pagoda
As one of the appealing tourist attractions in Dalat tours alluring numerous tourists, Linh Phuoc pagoda is a colorful architectural mosaic made from pieces of pottery and glass. Visitors can find a chain of stalls to buy unique local foods, drinks, and souvenirs. Especially, do not forget to write down your wish on a piece of paper, stick it to the center of the large bell the first floor the and ringing the bell 3 times to send the wish to Buddha.
Address:
No. 120 Tu Phuoc St
Opening hours:
9.00 am to 5.00 pm
Xuan Huong Lake
Situated in the heart of Dalat, Xuan Huong Lake is a major landmark of this romantic city as well as Dalat tours. This crescent-moon-shape lake is a mirror which reflects the scenery of the city. Stroll along the lakeside and take a rest under the conifers or pedal boat on this lake to admire the unique architecture of Thuy Ta Pavillion. Rent a tandem bike to wander around this lake with your lover…so sweet! Lam Tuyen Lake is also a dreaming lake which is worth your while in your Dalat tour.
Dalat Night Market If you are in search of a paradise of street foods, souvenirs, and a ton of local products such as artichoke, vegetables, and dried fruits, night markets in Dalat will completely satisfy your wish. Wandering around the markets, buying some souvenirs, tasting some featured dishes like banh trang nuong (Vietnamese pizza), grilled sweet potato, and hot soy milk will leave your Dalat tour unforgettable memories. Underworld market is the well-known name of recommendation.
Address:
Nguyen Thi Minh Khai St, Ward 1
Opening hours:
5.00 pm to 3.00 am
Hang Nga Guesthouse
Deserved to be among the best Dalat attractions in Vietnam, Hang Nga guesthouse mesmerizes tourists by the free-wheeling architectural exploration of surrealism. This special house is created and decorated with twisting organic forms and very few right angles. Because the intention of the architects is to make a fairy tale house so you may be feeling lost in the childhood dream presented by a spectacular construction with ten special themed guest rooms such as the tiger room, the eagle room, the ant room, and the kangaroo room, etc. Especially, according to Ms. Hang Nga - owner of the house, each room refers to a certain country like tiger represents Chinese or ants describes Vietnamese.
Address:
No. 3 Huynh Thuc Khang St
Opening hours:
7.00 am - 6.00 pm Elephant Ride Have you ever ridden an elephant before? Your Dalat tour will bring you an absolute distinction when you sat on the back of a big but friendly and well-train elephant. It will slowly stroll around the best attractions in Dalat and bring you unforgettable sightseeing. Imagine sitting at the height of about 3m makes you a little bit scared. In fact, it is extremely safe without shaking or falling.
Dalat Flower Festival Considered the kingdom of flowers, Dalat holds the biggest festival ever to honor the charm of flowers as well as floriculture. During the festival, a lot of colorful flowers are used to decorate every street, house, and public place in Dalat. The opening ceremony is the most wonderful night with the combination of dances, music, and lights. In daytime, you will get lost in exciting parades with a lot of carriages decorated with colorful flowers on the streets.
Bao Dai Summer Palace Dalat used to be the luxury resort of the royal family in the 20th century. King Bao Dai built a luxury palace here to stay during the hot summer in Hue Imperial City. The palace is the melting pot of French and Vietnamese architecture with 25 luxury rooms including a library, entertainment room, bedrooms, and so on. Nowadays, it is opened and welcomes all tourists who want to experience a royal life as well as see the priceless artifacts and sculpture.
Address:
No. 1 Nguyen Viet Xuan St
Opening hours:
7.00 am – 5.00 pm
Dambri Waterfall
As one of the highest and most magnificent waterfalls in Vietnam, Dambri waterfall attracts a lot of tourists worldwide. In the K'ho language, Dambri means "waiting". This name related to the sad legend about a couple who deeply love each other but cannot get married, the woman named Kdam, the woman named Bri. Because of the unsuccessful love, Kdam was so sad and left the village, Bri left her house to find him but couldn't found him. She disappointedly came back to a forest nearby her village and she cried. She kept crying till she died and her body turned into rock, her tear kept flowing and it became the present waterfall. Visit the waterfall in the dry season to admire the best of it and climb up to the small café on the top to get the breathtaking view of the waterfall. Besides, you can visit other majestic waterfalls such as Elephant Waterfall or Dalanta Waterfall.
We have been carefully designing the variety of Vietnam vacation and tour packages that cover all landmarks and amazing destinations in Vietnam. So, if you are preparing for your Dalat tour, please feel free contact us, we are very happy to tailor special Dalat tours that suits you perfectly.
Weather in Dalat
Thanks to the elevation of 1.475m above sea level, Dalat is a cool tropical climate with the moderate temperature of 17.8
o
C. A day in Dalat includes four seasons which are the morning of brilliant spring, hot summer at noon, clear autumn in the afternoon, and the night of cold winter. Dalat also has two seasons in a year. Dry season lasts from October to February while rainy one begins in March and ends in September.
Best Time to Visit Dalat
January to March – A Season of Trees and Flowers during your Dalat Tour
The temperature during these months fluctuates from 15
o
C to 22
o
C. This is the best season to visit Dalat which is covered by diverse colors of trees and flowers. The light winds bring their pleasant aroma to every corner of Dalat. Strolling around Dalat, you will behold the pink of cherry covering the entire city from gardens, along streets, over the hillside to the small balconies. This time is also the blooming season of Dandelion and Artichoke – the ingredient making famous artichoke tea of Dalat.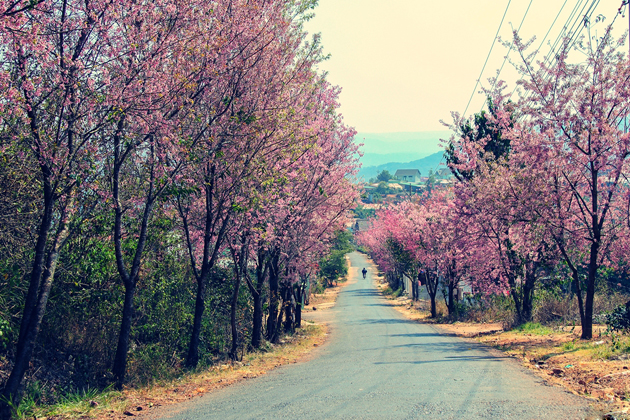 April to June – A Dalat Tour Filled by Fog and Purple
The weather is hotter than the previous period but different from the heat of other areas in Southern Vietnam. Light rains and romantic fog fill the valley as well as the city center. The amazing place to enjoy spectacular Dalat is coffee shops located on the hillside or in pine forests. In addition, many flowers such as Lavender, Purple Phoenix, and Hydrangea together show off their attraction during these months in Dalat. You can also taste peach, avocado, and other fresh fruits when visiting the vast fruit garden in this city.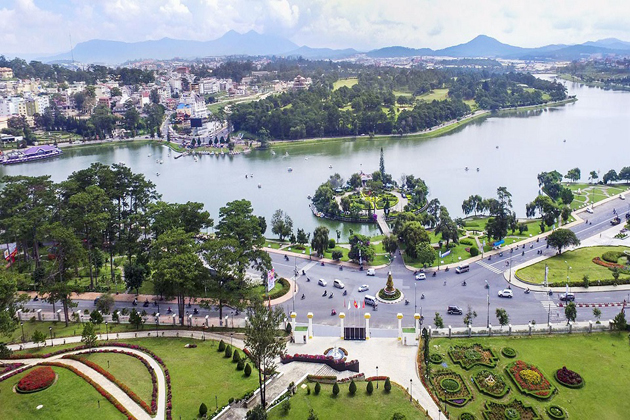 July to September – Dalat Dominated by Rain
Southwest monsoon brings humidity and rains, which begins the off-season in Dalat. However, rains do not last all day long so you can spend the dry time enjoying your Dalat tour by visiting gardens of White Mustard Flowers and tasting fresh ripe persimmons. The vast areas are covered by the white color of White Mustard Flowers and the orange one of persimmons.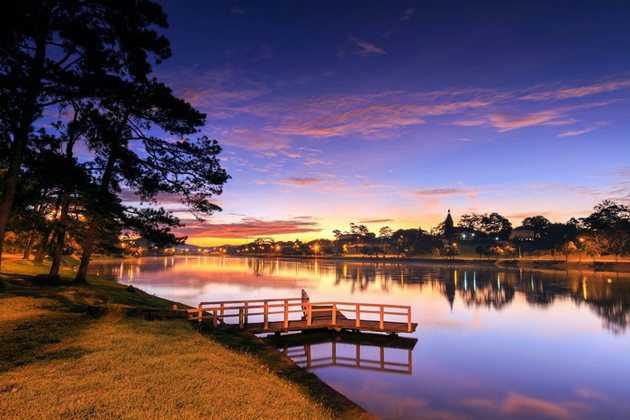 October to December – A Dalat Tour of Cold Weather and Hot Foods
The monsoon from the southwest is replaced by the colder and drier northeast one. The temperature rarely reaches 20
o
C in daytime and drops under 15
o
C at night. Despite the cold weather, colorful flowers still bloom such as Sunflower or Buckwheat Flower. Besides, you can paddle a boat on Tuyen Lam Lake to behold Red Maple Leaves and enjoy the sound of nature. At night, grilled sweet potato, Vietnamese pizza, and hot soy milk will surely warm your body up.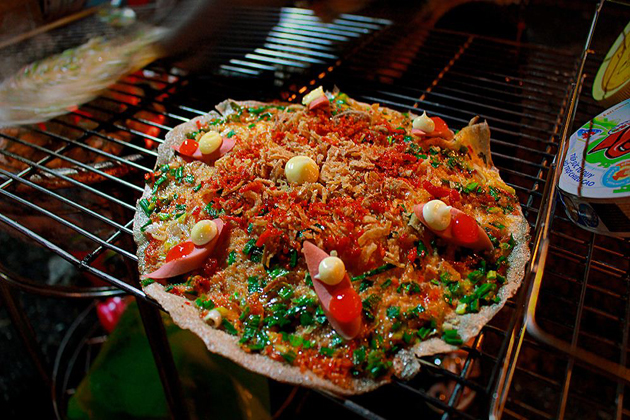 Dalat General Information
Location:
South Central Vietnam, Lam Dong Province
Population:
Over 400,000 (2015)
Language:
Vietnamese
Currency:
Vietnam Dong (VND)
Natural Condition:
Highland (Average height above the sea: 1500m)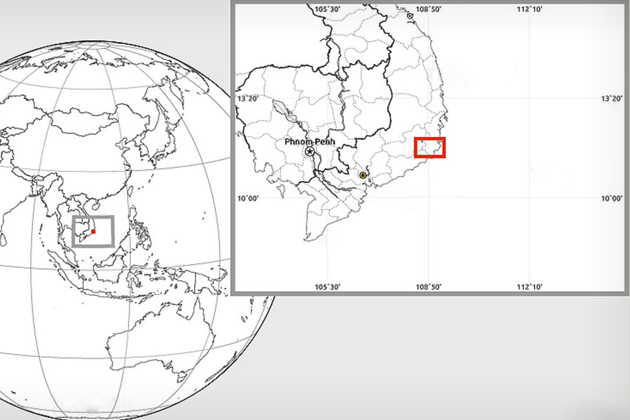 People, Nature & Culture in Dalat
Dalat People
Living in a tranquil, cool climate all year round, the war in the 20
th
century is almost echo which no longer directly affects and disturbs the peaceful life of a highland. Therefore, Dalat citizens are always gentle and honest like the beautiful nature of their country. Most of them earn a living thanks to tourism so their hospitability to tourists is no longer a feeling but a way of their life. From street vendors to servicers, everyone always shows their respect, sympathy, and helpful to all honored guests visiting Dalat. Leaving their homeland to set up business in the wilderness more than half a century ago, only by love and unionization can Dalat people overcome all the difficulties and challenges in their daily life. Hence, you will completely feel every moment of peace and happiness during your Dalat tour.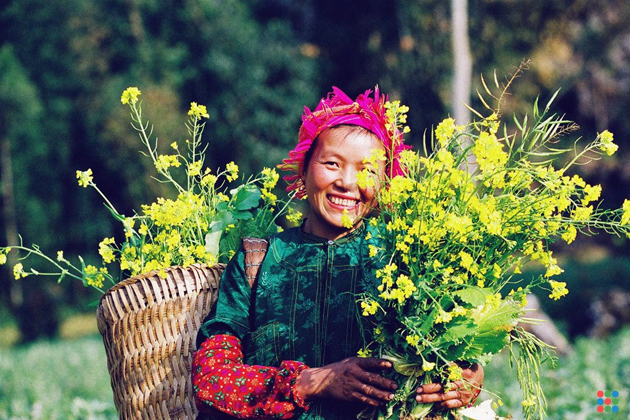 Dalat Nature
Dalat used to be a luxury resort of Nguyen dynasty and French colonial authorities in the 20
th
century. After the Vietnam War, Dalat was planned to become one of the leading destinations for tourism in Vietnam. Nowadays, it is the paradise of colorful flowers among the nature combined by dreaming lakes, majestic plateau, and green lush pine forests. Dalat also brings tourists the pristine space of houses with fresh vegetable gardens, the winding streets hidden behind the hills, the beautiful villas under the shadow of pine trees having the amazing view of dreaming Xuan Huong Lake.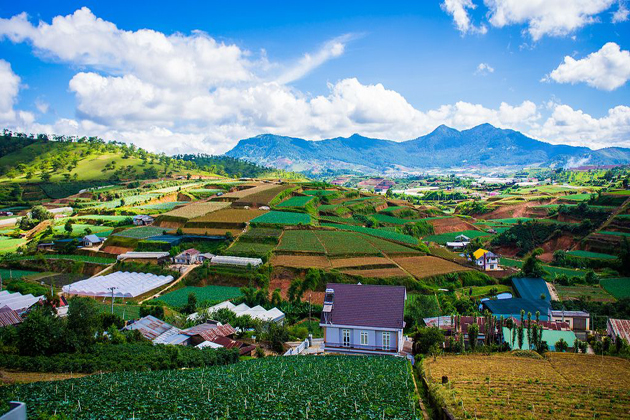 Dalat Culture
Da Lat is soon deeply influenced cultural identities and spiritual life of the East and influenced modern civilization of the West. The harmonious processing of traditional cultural elements and modern civilization has been presented in the style of Dalat people with elegant entertainment such as drinking tea and growing flowers. Dalat Flower Festival and Tea Cultural Festival are two famous events exactly reflecting this habit. This land is also the ideal place where artisans choose to stay when they need to find inspiration. If you wish to look for a place of hustle and bustle in Dalat, bus station and local markets will be the suggestions.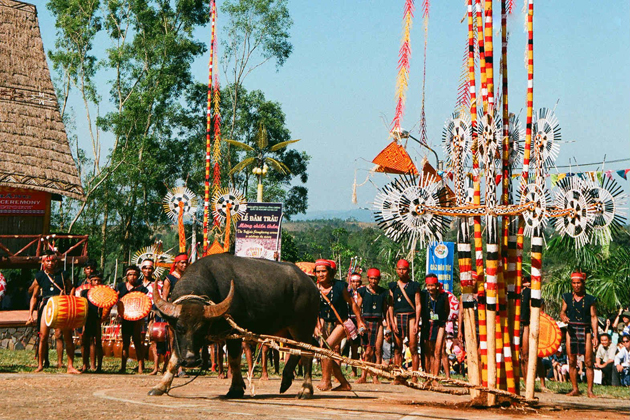 Dalat Travel Guides
How to Get to Dalat
Plane
Dalat has domestic Lien Khuong Airport (30km far from city center) so you can take a flight from Noi Bai International Airport in Hanoi or Tan Son Nhat International Airport in Ho Chi Minh City. Vietnam Airline and Vietjet Air are names of recommendation. From the airport, there are several choices of transportation to get to Dalat center.
Bus
Ticket price: about VND 40,000 ($2) Travel time: 35-40 minutes Operation time: 6.00 am – 6.00 pm
Motortaxi
Fee: about VND 300,000 ($15) Travel time: 25-30 minutes
Taxi
Some reliable taxi brands:
Mai Linh Taxi
(+84 2633 838 383)
Dalat Taxi
(+84 2633 55 66 55)
Bus
From Hanoi to Dalat
Tai Thang Company
Travel Time: about 35 hours Ticket price: VND 600,000 (about $30) Departure: Nuoc Ngam Station (No. 1 Ngoc Hoi St, Hoang Liet Ward, Hoang Mai District) Arrival: Dalat Station (No. 1 To Hien Thanh St, Ward 3, Lam Dong Province) Tel: +84 263 3834 898
From Ho Chi Minh City to Dalat
Thinh Phat Company (High-quality Limousine)
Travel time: 7 hours Ticket price: VND 350,000 (about $14) Tel: 19006681 Departure and Arrival upon request
Minh Tri Company
Travel time: 7 hours Ticket price: VND 180,000 (about $7) Tel: +84 2633 508 989 Departure and Arrival upon request
Transportation in Dalat
Taxi
Some recommended taxi brands:
Mai Linh Taxi
(+84 263 3838 383)
Redstar Taxi
(+84 263 3959 595)
Lado Taxi
(+84 2633 666 777)
Motor
You can hire a motorbike from hotels and homestays for an interesting journey in Dalat with the reasonable price of about VND 100,000 VND per day.
Where to Stay in Dalat
Villa & Resort
If you want to experience luxury accommodation in Dalat, villa, and resort with state-of-the-art furniture and décor will perfect your Dalat tour. Moreover, they are located in the most spectacular locations which have breathtaking panoramic views of the city. The prices range from VND 1,000,000 ($45) to VND 6,000,000 ($270) for one night. Consider some suggestions below:
The Orchid Villa Dalat
Address: No. 120 To Hien Thanh St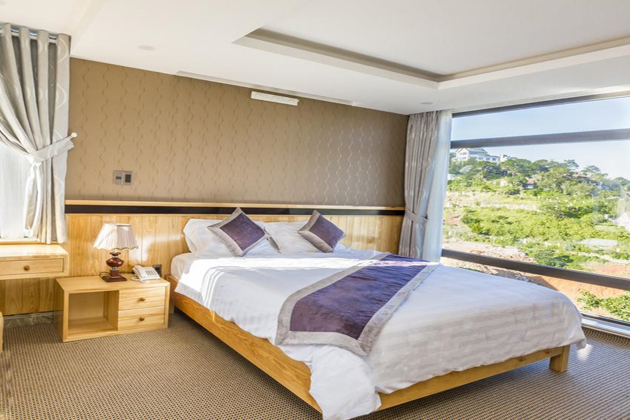 Terracotta Hotel & Resort Dalat
Address: Tuyen Lam Lake
Hotel & Homestay
Provided that your budget is not too large, your Dalat tour still has the wonderful experience in hotels and homestays in Dalat. The prices vary from VND 300,000 ($15) to VND 1,000,000 ($50).
Dreams Hotel
Address: No. 141 Phan Dinh Phung St
Villa Vista Hotel
Address: No. 40 Ngo Thi Sy St
Mobile & Internet Access in Dalat
Mobile access is available in Dalat. Foreign tourists have to register with mobile operators in Vietnam for services such as international roaming service and SIM cards purchase. Some suggestions are Viettel, Vinaphone, and Mobifone. Wi-Fi connection and internet access are available in hotels, restaurants, café, and other public places.
Useful Information for a Perfect Dalat Tour
Besides winter and spring, nights in Dalat are quite cold so whenever visiting Dalat, remember to carry with you
warm clothes
. Even in dry season, rain still occurs in Dalat so
a raincoat
or
an umbrella
is the indispensable thing in your backpack. You can behold the beauty of flowers but
not pick
them up. You should
book accommodation
for your Dalat tour the sooner the better for diverse choices and cheap price. Prepare
a good camera
to take wonderful photos of Dalat for your Dalat tour collection Hope this useful information will support your wonderful Nha Trang tour.