Dalat Tours, Day Trips & Excursions – Viet Vision Travel
Locals would say, if you are in love, a Dalat tour will make your love turn into a happy ending. Truly, Dalat is the land of flowers and romance. Thanks for favorable location, The Land of Flower has a refreshingly cool change from the heat and humidity of the central coast. Unlike the freezing cold in Sapa, the weather here is always like a pleasant autumn.
Dalat is formally established following the order of Paul Doumer, Governor – General of French Indochina at the beginning of the 20th century. Until now, most of the architecture in Dalat still remain its inherent French look. Have a look at our ready-made Dalat tours for some inspirations or contact us to tailor a unique Vietnam vacation that exclusively for you.
Tour Route: Dalat Railways station - Linh Phuoc Pagoda - Lat Village - Tuyen Lam Lake - Truc Lam Zen Monastery - Bao Dai Summer Palace - Crazy House
Tour Highlights
Have many chances for stunning photos from the top of Robin Hill
Enjoy fresh air while seeing the sight of the nicest lake in Da Lat
Appreciate the architecture of Bao Dai Summer Palace and Crazy House
Experience one of the most extraordinary cog railroads in the world
Discovery the belief and worship of locals at Linh Phuoc Pagoda
Meet the minority people and explore the unique lifestyle
Savor the delicious lunch
---
Best Time to Visit Dalat
January to March – A Season of Trees and Flowers during your Dalat Tour
The temperature during these months fluctuates from 15
o
C to 22
o
C. This is the best season to visit Dalat which is covered by diverse colors of trees and flowers. The light winds bring their pleasant aroma to every corner of Dalat. Strolling around Dalat, you will behold the pink of cherry covering the entire city from gardens, along streets, over the hillside to the small balconies. This time is also the blooming season of Dandelion and Artichoke – the ingredient making famous artichoke tea of Dalat.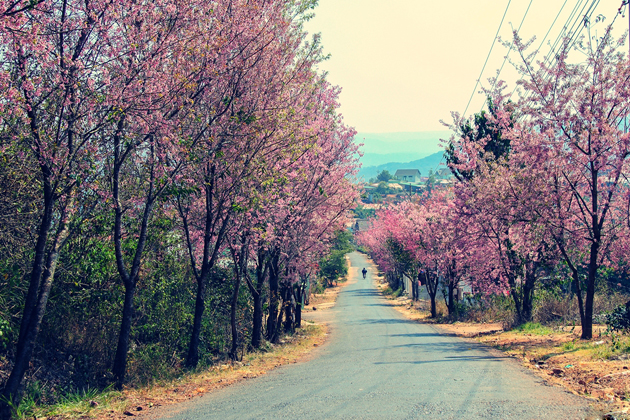 April to June – A Dalat Tour Filled by Fog and Purple
The weather is hotter than the previous period but different from the heat of other areas in Southern Vietnam. Light rains and romantic fog fill the valley as well as the city center. The amazing place to enjoy spectacular Dalat is coffee shops located on the hillside or in pine forests. In addition, many flowers such as Lavender, Purple Phoenix, and Hydrangea together show off their attraction during these months in Dalat. You can also taste peach, avocado, and other fresh fruits when visiting the vast fruit garden in this city.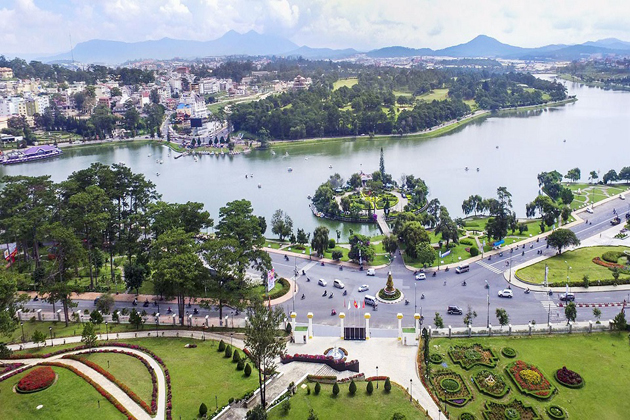 July to September – Dalat Dominated by Rain
Southwest monsoon brings humidity and rains, which begins the off-season in Dalat. However, rains do not last all day long so you can spend the dry time enjoying your Dalat tour by visiting gardens of White Mustard Flowers and tasting fresh ripe persimmons. The vast areas are covered by the white color of White Mustard Flowers and the orange one of persimmons.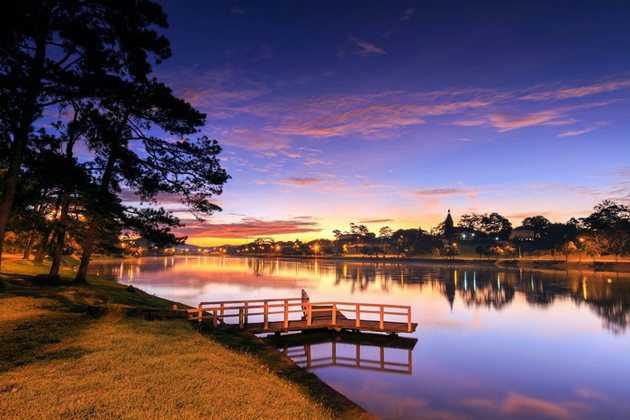 October to December – A Dalat Tour of Cold Weather and Hot Foods
The monsoon from the southwest is replaced by the colder and drier northeast one. The temperature rarely reaches 20
o
C in daytime and drops under 15
o
C at night. Despite the cold weather, colorful flowers still bloom such as Sunflower or Buckwheat Flower. Besides, you can paddle a boat on Tuyen Lam Lake to behold Red Maple Leaves and enjoy the sound of nature. At night, grilled sweet potato, Vietnamese pizza, and hot soy milk will surely warm your body up.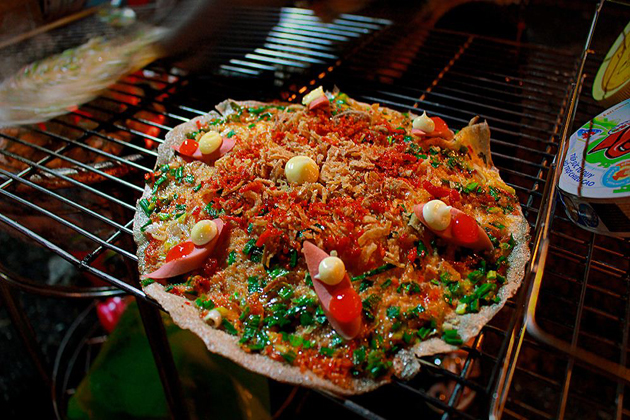 Dalat General Information
Location:
South Central Vietnam, Lam Dong Province
Population:
Over 400,000 (2015)
Language:
Vietnamese
Currency:
Vietnam Dong (VND)
Natural Condition:
Highland (Average height above the sea: 1500m)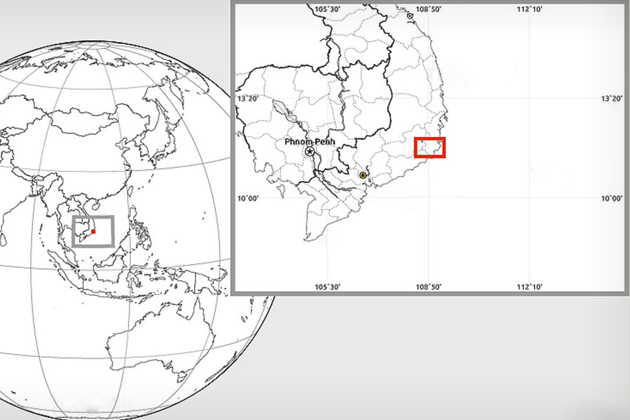 People, Nature & Culture in Dalat
Dalat People
Living in a tranquil, cool climate all year round, the war in the 20
th
century is almost echo which no longer directly affects and disturbs the peaceful life of a highland. Therefore, Dalat citizens are always gentle and honest like the beautiful nature of their country. Most of them earn a living thanks to tourism so their hospitability to tourists is no longer a feeling but a way of their life. From street vendors to servicers, everyone always shows their respect, sympathy, and helpful to all honored guests visiting Dalat. Leaving their homeland to set up business in the wilderness more than half a century ago, only by love and unionization can Dalat people overcome all the difficulties and challenges in their daily life. Hence, you will completely feel every moment of peace and happiness during your Dalat tour.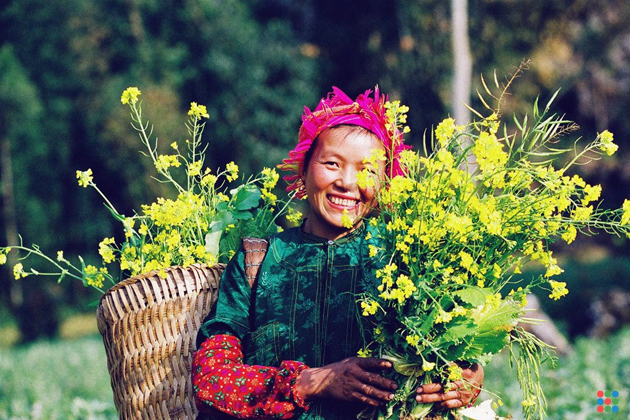 Dalat Nature
Dalat used to be a luxury resort of Nguyen dynasty and French colonial authorities in the 20
th
century. After the Vietnam War, Dalat was planned to become one of the leading destinations for tourism in Vietnam. Nowadays, it is the paradise of colorful flowers among the nature combined by dreaming lakes, majestic plateau, and green lush pine forests. Dalat also brings tourists the pristine space of houses with fresh vegetable gardens, the winding streets hidden behind the hills, the beautiful villas under the shadow of pine trees having the amazing view of dreaming Xuan Huong Lake.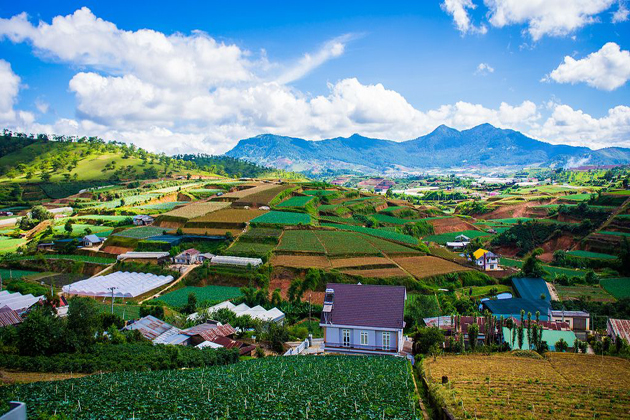 Dalat Culture
Da Lat is soon deeply influenced cultural identities and spiritual life of the East and influenced modern civilization of the West. The harmonious processing of traditional cultural elements and modern civilization has been presented in the style of Dalat people with elegant entertainment such as drinking tea and growing flowers. Dalat Flower Festival and Tea Cultural Festival are two famous events exactly reflecting this habit. This land is also the ideal place where artisans choose to stay when they need to find inspiration. If you wish to look for a place of hustle and bustle in Dalat, bus station and local markets will be the suggestions.