Thanh Hoa is the land of undimmed beauty. Situated on the heartland of Central Vietnam, Thanh Hoa not only owns proud history and cultural traditions in every turn but also home to spectacular views gone into poems. The western border with Laos of mountainous areas, the East dominated by the sea makes Thanh Hoa worthwhile your experience and most of your Vietnam vacation.
Thanh Hoa Vietnam Attractions
Pu Luong Nature Reserve
Pu Luong Nature Reserve stands in the northwest of Thanh Hoa city, about 130km to the northwest, and belongs to Quan Hoa and Ba Thuoc districts. With wild features, the landscape hidden in the mist, virtual ecology, Pu Luong leaves tourists unforgettable impressions.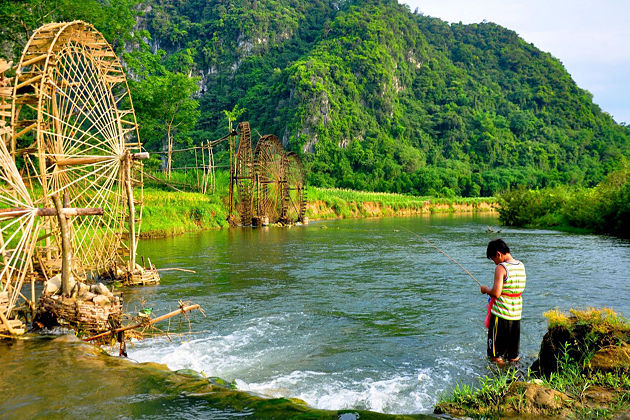 The attractions cannot be missed when visiting Pu Luong are Pu Luong peak with the height of over 1700m together with Son-Ba-Muoi caves, Kho Muong, Hieu village waterfall,… In Pu Luong, you will find lots of wooden water wheels, which are characteristic of the Thai ethnic people.
Sam Son Beach
Located 16km from the city center, Sam Son beach deserves the gorgeous pearl of Thanh Hoa. From the rustic destination in the past, Sam Son has totally changed its appearances with diverse services from state-of-the-art accommodations to chains of amazing resorts and restaurants but still remained the untouched natural sceneries.
Ho Dynasty Citadel
Ho Dynasty Citadel is the capital of Dai Ngu (the national name of Vietnam in Ho Dynasty), located on the territory of Thanh Hoa province. This is a permanent citadel with the unique architecture of rocks on a very rare large scale in Vietnam. It is also the only one that remained in Southeast Asia and is one of the few stone ramparts that still exists in the world.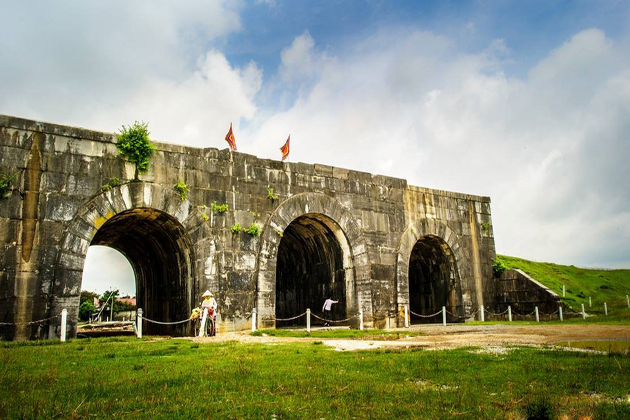 Cam Luong Magic Fish Stream
The magic fish stream is located 60km away from the center of Thanh Hoa city, where the fish live in densely populated areas, preserved by the Muong and Thai ethnic groups, and already become a famous place.
Ben En National Park
Drive 36 km from the center of the city will bring you to Ben En National Park. The park has a mountainous landscape, with many rivers, streams, and lakes. Muc Lake in Ben En National is a 3,000 hectares width with 21 midland islands, which makes Ben En become one of the most beautiful national parks in Vietnam. The ecosystem here is diverse.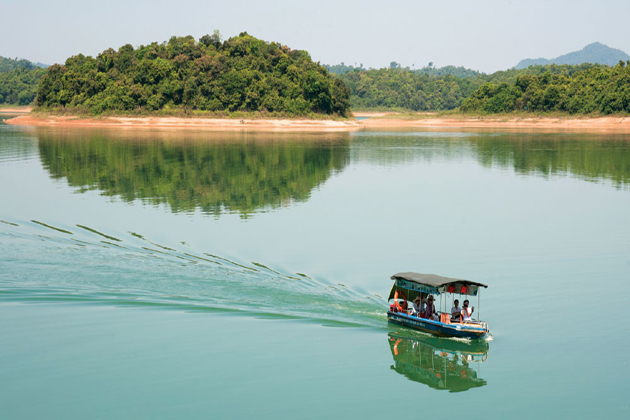 Dong Son Ancient Village
Former Dong Son Village belongs to Dong Giang Commune, Dong Son District (Thanh Hoa), now it belongs to Ham Rong Ward, Thanh Hoa City. This is a famous ancient village not only in Thanh Hoa. The name Dong Son has been known by many Western scientists since the last century. Dong Son is a small village on the south bank of the Ma River, next to Ham Rong Bridge, where contains all characteristic elements of a traditional Vietnamese village.
Thanh Hoa Specialties
Nem chua Thanh Hoa (Thanh Hoa Fermented Pork Roll)
Nem chua is a specialty that is a signature dish of Thanh Hoa. Nem chua is often dipped with spicy chili sauce. The sweetness of the pork mix with the mildly sour taste, the spicy taste of garlic peppers, fragrant bruises, and tastiness of the pork skin is a taste that cannot be forgotten.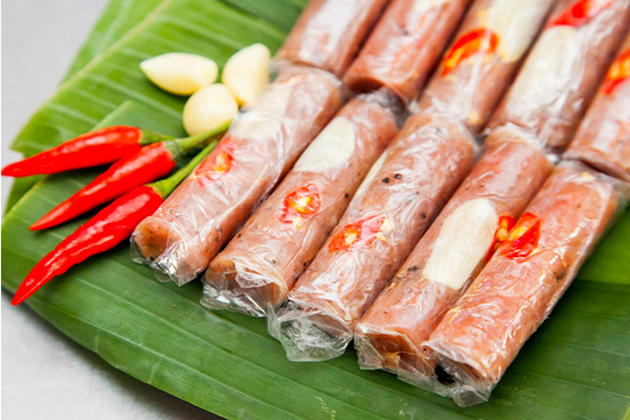 Nem chua has many types: long nem, square nem, nem coi, nem thinh, grilled nem… Nem chua consists only of chopped pork skin, the meat of the rump, rice powder, wrapped with ming aralia leaves or guava leaves, and other typical spices. To create a delicious nem chua, Thanh Hoa people must have their own traditional secret recipe.
Plain Rice Flan with Sauce
Plain rice flan with sauce is unique with the green color, which is very beautiful and you can only eat anywhere else except Thanh Hoa city. When eating, ladle the flan out into the bowl and spread green beans on. Plain rice flan is only sold in the afternoon. Currently, there are not many sellers of this dish, only in some street vendors. You can visit some flower market or Nam Thanh Market to find and enjoy this delicious dish.
Thanh Hoa Grilled Shrimp
If you have the opportunity to visit Thanh Hoa, remember to go to the streets: Dao Duy Tu, Le Thi Hoa, Nha Tho… to enjoy the deliciously grilled shrimp balls. Enjoy the hot crispy shrimp balls with the tender sour taste of cucumber and a spicy bit of hot peppers and fresh vegetable salad, all make a special sense of wild food. Eat once, you will remember forever.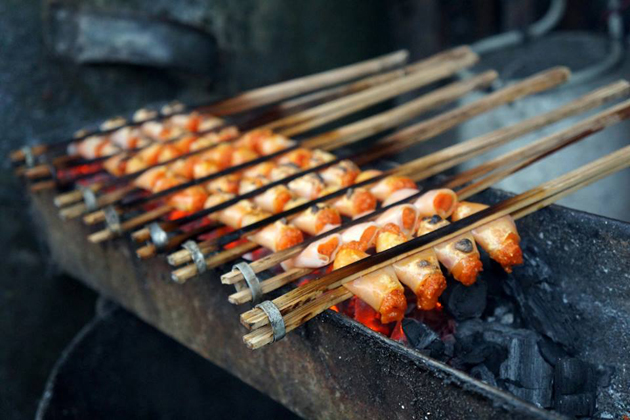 Thanh Hoa Travel Guides
Best Time to Travel Thanh Hoa
Thanh Hoa is divided into two distinct seasons. The hot season starts from May to October with the hot sun, rain, and drought. The cold season from November to April with the northeast monsoon, little rain, and dry wind. According to our experience, the ideal time for you to travel Thanh Hoa is from February to April or from May to July.
How to Get to Thanh Hoa
From your Hanoi tours, there are many easy ways to get to Thanh Hoa, which is located only 150km from Hanoi.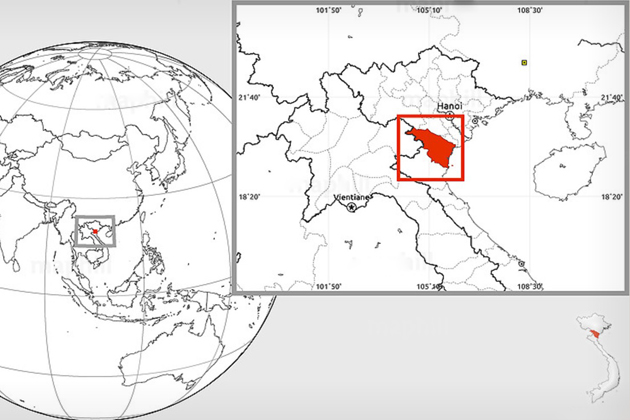 From Hanoi: You can get to Thanh Hoa by motorbike, bus, or train. If you decide to take the bus, you can catch the bus at My Dinh bus station or Giap Bat station with the ticket price of VND 100,000-150,000/ticket, the bus runs all day of the week.
From other Southern provinces: In addition to the options such as passenger car or train, you can save time by traveling by plane with Saigon – Thanh Hoa flight (average price is from VND 500,000 – VND 1,000,000). In Thanh Hoa, Tho Xuan Airport is located 45km to the west of Thanh Hoa City center. To move to the city center, you can take a taxi, service car (VND 65,000/ticket), or public bus (VND 30,000/ ticket).
Thanh Hoa Accommodations
Muong Thanh Grand Thanh Hoa Hotel
The hotel is only 1km from the city center, 100m from National Highway 1A, 40 minutes drive from Tho Xuan Airport. This is a 4-star hotel in the chain of hotels Muong Thanh. With its convenient location, it is easy for you to access to many famous tourist attractions of Thanh Hoa city.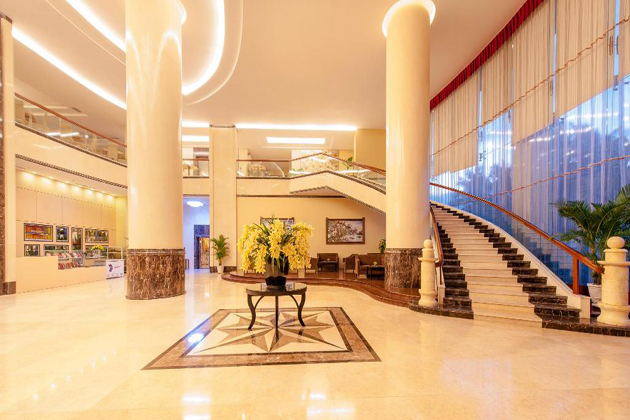 Muong Thanh Thanh Hoa Hotel is a prominent hotel in Thanh Hoa City. Thanh Hoa. With the luxury architecture, integrated entertainment areas, conference areas, restaurants … the hotel brings convenience to customers. Coming to Muong Thanh Thanh Hoa Hotel, you will be served by a professional, friendly and enthusiastic staff, always willing to help you have the best holiday on the land of Thanh Hoa.
Address: Ba Voi junction, Nam Duong new urban area, Dong Ve Ward, Thanh Hoa city.
Price: From VND 860,000/night
Phu Hung Hotel
With a location right in the heart of the city, good service, and well-equipped rooms, Phu Hung Hotel is a good choice for travelers to Thanh Hoa.
Address: Le Loi St, Highway 7, Thanh Hoa city.
Price: From VND 525,000/night
Central Hotel

Central Hotel is a luxurious 5-star hotel in Thanh Hoa.
Address: 01 Nguyen Hoang Boulevard, Dong Hai Ward, Thanh Hoa City.
Price: From VND 942,000/night