Ba Be Tours & National Park Trekking from Hanoi
Ba Be Lake is the most attractive site belonging to Ba Be National Park. The Lake is located in Nam Mau commune, Ba Be District, Bac Kan province. The total protected area is 952,75 ha including the surface of Ba Be Lake, the ecological landscape factors surroundings, and all scenic spots in the Ba Be National Park. Ba Be Lake is one of not many mountainous natural beautiful freshwater lakes in the world. The lake was formed in Karst Mountain about 10,000 years ago with a long geological history, complex, composed of all kinds of stone diverse and unique geological structures. There are thousands of species of vascular plants and hundreds of mammals, birds, and reptiles…
Explore this picturesque landscape at your own pace during the Vietnam tour packages! Here, Viet Vision Travel offers a variety of choices for day tours and excursions in Ba Be and we ensure that you will be provided a private, flexible, and unique experience.
Tour Route: Hanoi – Bac Kan – Ba Be – Hanoi
Tour Highlights
Explore Na Phoong cave, a historic hiding base during the anti-French period.
Trek through forests and valleys, discovering the mesmerizing Silver Waterfalls.
Embark on a thrilling caving adventure in Tham Phay Cave, admiring its unique calcite formations.
Immerse in the beauty of the Dzao ethnic village, camping nearby to experience local culture.
Traverse dense forests, cross rivers, and marvel at Puong Cave's impressive stalactites.
---
Top 5 Highlights You Cannot Miss in Ba Be Tours
Located in northeast Vietnam, Ba Be Lake is in the top 20 most beautiful freshwater lakes in the world. Taking Ba Be day tours and excursions, tourists will be impressed by the unique secret beauty of Fairy pond, the spectacular beauty of Dau Dang silver waterfall, the poetic beauty of the Nang river, and more. The best time to visit Ba Be is absolutely in the dry season when it has the Long Tong Festival with a ton of exciting traditional games. Here are the top 5 highlights you cannot miss in Ba Be tours. Check it out and do not miss any of them.
Ba Be National Park
Established in 1992, Ba Be National Park is a rainforest area with more than 550 named plant species. Located in the heart of the park is Ba Be Lake which is a poetic freshwater lake. Ba Be means three lakes in Vietnamese, referring to the fact there are three parts, Pe Leng, Pe Lu, and Pe Lam connected into a single continuous piece of water. It also is home to a variety of fauna including the European otter, Asian golden cat, Chinese pangolin, the slow loris, black bear, langurs, the red giant flying squirrel, etc. Visit Ba Be National Park, you absolutely will be impressed by plenty of birds, fishes, and colorful butterflies here.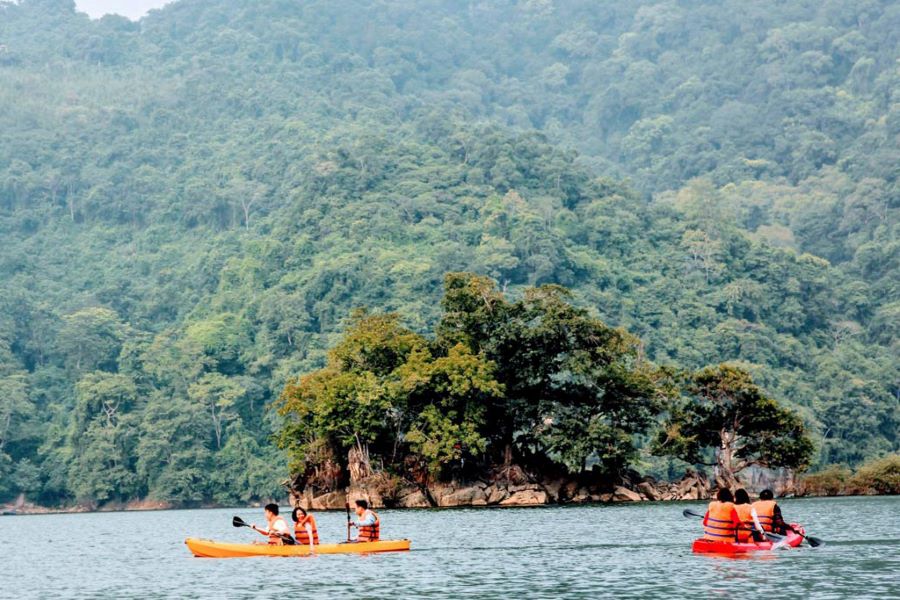 Moreover, visitors can take part in a lot of exciting activities like trekking, kayaking, and cycling in Ba Be National Park or join a boat trip to appreciate all the stunning landscapes along the journey. This region is also home to 13 tribal villages that belong to the Tay, Dzao, and Hmong people. If lucky enough, you can have a chance to soak up a local monthly market to admire local ethnic peoples in their traditional colorful costumes and to taste typical specialties as well as to get drunk with the homemade wine.
Hua Ma Cave
Hua Ma Cave is one of Ba Be's most popular off-the-water sights with a pathway leading down into a soaring cavern full of stalactites and stalagmites. The name of the cave means "Horse's head" in Vietnamese. Hua Ma cave is home to beautiful stalactites in various shapes and sizes such as a pen tower, flowers, small towers, or a formal court of mandarins in feudal time. Do not forget to bring a flashlight to illuminate the darker recesses.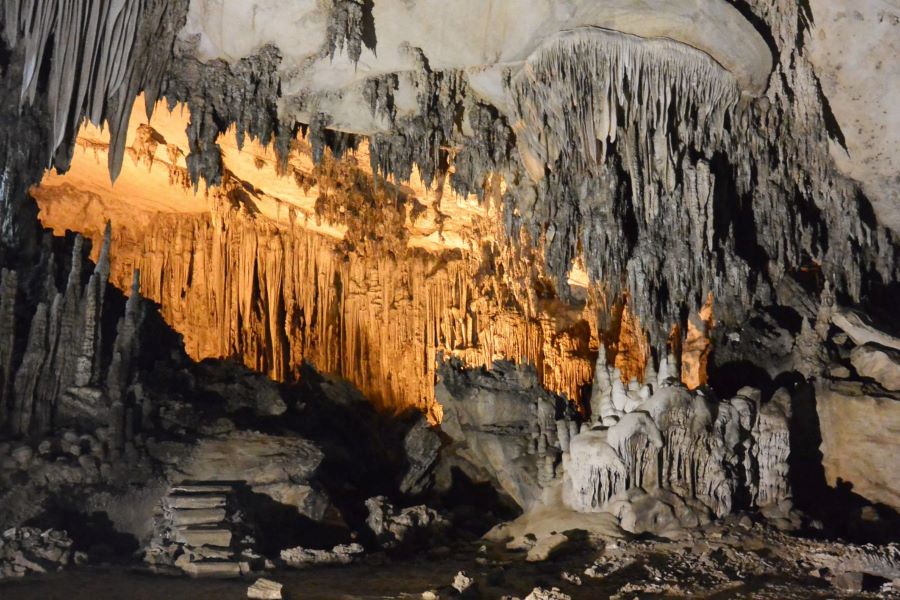 Puong Cave
Formed as a result of river erosion over the years, Puong Cave is a mesmerizing destination on Ba Be tours from Hanoi. The cave captures the soul and heart of tourists with its strange and unique stalactites and the bat community of ten thousand. With the Nang river flowing right through its heart, Puong Cave is also a place that adventurous travelers cannot miss.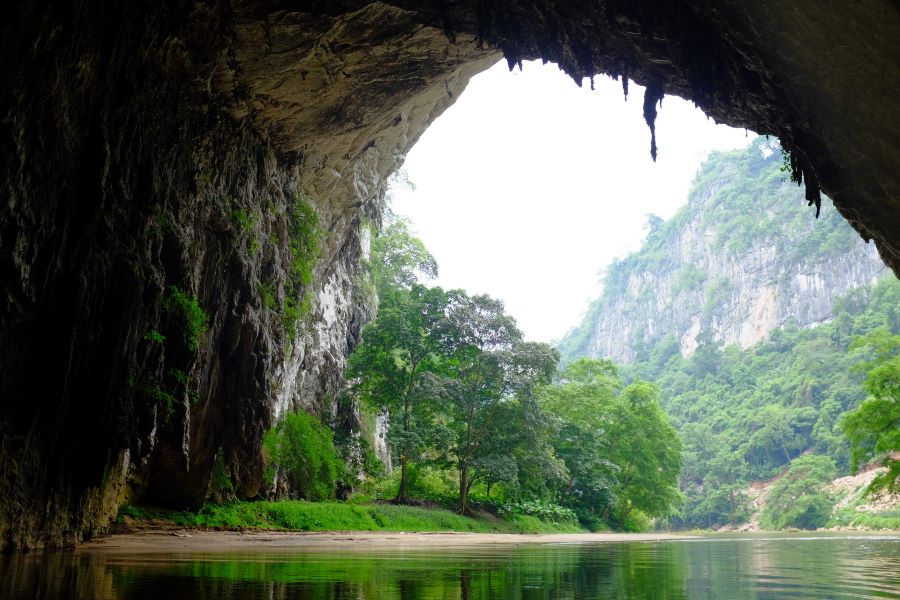 Dau Dang Waterfall
Your Ba Be tour would not be completed without visiting the Dau Dang waterfall which is a series of spectacular cascades between sheer walls of rock. Lying about three kilometers west of the Ba Be Lake, Dau Dang waterfall is a flowing beauty that bestows its charm in the Ba Be National Park. It is a cascading form of the Nang river over the rocks. This waterfall enchants tourists with its scenic beauty and the fish species that find a place here. Coming here in the rainy season, tourists can witness a race among various schools of fish passing the waterfall.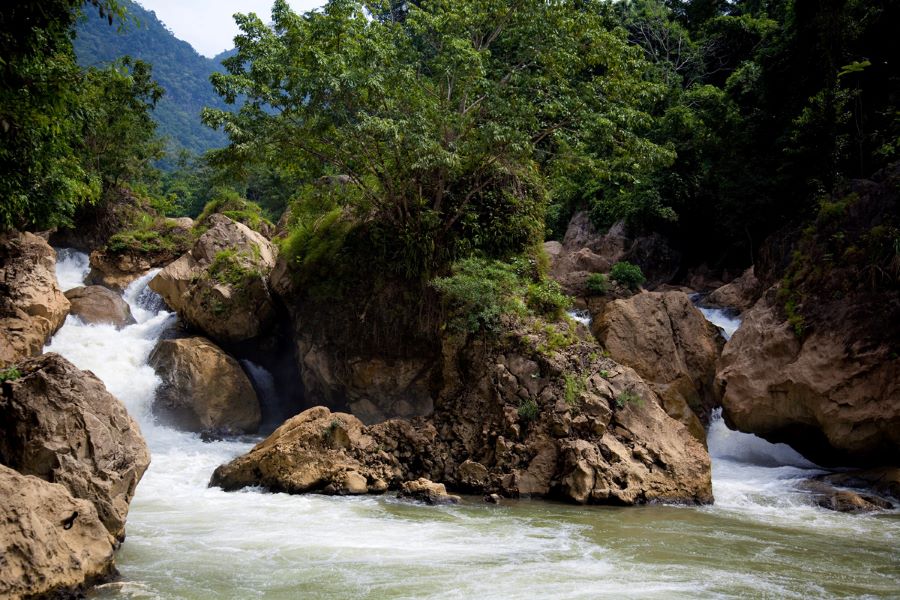 Especially, there are a special rare and valuable species of fish called "ca chien" living in the waterfall, some of these fish weigh over 10kg. It is an interesting place with magnificent scenery waiting for you to explore and enjoy.
Fairy Pond
Located in the middle of Limestone Mountain and surrounded by primary forests, Fairy Pond is a small pond with a total width of about 3 hectares. This poetic pond entices tourists with its unique secret beauty. Especially, the water of the pond is always clear and the climate there is very cool and temperate. Visit this pond and sit on the bank, you can see fishes and shrimp swimming in the water.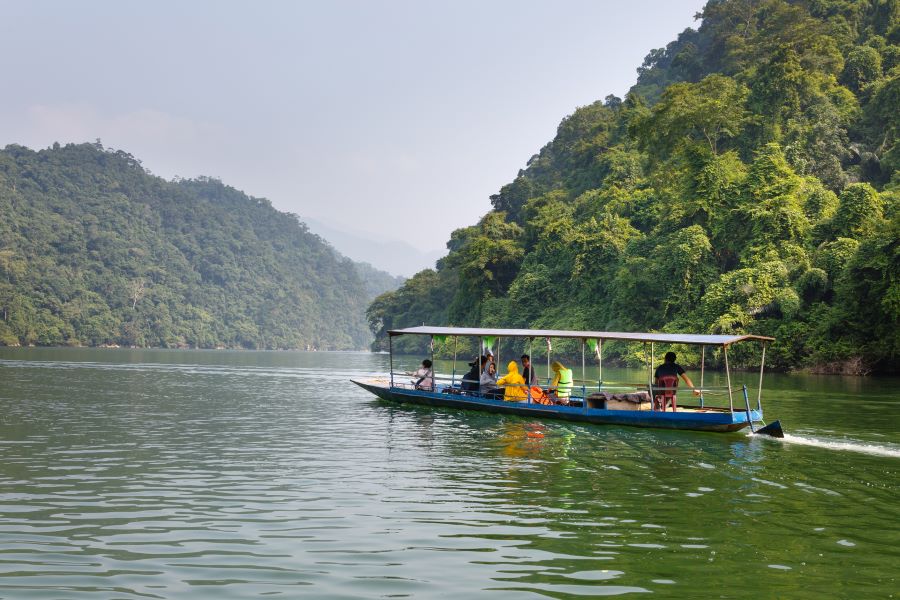 With that useful information above, hope you get some ideas for your Ba Be lake tour. Viet Vision Travel guarantees you a perfect Ba Be tour as well as other types of Vietnam day trips