Quy Nhon, the capital of Binh Dinh Province, is considered as an ideal destination for people who love the sea and a relaxing time in Vietnam vacation. Quy Nhon is leaning against endless mountains and facing the sea with the wild beauty charming all visitors.
Quy Nhon Attractions
Bai Xep Fishing Village
Listed in the "mysterious jewels" of Asia by the Business Insider, Quy Nhon captures the essence of the tranquility of traditional fishing villages, without the noise of vehicles or the bustling like other marine resorts. You should go to Bai Xep when it has not been too much industrial intervention to enjoy its wilderness. However, the services of sightseeing, tourism, restaurants, and hotels in Bai Xep are quite adequate. If you have the opportunity, just come and feel the wild beauty here.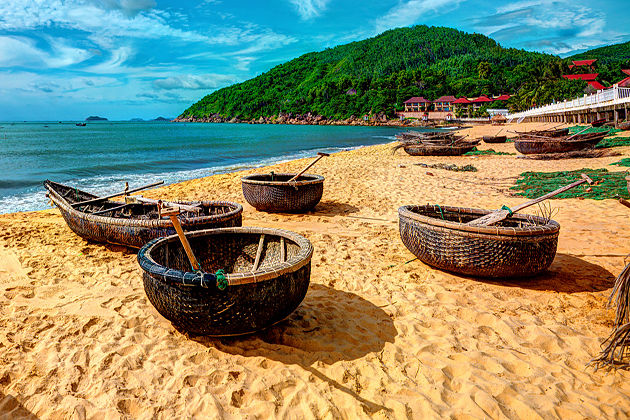 Poet Han Mac Tu's Grave
To visit the Han Mac Tu poet's grave, we have to cross the bridge over the Fairy Stream to turn left onto Thi Nhan Hill. In front of Han Mac Tu's grave is a large cross. The grave is built in a neo-rectangular shape. On the head of the tombstone is the statue of mother Mary with outstretched arms looking down at the grave.
Hoang Hau Beach (Queen Beach)
Hoang Hau Beach (commonly known as Egg Beach) is located in Ghenh Rang Tourist Area. The beach named Hoang Hau beach because before coming to Quy Nhon city, Nam Phuong Empress has chosen this beach to relax. Visitors, in addition to being played with water waves and small rocks shaped like the eggs, can also visit the Ghenh Rang tourist area, stone church or the grave of Vietnamese famous bard Han Mac Tu.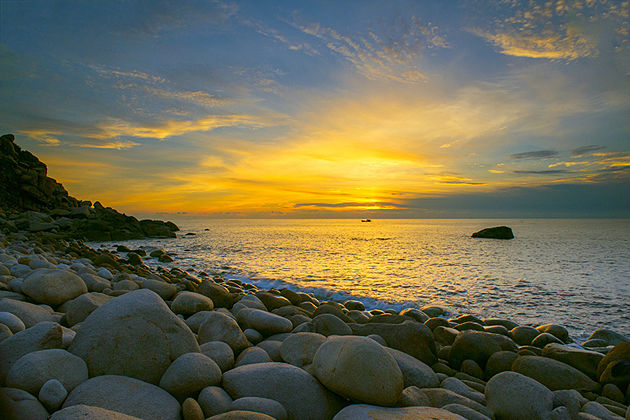 Cu Lao Xanh Lighthouse
In the top 5 famous lighthouses over 100 years old, Cu Lao Xanh lighthouse is a beautiful symbol for the spirit of the people here all year round living with the sea waves. Through the ups and downs of the history, there is always light from the lighthouse to help locate the fishing boats on the sea of Binh Dinh and the adjacent sea area of the South of Central Vietnam. So, the lighthouse is also known as the "god's eye" of the sea.
Thap Thap Pagoda
Being one of the most famous Buddhist centers in Central Vietnam, located in An Nhon town, Binh Dinh province, this temple is known for its ancient architecture and historical and cultural values with special characteristics. Thap Thap Pagoda is a symbol of spiritual tourism, a quiet destination compared to other locations in Quy Nhon.
Crescent Moon Beach
It is the main beach of Quy Nhon, Binh Dinh province with the shape of the moon, which is quite unique and attractive with the sand dunes spread 5km from Tan pole to Ghenh Rang. Recently, the beach has been upgraded with clean infrastructure so the number of visitors is increasing, gradually becoming one of the most popular places in the South Central region.
Ki Co – Eo Gio (Wind Waist)
25 km to the northeast of Qui Nhon, Ki Co is an interesting place which has one side of the sea and the other three are hilly. It is called "the number 1 paradise" of Nhon Ly because Ki Co beach which owns a shallow and serene beach. The beauty of Ki Co is the harmonious combination of clear blue sea and majestic mountain peaks. Walking barefoot in Ki Co, you will feel light and comfortable when you are surrounded by trees, mountains and blue sea.
Every corner of the Ki Co is beautiful enough to create memorable photos even as a wooden bridge to dock also became the place to take pictures of the young people. In the east of Phuong Mai Peninsula, Quy Nhon city is covered by coastal rocky mountains with some high peaks such as Black Mountain, Hon Mai, Hon Yen, and Hon Chop Vung and the farthest one is Eo Gio.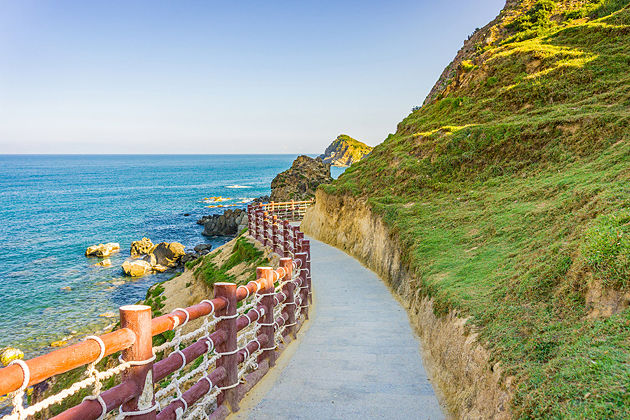 The name "Eo Gio" originates from the geological shape of this area, when standing on top of the cliffs looking down you will see a small strait covered by two mountains. The pristine wilderness and beautiful coastal walkway are no less beautiful than the coastal road in other famous places in the world. Therefore, the tourism services here are also being promoted.
Hon Kho Island
Located about 16 km from Quy Nhon, Hon Kho Island has unique scenery with rocky cliffs protruding from the sea, smooth sandy beaches, lush green lawns and fresh water from the cliffs. Hon Kho is actually one of the few beautiful beaches but still preserves the wildness of nature.
In addition, the seawater in Hon Kho is blue as the color of jade, there are also many beautiful coral reefs. If you are afraid of water, climbing is also an interesting option for a whole new experience when you come to Hon Kho.
Trung Luong Tourist Area
It is the "hottest" attraction recently in Binh Dinh that many people call it "Jeju of Vietnam". Trung Luong's picnic area is the area where there are amusement parks, campgrounds, and undulating tented roofs looked really romantic.
In addition to swimming or diving coral, camping in a romantic space is also an option that everyone would like to try in Quy Nhon.
Quy Nhon Nightlife
Nightlife in Quy Nhon cannot be compared with Hanoi or Saigon but visitors still find interesting things to do when the sun goes down in this coastal city. Stroll along the shore, enjoy some cold beer and behold the gorgeous night sea. If the winds and waves make you hungry, move to a night market and choose one of the Quy Nhon specialties to fill your empty stomach.
What to Eat in Quy Nhon
Ninja Fish
This is a new fish in Quy Nhon in recent years. It is called Ninja fish because its body is black from the beginning to the end, it is difficult to find its mouth because it is very small. There are many ways of processing this fish, but it is believed that simmered Ninja fish is the best.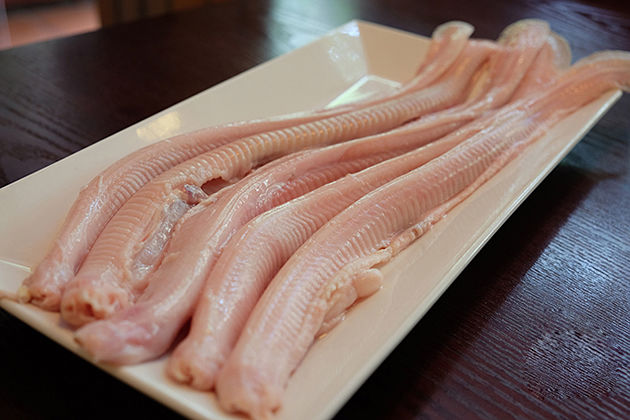 Beef Seaweed Soup
The taste of seaweed, when combined with sliced beef, is really great, this is also a nutritional food because seaweed contains a lot of protein, minerals and vitamins and beef is nutritious but fewer calories so visitors will not have to worry about weight.
Fish Ball Noodles
Being honored to be the top 50 Vietnamese specialties set by the Vietnam Guinness organization, fish ball noodles are a popular specialty among locals and tourists. The fish balls here are made entirely from fresh fish and the noodles are made of rice flour mixed with wheat flour. The broth is made of fish bones and added a little bit of cow bone and pork bone so it is very sweet. If you come to Quy Nhon, you should try this special food and it will leave an unforgettable taste for you.
Chau Truc Shrimp Noodles
Chau Truc is the most famous place in Quy Nhon with shrimp noodles. After being caught from Chau Truc lake, the prawns are put into a mortar with salt and chili paste. The way to make this dish is quite strange. When there are guests, the owner took a spoon of shrimp into the bowl, add sweet powder, fish sauce and then hot noodles poured in, add vermicelli, add pepper and a few bouquet garni.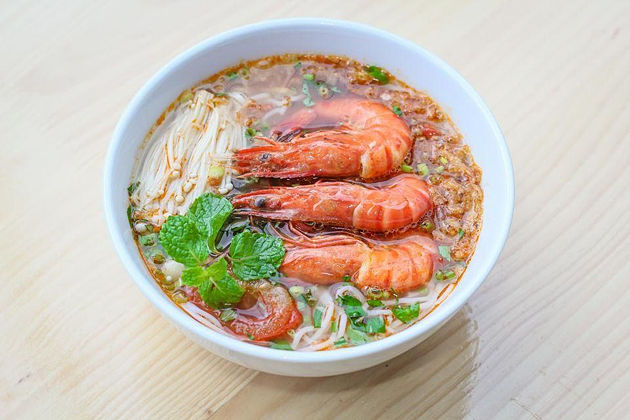 King Crab
King crab is called king of the seafood, however, it only appears in very few seas. To enjoy this nutritious food, you can only go to Quy Nhon from January to April.
Quy Nhon Travel Guides
Best Time to Visit Quy Nhon
The rainy season runs from mid-September to mid-January. Quy Nhon is really on the deluge at that time. Then it's still cold with drizzle until the end of February. From March to mid-September, it's summer so you can decide to visit here during these months. However, it can be very hot in July and August.
How to Get to Quy Nhon?
You can easily travel to Quy Nhon by various means as follows: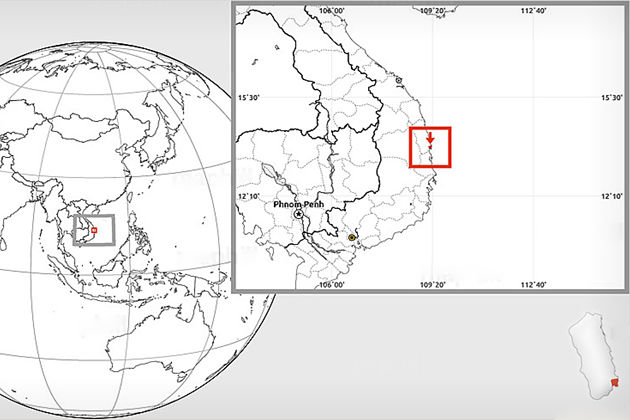 By Plane
From Hanoi and Ho Chi Minh City, all airlines such as Vietnam Airlines, Jetstar, Vietjet Air,… are operating flights to Phu Cat Airport.
From Hanoi: The price of Hanoi-Quy Nhon plane ticket is about VND 1 – 2 million.
From Ho Chi Minh City: Ticket fare from TP. Ho Chi Minh City to Quy Nhon is about VND 870,000 including tax.
By Train
From Hanoi: You will have to spend VND 480,000 for hard chair seat and VND 730,000 for soft chair seat in the train to Quy Nhon.
From Ho Chi Minh City: Ticket from Ho Chi Minh City to Quy Nhon is VND 280,000 with a hard chair seat and VND 440,000 with a soft chair seat.
By Coach
From Hanoi: The fare from Hanoi to Quy Nhon is VND 560,000 with many routes in a day.
From Ho Chi Minh City: You will spend about VND 250,000 to get the ticket from Ho Chi Minh City to Quy Nhon.
From Hoi An to Quy Nhon
Firstly, catch the bus from Hoi An ancient town to Danang Railway station. Then take the train from Danang to Dieu Tri Railway Station. Last get on the bus from Dieu Tri to reach Quy Nhon.
Travel time: ~ 8 hours
Ticket price: ~ $10