Quang Binh Tours | Top 10 Quang Binh Day Trips & Excursions
Viet Vision Travel has put together a list of Quang Binh tours combining essential cave and jungle discovery with hidden treasure exploration. Whether you are seeking an adventure tour or just want to escape from the dazzling lights of busy cities, our ready Quang Binh tour packages below will absolutely bring something back for you, or if you do not find any suitable tour, please contact us and we will help you design your own
Vietnam day tours
that exclusively for you.
Tour Route: Hue - Phong Nha Cave - Vinh Moc Tunnels - Hien Luong Bridge - Ben Hai River - Con Tien - Doc Mieu Combat - Hue
Tour Highlights
Discover the World Heritage - Phong Nha Cave.
Explore the impressive complex of Vinh Moc Tunnel.
Feast on delicious lunch with authentic Vietnamese food.
Go deep into Vietnam history when visiting the former DMZ on the way back to Hue.
---
Best Things to Do & See during Quang Binh Tours
Explore the Nature in Phong Nha – Ke Bang National Park
Son River
To behold all the beauties of Phong Nha – Ke Bang National Park, the best way is paddling downstream Son River which flows throughout the park. Along the river, you can enjoy the peaceful moments with the temperate weather, and the soft sounds of water and birds living in the forests nearby. The boat will take you to the heart of the jungles to admire the dreaming waterfalls and discover the mysterious caves.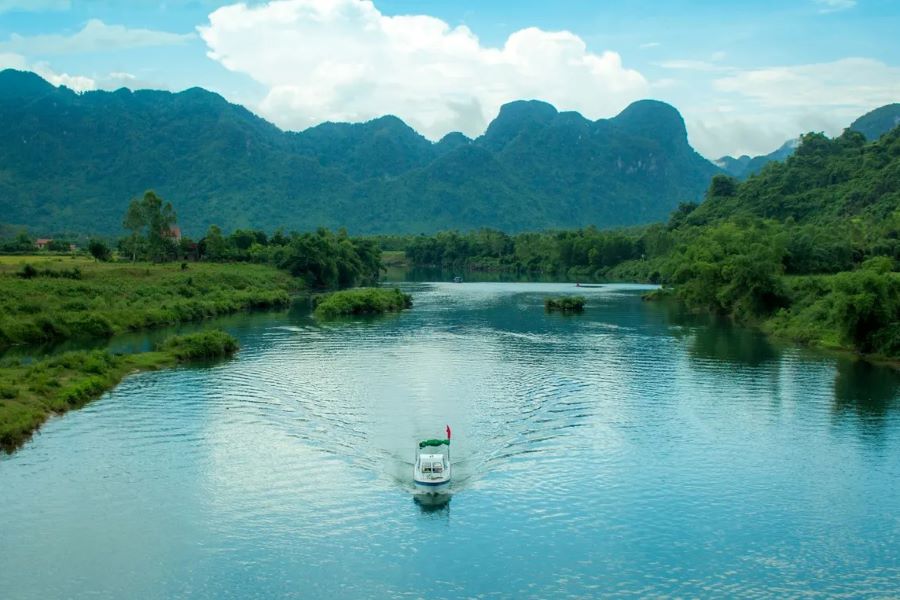 Son Doong Cave
If you are in search of the greatest, biggest, and deepest grotto in the world, then Son Doong Cave will be the best answer. Figures are impossible to describe this massive cave but a 40-floor building can be built inside the cave or a Boeing 747 can easily fly through it. According to geologists, what they discover in Son Doong Cave is only the tip of the iceberg and the hypothesis predicts a world even exists deep inside the cave. However, there are a few chances to explore Son Doong Cave as it is not opened publicly for the reasons of safety and conversation. Besides, extremely good health, well-trained skills, and professional experience are required from the cave conquerors. Although Son Doong Cave may be a difficult challenge for tourists, it is really worth your Quang Binh tour when exploring this astonishing cave.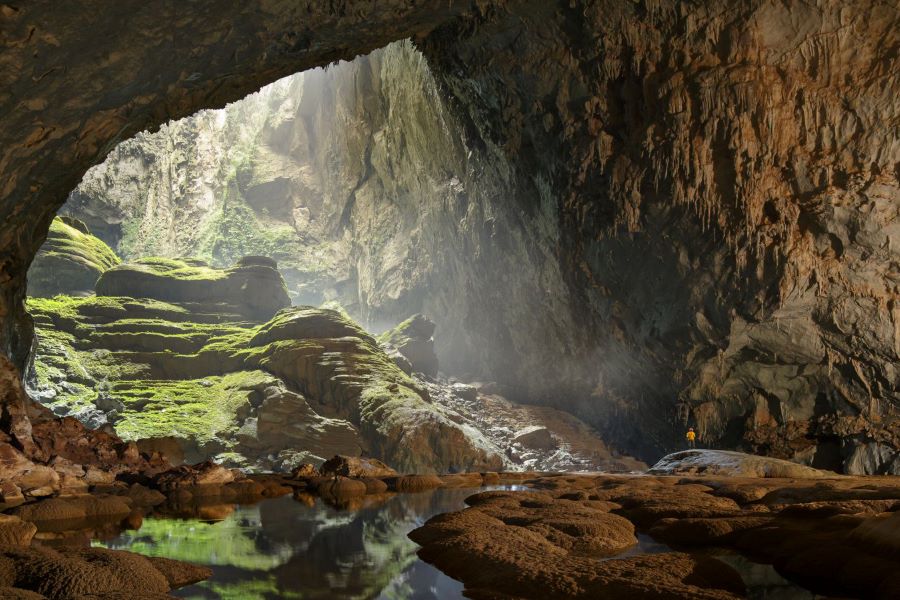 Dark Cave
As the name implies, no light system is applied inside the Dark cave so the magical and pristine beauty of the cave still remains. With flashlight helmets and other professional equipment, tourists will become a true explorers to explore the underground river system and admire the miraculous stalactite pillars with unique shapes. The most interesting activities in the Dark cave are immersing yourself in a natural mud bath and swimming in Bong Lai Lake or Thuy Tien Lake. Besides, there are a lot of sports organized in Chay River near Dark cave such as zip-lining as well as kayaking waiting for your experience during your Quang Binh tour.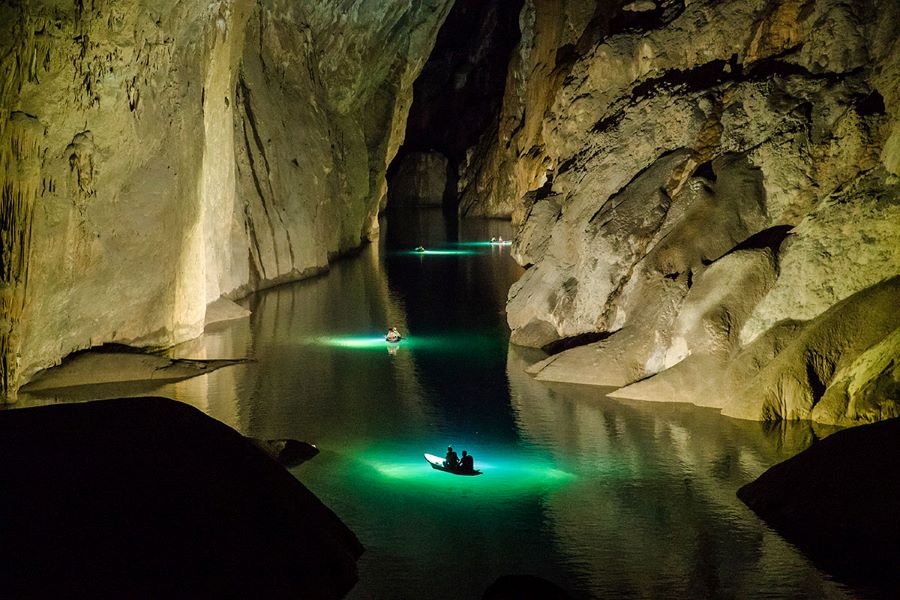 Thien Duong Cave (Paradise Cave)
You may only know that paradise is in the sky and above the cloud but have you ever heard the underground paradise? The cave is an excellent performance of stalagmites and stalactites covered by the colorful lights among the mysterious ambiance. With a length of 31km, Paradise Cave is considered the longest cave in Asia and one of the most ancient ones in the world. Another step inside the cave will be another impression and admiration of the masterpiece of nature.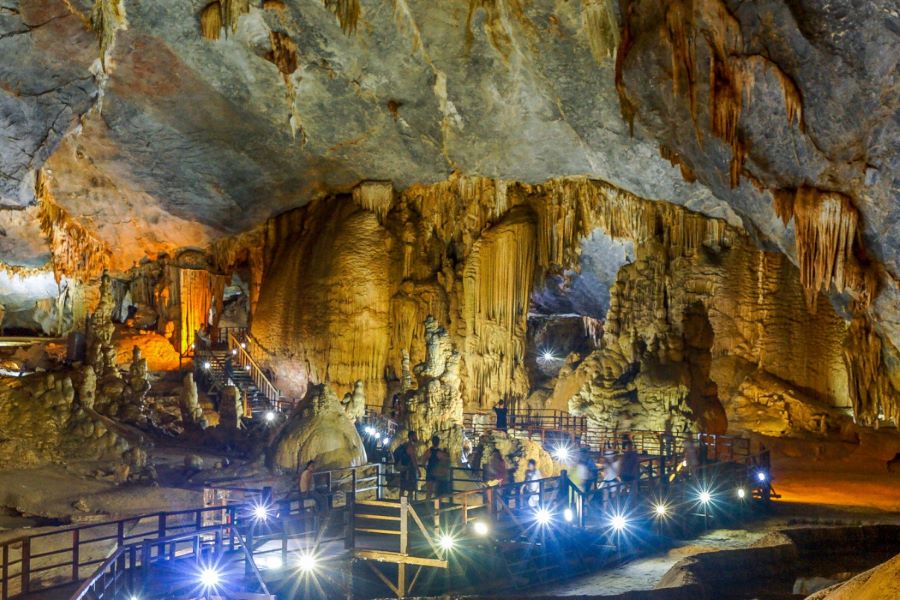 Trek in Phong Nha – Ke Bang National Park
It is time to use your shoes as trekking in the World Heritage National Park recognized by UNESCO. A lot of rare floras and faunas are well-preserved in the park and if you are lucky enough, you will see them during your discovery. A good camera needs to be prepared to take wonderful photos for a Quang Binh tour collection.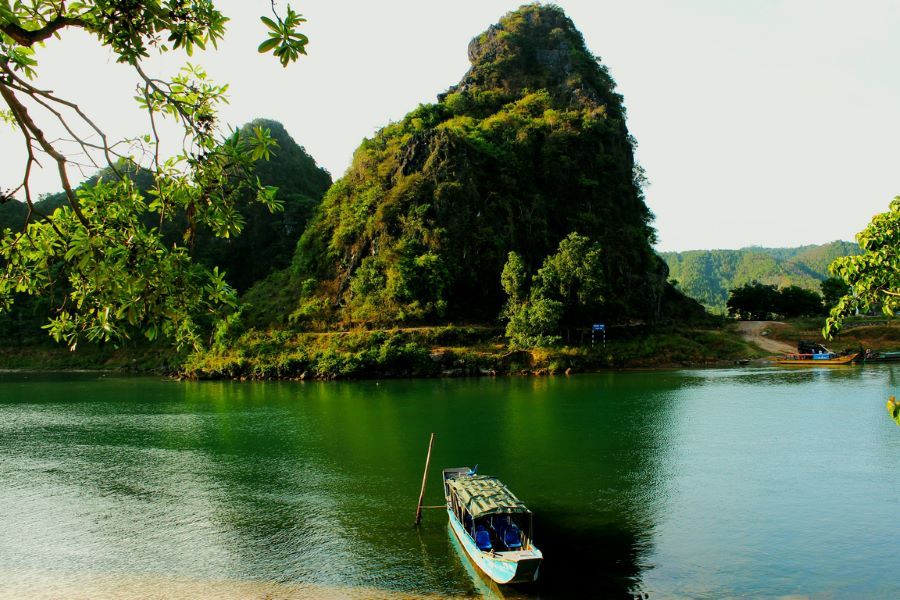 Spend 24 Hours in Nhat Le Beach
The charm of Phong Nha – Ke Bang National Park may make you forget that Quang Binh is a coastal city. The magnificence of Nhat Le beach can compare equal to one of Nha Trang beaches but it is not as touristy as some famous ones in Vietnam.  In the morning, get up early to behold the splendid dawn on the beach then wander around the fishery market to buy some fresh seafood already caught by fishermen at night.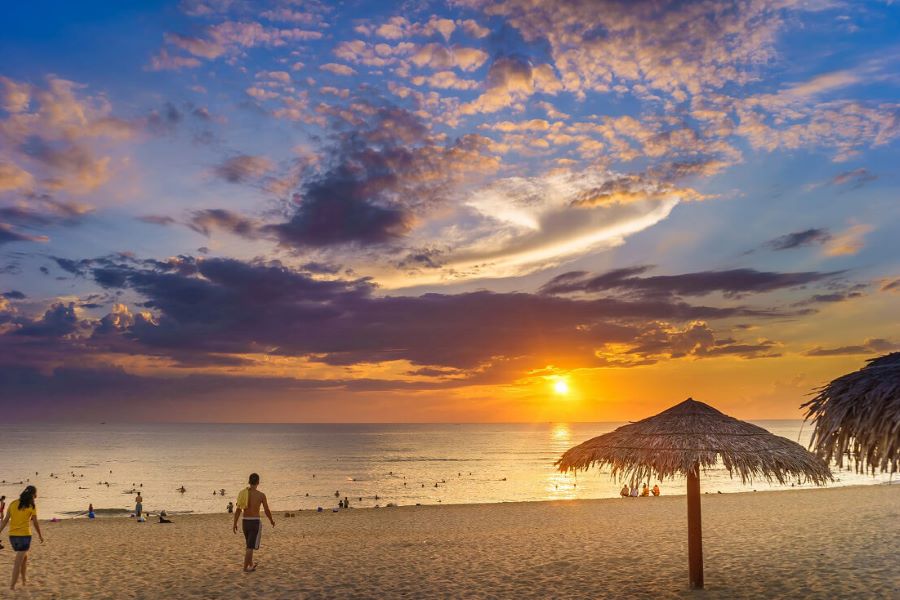 At noon, a delicious lunch cooked from your seafood will leave you with an unforgettable taste of Vietnamese marine. This meal can be prepared by yourself or by professional restaurants near Nhat Le Beach. In the afternoon, immerse your body in the cool water of the beach or participate in water-based activities until the sunsets. At night, follow the fishermen and join their boat to catch squids and fishes far away from the seashore. What an energetic day of the Quang Binh tour on Nhat Le beach!
Impressed by Da Nhay Beach (Jumping Rock Beach)
The beach is a great exhibition of rocks with diverse shapes having been created by water and wind for thousands of years. Conquering these tiny mountains will reward you with spectacular landscapes of the whole Da Nhay beach and the best scenes to take the awesome photos. The best time to visit this beach is at dawn or sunset when the rocks are dyed by the brilliant orange color of the sunshine.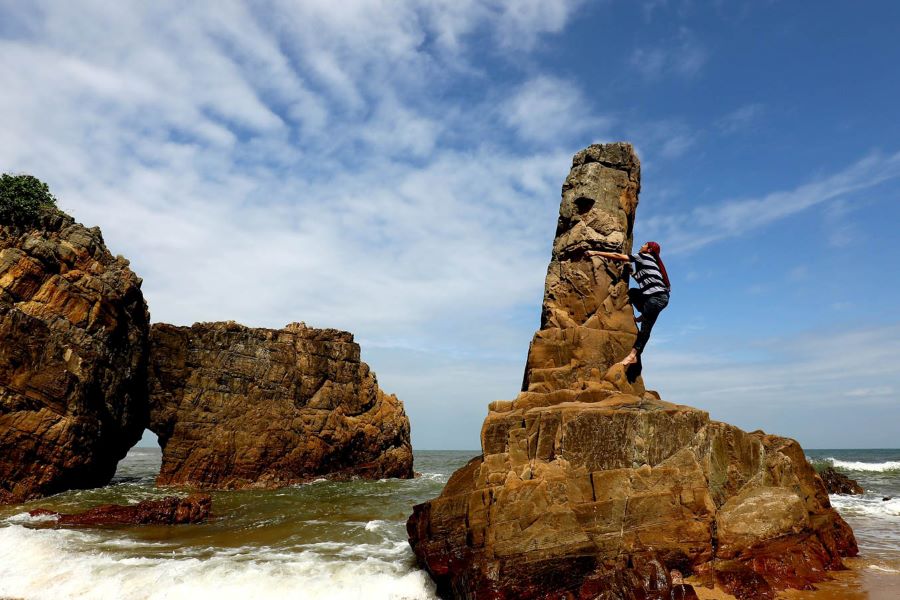 Visit General Vo Nguyen Giap
Vo Nguyen Giap is considered one of the 10 greatest generals in the world and the national hero who led the Vietnamese army to defeat the two most powerful enemies France and America in the 20th century.  After his death in 2013, General Vo Nguyen Giap was inhumed at Vung Chua in the Northern Quang Binh. A trip to this land will give you further information on the outstanding person on one side and behold the breathtaking view of the beach on another side.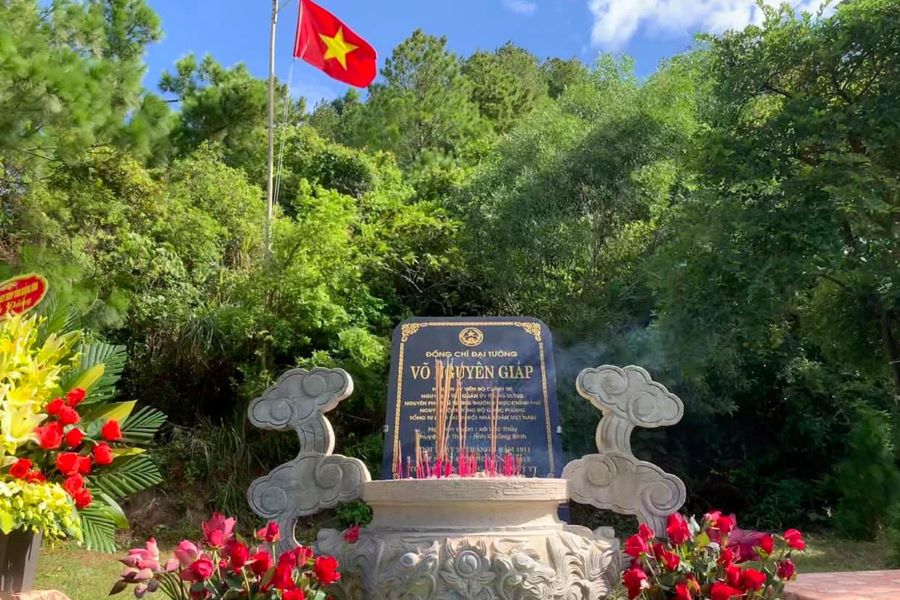 Relax in Nuoc Mooc
20km far from Phong Nha – Ke Bang National Park, Nuoc Mooc beckons tourists with the rustic scene of the waterfall, jungles, and wooden bridges. It is a great destination to escape from the heat of Quang Binh tours where you can enjoy some cool drinks and take a short nap in the space filled with the pleasing sounds of water flowing over the rocks. Hire a kayak and paddling downstream the river is also an interesting option.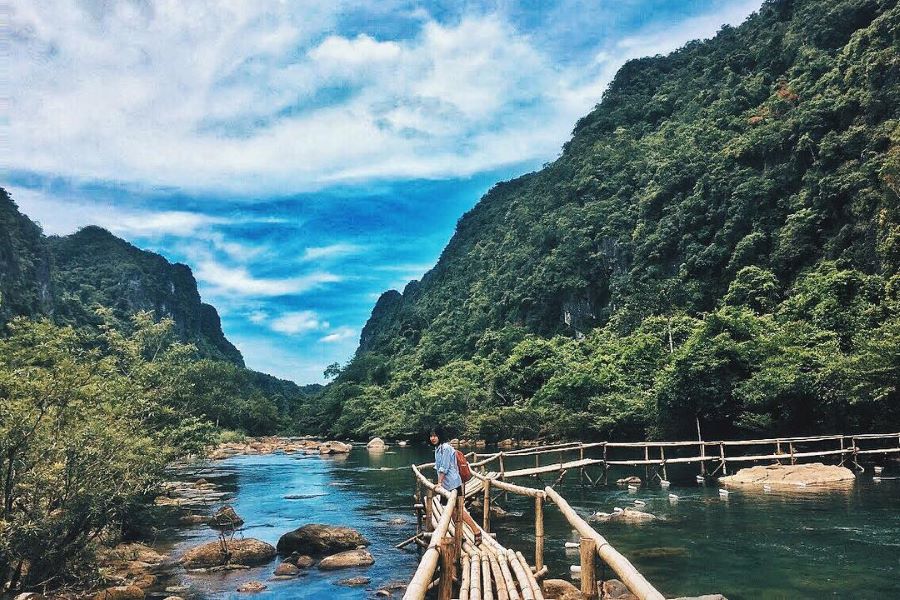 Discover Dong Hoi City
The capital of Quang Binh, Dong Hoi City, is known as the center of culture and economy of the province. You can spend a whole night strolling around traditional markets, enjoying Quang Binh specialties such as Banh Bot Loc (Clear Dumpling) or Banh Xeo (Vietnamese Crispy Cake), and buying some souvenirs and gifts. In the daytime, visiting some historical relics of Quang Binh Gate, Mother Suot Statue as well as Dai Giac pagoda will leave you wonderful memories throughout your Quang Binh tour.
Hope that these suggestions will perfect your Quang Binh tour. It is a pleasure for Viet Vision Travel to provide you with the most wonderful Vietnam vacation packages.
Best Time to Visit Quang Binh
Weather in Quang Binh
Quang Binh has two distinct seasons. The rain season lasts from October to March while the dry season begins in April and ends in September with an average temperature of 25oC.
The Dry Season – the Best Time for Quang Binh Tours
Although the weather at that time is quite hot, cool breezes from the sea dispel the heat and bring a comfortable feeling to Quang Binh. The low chance of rain gives tourists chances to explore and behold all the attractions. If you want to escape the hot temperature, explorations to Son Doong Caves or Phong Nha Ke Bang Nation Park will leave you with an unforgettable experience.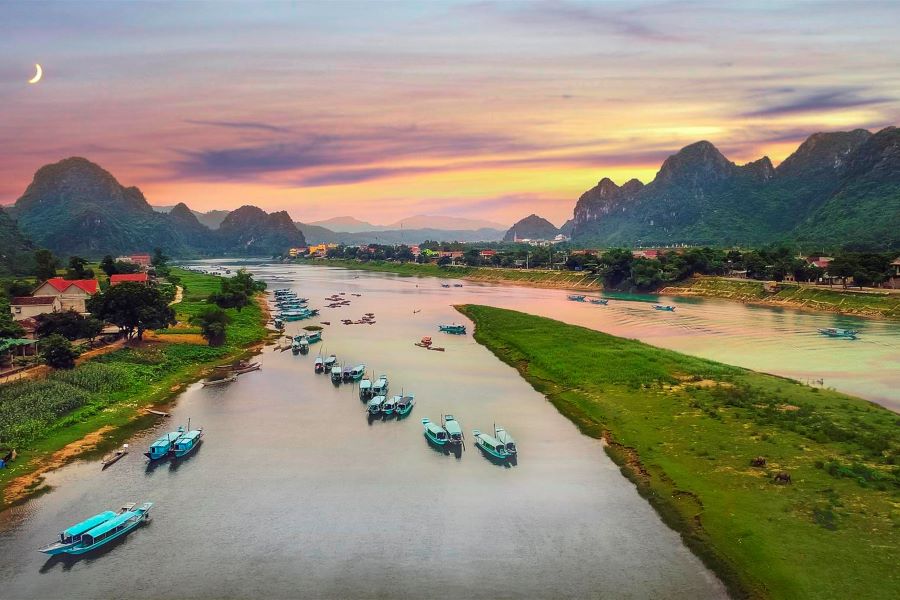 The Wet Season – Not Recommended for Quang Binh Tours
The monsoon from the southwest brings the downpours to Quang Binh, which interrupts your travel to this destination. In these months, storms from the sea may attack and damage the coastal line. Water-based activities and discoveries in Quang Binh are not recommended for tourists.
Quang Binh Travel Guides
Quang Binh General Information
Location: Central Vietnam
Population: Approximately 900,000 (2017)
Language: Vietnamese
Currency: Vietnam Dong (VND)
Natural Condition: Mostly mountainous area - Sea in the East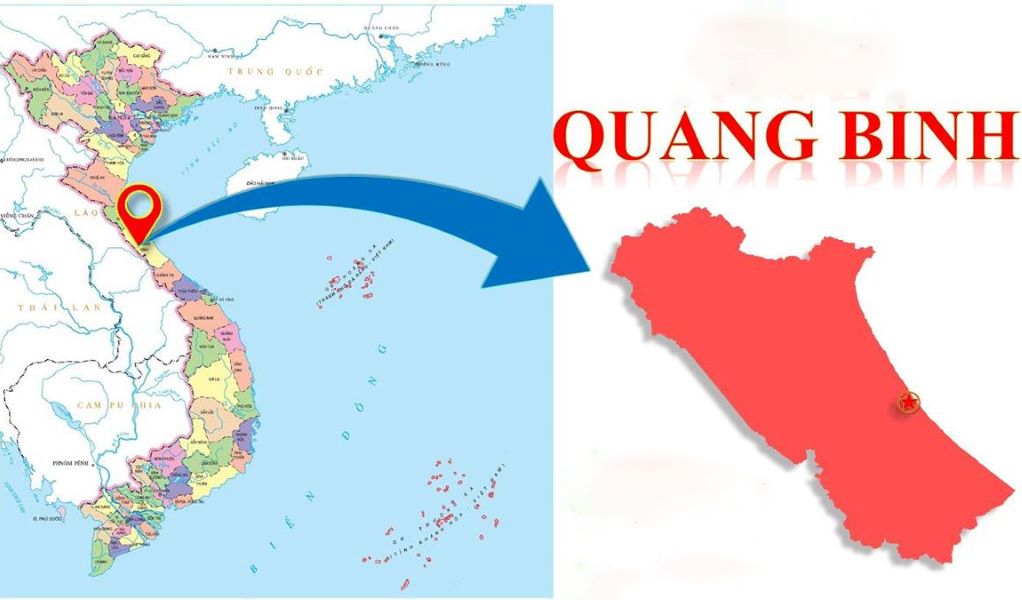 People, Nature & Culture in Quang Binh
Quang Binh People
Central Vietnam of sand dunes and mountainous areas is the home to hard-working people who overcome severe nature to build beautiful cities and towns. Quang Binh is the symbol of this strong rise on the long and narrow strip of land. The Vietnam War was a fierce battlefield that saw the sacrifice of thousands of people. They became immortal legends of bravery as well as of patriotism such as General Vo Nguyen Giap and Mother Suot.
When the war ended, the Quang Binh people had to rebuild their country from collapsing. Through their effort and intelligence, Quang Binh takes the lead in the economy and tourism in central Vietnam. Every foreign tourist visiting this land is always welcome with sincere love, friendliness, and hospitability.
Quang Binh Nature
Nature does not give Quang Binh the advantages of developing agriculture but creates amazing landscapes such as Son Doong Caves, Phong Nha Ke Bang National Park, Nhat Le Beach…A Quang Binh tour will bring you interesting explorations of the biggest cave in the world, a surprising discovery of one of the largest national parks in Vietnam, and peaceful moments on the beautiful beach of white sand and blue water.
Quang Binh Culture
With a long-established history, Quang Binh owns the distinctive cultures which are combined Cham culture from the South and Viet culture from the North. This combination creates a lot of traditional villages, festivals, and unique traditions and customs. As a coastal city, the fishery has been a vital part of the life of the Quang Binh people. The rituals and ceremonies to honor the fishery are organized all around the year.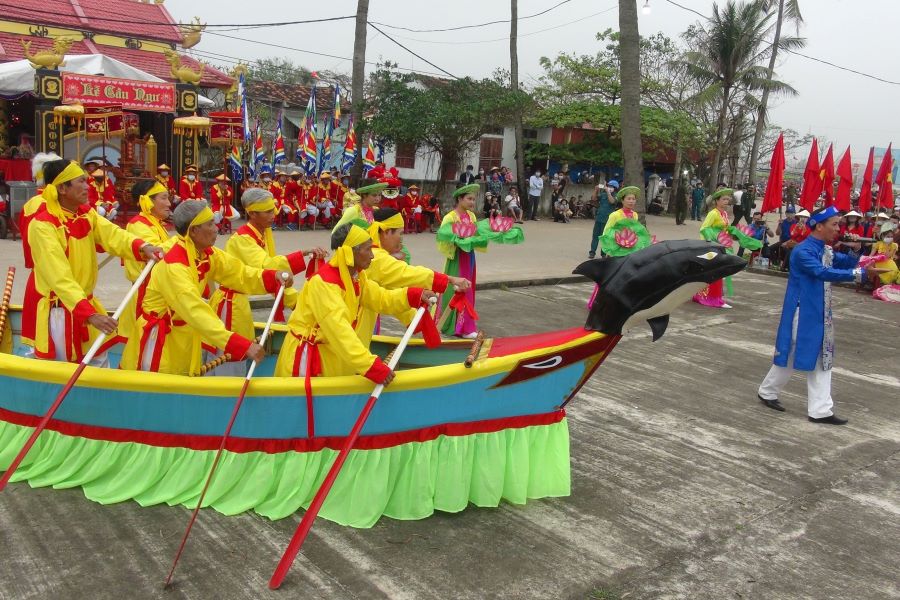 How to Get to Quang Binh
Plane
Although Quang Binh only has a domestic Dong Hoi International Airport, you can travel by plane to this destination from two international airports in Vietnam (Noi Bai International Airport in Hanoi and Tan Son Nhat Airport in Ho Chi Minh City). Vietnam Airline and Vietjet are two suggested airlines. Flight information can be checked at their official websites.
Train
From Hanoi to Quang Binh
Departure: Hanoi Station (No. 120 Le Duan St)
Arrival: Dong Hoi Station (Nam Ly Ward, Dong Hoi City)
Travel time: Around 10 hours
Ticket price: From VND 340,000 ($15) to VND 800,000 ($35)
From Ho Chi Minh City to Quang Binh
Departure: Saigon Station (No. 1 Nguyen Thong St, District 3)
Arrival: Dong Hoi Station (Nam Ly Ward, Dong Hoi City)
Travel time: Around 22 hours
Ticket price: VND 360,000 ($16) to VND 730,000 ($32)
Hop on Hop off Train
If you want to experience a new type of transportation, a hop-on-hop-off train named Amazing Rail tour departs in Saigon with three stops at Nha Trang, Quy Nhon, and Danang before reaching Dong Hoi Station. Ticket and further information can be found at Saigon station.
Bus
From Hanoi to Quang Binh
Hung Long Company
Departure: No. 338 Tran Khat Chan St, Hai Ba Truong District
Arrival: No. 19A Ly Thuong Kiet, Dong Hoi City
Tel: +84 914 077 779
Travel time: Around 10 hours
Ticket price: About VND 250,000 ($11)
Thuan Hien Company
Departure: No. 160 Tran Vy St, Cau Giay District
Arrival: No. 228 Tran Hung Dao St, Dong Hoi City
Tel:  +84 8 8834 6688
Travel time: Around 8 hours
Ticket price: About VND 230,000 ($10)
From Ho Chi Minh City to Quang Binh
Hoang Long Company
Departure: Ho Chi Minh City
Arrival: Dong Hoi City
Tel: +84 225 392 0920
Travel time: Around 26 hours
Ticket price: About VND 570,000 ($25)
Tuan Linh Company
Departure: Mien Dong Station (No. 292 Dinh Bo Linh St, Binh Thanh District)
Arrival: Ba Don Station (Ba Don City)
Tel:  +84 913 384 190
Travel time: Around 28 hours
Ticket price: About VND 600,000 ($26)
Transportation in Quang Binh
Bus
If you are tired of searching maps to find out the way to reach target destinations, catch a bus and it will take you to explore Quang Binh. There are three main bus routes in Quang Binh
Dong Hoi – Ba Don (Round-trip): Explore Dong Hoi City and Ba Don City
Operation time: 5.30 am to 5.30 pm
Ticket price: From VND 8,000 to VND 25,000
Dong Hoi – Phong Nha - Ke Bang (Round-trip): Getting to Phong Nha Ke Bang National Park
Operation time: 5.30 am to 5.30 pm
Ticket price: VND 10,000 to VND 35,000
Motorbike
Provided that you want to experience the Quang Binh tour on your way, hiring a motorbike is a recommended choice. Most of the hotels provide this service at a reasonable price (about VND 150,000 per day).
Taxi
This means of transportation will help you save time and energy for your Quang Binh tour. Names of reliable taxi brands in Quang Binh are:
Mai Linh Taxi: +84 232 3 85 85 85 or +84 232 3 69 69 69
Tien Sa Taxi: +84 232 3 79 79 79
Where to Stay in Quang Binh
Hotels and homestays are mainly located in Dong Hoi City. Consider some recommendations below:
Nam Long Plus Hotel
Address: No. 28 Phan Chu Trinh St
Geminai Hotel
Address: No. 56 Nguyen Du St
Buffalo Pub & Hostel
Address: No. 4 Nguyen Du St
Mobile & Internet Access in Quang Binh
In general, Dong Hoi City, as well as Quang Binh province, has good mobile phone connections. However, in some areas such as Phong Nha – Ke Bang National Park, the connection may be lost. Note that you need to register with Vietnamese mobile operators for SIM card purchases, international roaming services, and others. Viettel, Mobifone, and Vinaphone are the suggestions by a lot of agencies in Quang Binh.
Wi-Fi connection and Internet Access are available in the airport, station, hotels, restaurants, and public places.
Useful Information for a Perfect Quang Binh Tour
In the dry season, keep your body hydrated by carrying a bottle of freshwater. Sunscreen and glasses are recommended to protect you from the sun.
In the rainy season, always carry with you an umbrella or a raincoat in case downpours can occur at any time. Choose the clothes which are easy to dry and fold. Prepare a substitution if your plan is canceled due to the weather.
Wear elegant clothes when visiting solemn or religious places
Follow all the rules and guides when exploring Phong Nha – Ke Bang National Park as well as its caves
Fire is strictly banned in Phong Nha – Ke Bang National Park
Insect repellent, snacks, mineral water, and sports shoes are required for a trekking adventure in Phong Nha – Ke Bang National Park.
Gas stations are rare in Dong Hoi City so check their locations carefully if traveling by motorbike.
Ask the prices first when shopping and eating in Quang Binh.