Vietnam Tours for Asians, Ho Chi Minh City, Da Nang, Hanoi Tour Packages
Our Vietnam Tours for Asians are designed to meet the needs of Asians and ex-pats who live in Asia countries, and who would like to go for Vietnam vacation packages. Most of our trips range from 3 days to more than a week. These suit the needs of Asians who normally spend a short time on the holiday to visit Vietnam within 3 to 5 days. We also offer different Vietnam tours to the places in the north, center, or south of Vietnam for you to choose from, whether you are a first-time visitor or a returning traveler to Vietnam. There will be some tours for you to choose from.
If you do not find any suitable tour to Vietnam for your needs in these categories, please browse it in Vietnam tours or contact us for customizing your private trip. We are here to assist you at any time.
Tour Route: Calypso Cruise - Dark and Bright cave - Lan Ha Bay - Viet Hai village - Ba Trai Dao - Tra Bau area
Tour Highlights
Marvel at the stunning landscapes of Ha Long Bay and Lan Ha Bay, a paradise for nature lovers.
Explore the captivating Dark and Bright Cave, with its hidden lake and karst formations.
Experience a culinary delight with a cooking demonstration by the talented chef.
Discover secluded islands, pristine beaches, and the charming Viet Hai village in Lan Ha Bay.
Engage in serene activities like kayaking, cycling, and Tai Chi exercises on the sundeck.
---
Top 6 Wonderful Destinations in Vietnam For Asians
Mai Chau Valley
Located in the stunningly beautiful, mountainous region of Hoa Binh, Mai Chau is an ideal destination to break from the hustle and bustle of Hanoi. This idyllic valley enchants tourists with the picturesque rice paddy terraces, small peaceful villages, and friendly locals. Visit Mai Chau, tourists will have an opportunity to soak into the Thai culture tours, hit rich farms, and join in green tourism routes, a stunning world between heaven and earth. Mai Chau is a wonderland, a wonderful natural painting with majestic nature, amazing scenery, rich velvety green as well as poetic beauty of the Highlander.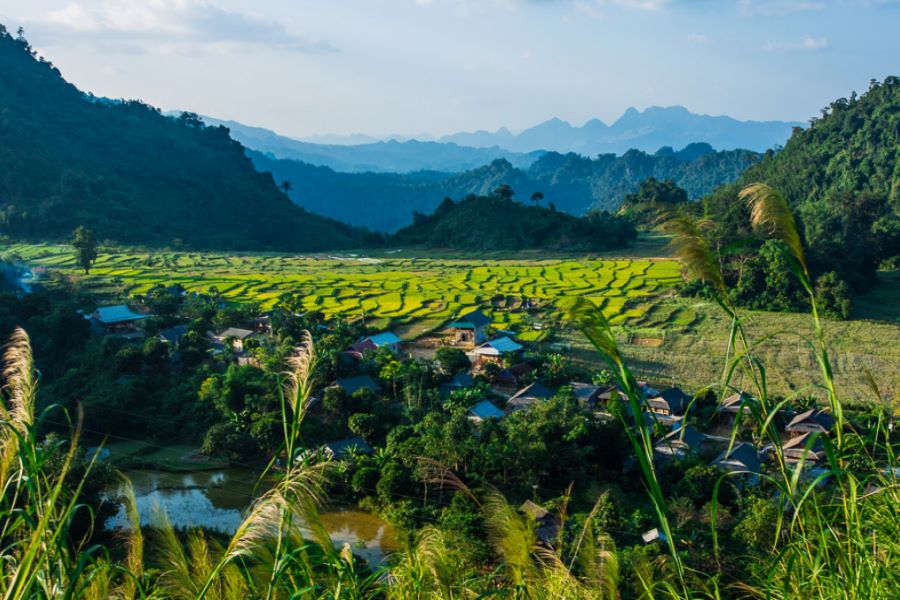 Mai Chau Valley is home to many ethnic minorities who are mostly White Thai, distantly related to tribes in Thailand, Laos, and China. The Thai ethnic group lives in the stilt houses and still keeps their rich cultural traditions. Zigzag on winding small village streets, visitors can easily see many stilt houses which retain the tall and airy space with palm leaf roofs and bamboo-slat floors.
Moreover, there are many monuments and scenic beauty in Mai Chau valley such as Mo Luong Cave, Chieu Cave, Pieng Kem Cave along with archaeological sites: Lang Cave, Khau Phuc Cave, etc. Lac Village and Pom Coong Village are the highlights that you cannot miss in Mai Chau. Wander around villages, go into a house of locals to sip "can" wine and "com lam". Drop by some souvenir stalls to pick up unique hand-made gifts for your friends and family members such as "pieu" scarf, purse, handbag, brocade clothes, etc.
Hanoi
Hanoi capital - the heart of the country, where the preservation of the essence of the nation. Hanoi is not only famous for its beautiful landscapes and famous dishes, but the Hanoians also have a distinctive signature, which is grace, elegance, and sophistication in every sentence, and gesture. The highlights of Hanoi include Ho Chi Minh Mausoleum, Hoan Kiem Lake, One Pillar Pagoda, Temple of Literature, etc. Wander around Hanoi to explore the history of this elegant city as well as the daily life of locals. Visit Dong Xuan market to see the comings and goings of the local traders as well as to pick up some unique gifts and souvenirs for your friends or family members like cute printed T-shirts or sunglasses at a very reasonable price. Hanoi is considered the best choice for Asian tourists.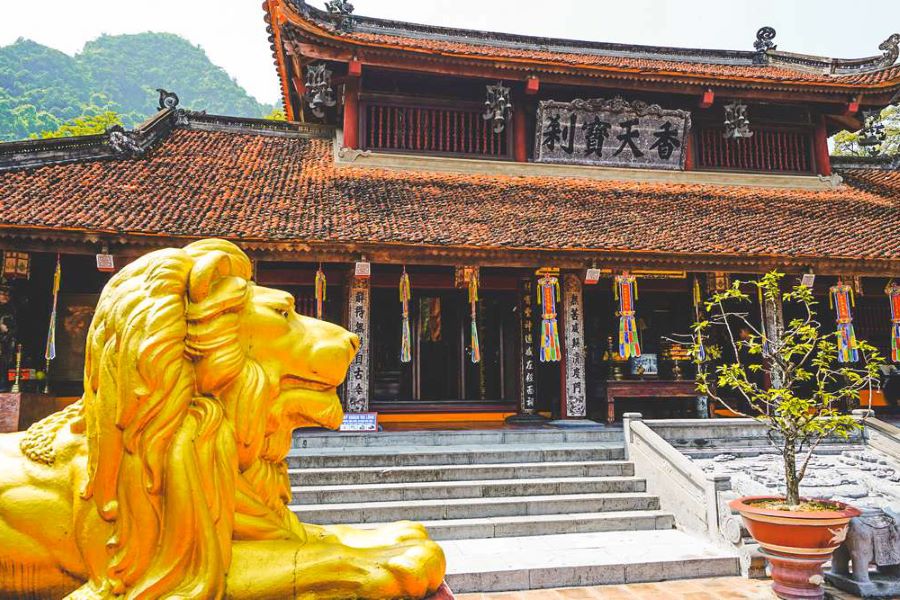 Halong Bay
Halong Bay is probably the most magnificent destination on your Vietnam tour with spectacular caves, islands, and its oh-so-turquoise waters. Coming to Halong, you can indulge in a range of water activities such as diving and kayaking, marvel at the diverse wildlife, or enjoy exquisite dining experiences. Taking a cruise is a popular activity to get closer to the limestone formations, natural grottoes, and floating villages. Take a helicopter tour from Hanoi to Halong to get a breathtaking bird's eye view of this marvel of nature.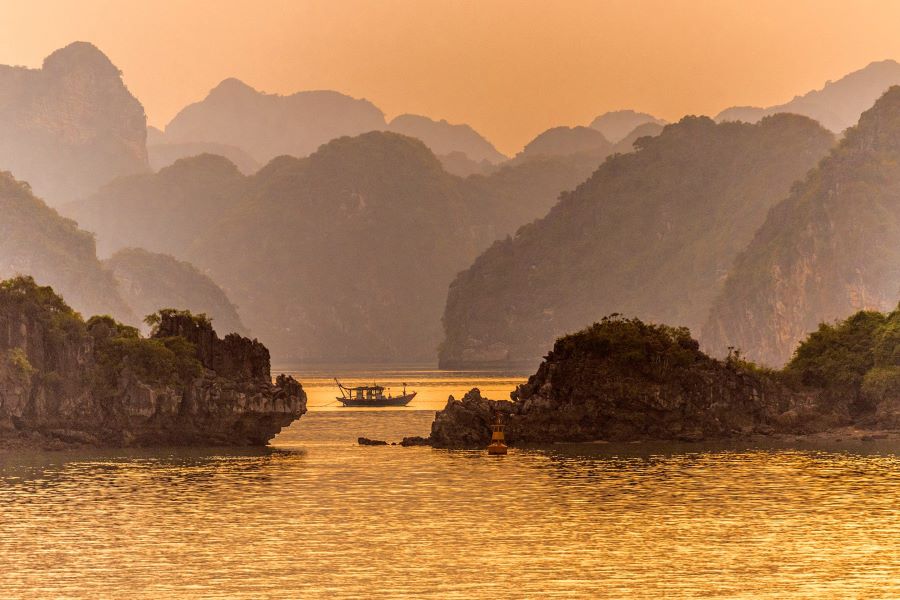 Note that, to experience this tour you only have to pay $650 per person for a round trip! It is true that Halong Bay is one of the best places to swim in Vietnam and home to a huge number of faunal and floral species existing both below and above sea level. Visitors also have a chance to taste the authentic cuisine, with its rich seafood delicacies like crab, clams, prawns, lobsters, lamprey, and more. Make sure that you do not forget to choose some souvenirs to take back home like handicrafts, decoratives, or knick-knacks in the local markets. Admiring sunrise or sunset at the bay, and dining at a cave are must-experience things in Halong.
Cao Dai Temple, Danang
Another interesting place in Vietnam's itinerary for Asians is Cao Dai Temple. Watching Caodiasts pray is a must-see thing in the temple as they wear long flowing robes of white for lay followers, yellow, blue, or red for priests whilst bishops have the Divine Eye embroidered on their headpieces. The Cao Dai Temple Highlights Worshippers at Cao Dai Temple are affected by Neo-Gothic, Baroque, and Oriental design and are decorated with the dragon-wrapped pillars, and seven-headed cobras, and ceilings of sky blue.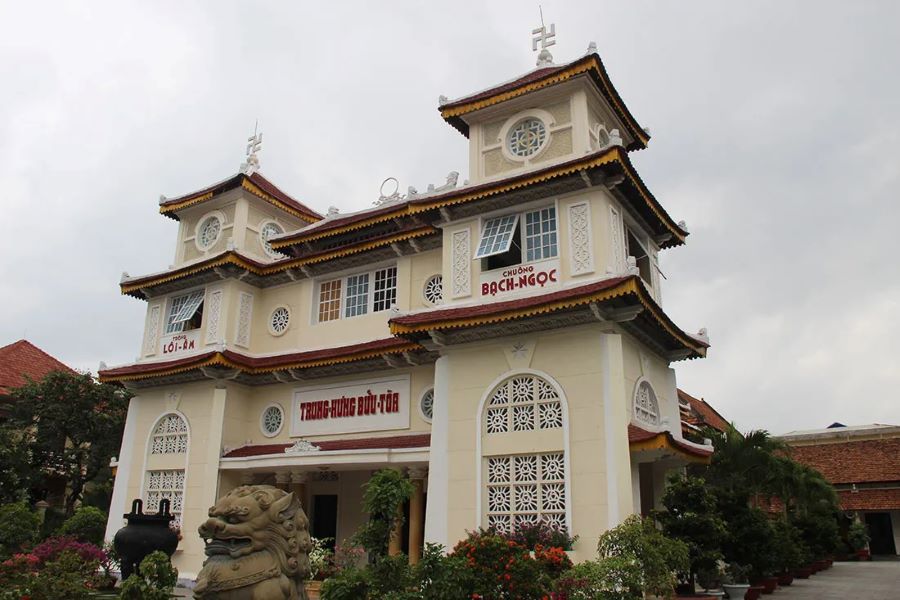 My Son Holy Land, Quang Nam
Located in a narrow valley just around 40 minutes drive from Da Nang, My Son Holy Land is considered Vietnam's Angkor Wat consisting of several temple towers constructed between the 7th and 13th century AD. Listed as a UNESCO Heritage Site, My Son guarantees you a great insight into the country's past although it is not big as the ancient temples in Cambodia. With about 70 monuments representing six styles of ancient Champa, My Son is evidence of cultural interactions between the Champa Kingdom and Southeast Asian civilizations like China and India. Visit My Son tourists can enjoy the fresh air of the peaceful land, moreover, the surrounding jungle with singing birds and cicadas will give you a joyful experience. Go to My Son at 3 pm to avoid the heat.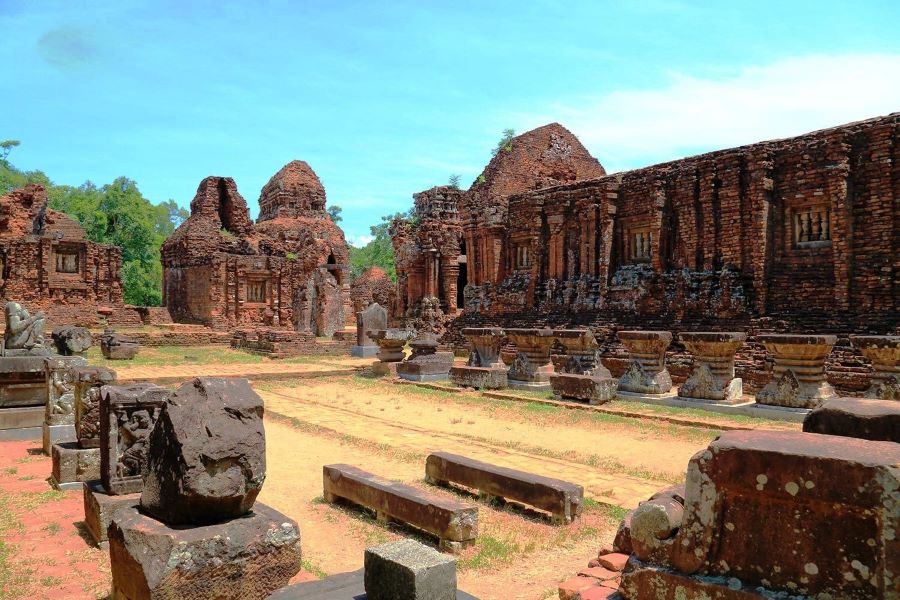 My Tho
As the center of politics, culture, and economy in Tien Giang, My Tho is well-known for its unique Dong Tam snake farm which has many kinds of poisonous snakes and a lot of traditional medicinal herbs. For entertainment, do not forget to come to Thu Khoa Huan park, being in the section of Tien River and Bao Dinh River to have a ton of fantastic experiences.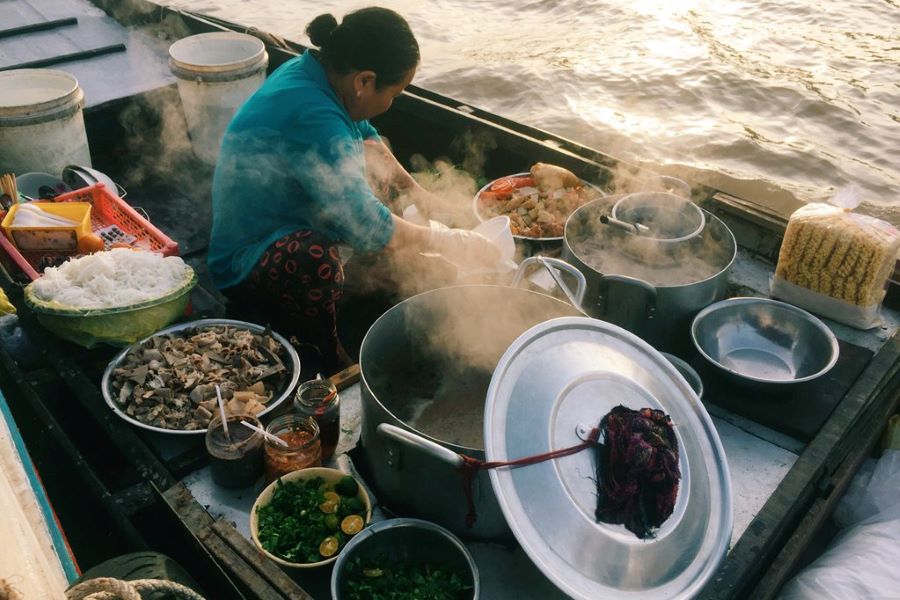 If you are looking for wonderful Vietnam vacation and tour packages, feel free to contact us right now!