Danang Tours | Top 10+ Tour Packages & Day Trips from Danang
Nestled between three Cultural World Heritage Sites: Hue Citadel, Hoi An ancient town, and the Sanctuary of My Son, along with its beautiful landscapes, Danang has become one of the must-visit destinations in Central Vietnam. At the first sight, Danang gives a deep impression in tourists' minds of an enthralling city. The city is a combination of traditions and modernism which has created its unique charm which attracts visitors. Exploring the historical relics, taking an exciting journey, enjoying the beautiful beach, and immersing yourself in the vibrant life, your best Danang tours are awaiting!
Tour Route: Da Nang - Hoi An - My Son Sanctuary - Hue Riverboats - La Vang Church
Tour Highlights
Arrival in Danang, transfer to Hoi An for a walking tour of the ancient town.
Visit Tra Kieu Center of Pilgrimage and explore My Son Sanctuary, a UNESCO World Cultural Heritage site.
Discover Danang's architectural gems including the Chicken Church and Linh Ung Pagoda.
Embark on a scenic riverboat ride along the Perfume River and visit King Tu Duc's Tomb in Hue.
Explore La Vang Church, a significant pilgrimage site, and enjoy shopping at Dong Ba market in Hue.
Tour Route: Hanoi/ Ho Chi Minh City - Da Nang - Hanoi/ Ho Chi Minh City
Tour Highlights
Explore Ba Na Hills, ride a cable car to the summit, and see the iconic Golden Bridge.
Relax on Da Nang's pristine beaches, swim in clear waters, and unwind.
Visit Le Jardin D' Amour garden and admire French-inspired architecture.
Fly between destinations, enjoying the thrill of a short flight from Hanoi or Ho Chi Minh City to Da Nang.
Stay in a luxurious resort, providing a perfect retreat after a day of exploration.
---
Top 10 Things to Do & See in Danang Tours
Ba Na Hills
40km to the South-west from the city center, Ba Na Hills is located at the height of 1489 meters. In the early 20th century, Ba Na Hills was discovered by the French military while looking for new resorts in Danang. With a cool climate and an average temperature of only 18oC, it is extremely suitable for guests to escape from the heat of summer as well as refresh themselves with cool air and scenic beauties during your Danang tours.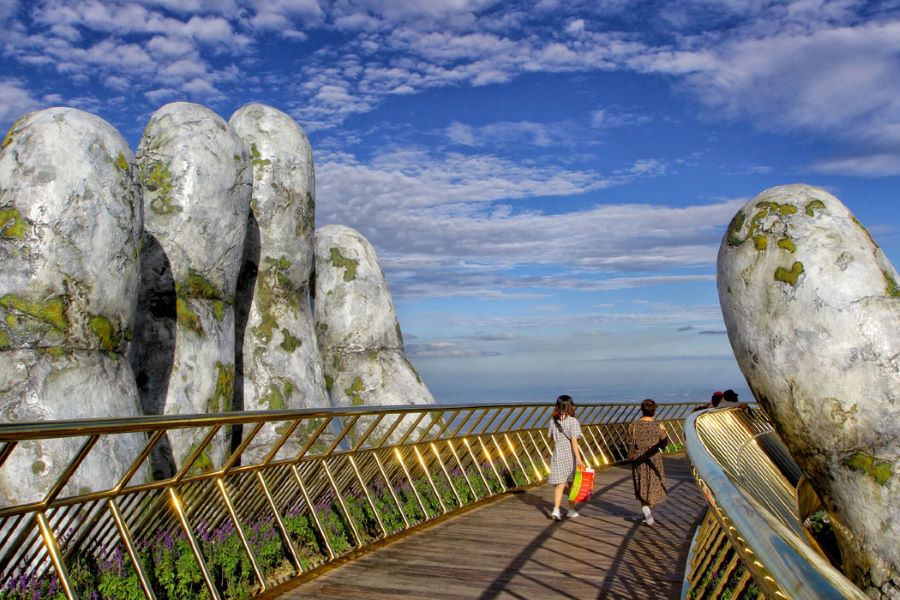 Ba Na Hills is one of the natural reservations of Vietnam which has preserved a lot of valuable floras and faunas. Besides, it is also attractive ecotourism with untouched forests, dreaming streams, fresh air, and a temperate climate. Especially, you can experience 4 seasons in a year just in a day at Ba Na Hills. The morning of spring, the summer at noon, the autumn in the evening, and the winter covering the night will make your clothes changed all day long. From the top of Ba Na Hills, tourists can have panoramic views of Danang, Son Tra Peninsula, the magnificent beaches, and the green rice fields to the horizon.
Additionally, Ba Na Hills is a stunning mountainous resort thanks to the amusement center - the Fantasy Park, the Morin hotel built in the 20th century, a replica European castle, and Le Jardin d'Amour love garden. To reach there, tourists can go by Ba Na cable car recognized as the longest and highest one all over the world.
Hai Van Pass
Hai Van Pass (Sea Cloud Pass) is the natural border between Danang and Hue. The longest pass in Vietnam has a peak at the height of 496m and the shape of a giant dragon. The pass is the final section of the majestic Truong Son Range and opens the breathtaking spectacles to the sea. In the Vietnamese language, Hai Van Pass is called "Thien Ha De Nhat Hung Quan" (the most enormous natural border of the country).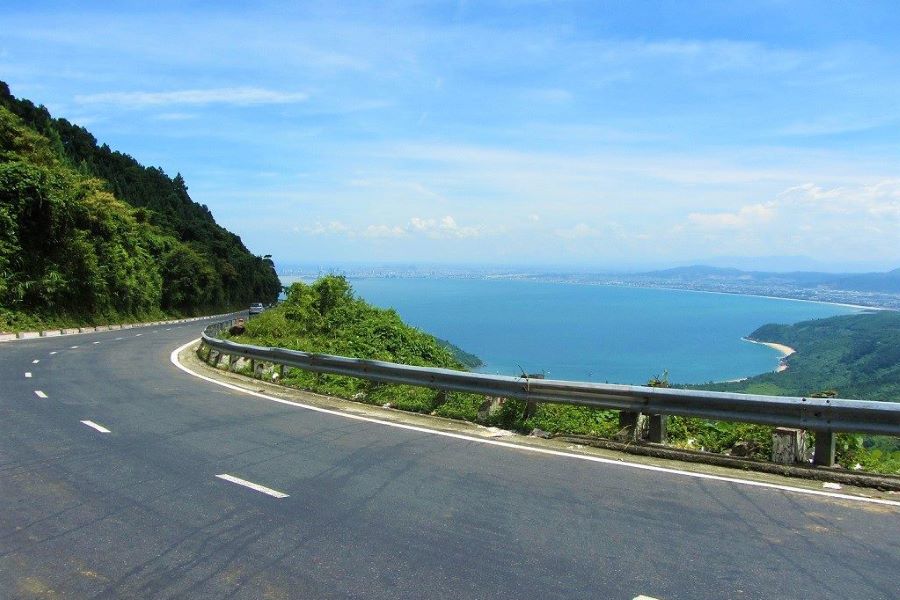 Conquering Hai Van Pass will bring two different feelings for the visitors, especially those traveling by motorbike. One is the awesome experience when going through the clouds and slight fog like a fairytale; seeing the large tropical forests in the West and the horizon on the sea in the East. Another is the strong feelings when passing the dangerous bends of the roads. If you are fond of challenging adventures, conquering Hai Van Pass will definitely satisfy your passion. Just one thing to remember is to equip enough protection devices as well as slow down at blind corners and sudden curves, your travel to Hai Van Pass will absolutely safe.
Son Tra Peninsula
Considered the "green lung" of Danang, Son Tra Peninsula has a mushroom-shaped which is 10km far to the North of the city center. Visiting Son Tra, you will have the chance to be "up to forests, down to seas". They are the romantic beauty of Son Tra's old forests and the natural paintings of Ban Co peak (Chessboard) and the magnificent My Khe beach or lovely Bai beach. In addition, you can participate by going fishing with fishermen in the morning, surfing on the beaches, trying scuba diving to see nature under the sea, visiting Tien Sa lighthouse, and watching the awesome dawn from Son Tra peak.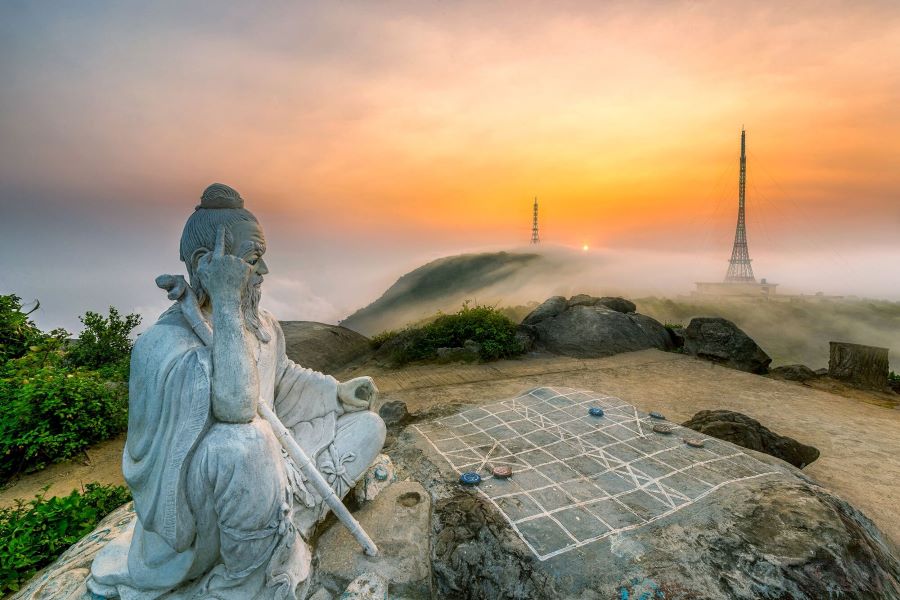 Ngu Hanh Son - Marble Mountain
Ngu Hanh Son includes five mountains named after five natural elements (Kim – Metal, Moc – Wood, Thuy – Water, Hoa – Fire, Tho – Earth). These mountains look like rocky boulders emerging from the immense sand dune. The most attractive destinations of Ngu Hanh Son are the strange shapes of the five mountains and the mysterious caves such as Huyen Khong Cave and Linh Nham Cave. Traveling to Ngu Hanh Son can help visitors feel the beauty of nature as well as broaden knowledge of Vietnamese spiritual life and history through pagodas there.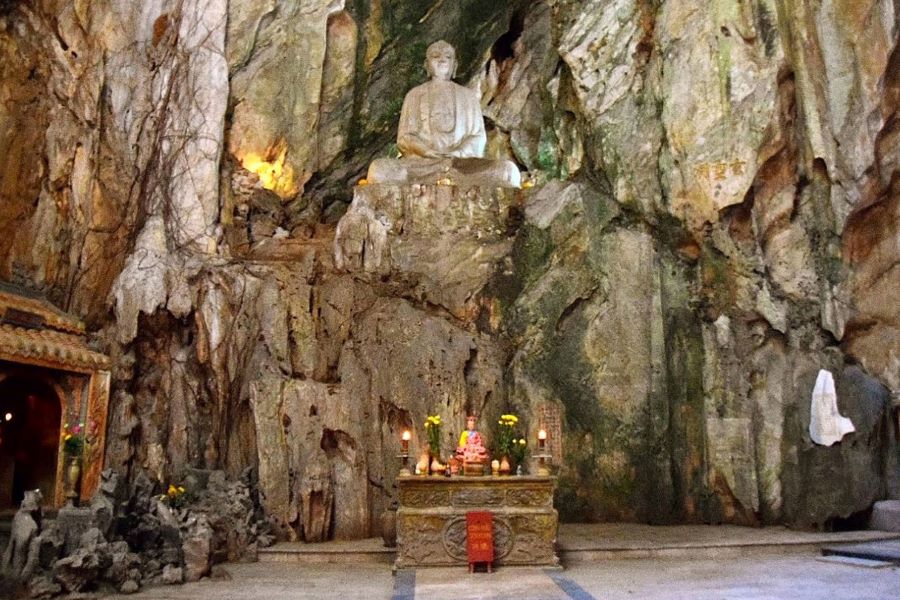 Furthermore, there are a lot of highlights which are the must-visit destinations during your Danang tours like the stunning beaches of Cu Lao Cham or My Son Sanctuary (Angkor Wat of Vietnam).
Discover the City of Bridges
One of the activities you should do at night on your Danang tours is riding a motorbike along the Han River and seeing the colorful bridges such as Dragon Bridge with fire and water spraying feature and Tran Thi Ly Bridge – the biggest and longest one in Danang. When the sun goes down, the river and surrounding areas are really a big stage of the light festival.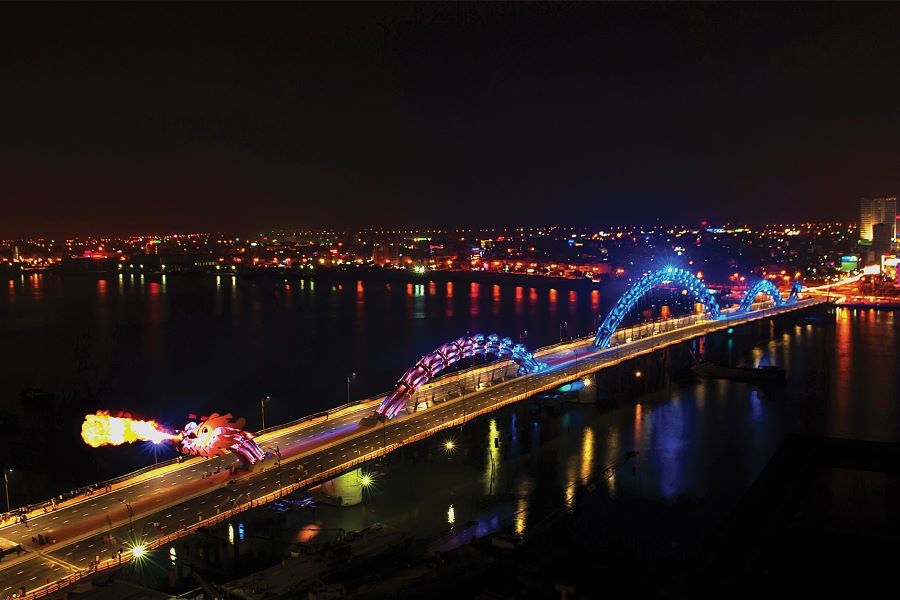 Another way to enjoy a fascinating Danang when the city turns on the lights is to sit on a cruise on the dreamlike Han River to feel the cool breeze, fresh air, and quiet moments of the busy city. Drink a cup of warm tea together and take the beautiful photos of the vibrant Danang covered by the dark of the night will be an unforgettable memory in your Danang tours
Asia Park Danang
Located at an area of 868,694 m2 large, Asia Park Danang is a combination of the unique and novelty of entertainment models in the world with the special cultural features of Vietnam. Asia Park consists of three main areas: a modern outdoor amusement park, a cultural park with iconic architecture, the miniature art of 10 Asian countries, and the Sun Wheel, which is the symbol of developing Danang and one of the five highest wheels worldwide.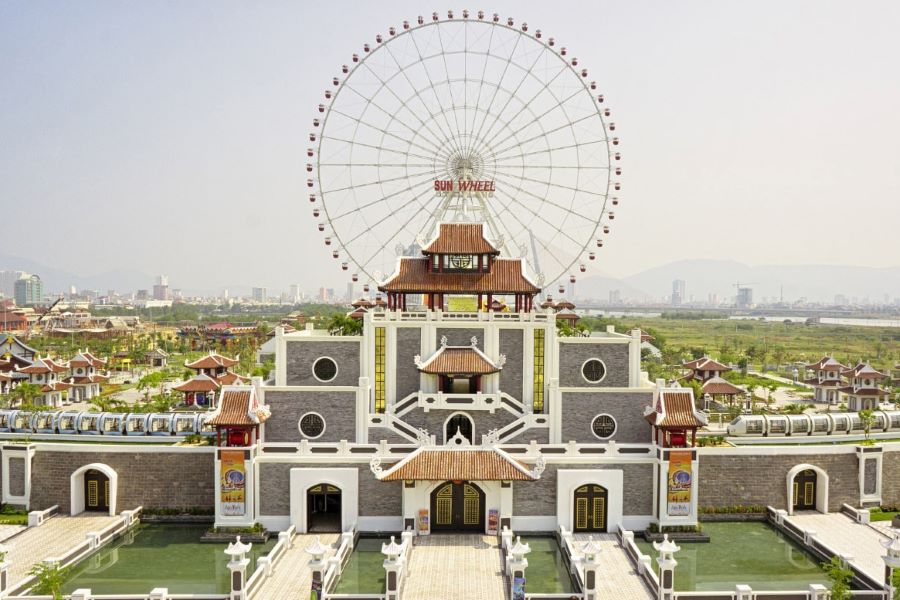 Asia Park brings a unique series of games, first appearing in Vietnam such as roller coasters, overhead trains, free-fall towers, and high-speed slides. They will surely bring you plenty of enjoyable experiences.
Danang International Fireworks Festival (DIFF)
The festival has been an annual event organized by Danang authorities associated with Sun Group since 2008. 8 firework teams will compete against each other in brilliant nights of light and color of the over-the-top firework performances. A large complex dedicated to the festival was built in 2019 including a 3000-seat fireworks display, a 50,000 square meter commercial center, and six high-rise towers from 46 to 51 stories. Spend Danang tours in June celebrating this wonderful festival.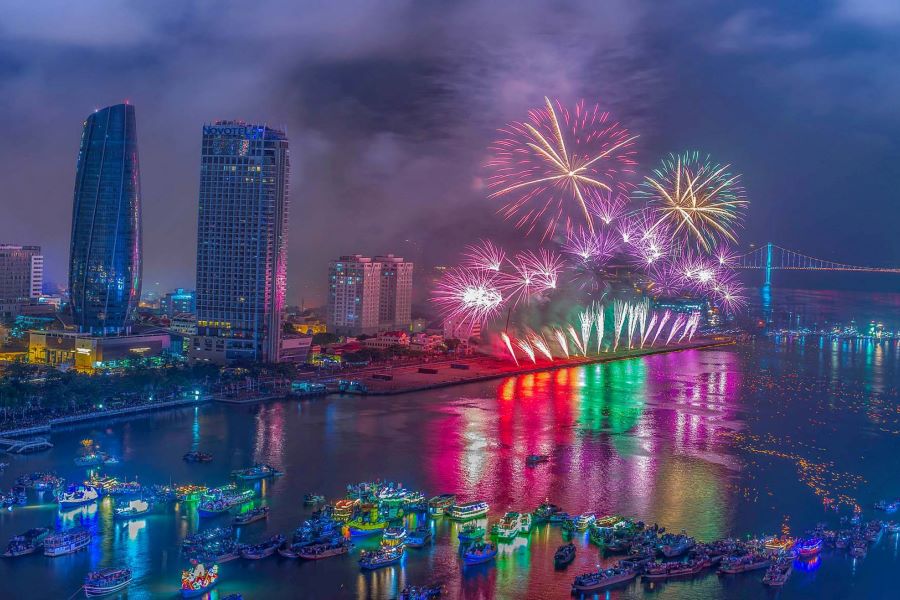 Linh Ung Pagoda
Situated on the Son Tra Penisula of immense forests, Linh Ung Pagoda is extremely well-known in Danang. The pagoda owns a group of many constructions including the main hall, praying houses, library, and garden of Buddhism statues. Inside the main hall, there are 18 statues of Arhat with various expressions of anger, love, hate, and joy. All of them are meticulously engraved by outstanding artisans.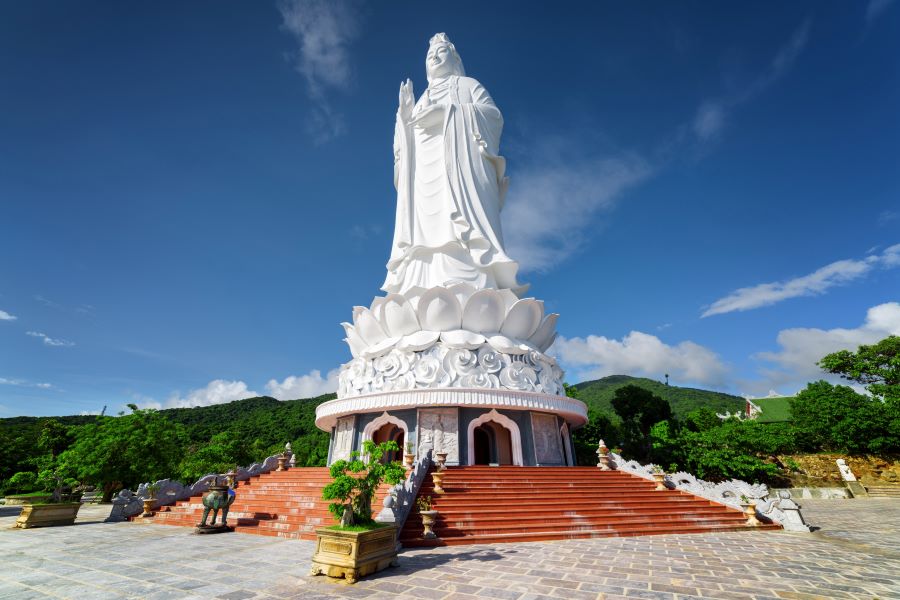 The important point of Linh Ung Pagoda is the Avalokiteshvara statue which is considered the highest in Vietnam (67m). The statue has its back on the mountain and heads to the sea, one hand catching the black soot, another holding the jug of clear water as a peaceful pose for the fishermen reaching far out of the coast, carrying many wishes for the peaceful seas, advantages weather, national wealth and security.
The Cuisine of Danang
One of the spotlights of Danang tours attracting a lot of tourists is its cuisine. Danang's cuisine is the melting pot of Northern and Southern cuisine together with the traditional process and feature spices of the locals.
The cuisine of Danang often combines different ingredients in one dish from seafood, beef, chicken, and pork to a variety of fruits and vegetables. Moreover, each dish requires its special dipping sauce with secret recipes to create incredible smells and feelings. Some of Danang's specialties are Quang noodles, Banh Beo (a type of cake), and Banh Xeo (Vietnamese crispy pancake).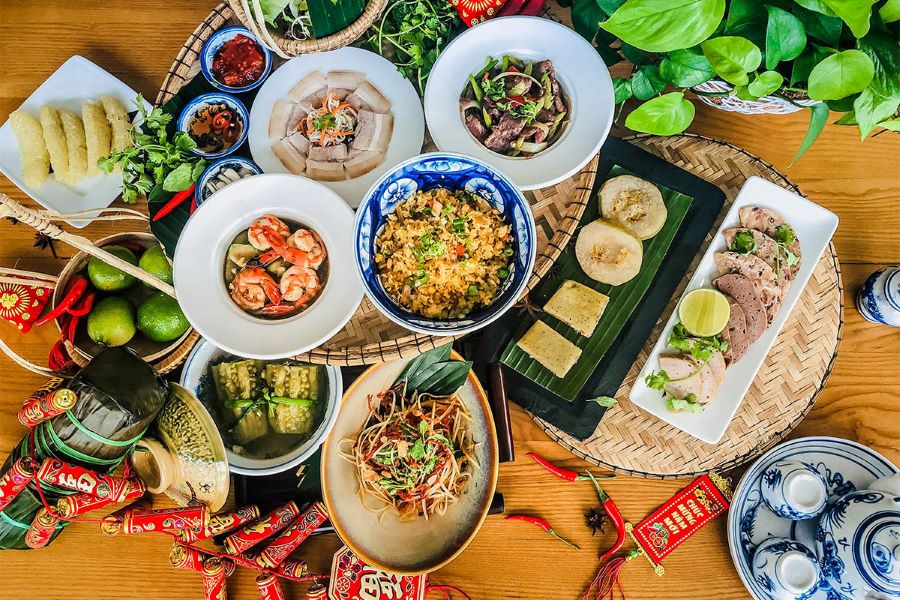 Cam Ne Village
The village has long been famous for the traditional mats used by royal families during the period of the Nguyen Dynasty. Cam Ne mats are thicker, more durable, more smoothly, and more comfortably than the products of other villages. Especially, lying on the Cam Ne mat will make you feel cool in the summer and warm in the winter together with the scent of aromatic pastures.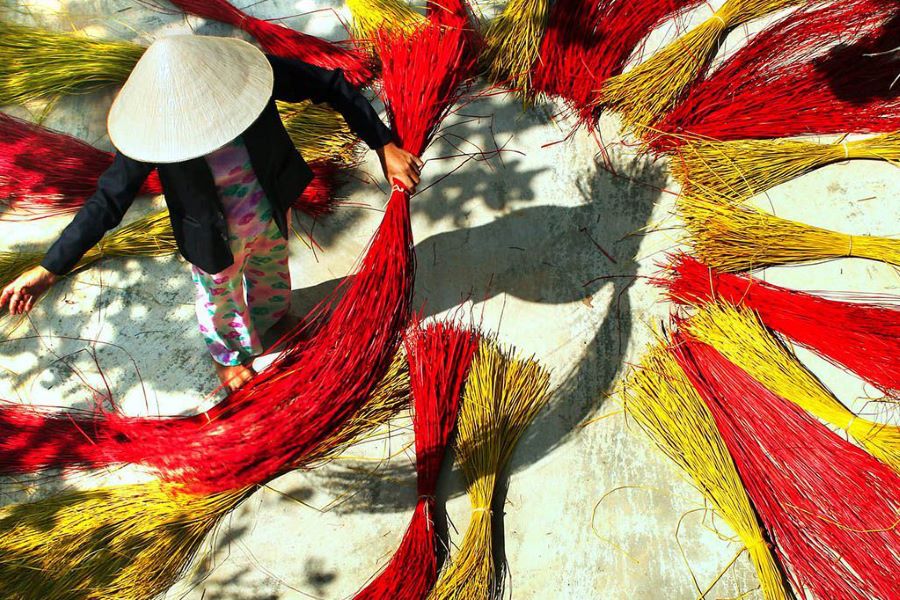 Tuy Loan Village
This 500-year-old village has an ancient temple recognized as a national historical and architectural heritage by the Vietnamese government. Tuy Loan festival taking place on January 9th every year will give you the chance to participate in the traditional boat race and enjoy folk songs and other cultural activities.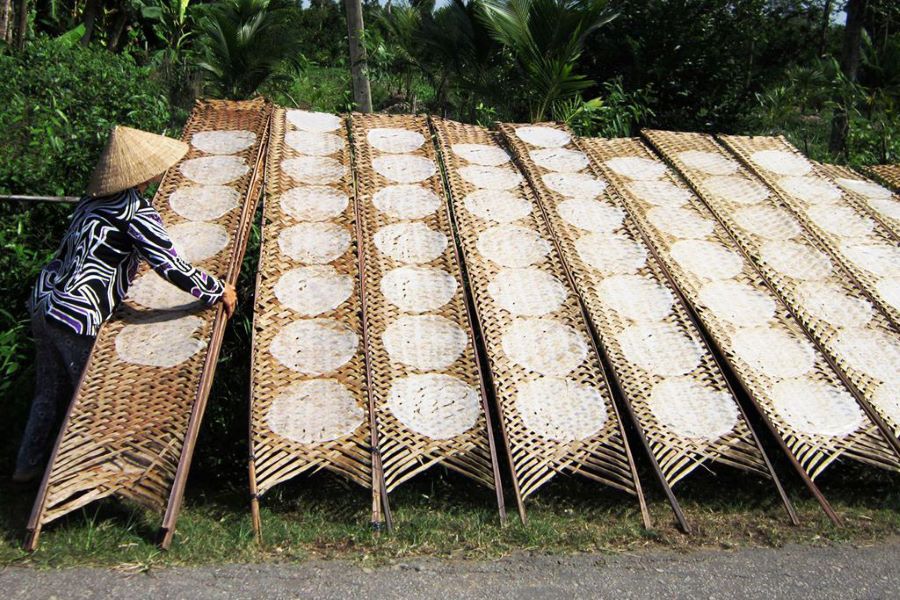 Hopefully, the list of recommended destinations will be a useful guideline for your Vietnam day trips to Danang. Have fun and safe travel!
Best Time to Visit Danang
Weather in Danang
Danang has two separate seasons: a dry season (from January to July) and a wet season (from August to December). The average temperature is about 26oC. Danang has a cool winter (from December to February) with an average temperature of 20oC.
From January to July - The Wonderful Season for Danang Tours
The dry season is the ideal time to visit Danang. The summertime in the city lasts from April to July. This is when you can enjoy the heat and humidity of tropical weather through outdoor activities such as bathe, surfing, and sunbathing on the amazing beaches. Provided that the temperature rises too high, you can escape from the heat by a visit to Ba Na Hills or Son Tra Penisula to cool off yourself with the winds and scenic beauties. At night, Danang puts on a fantastic show of lights. Spend a night out admiring the city at its best through the impressive bridges and exciting amusement center.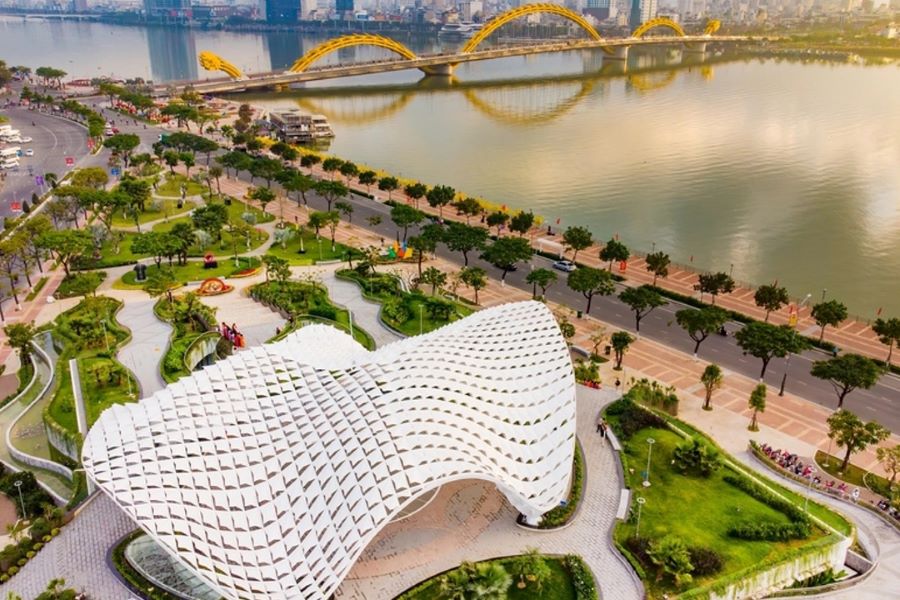 If you wish to be immersed in festivals, the two best times are February and June. In February, dozens of the festivals after the Tet holiday are taken place in old villages. In June, Danang International Fireworks Festival and Carnival Ba Na Hills are two well-known festivals attracting thousands of visitors worldwide.
From August to December - The Off-season in Danang
It is absolutely wrong saying that there is nothing to do in the wet season in Danang. Visiting cultural and historical museums in Danang is the best choice to keep yourself dry and explore interesting things about the city. Besides, attending cooking classes to cooking traditional Danang dishes or watching the rain from the coffee shops of unique décor is also a flawless option.
Danang Travel Guides
Danang General Information
Location: Central Vietnam
Population: Approximately 1.5 million (2017)
Language: Vietnamese
Currency: Vietnam Dong (VND)
Natural Condition: Mountainous area in the West
Northwest Delta, sea, peninsula, islands in the East
People, City & Culture in Danang
Danang People
Danang citizens are active, friendly, and hospitable. They always welcome tourists from all over the world. Therefore, if struggles, unfortunately, happen during your Danang tour, free to ask for the help from Danang people. They will support you enthusiastically.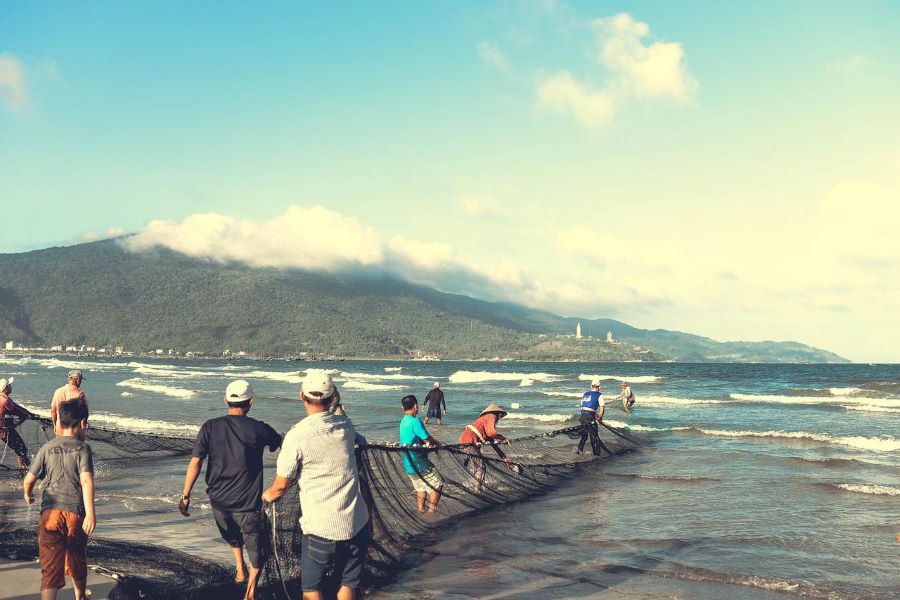 Danang City
Danang is a young and energetic city. It is also called the worth-living one because of its high-quality infrastructure and living standards. The constructions of skyscrapers, amusement centers, and resorts meeting the international quality prove the great development of Danang. In 2020, Danang will become an environmentally-friendly city.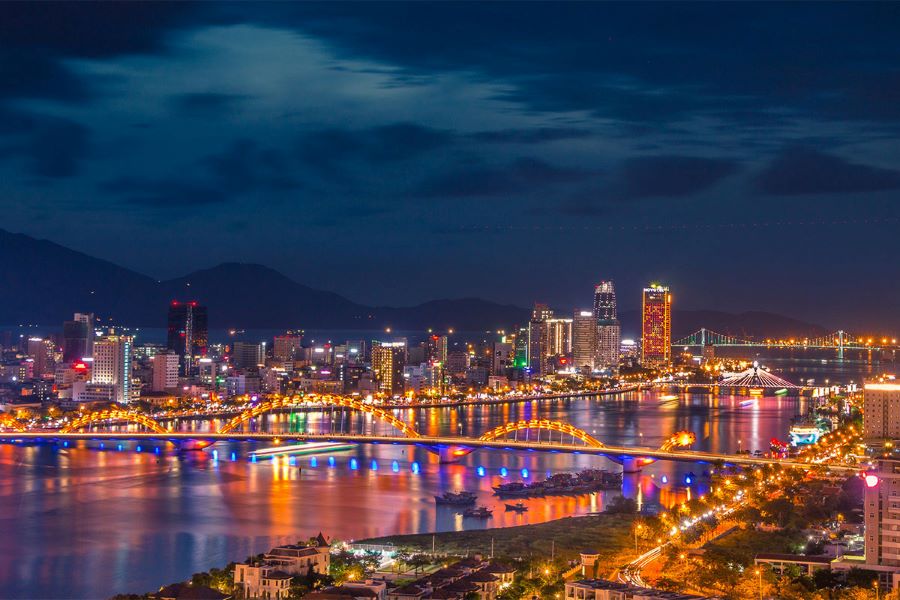 Danang Culture
While Danang is focusing on developing the economy, it still preserves its historical and cultural values. It is shown by historical museums, traditional festivals, unique cuisine, and civilized lifestyle. Buddhism, Catholicism, and Caodaism are three of the fifteen religious organizations in Danang. Thanks to diverse religions, the city is home to different customs, and beliefs contributing to the multicultural Danang. There are 37 groups of ethnic minorities living in Danang. Each group has distinct costumes, cuisine, culture, and tradition is a beautiful color in the beautiful painting of the beautiful city in central Vietnam.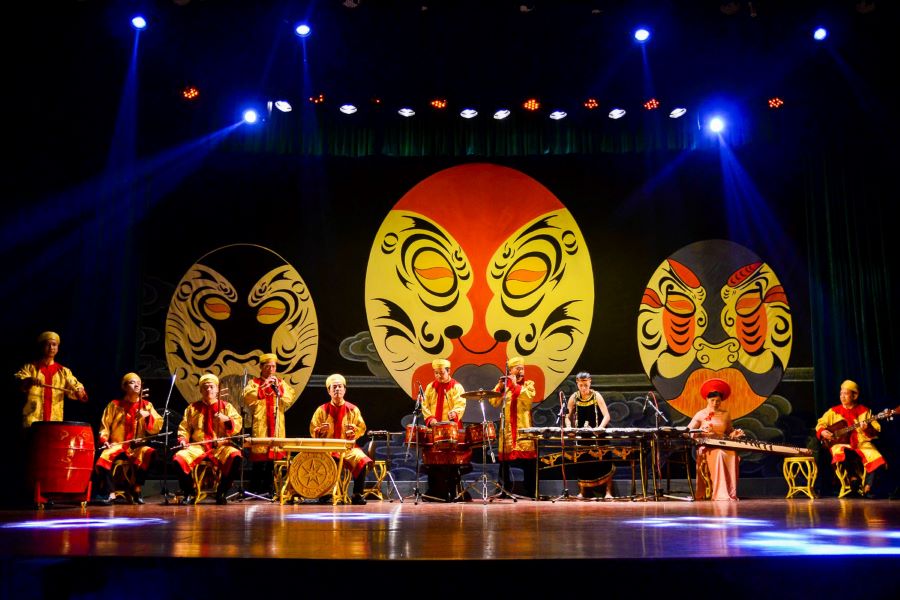 Transportation in Danang
Danang has one of the best traffic systems in Vietnam. It also offers various means of transportation such as bikes, motorbikes, taxis, buses, trains, etc. Especially, cyclo is also available in Danang. Traveling a vibrant and modern city by slow and traditional transportation will be surely an interesting experience.
Motorbike
The motorbike should be considered as your transportation in Danang because of its convenience and unique feelings. You can easily rent a motorbike because most hotels in Danang provide this service. Drive a motorbike yourself requires a license but you can hire motorbike taxis on the streets instead, nothing changes.
Taxi
If you want to save your time and energy, a taxi is a great choice for Vietnam tour packages.
Some recommended taxi brands in Danang:
Mai Linh Taxi: (Tel: +84 236 3 56 56 56)
Song Han Taxi: (Tel: +84 236 3 72 72 72)
Mobile Phone & Internet access in Danang
The mobile phone connection in Danang is great. You will need a SIM card from mobile operators to pay fees for your calls and other services. Some recommended mobile operators in Danang are Viettel, Mobifone, and Vinaphone.
Internet access is quite fast and convenient in accommodations and destinations in Danang. Besides, the Wi-Fi connection is free and available in most restaurants, coffee shops, and museums, etc.
Useful Information for Perfect Danang Tours
In Dry Season
Stay hydrated by carrying a big bottle of fresh water and eating well to make up for lost water and vitamins.
Bring some warm clothes in case the weather in Danang may be cold at night, especially in mountainous areas. A jacket, windbreaker, and jumper are recommended.
Tank tops, jeans, sneakers, and T-shirts work well for active days in Danang. Applying sunscreen, and wearing glasses and hats will make you completely comfortable on your Danang tour.
Outfits at temples and pagodas, however, require politeness and respect. Wearing simply and elegantly is accordant.
If you want to hire a motor-taxi, booking a Grab is much more convenient than hiring a motor taxi on the streets.
If you want to hire a motor to drive yourself, ask the staff of the hotel you stay for support.
In Wet Season
Always carry a raincoat (if traveling by motor) or an umbrella (if walking) when visiting Danang as rains can suddenly happen. The weather at this time is quite cold so warm clothes are necessary. Boots are also useful for walking on slippery roads.
Check the weather forecasts regularly to have suitable plans.
Because of unpredictable weather, a plan B needs to be set in case your plan A has to cancel.