Ha Giang Tours | Top 8 Ha Giang Adventure & Day Trips from Hanoi
If you are looking for a whole new experience for all five senses of your Vietnam vacation, why not choose Ha Giang for the next adventure? Ha Giang Tours will satisfy all your five senses: producing pleasure for your sense of touch through the mild climate every four seasons, awakening your olfactory by the fragrance of wildflowers in the breeze, surprising your taste with distinctive ethnic dishes, and impressing your auditory by the unique sound of ethnic instruments. For the visual experience, no matter what you have heard, seen, or known about Ha Giang, there is no picture or words that can describe the magnificent beauty of this mountainous land.
Ha Giang day trips and adventure travel packages are specially designed by our local travel expert that suits different timeframes and interests. Below are some suggested Ha Giang tour itineraries for your reference. If you do not find any suitable Ha Giang tours, please contact us to tailor-make your unique Ha Giang adventure tour that is exclusively for you.
Tour Route: Hanoi - Ha Giang - Quan Ba - Yen Minh - Meo Vac - Dong Van - Lung Cu - Ma Pi Leng Pass - Hoang Su Phi - Thong Nguyen - Bac Ha - Hanoi
Tour Highlights
Marvel at Quan Ba Pass with its Heaven Gate and Double Mountains.
Experience the treacherous Ma Pi Leng Pass and enjoy a boat trip on Nho Que River.
Discover Dong Van's ancient streets, traditional H'mong houses, and visit Lung Cu Peak's Flag Tower.
Explore picturesque rice terraces in Hoang Su Phi, visit hill tribe villages, and embrace local lifestyle.
Tour Route: Hanoi - Ha Giang - Quan Ba - Yen Minh - Lung Cu - Dong Van - Ma Pi Leng Pass - Meo Vac - Bac Quang - Hoang Su Phi - Hanoi
Tour Highlights
Visit Quan Ba heaven gate and Fairy Mountains, followed by lunch.
Reach Lung Cu flagpole and explore Lo Lo Chai village. Discover the beauty of Dong Van Karst Plateau.
Explore Meo Vac and spend the night in Bac Quang.
Experience the breathtaking rice terraces in Hoang Su Phi and engage with local farmers.
Enjoy dinner and an overnight stay in La Chai village, home to the La Chai ethnic group.
---
Top 8 Things to Do & See During Ha Giang Tours
As one of the most attractive tourist destinations in Vietnam, Ha Giang boasts untouched and primitive natural landscapes of spectacular mountains, poetic deep valleys, and stunning rice terraces. Visit this mountainous province to admire the scenery's magnificence and learn about the rich culture as well as the special lifestyle of ethnic minorities here. Below are the top 8 things to do and see in the Ha Giang tours we recommended for you. Enjoy reading!
Impressive Destinations with Stunning Views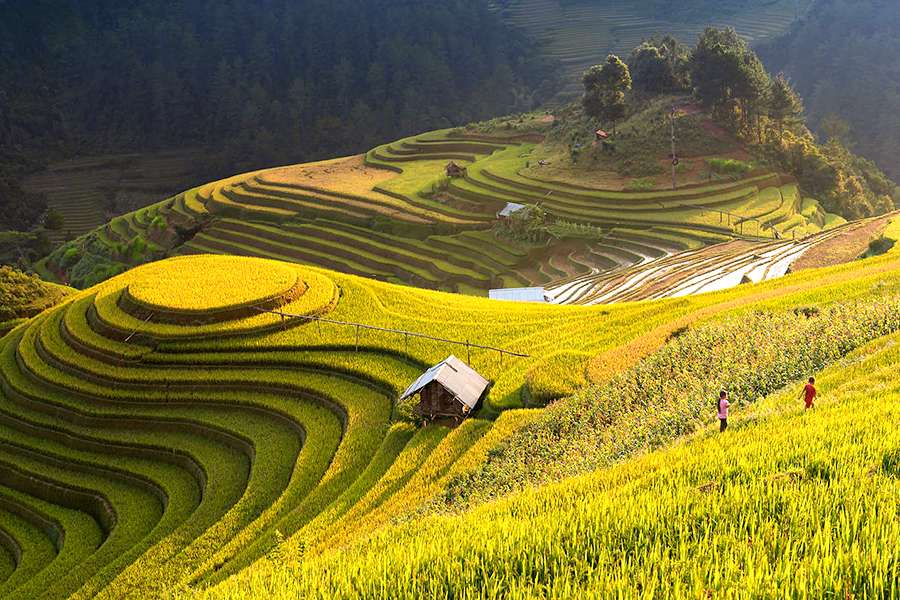 Hoang Su Phi
Hoang Su Phi, a gem nestled in the verdant embrace of Ha Giang province, unveils a breathtaking tapestry of natural beauty that defies mere description. From mid-September to mid- October, the ripe rice season of Hoang Su Phi terraced fields in particular starts. It's a good time to visit Hoang Su Phi - Ha Giang to feast your eyes with stunning pictures of terraced fields stretching endlessly on the cliffs. As the local communities prepare for the harvest season, this would be an ideal destination for those who seeking an authentic and captivating journey into the heart of nature and culture. 
Weather in Hoang Su Phi
Temperature: The average temperature in Hoang Su Phi at this time ranges from around 18°C (64°F) to 26°C (79°F). Days are warm, and evenings may be cooler, especially at higher elevations.
Recommended Activities in Hoang Su Phi
1. Nature Treks and Hikes: The moderate temperatures and reduced rainfall make September an excellent time for nature treks and hikes leading to waterfalls, viewpoints, and hidden gems that offer a deeper connection with the natural landscape.
2. Photography Expeditions: Hoang Su Phi is a stunning landscapes offer endless opportunities for photography enthusiasts. Especially, we had organized a photo contest in Ha Giang 2023, time from September- November. Besides, at Panhou we have an exhibition area for those who want to display their photos.
3. Terraced Field Exploration By Motobike: Visitors can book motobike with driver to explore the terraced slopes, capturing the breathtaking views and photographing the transition from lush green to golden.
4. Culinary Experiences: Visitors can also participate in cooking class to learn how to prepare regional delicacies made from fresh, locally sourced ingredients
5. Relaxation and Reflection: Visitors can find moments of tranquility and reflection. Whether it's meditating in nature, enjoying a peaceful picnic, or simply enjoy services at Panhou such as mineral bath, leaf bath, spa, etc.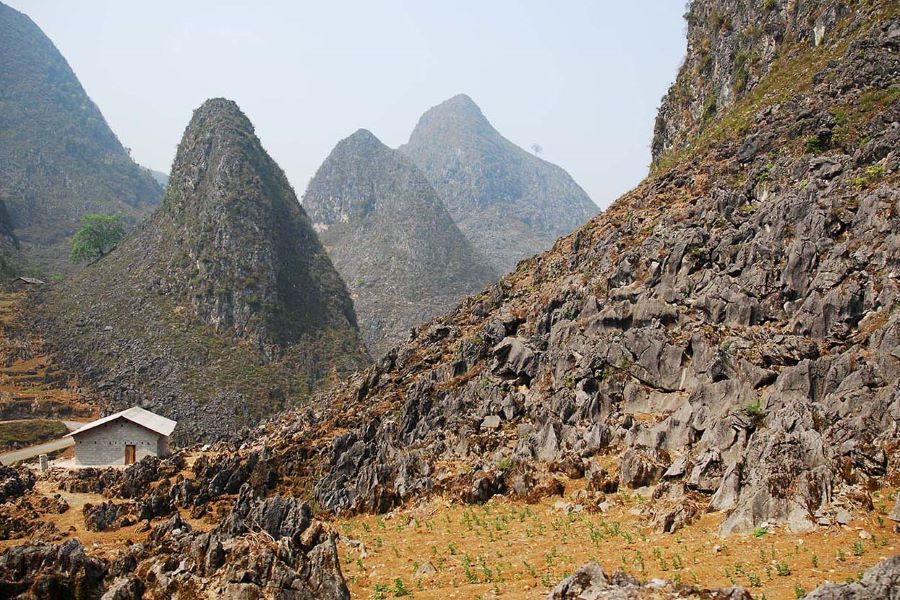 Dong Van Limestone Plateaux
Ha Giang – the land of mountainous and hilly topography enchants tourists with the majestic scenery with towering mountains, silver waterfall, and immense valleys. Dong Van Limestone Plateaux is one of the most stunning limestone regions in Vietnam. The limestone formations at these peaceful plateaux are created from different evolution stages of nature and environmental conditions through millions of years. Visit this land to admire its geological beauty and visit local villages to learn about the locals' culture.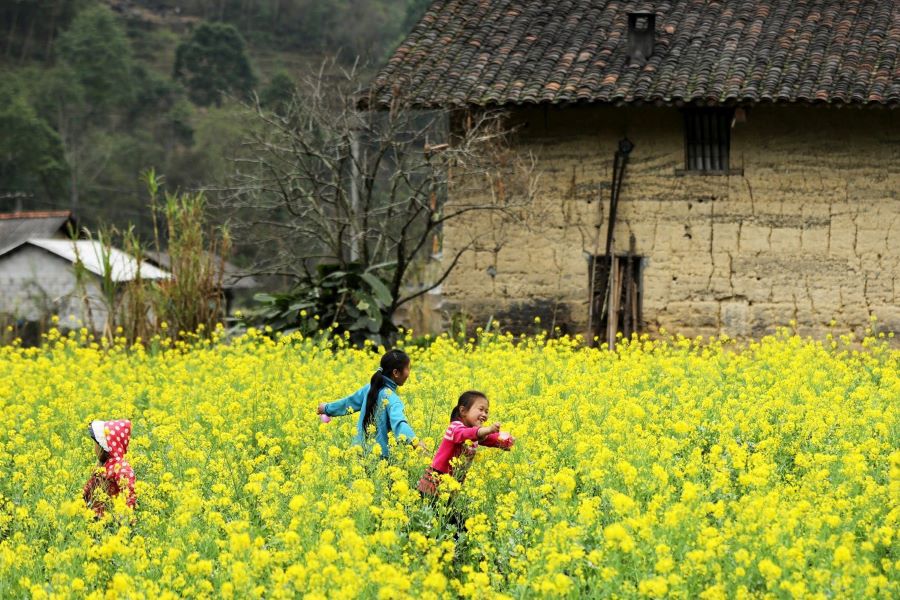 Enjoy the Beauty of Flowers
Ha Giang is a mosaic of colorful flowers such as buckwheat, plum, daisy, kale flower, etc which blossoms at different times of the year. Take your trip to Ha Giang between the end of October and the beginning of November to admire the beauty of the pink buckwheat flower - the symbol of Vietnam's northern mountainous area. Spend a Ha Giang tour in March if you like to enjoy the fragrance and the vivid colors of a variety of flowers such as pure white plum flowers, and wild peach flowers in a cool & fresh climate. In addition, December is the best time to appreciate golden kale flowers blooming everywhere with your lover.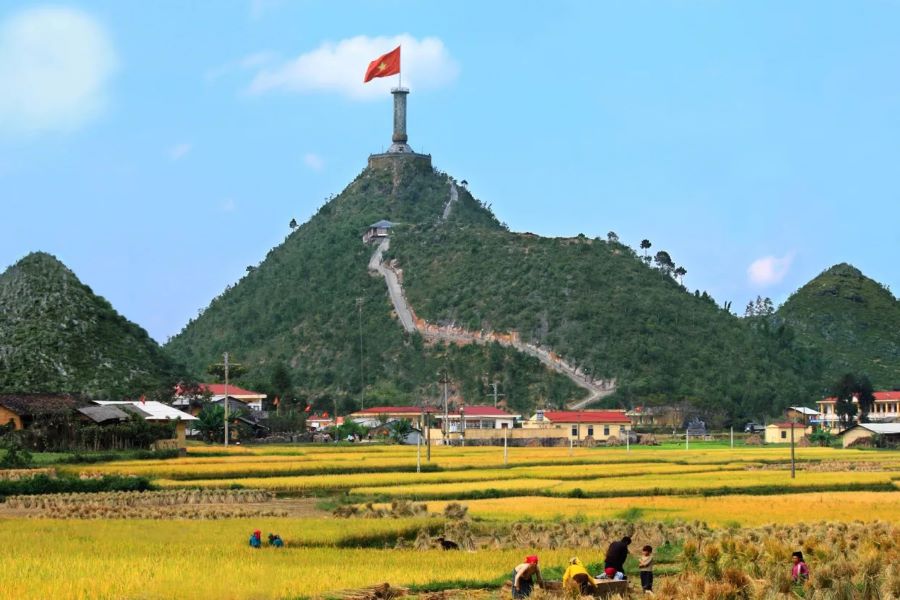 Reach the Northernmost Point of Vietnam – Lung Cu Flag Tower
Journey to Lung Cu flag tower - an emblem of Vietnam's territorial sovereignty to get very scenic landscapes on both sides of the road and visit local traditional villages of the Hmong or Lo Lo people. Walking up to its top point of 1700 meters high to extend your view to the horizon of local village scattering beside winding rice terraces as well as China side. Reaching this point is also a popular way for Vietnamese and foreign tourists to show their love for Vietnam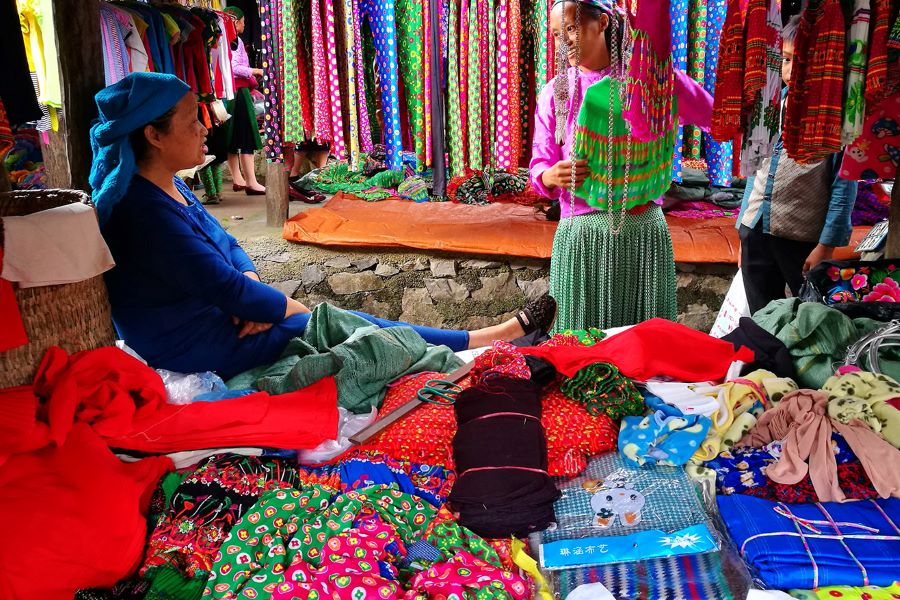 Explore the Dong Van Market
Colors and folk music cover the ambiance and space of Dong Van Market. All the ethnic groups in Ha Giang gather at the market. They bring food, fruits, spices, souvenirs, handicrafts, clothes, etc to sell to locals and tourists. The vibrancy of trade and commerce makes the quiet town become bustling and hustling. Besides, cultural activities and traditional festivals are held at the Dong Van market attracting thousands of visitors. Do not forget to spend time exploring this unique market on your Ha Giang tour.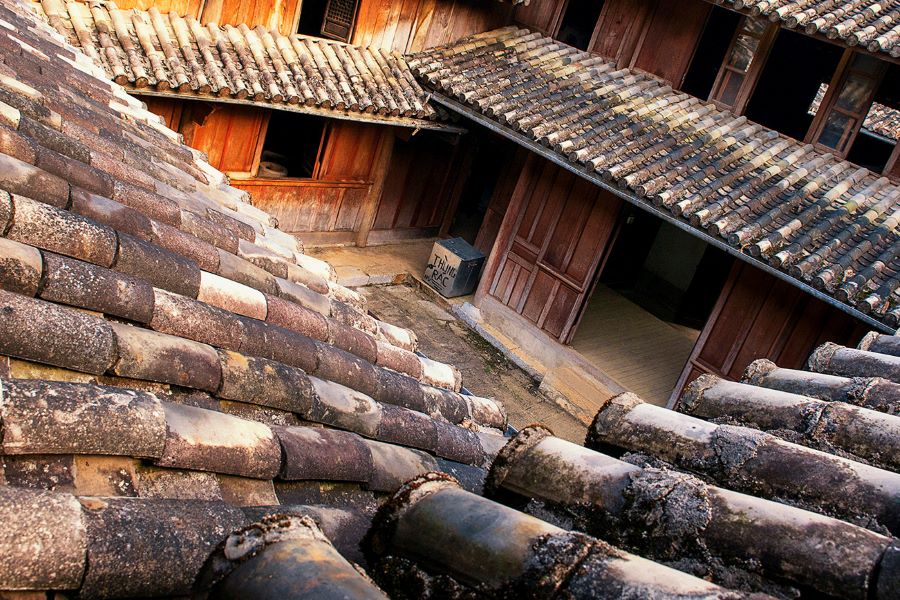 Pay a Visit to Vuong Family's House
Another highlight of the Ha Giang tours is the Vuong mansion which is a special building of the king of the Miao ethnic - Vuong Chi Sinh and his family. It enchants tourists not by its gigantic size but by the impressive architecture which is the harmonical combination of Chinese and Hmong styles. Located on a mountain with a tortoise's back shape, this house was expected to bring wealth and prosperity to the owner because the turtle is one of the four sacred animals in the traditional Vietnamese legend (the four being the Dragon, Unicorn, Turtle, and Phoenix). Visit this Vuong family's house to admire the beauty of this house as well as learn about the life of Hmong in the past.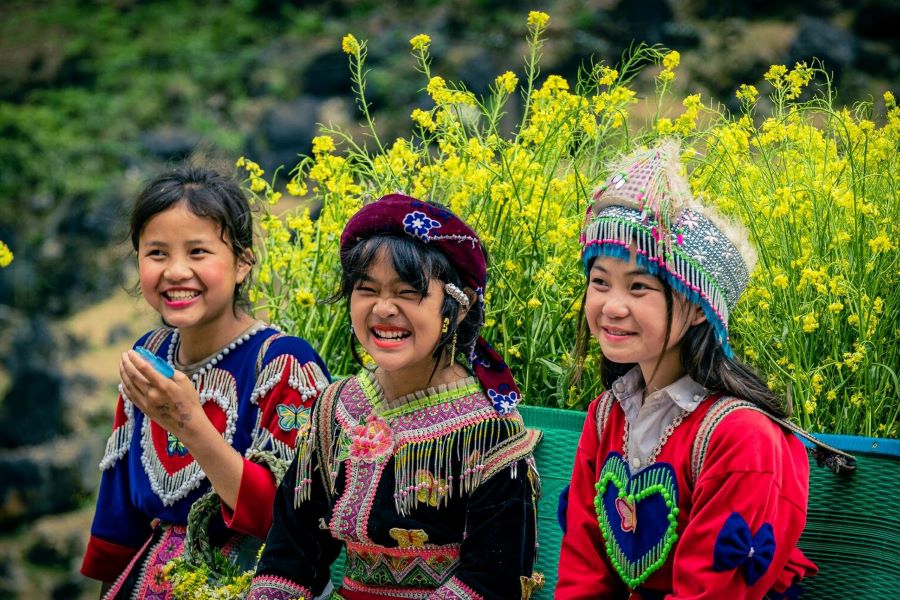 Experience the Local Lifestyle of Ethnic Groups
There are 16 ethnic groups living scattered in the valley and slopes of mountains in Ha Giang. Each group distinguishes itself with a unique lifestyle, costume, and culture. Along with admiring the stunning landscapes in Ha Giang, visitors also can visit friendly locals there to learn about their customs and culture. For adventurous travelers, it will be more exciting to take part in treks to visit remote tribal villages, homestay in their houses, taste their delicious home-cooked dishes, or soak up busy and colorful local markets which are so authentic and full of romantic events such as Dong Van market, Meo Vac market, etc.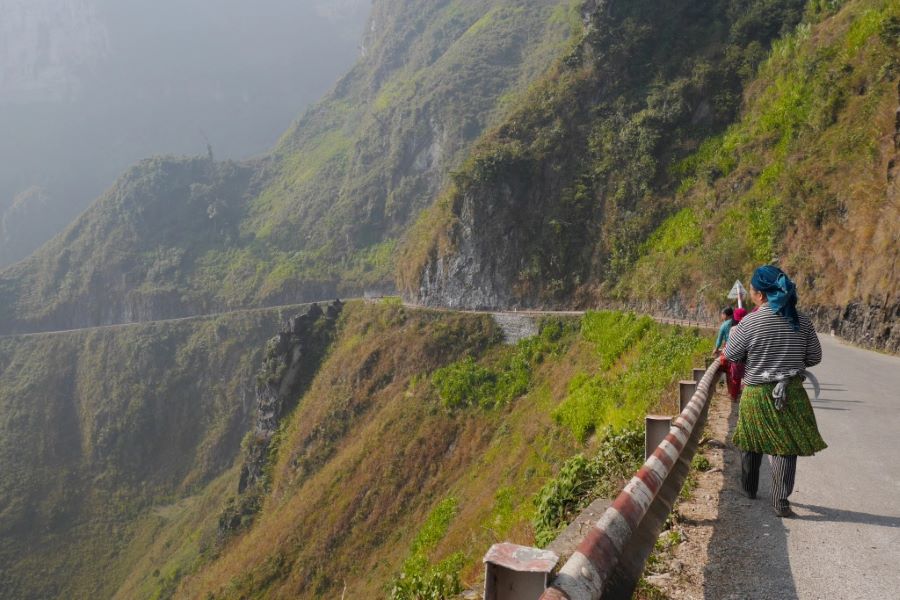 Conquer Ma Pi Leng Pass – the King of All Passes in Vietnam
Connecting two remote frontier districts of Meo Vac and Dong Van, Ma Pi Leng Pass is the highest point of the "legendary road of happiness". Conquer this pass to understand how hard it was for local ethnic workers and volunteers to build up this part of the "happiness road" just by simple working tools. Zigzagging up and down along mountain slopes to get a breathtaking view of magnificent mountains, poetic valleys, and Nho Que river winding in and out.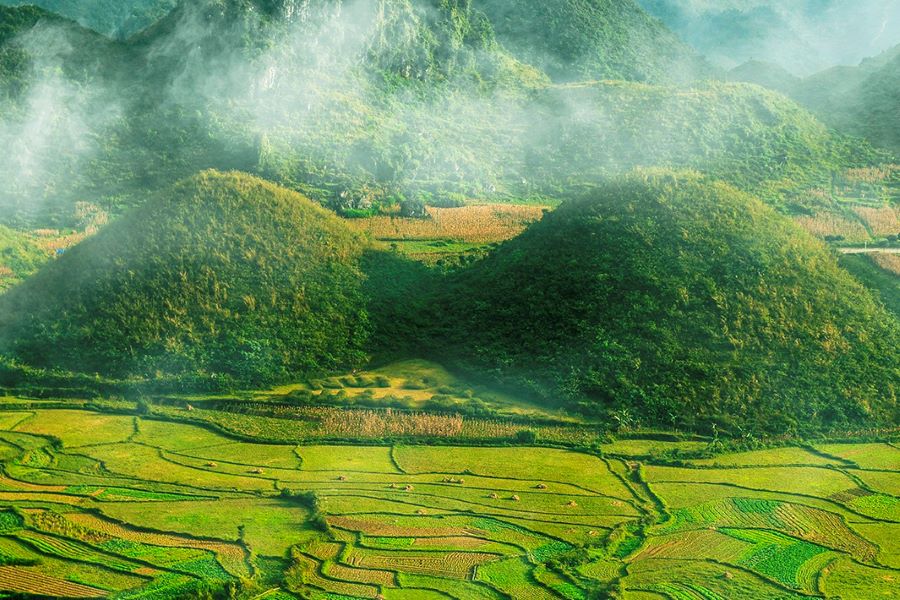 Stop at Quan Ba Heaven Gate & View Quan Ba Twin Mountains or Fairy Mountains
Conquer curving and winding Quan Ba pass and trek to the highest point of Quan Ba district - Quan Ba Heaven Gate to get a panoramic view of surrounding regions including Twin Mountains - Fairy mountains on the side of Tam Son town. There is an interesting legend about Quan Ba Twins Mountains, local people believe the twin mountains are two breasts of a fairy, and the fairy's milk from her breast has provided good weather and fruitful crops for this land. Quan Ba Heaven Gate & Quan Ba Twin Mountains are attractive highlights in Ha Giang that you must discover during your Ha Giang tour.
Top 5 Must Dishes in Ha Giang
Ha Giang is not only well known for its stunning landscapes with spectacular mountains, poetic valleys, and gorgeous rice terraces as well as the typical habits and unique customs of ethnic people there but also for the impressive cuisine that you cannot find it anywhere else. Here are the top 5 must-eat dishes in your Ha Giang tour, check them, and do not skip any of them!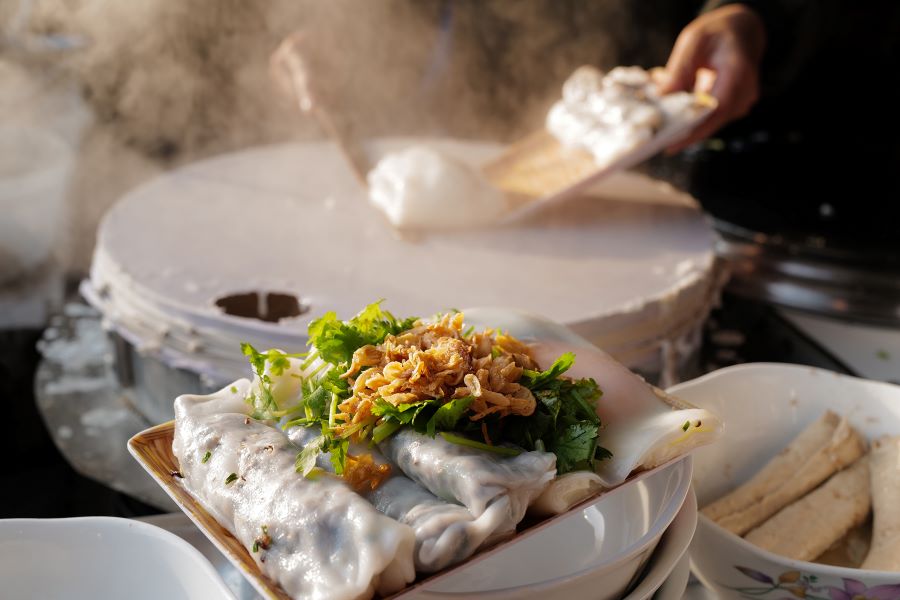 Steamed Egg Rolls
It seems to be that the cold climate of Ha Giang makes people there prefer to eat hot foods including steamed egg rolls. As its name reveals, this dish is just eggs that are well steamed and rolled up. It's served with pork bone-based sauce which perfectly enhances the flavor of the dish. Pick up a piece of thin egg roll, and dip it into the sour and spicy source to enjoy its special flavor.
Au Tau Rice Gruel
Au Tau gruel rice is one of the most famous specialties in Ha Giang that you have to try. It is made from glutinous rice, pig's trotter, some special spices, and "Au tau". Some tourists find it is quite difficult to eat for the first time trying this dish because of a little bit of bitter taste but after that, they are all into its attractive flavor. Find a vendor food and enjoy a bow of Au Tau gruel rice to keep warm on a winter night, that's such an amazing experience!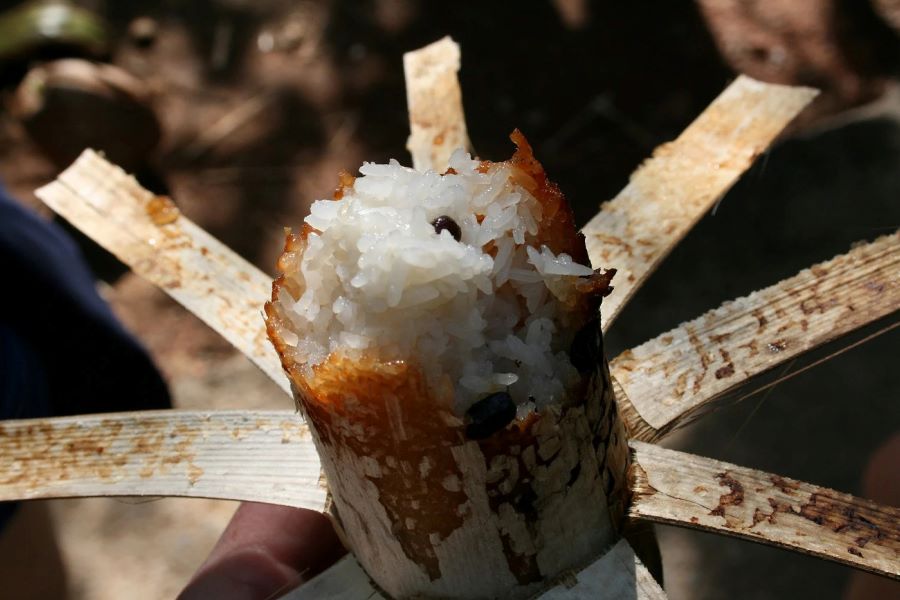 Bac Me Bamboo Sticky Rice
Bac Me bamboo sticky rice is a special dish that is made of Bac Me - a kind of sticky rice in Ha Giang, groundwater, bamboo sections, and banana leaves. Rice is mixed with salt and put into a bamboo section with water. The mouth of bamboo is covered with dried banana leaves. The bamboo packs are grilled directly on charcoal for an hour. Peel away the bamboo cover to taste the fragrant sticky rice inside, guaranteeing you a totally new feeling.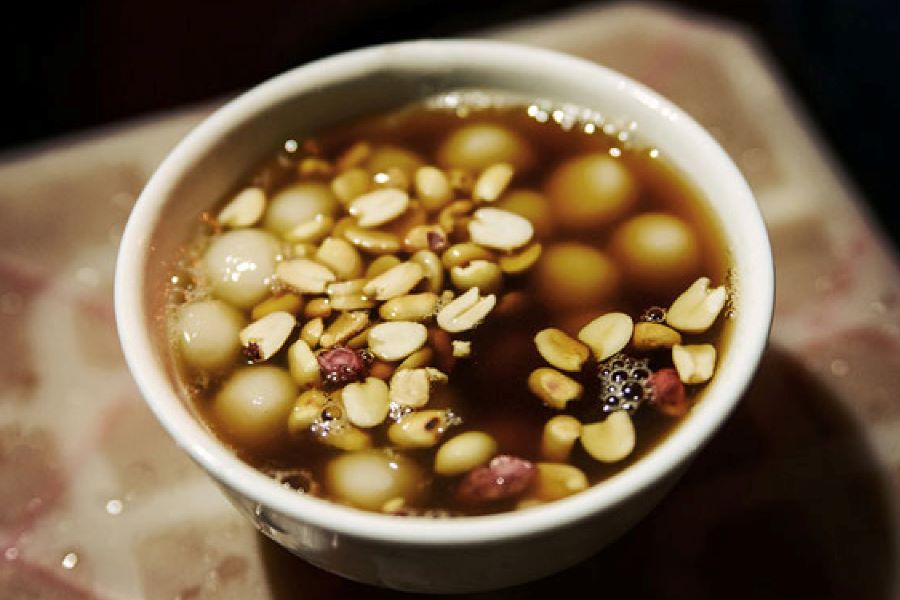 Thang Den
Looking like the dish of floating cake in Hanoi or Cong cake in Lang Son, Thang Den is a special dish you cannot miss. The ingredients of this dish simply are sticky rice flour and filling peas. The flour will be kneaded into sphere shapes and boiled in a hot water until it floats on the water surface. This dish is coated with sugar, coconut milk, some sesame, and peanuts on the top.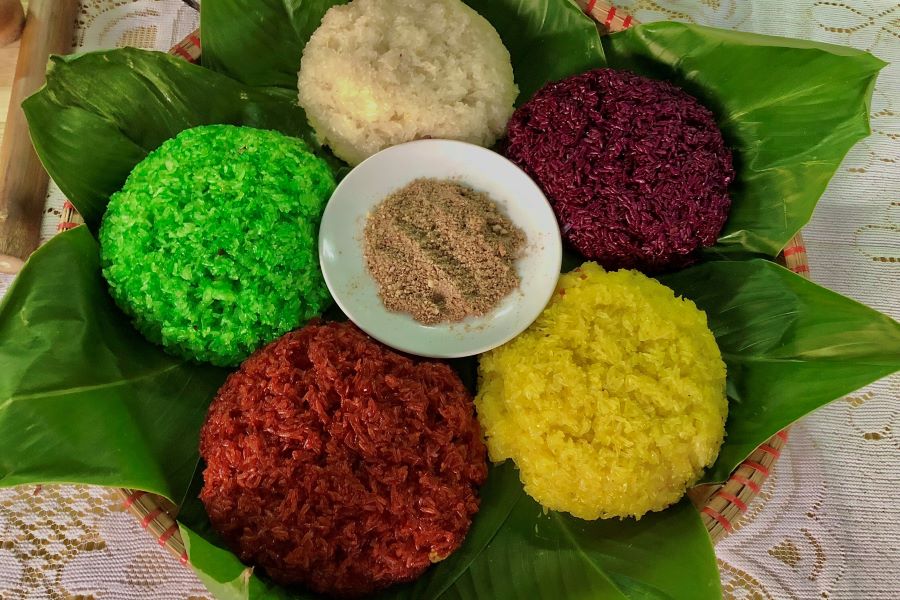 Five-Color Sticky Rice
Five-color sticky rice is a colorful unique dish in the northern mountain area. It is definitely a perfect architectural masterpiece of sticky rice with 5 vivid colors which are made from natural components: Red is made from Gac, green from tree leaves, yellow from turmeric, and purple from Sau leaves. To make this dish local people have to soak rice in the water for 6-8 hours, and divide the mixture into 5 parts, each of them is covered with one color. 
Ha Giang General Information
Location: North Pole of Vietnam 
Population: Over 800,000 (2016) 
Language: Vietnamese 
Currency: Vietnam Dong (VND) 
Natural Condition: Mountainous province (Average height: 800m – 1200m)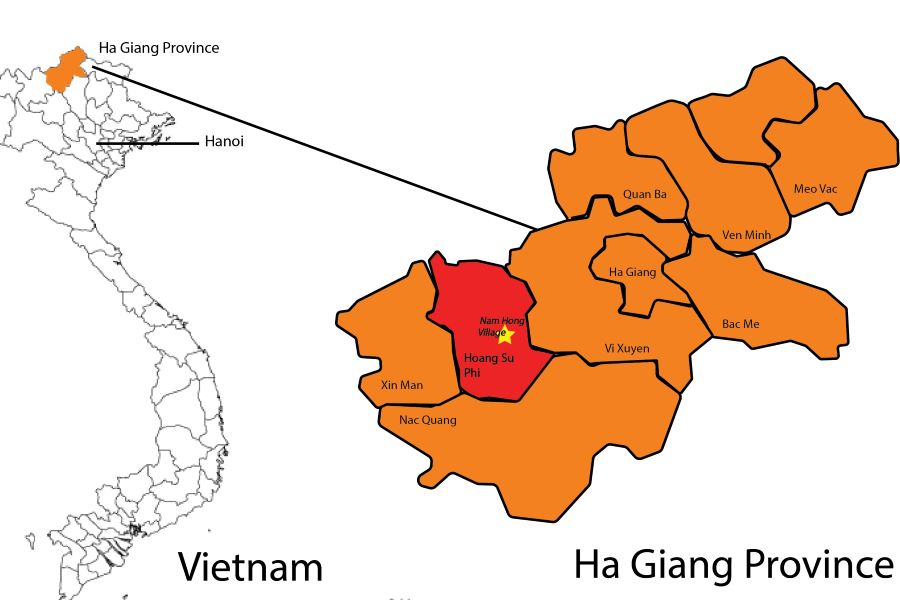 Best Time to Visit Ha Giang
The weather in Ha Giang has the characteristics of the typical mountainous area which is cool in the daytime and cold at night. The average temperature annually is about 21OC but it greatly varies between day and night as well as seasons in a year (from 6oC to 10oC). Rains happen around the year. In addition, Winter in Ha Giang has snow.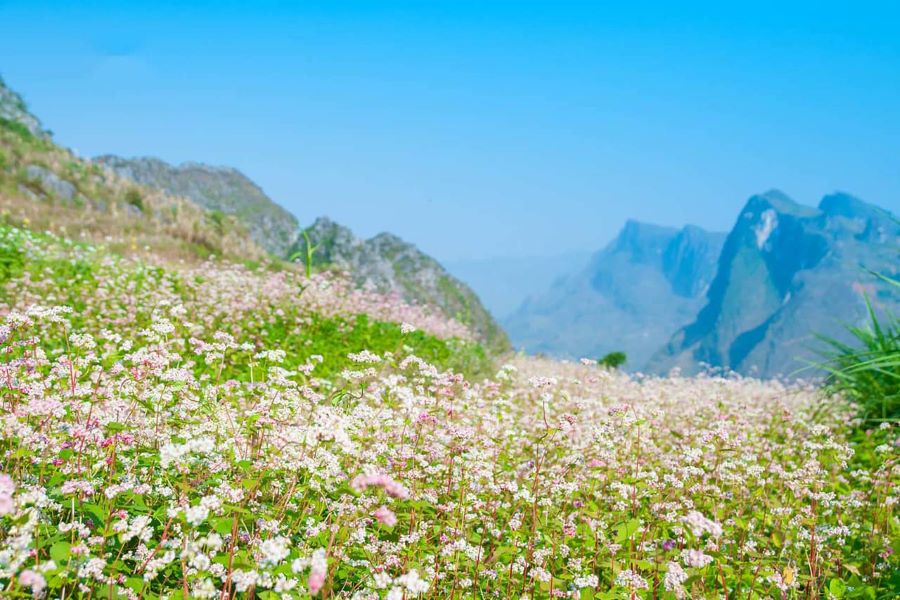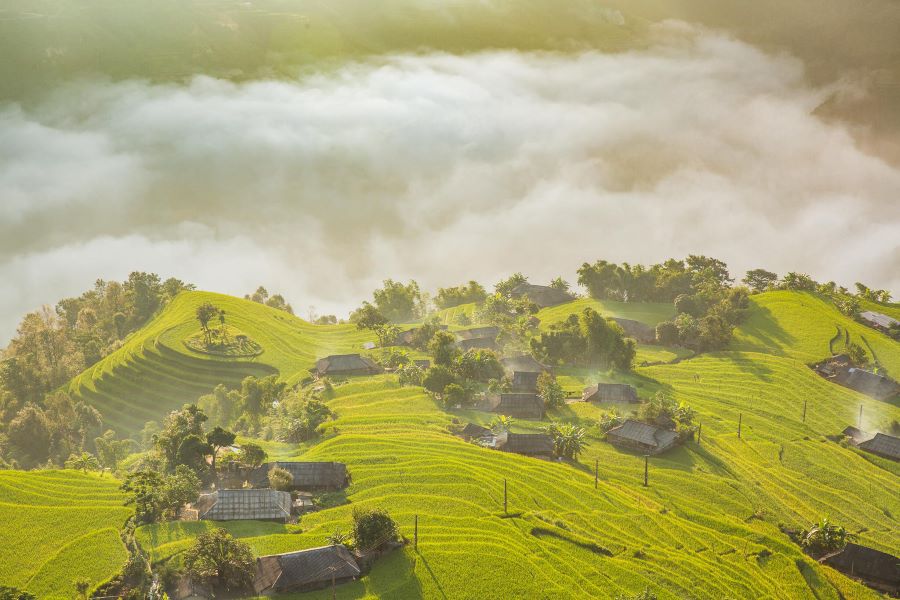 January to March: Enjoy Ha Giang Tours of Flowers
Spring is said to be the best time to visit Ha Giang. On this occasion, you will see a lively plateau of beautiful flowers such as peach, plum, and yellow rape flowers. Especially, if you take a Ha Giang tour during New Year festival of ethnic groups in Ha Giang, a ton of distinctive culture and custom is waiting for you to explore. The weather, at that time, is quite snug with little rain and a cool breeze.
April: Experience Khau Vai Love Market during your Ha Giang Tour
On 26th March, you can immerse yourself in the bustling and romantic atmosphere of Khau Vai Love Market. The market gathers thousands of ethnic people in Ha Giang and surrounding areas with a variety of products such as foods, handicrafts, clothes, etc for you to buy as souvenirs.
May and June: Discover Ha Giang Tours of Irrigating Water Season
This is the time when crops begin. You can watch an outstanding canvas of Ha Giang with fields filled with water and hard-working farmers. Under the sunlight, the terraces look like a giant mirror reflecting the scenic beauties of nature.
August to October: Visit the Fields of Ripen Rice in your Ha Giang Tour
After months of planting and cultivating, the terraces of water before now turn yellow of ripe rice. If you have a chance to visit Ha Giang in both the beginning and harvesting times of the crop, you will be amazed by its changes.
November: The Season of Buckwheat Flowers in Ha Giang
Buckwheat flowers, the featured flower in Ha Giang, often grow on Dong Van rocky plateau with the color pink and violet. Standing among the immense fields of these exotic flowers and taking wonderful photos will create the memories of the awesome Ha Giang tour. The Festival of buckwheat flowers organized in November annually is also a must-visit program in Ha Giang.
December: Immersing Yourself in the Snow of your Ha Giang Tour
The last month of the year is the season of yellow Colza flowers whose beauty cannot be expressed by any words. Besides, Ha Giang will be covered by the white snow creating "the paradise" on the ground. It is completely a mistake if you miss this marvelous time of the year in Ha Giang.
People, Nature & Culture in Ha Giang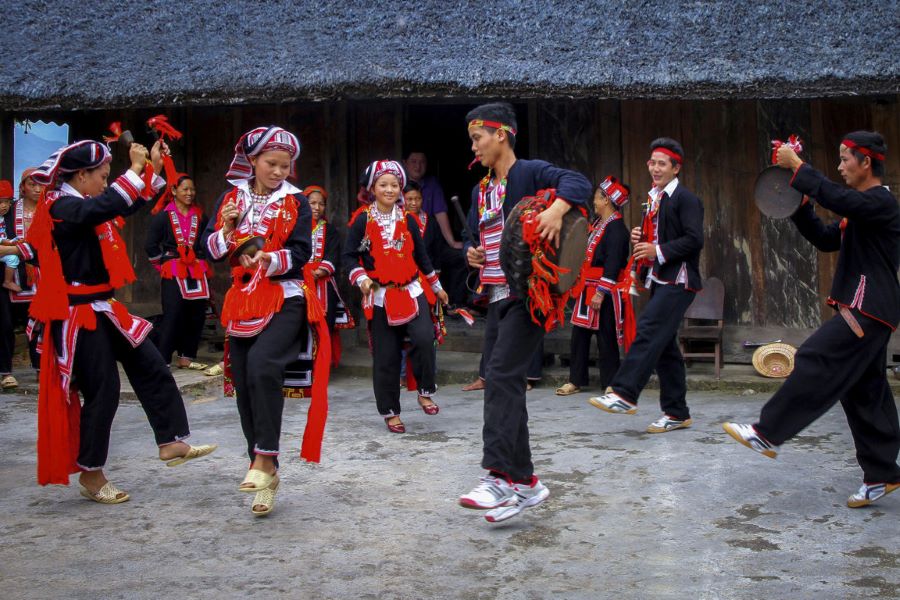 Ha Giang Ethnic Minorities
People in Ha Giang are generally gentle and hospitable. Their life is mostly self-sufficient cultivating rice and maize for a living. The land of Ha Giang includes rocky and high mountains together with rugged terrain and few fertile lands. Hence, the locals from children, to adults to the elderly have to work hard day by day. Moreover, they live in rustic houses of leaves and bamboo shoots with no electricity, internet, and a shortage of clothes, food, as well as education. However, a smile is always on their lips and they live happily together despite the difficulties in their daily life.
Ha Giang Nature
The wildness of nature in Ha Giang has created a strong attraction for anyone who enjoys exploring and experiencing. It is also highlighted by the harmony of immerse forests, majestic mountains, mysterious caves, dreaming waterfalls, and magnificent terraces. Especially, Dong Van rocky plateau in Ha Giang has been recognized by UNESCO as one of the most impressive geological parks in the world. Furthermore, this land always satisfies tourists in search of an adventurous journey. Conquering spectacular passes and winding roads that are close to harsh rifts leaves you with an unforgettable experience.
Ha Giang Culture
Ha Giang has about 22 groups of ethnic minorities with 6 different languages and a variety of cultures and customs. They have maintained the rich treasure of habits, rituals, and longstanding beliefs with special characteristics proved by unique festivals and ceremonies such as weddings, funerals, and the Tet holiday. Besides, the cuisine of Ha Giang has attracted a lot of tourists through its featured cook and species. Costumes of Ha Giang people, additionally, show their diversity through clothes, colors, and styles which are all made of natural materials. These things will absolutely make your Ha Giang tour full of new and interesting explorations.
How to Get to Ha Giang
Motor
From Hanoi, you can hire a motorbike and travel to Ha Giang. You can check Google Maps for the route. Distance: About 320km Travel time: From 8-10 hours
Bus
You can save time and energy by traveling to Ha Giang by bus. A wide range of buses is available for you to choose from My Dinh station (No. 20 Pham Hung St). Travel time: 6-7 hours
Transportations in Ha Giang
Motor
A motorbike is the most convenient and fastest vehicle to travel on your Ha Giang tour.
Bus
For easy and safe transportation, you can reach the destinations in Ha Giang by bus.
Mobile and Internet Access in Ha Giang
Despite the remote area of Vietnam, Ha Giang has a quite fast mobile connection. Stores of popular Vietnam mobile operators such as Viettel, Vinaphone, or Mobifone are available in the city center in Ha Giang which supports you with full of services and SIM cards purchase. However, in this mountainous area, your mobile phone maybe loses connection. Internet access and Wi-Fi are only available in Ha Giang city but not in most tourist destinations.
Useful Information for a Perfect Ha Giang Tour
Suggested Information
Visiting Ha Giang, the length means the better. Your travel should be more than three days to enjoy every beauty there.
Carry with you: a raincoat, waterproof covers for your mobile phone, camera, boots, first aid kits, mosquito repellent, and warm outfits
Tell the staff of the hotel where you go and when you come back. In case unfortunate things happen, they could help you.
If you want to conquer Ha Giang by motorbike, make sure that handle it because the roads and curves in Ha Giang are very dangerous. Remember to wear a helmet and other protection tools
Prepare enough camping tools, foods and drinks, and outfits for mountain trekking in Ha Giang
Not be too curious about people of ethnic groups for your safe
Be responsible for protecting the nature and environment while enjoying your Ha Giang tour
If you hire a motorbike, refuel it yourself
The camera is the indispensable thing in your luggage to take wonderful photos in Ha Giang
Be an early bird: Get up early to immerse yourself in the breathtaking dawn in Ha Giang
With the above useful information, we hope that it will give you good ideas for your Ha Giang tours. If you want to know more about Ha Giang, or would like to get travel services of Ha Giang tour package, feel free to contact us our experts will reply you back soon with useful travel support, travel suggestion and the service's detailed quotation for your perfect journey in Ha Giang! See you in Ha Giang, Vietnam.