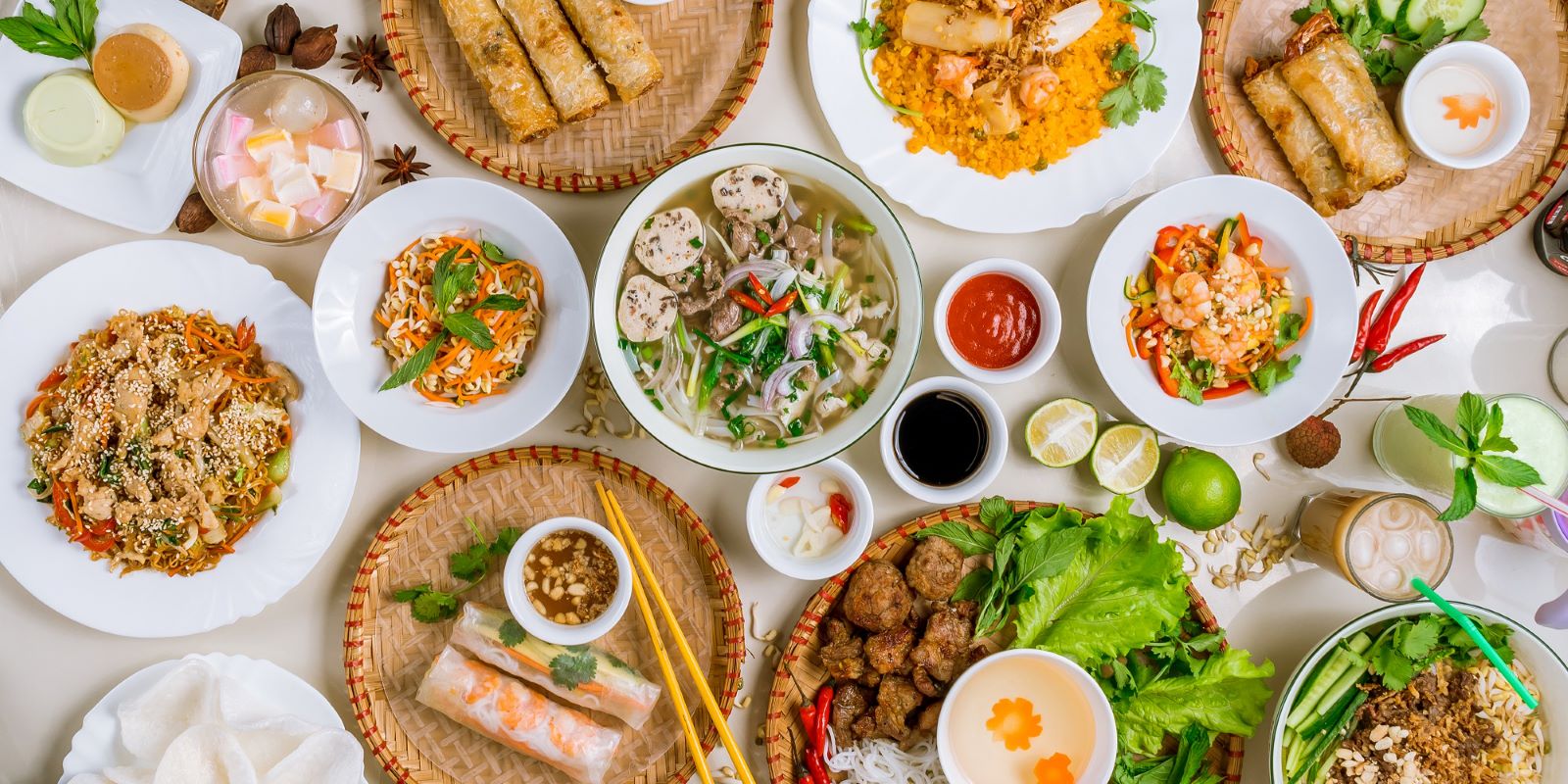 Vietnam Culinary Tours, Cook Vietnamese Cuisine, Enjoy Meals
Vietnam Culinary Tours are specially designed for people who are interested in Vietnamese food, and who want to learn how to cook Vietnamese cuisine. You will have every chance to taste the different flavors of Vietnam's specialties such as the Vietnam Spring Rolls, Fresh Spring Rolls, Cha Ca La Vong, Vietnamese Pho... Vietnamese cuisine is diverse and specific to each region. The north's cuisine tends to be more salty and traditional; the center is distinctly spicy while the south's cuisine is sweeter. Travel on Vietnam vacation packages and discover its cuisines and attend different cooking classes, learn how to make famous Vietnamese food in different parts of Vietnam.
These interesting culinary tours take us to both historic capitals of Vietnam. You can experience Vietnam's past and present in stately Hanoi and witness the beautiful nature can be by visiting picturesque Halong Bay, you also have the chance to visit the memorable Imperial City in Hue and stroll around in the historical sea port of Hoi An and the bustling Ho Chi Minh City.
Tour Route: Hanoi – Halong Bay – Sapa - Hue – Hoi An – Ho Chi Minh city (Saigon) – Cu Chi Tunnel – Mekong Delta
Tour Highlights
Arrival in Hanoi, welcome dinner with Vietnamese authentic food.
Food tasting tour and city tour of Hanoi, including a visit to the Old Quarter.
Explore Halong Bay, overnight on a junk boat and enjoy activities like kayaking and swimming.
Cooking class in Hanoi with a renowned chef and night train to Sapa.
Discover Sapa, visit local villages and learn how to cook five-color sticky rice.
---
Top 5 Destinations For Vietnam Culinary Tours
Vietnamese cuisine has captured the soul and the heart of tourists around the world not only by its unique flavor but also by the traditional recipe. With a ton of mouthwatering street foods, bustling local markets full of specialties, and five-star restaurants as long as special cooking courses, Vietnam culinary tours guarantee you an awesome experience that you cannot forget. Here are the top 5 destinations for Vietnam culinary tours that you cannot miss. Enjoy reading!
Hanoi Food Tours
As the topic of all time for well-known writers and journalists, Hanoi cuisine is art from cooking to enjoying stages. Pho, Cha Ca La Vong and Bun Thang are three favorite dishes of both domestic and foreign tourists. Visit Hanoi you will be mesmerized by the heaven of mouthwatering dishes, each food carries its own distinctive taste.
Pho
You can find Pho on the menu of any restaurant throughout Vietnam but you only enjoy Pho of full and authentic taste in the elegant capital. Its taste is a harmonious combination of sweet broth, white noodles, fresh beef, cinnamon, anise, and cardamom with secret cooking formula only handed down among generations in a family. That is amazing to enjoy a hot bowl of Pho full of special flavor which makes you want to eat up the last noodle.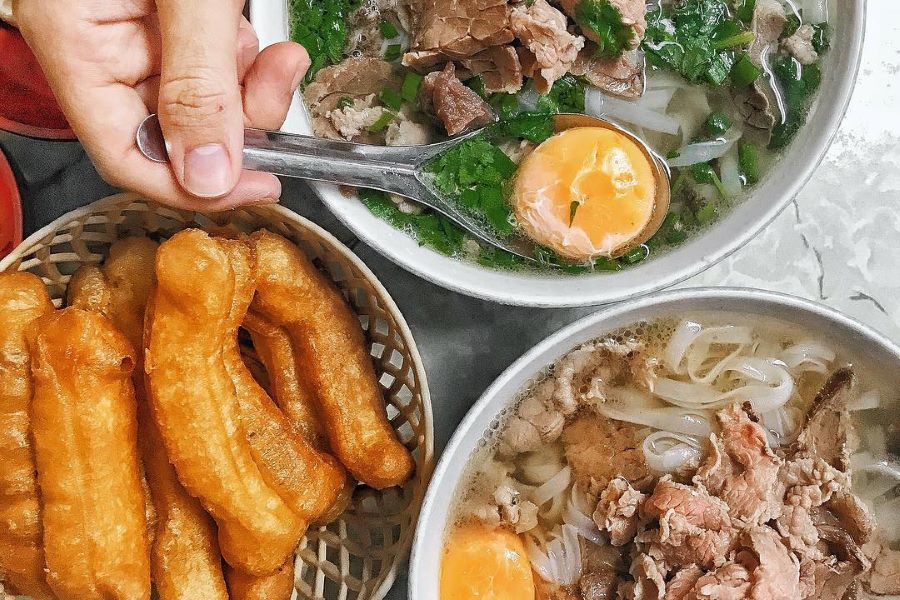 Bun Thang
Bun Thang is a traditional dish in the Tet holiday of the ancient Hanoi people with a typical taste that you cannot forget. It also is one of the most complicated dishes in Hanoi with 20 ingredients including soft rice noodles, super-thin sliced fried egg, torn chicken, mushrooms, etc. Especially, the broth of Bun Thang is cooked from chicken bones and prawns, so sweet and tasty. This delicacy is often served with fermented shrimp sauce and some drops of belostomatid essence.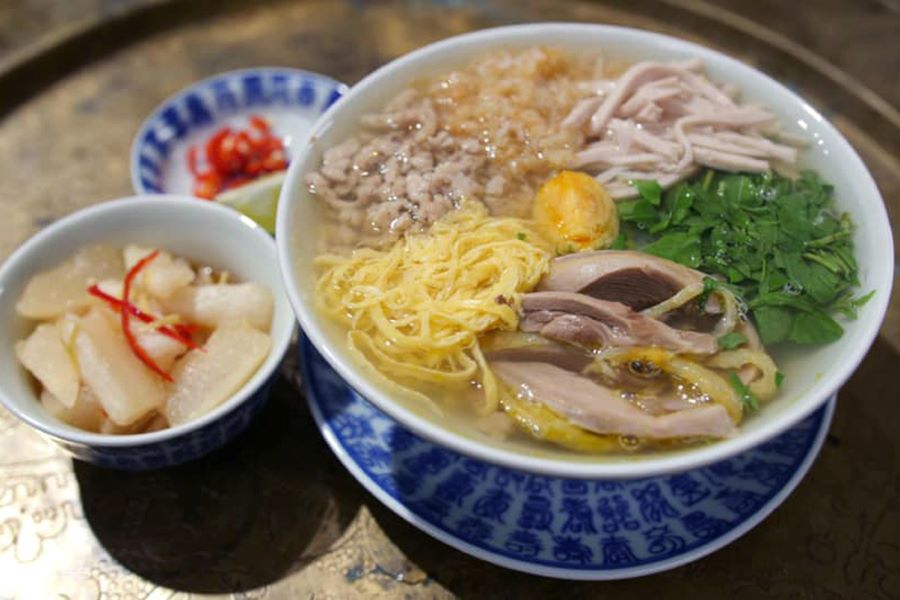 Cha Ca La Vong
Cha Ca La Vong is a perfect combination of savory broth, fish pies on a golden yellow surface, and spotless white noodles. This delicacy is made from catfishes which are grilled after seasoned with galingale, fermented rice, fish sauce, and pepper. Enjoy this dish with fermented shrimp sauce, lemon, chili, sugar, and some drops of belostomatid essence to feel the full flavor of Cha Ca La Vong.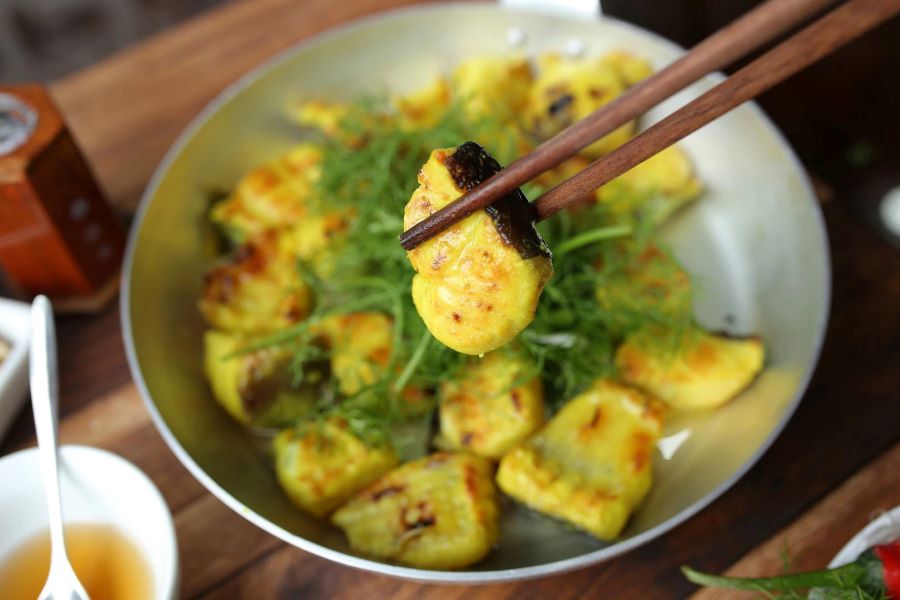 Hue Food Tours
Unlike Hanoi and Ho Chi Minh City, Hue cuisine impresses tourists with its own specialties which are processed in a special style, especially the palace processing style. Hue culinary is very picky about processing methods, choosing ingredients, and decoration. Hue is well known for a ton of rustic dishes such as Hue tiny mussel rice, beef noodle with pig's leg, boiled meat – shrimp sour paste, Khoai cake, bloating duckweed-shaped cake, Nam cake, wet cake, etc.
Hue Tiny Mussel (Com Hen)
Although Hue tiny mussel is made from the rustic ingredients in daily life including tiny mussels, penicillate shrimp, tiny mussel broth, chili sauce, fish sauce, garlic, pig's skin, sesame, salt, roasted peanuts, raw herbal with cool steamed rice. This harmonious mixture makes the dish so tasty. If you have a chance to visit Hue, you absolutely have to try "Com hen" one time!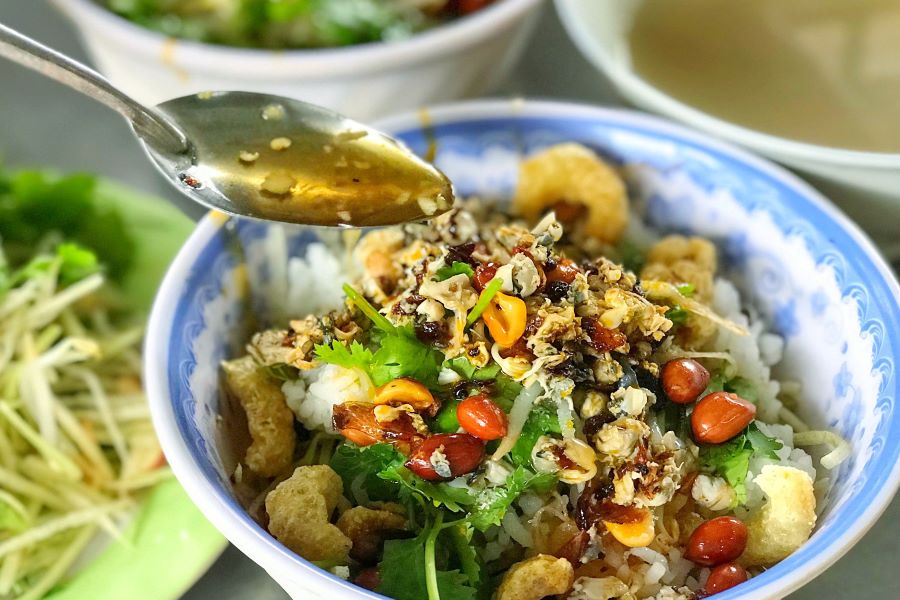 Nam Pho Thick Noodle Soup (Banh Canh Nam Pho)
Not popular as "Bun Bo Hue" and "Com Hen", Banh Canh Nam Pho impresses tourists with its special flavor and meticulous cooking process. It is a mixture of thick noodles, shrimp, crab, meat pie, etc. Especially, to make the special thick noodle fibers of this dish, locals have to mill the rice, put it into a hot pot, and steam it over low heat. After that, they will whisk the flour until it becomes viscous before pouring it into a plastic bag with a side cut in the tapering shape in boiling water. Finally, they take them out and soak them in cool water.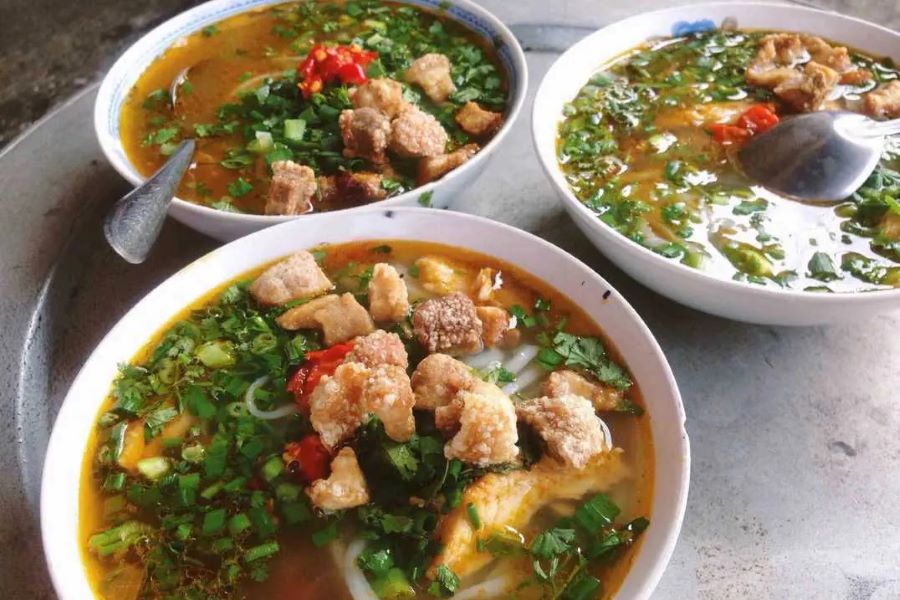 Hoi An Food Tours
Hoi An is absolutely an ideal destination for foodies all over the world. Many tourists vote this ancient town as the tastiest place in Vietnam where you can taste a ton of Vietnamese authentic foods. Visit Hoi An to explore its colorful food culture!
Cao Lau
As a typical dish of Hoi An, Cao Lau creates the soul of this ancient town's cuisine with the unique traditional taste that you cannot find in any other dishes. Actually, it is not one kind of noodle soup, same as mixed food which is made from yellow noodles, char siu meat, some piece of thick pork on the top, and a special sauce. This dish is served with fresh vegetables.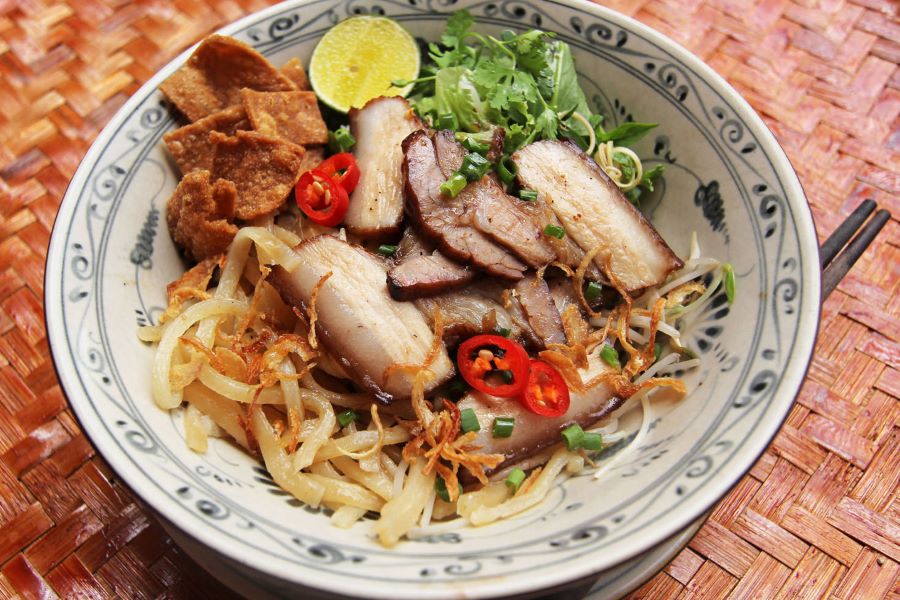 Mango Cake (Banh Xoai)
In fact, this dish is not made from mango at all, the name refers to the shape of the cake which is look like a mango seed. It just contains sticky rice outside and peanuts mixed with sugar inside. People often eat this sweet cake as a dessert or as a kind of snack. Banh Xoai is sold at many vendors in the town at night near the Hoi An Bridge and on some streets like Nguyen Hue or Tran Phu.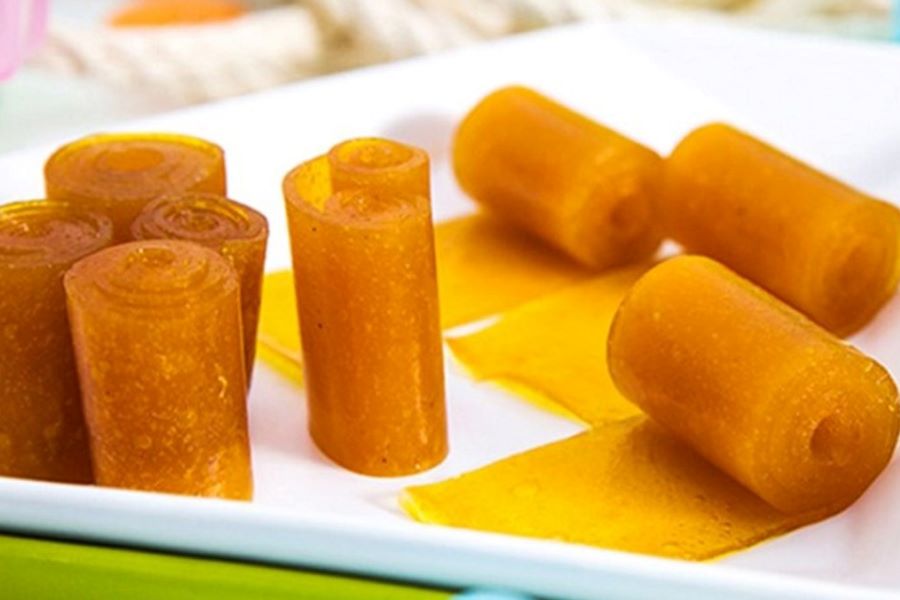 Ho Chi Minh City Food Tours
Ho Chi Minh City is another interesting destination for your Vietnam culinary tour. Like Hanoi's capital, this bustling city is a heaven of savory street food. From Banh Mi, Banh Xeo to Bun Thit Nuong or Ca Kho To, the cuisine of this exciting city satisfies all types of tourists from any corner of the world.
Crispy Pancake (Banh Xeo)
If visiting Ho Chi Minh City, let's take at least one time to enjoy Banh Xeo - a savory pancake that contributes to making uniqueness of the city's cuisine. It is a perfect combination of rice flour, coconut milk, turmeric, pork slices, shrimps, sliced onions, and bean sprouts with button mushrooms. Wrap it in mustard leaf, lettuce leaves, or rice wrappers with mint leaves, basil, herbs, and sweet fermented peanut butter sauce before dipping it in a sweet and sour fish sauce to enjoy this dish.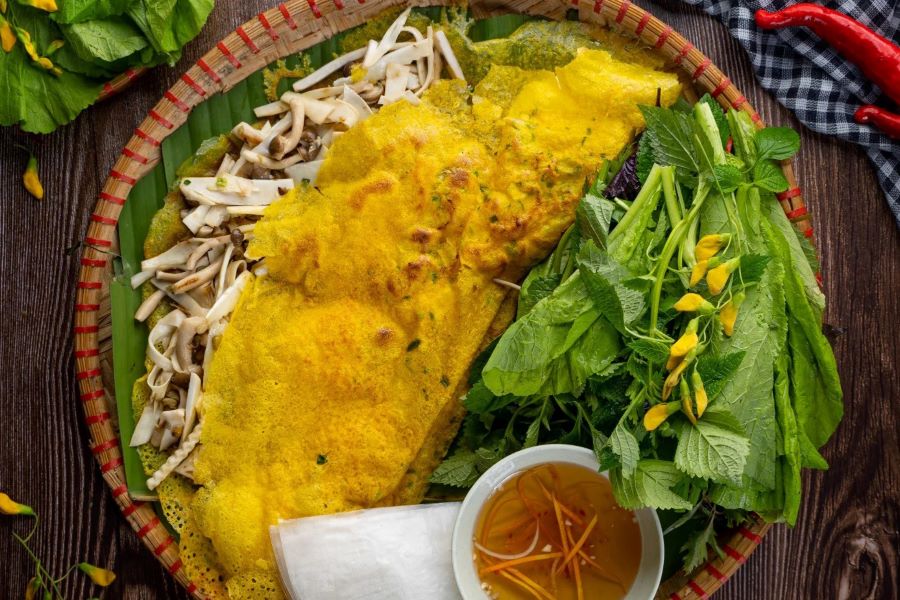 Vermicelli Noodles with Grilled Pork (Bun Thit Nuong)
Bun Thit Nuong has been a dreamy food for all foodies coming to Ho Chi Minh City. The ingredients to make this delicacy includes vermicelli rice noodles, chopped lettuce, sliced cucumber, bean sprouts, pickled daikon and carrot, mint, and tender pork shoulder on the top. You can easily taste this dish in any diner or restaurant in Ho Chi Minh City. Enjoy Bun Thit Nuong with its special sauce for a flavor ensemble.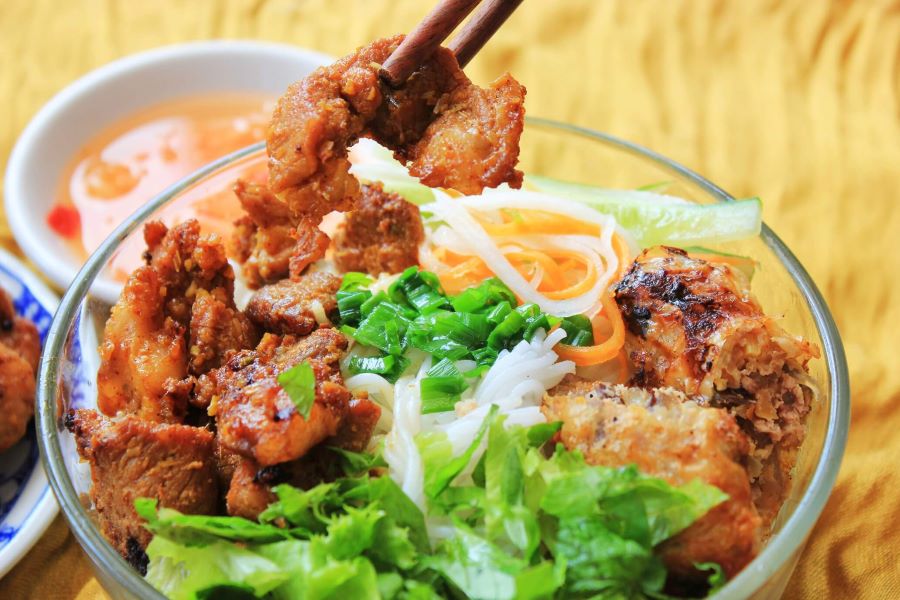 Mekong Delta Food Tours
Mekong Delta cuisine is well-known for its 3 qualities: delicious, attractive, and good for health. It also has extreme flavor because of being affected by the strong and open-minded characteristics of people in this land. Locals believe that extreme flavor means extreme taste and extremely freshness. Mekong Delta cuisine guarantees you high standards of diversity, aesthetics, and healthy.
Bot Loc Cake
Bot Loc Cake is a great choice for a tasty light meal. Its unique taste is created by shrimp or roasted pork inside. This dish is available at many shops on Truong Dinh and Nguyen Van Cu Street. Do not forget to enjoy Bot Loc Cake with herbs and sweet-sour fish sauce.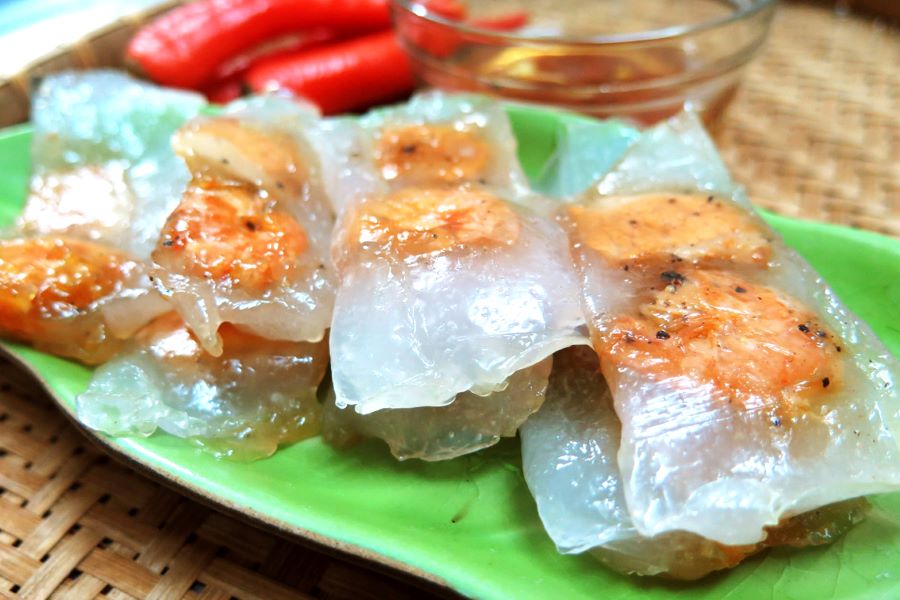 Luc Si's Nem rice papers
Actually, there are various types of rice paper you can see in the Mekong Delta such as Nem rice paper, sweet rice paper, baked rice paper, and dipped rice paper. This dish is not only delicious but also really safe because it is handmade with 100 rice flour without any chemicals. Wrap shrimp, meat, noodles, and vegetables with soft rice paper and dip them in tamarind fish sauce or soybean milled to feel the amazing flavor of this dish.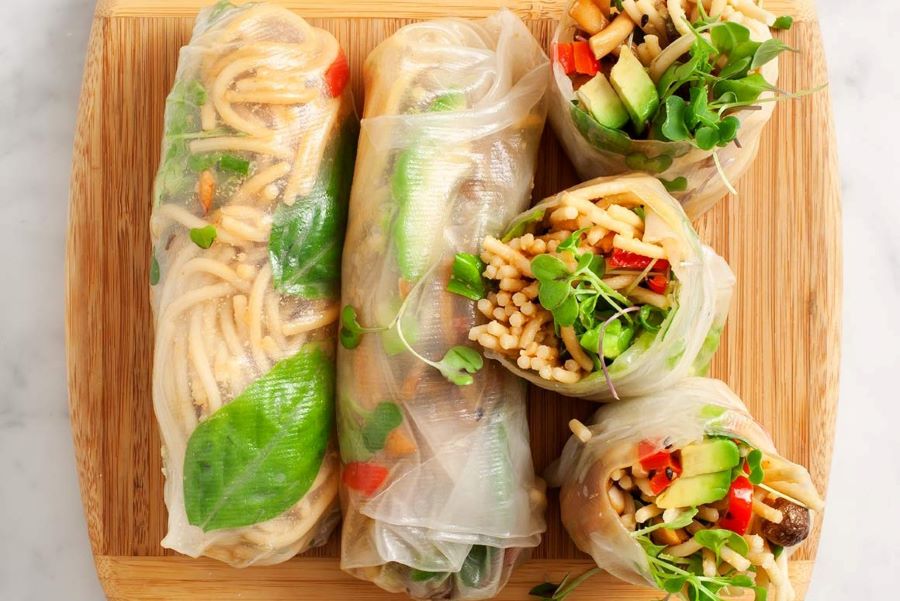 Booking Vietnam tours right now to get a wonderful experience!