Vietnam Adventure Tours & Holidays | Top 10+ Active Travel Packages
Adventure holidays in Vietnam offered by Viet Vision Travel are all about active travel off the established trails, exploring unique cultures, and creating wonderful memories through a rich mix of multi-activity adventure and stunning scenery. Our Vietnam adventure holidays are carefully crafted to quench the thirsts of travelers' adventure tourism in Vietnam which go far beyond simple sightseeing, and populous destinations. Discover a new side of Vietnam tour packages you never imagine existed on any journeys. Get a full dose of this land's truly incredible history, cultures, and geography using rural paths that wind through remote villages and past seemingly endless rice fields. The best adventure tours in Vietnam below are not only physical activities but also combine well-planned itineraries and relaxation that will surely expose you to an unforgettable Vietnam active travel. 
Adventurous Activities in our Vietnam Adventure Tours
Cycling – Travel to every scenic trail in Vietnam on two wheels, and explore scenic highlights at each destination that other vehicles are unable to reach.
Trekking – From soft strolls around rustic villages to challenging trekking across epic mountains, Vietnam adventure vacations are designed to capture the mesmerizing beauty on foot.
Water – Whether kayaking, snorkeling, or boat trips, discover the most unspoiled natural scenery on Vietnam adventure trips centralizing around waterways.
Motorcycle – Go on Vietnam active holidays like a local by the most feature transportation to create your own lifelong memories
Multi-Activity – Take Vietnam adventure travel to a new level. Combine cycling, trekking, and kayaking together to experience a distinct taste of the S-shaped country.
Whether it is hard to customize your Vietnam active tours, browse our best ready-made adventures below before contacting us and let your journey begin.
Top Customized Vietnam Adventure Holiday Packages for 2023-2024
Tour Route: Hanoi - Sapa - Ha Giang - Halong Bay - Danang - Hoi An - Ho Chi Minh City - Mekong Delta
Tour Highlights
Get overwhelmed by nature and unique ethnic minorities in Sapa and Ha Giang
Behold the World Natural Heritage Site Halong Bay
Explore one of the most ancients capitals in Asia, Hanoi of a thousand years old
Move to the south of Vietnam to discover Hoi An, the ancient trading center
Immerse in gorgeous architectures in Saigon with interesting stories hidden inside each one
Experience the life on the water in Mekong Delta
---
Recommended Destinations for Vietnam Adventure Tours
Vietnam enchants tourists with picturesque landscapes, super friendly locals, and various places where you can enjoy the atmosphere and surroundings while getting your blood pumping in a wide selection of adventurous activities. See this list of top Vietnam adventure destinations to find out more about this sensational land.
Sapa
Sapa is perhaps an undoubtedly popular destination for foreign and domestic tourists. Even though this place is known for its peaceful and dreamy landscape, Sapa still has a lot to offer when it comes to a Vietnam adventurous trip. The misty town of Sapa is surrounded by mountains, hills, and rivers which travelers must trek on the local path and trails in order to visit. Tourists can stay at local homestays to learn about the lives of villagers.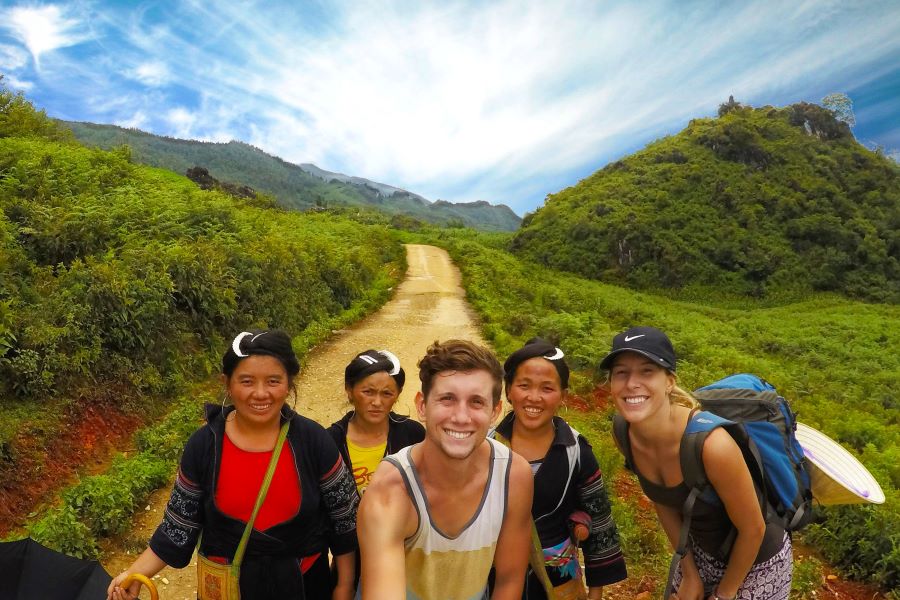 Moreover, you can climb Fansipan Mountain, the highest peak in South East Asia, to the top of it. If you want a less challenging location, it is possible to trek to Thac Bac, a silvery fall, and immerse yourself in nature. Or tourists often venture to Muong Hoa valley to see stones carved with strange symbols and images.
Ha Giang
From majestic Ma Li Peng pass to breathtaking Dong Van Karst Plateau, from visiting villages of ethnic minorities to boarding boat trips on Nho Que River, Ha Giang is completely worth your while in Vietnam adventure vacation. Trekking and riding a motorcycle are two of the best ways to explore every hidden corner of this adventurous land in Northeast Vietnam.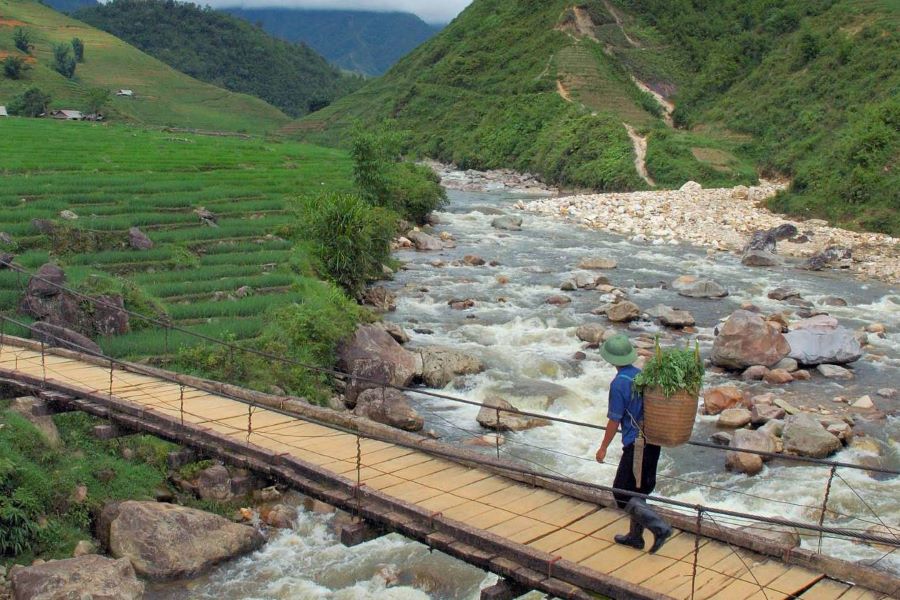 Mai Chau
Located in an idyllic valley and covered by hills, Mai Chau is such a distinct world away from the hustle and bustle of the Hanoi capital. The area of Mai Chau is beautiful thanks to the immense rice fields speckled by small villages of Thai people where travelers in Vietnam adventure holidays can doss down overnight in rustic wooden stilt houses and wake up among the ambiance of the rural soundtrack created by gurgling streams and birdsong. Mai Chau nicely fits the adventure travel of biking, hiking, and relaxation.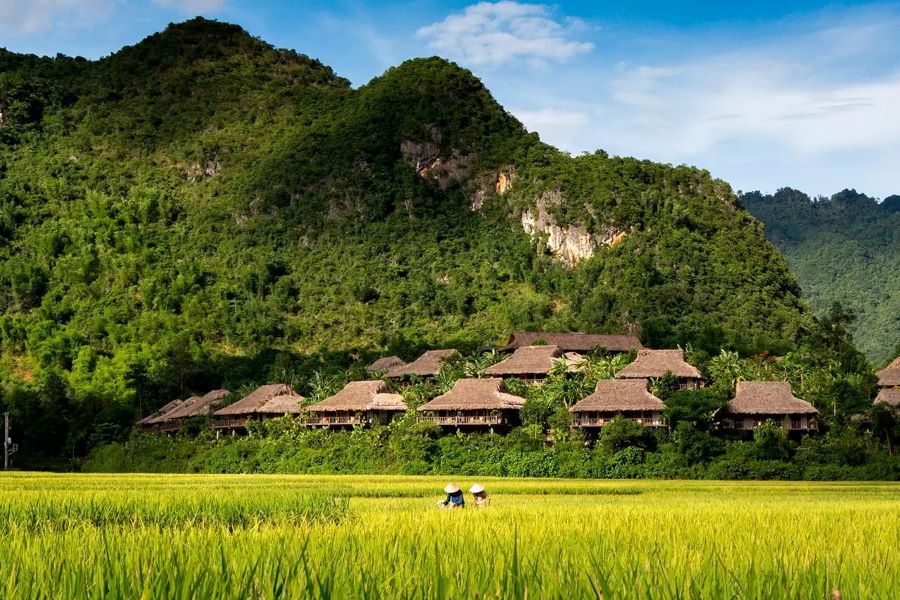 Hanoi
The Vietnamese capital is one of the most ancient cities in the world where well-preserved colonial constructions, ancient pagodas, and interesting museums can be found on Vietnam adventure tours. Hanoi is a wonderful place to discover on foot where you can explore mouthwatering cuisine, fantastic nightlife, and vibrant local markets. If you want to explore the city on pedals, traditional villages of silks and handicrafts around Hanoi will be amazing experiences.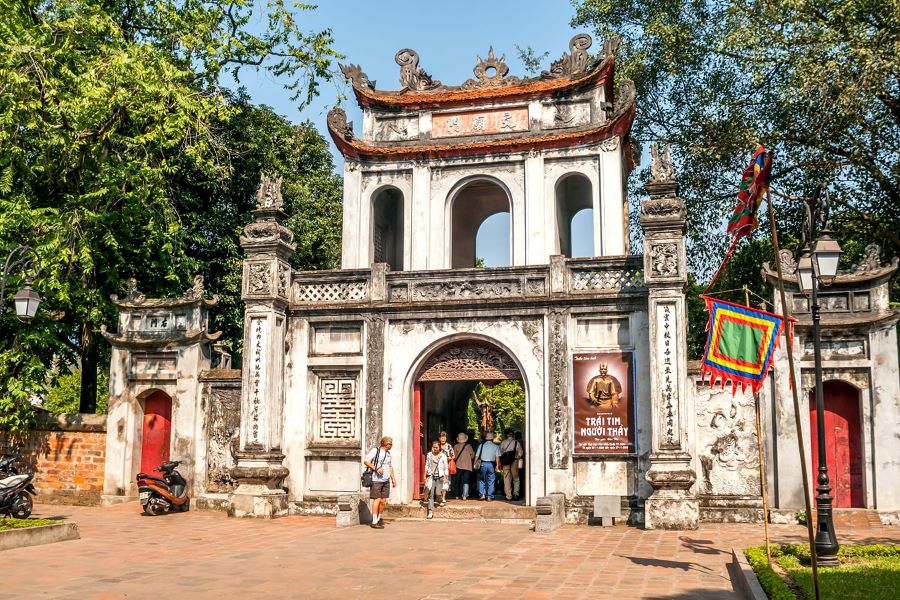 Halong Bay
This UNESCO World Heritage is always on the list of any Vietnam adventure holiday. Since nature has blessed Ha Long Bay with impressive limestone karst, enormous caves, and jungle vegetation, it is a regret to not explore this region. Here, you can take on a little bit of adventure and kayak on the sea to explore the rich ecosystem of Ha Long Bay.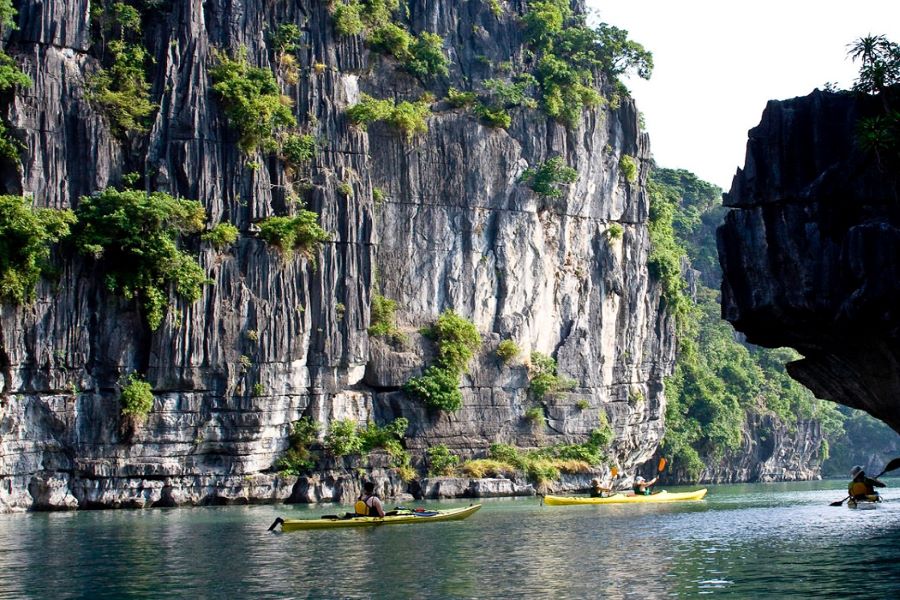 Besides enjoying the remarkable landscape, it is possible to travel to the Monkey Island in Cat Ba where tourists can enjoy mountain climbing and trekking through hills or find the monkeys living on the island. At the end of the day, you will relax and reflect on the adventure while the sun kisses the horizon.
Ninh Binh
This province in the Red River Delta offers surprisingly a wide variety of famous sites and activities for adventure travel in Vietnam. Here, you can explore the very first Vietnam National Park, Cuc Phuong, to discover the special rainforest ecosystem of the Delta. The Flora in Cuc Phuong National Park is various and ancient, some trees dated back to more than a thousand years ago while there are some rarest species in the animal kingdom living here.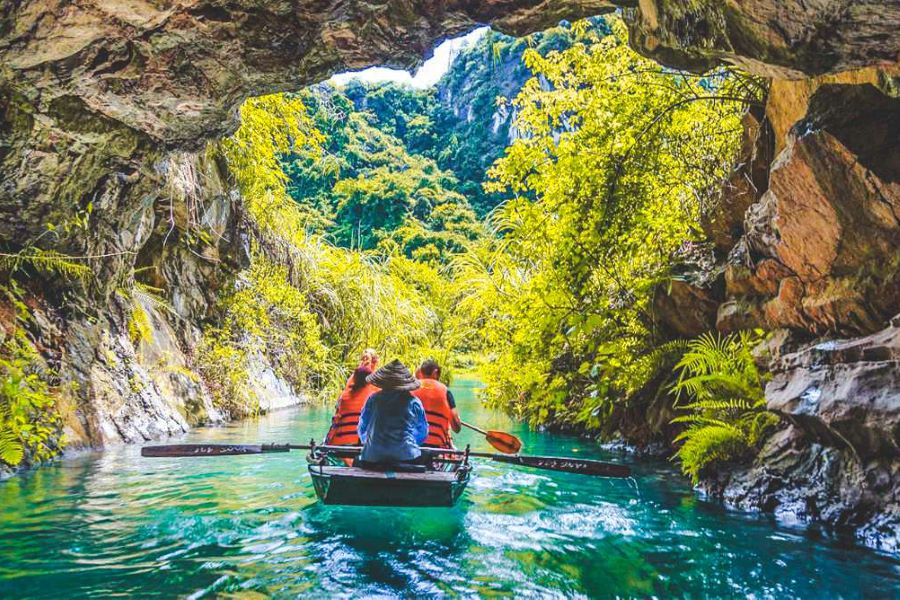 Tourists may also find many charming waterfalls and streams on the way. Another adventurous location in Ninh Binh is Tam Coc, a cave system including limestone mountains. Active tours in Tam Coc have diverse activities such as bicycling, boat trips, climbing, and trekking. Therefore, you can easily find strange stalactites of different shapes and sizes in Tam Coc (Three Caves) and vast rice fields in the village. After that, adventurers may also visit Bich Dong (Emerald Cave), a pagoda complex among mountains and rivers.
Phong Nha - Ke Bang
It will be truly a great regret for any adventure lovers about missing Phong Nha Ke Bang National Park when traveling to Vietnam. This destination has all the natural advantages to make your trip become the ultimate adventure holiday to Vietnam. Traveling to Phong Nha, you can explore one of the most complex and magnificent cave systems in the world. There is Phong Nha Cave which has the illusory Son River flow inside; Tien Son Cave is known for impressive "fairy-tale" stalactites and stalagmites; or the biggest cave in the world, Son Doong, where many phenomenal sites like Hand of Dog.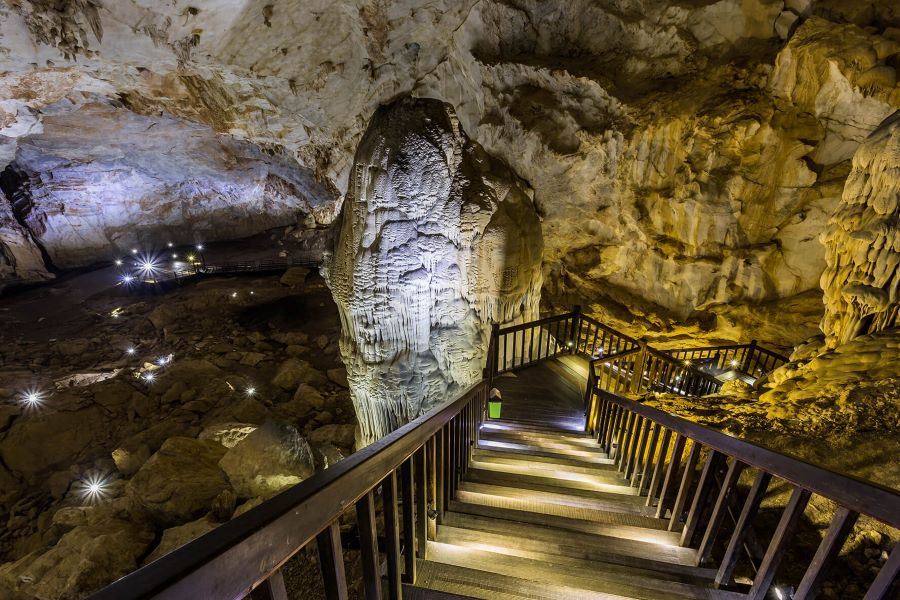 Watch out for Dinosaurs situated. Phong Nha Ke Bang National Park has a great number of limestone mountains for mountain climbing activities. With a height of about 1000 m, these mountains will bring a great experience for climbers. In addition to that, the rich ecosystem of Phong Nha consists of 140 flora families and 98 fauna families allowing you to have a completely satisfying trek into nature.
Ho Chi Minh City (Saigon)
The heart of Southern Vietnam, Saigon, is the financial and business hub of Vietnam. Moreover, fascinating cultures, magnificent French architecture, ornate pagodas, and temples are the must-visit attractions in Vietnam adventure tours. The best transportation in Ho Chi Minh City, scooters, will take you to every small path and tiny street where you can taste the incredible street foods and see the different lifestyles of hospitable locals in a non-stop city. In addition, spend a half-day discovering Cu Chi Tunnels – the great underground system and the vital key to the victory of the Vietcong against American troops.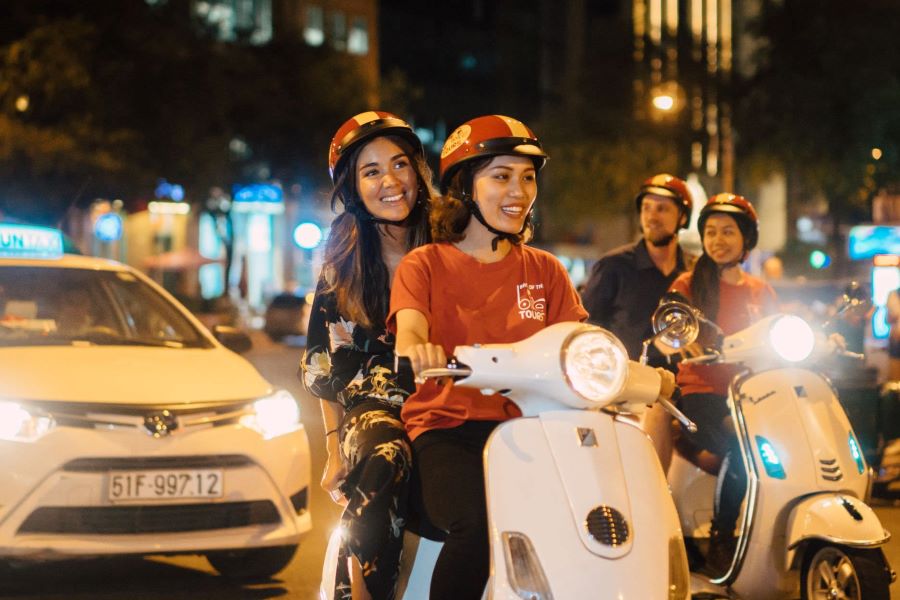 Mekong Delta
Not far from the west of Ho Chi Minh City, there is a unique place for Vietnam adventure holidays which is Mekong Delta. By traveling through the canal system, you can see the rich land of agriculture, fishery, and culture in the region. It is possible to venture by boat on the river which you may need a guide or not or bicycle to reveal the picturesque countries side. If tourists take a boat trip on the waterways, they will meet the one-of-a-kind floating market in Vietnam where several kinds of products such as tropical fruits, textiles, foods, and drinks are exchanged.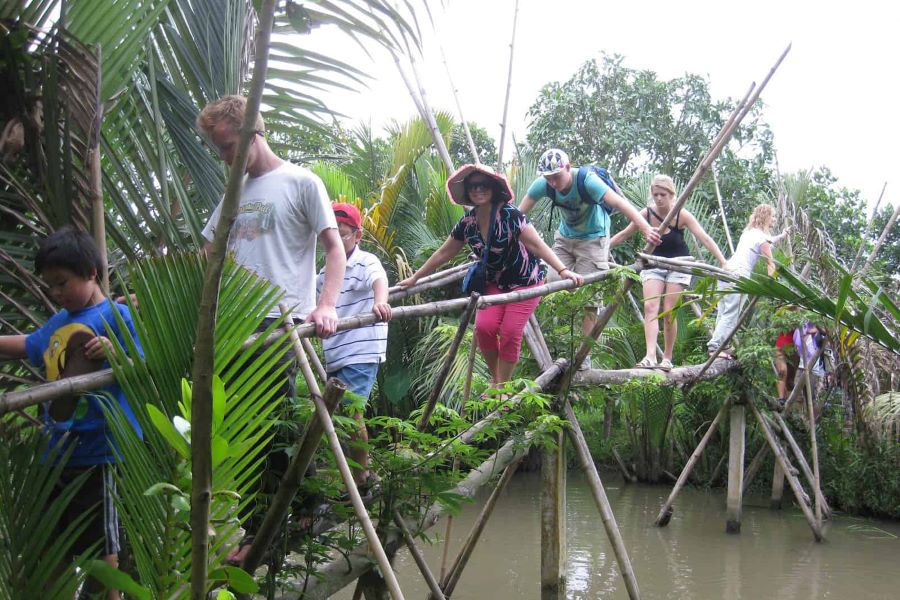 However, cycling through the villages is also a fantastic idea since you can visit the farms of local such as crocodile farms, visit local shops and finally experience traditional hammocks, see the impressive Cao Dai Temple, and learn more about Caodaism.
Guide for Vietnam Adventure Vacation
Vietnam is becoming a wonderful tourist destination for many visitors all over the world thanks to the proper investment of the government in tourism. Going along with this development, there appears more and more comfortable and interesting services to meet different requirements of tourist recreation. However, there are some important tips that tourists must pay attention to better enjoy the Vietnam adventure vacations with such interesting adventure activities in Vietnam.
Clothes
The caves are often cold and damp, so you should prepare thick, waterproof and comfortable clothes for walking, and climbing ... To keep the body temperature stable, it is advisable to wear a wool coat or jacket. Just as in any other cycling Vietnam tour, you should also prepare pads for the knees and elbows in case of crawling in tight spaces. Besides, a clean set of clothes is also needed before you go home.
Necessary Tools
The basic tools needed are lights, helmets, cave maps, candles, waterproof matches, oval rings, 8th string, wire rope, gloves, medicine, water filter, ambulance, and compass to make your easy Vietnam adventure vacations. Besides, the followings should be noted:
Lights: You should use high-power lights which can be utilized for a long time. Each person should prepare at least 3 torches (carry backup batteries).
Helmets: Some cave ceilings are usually rugged and have stalactites, so you should use hiking hats. If not available, replace it with a worker's hat or a helmet, which is needed for any Vietnam adventure activities.
Water and food: You should bring water along because the water provided in the cave is not clean enough. It is up to your own plan that you can carry a suitable amount of water. Essential foods are fruits, synthetic protein, and processed foods. It is because this activity wastes as much energy as a trekking tour in Vietnam.
Small bag: You should use a small bag to hold the most used stuff.
Necessary Notes When Exploring Caves
Members should keep their distance when moving. The most experienced should lead the group and another good one should go at the end. When members do not catch up with each other, the frontman must stop waiting for the team to stabilize again. You should also observe the leader adjust your pace. This is an important Vietnam travel guide for every tourist.
Do not disturb the lives of cave-dwelling creatures such as bats, and snakes ... because they can be dangerous to you in such Vietnam adventure tours. In case of being attacked, wash the wounds clean and then bandage and take care of the pain carefully.
When you get lost, calm down to assess the situation. Please light candles and turn off all flashlights to conserve energy and try to remember the way to go back. If realizing that you have not been on the team, the rescue team will look for you. So the best travel guide for you in Vietnam is that you should sit back, listen and wait.
In case of coping with obstacles that stop you from moving, just come back to avoid unworthy accidents. Do not go alone. Do not use old wires or ladders found in the cave.
Other Notes
You should write the most detailed plan, accurately record the location of the cave entrance, the direction you have followed, the point you have passed ... then clamped with the schedule. This will help the rescue team deploy a search plan faster if you get lost.
Of course, the following notes are just in case of emergency and in some bad expectations. However, it is better to be well-prepared for any situation to come. When you feel safe, you can enjoy the interesting and amazing Vietnam adventure holidays better and make memorable experiences when exploring caves in Vietnam, or anywhere else in the beautiful world.