Nam Dinh Tours, Day Trips & Excursions from Hanoi
Located in the northern country, Nam Dinh is one of the most popular tourist attractions in Vietnam tour packages. Witnessing many ups and downs of the country as well as being the nest of the Tran dynasty, Nam Dinh features a number of historical monuments and stunning natural landscapes. A journey to this tranquil province will offer you a glimpse of the heroic history of Vietnam, the exploration of significant structures of the passed-by time, and the harmonious beauty of people and nature. If you are history explorer, take a visit to Tran Temple, Co Le Pagoda, Pho Minh Temple, and your curious mind will be fulfilled with tons of knowledge about history, culture, and architecture. If you are an adventurous backpacker, don't hesitate to make your way to Hai Thinh Beach where you could get the feeling of being in the middle of nowhere. With many things to offer, Nam Dinh tours promise to deliver you an unforgettable experience that will cherish you during your lifetime.
Nam Dinh is the land of religious monuments, home of various traditional festivals and rituals… and especially, a close to nature visiting the place. This tranquil province boasts a number of attractions including Phu Giay Pagoda, Co Le Pagoda, Tran Temple… Especially, Xuan Thuy National Park - included as part of the Red River Delta World Biosphere Heritage Site by UNESCO in October 2004 and is internationally significant as a migratory bird habitat. In addition, you could gain insights into the lives of coastal fishermen in salt fields and around the riverside village.
---
Top 4 Attractions You Can Not Miss In Nam Dinh Tours
Vi Khe Bonsai Village
Vi Khe village on the banks of the Red River (Dien Xa, Nam Truc, Nam Dinh) is a traditional village of 800 years of age and is known as the land of flowers and ornamental plants in Vietnam. This place is famous for its bonsai trees which are carefully trimmed with care to form and are full of art and beauty. Vi Khe is home to many varieties of flowers such as orchid, water-rail, camellia, and so on with hundreds of other flowers like peony, gladiolus, etc. Especially, Ngau flower used for making marinated spices is cultivated so much. Come to Vi Khe bonsai village, many people admire admiring the craftsmanship of the artist and heard the craftsmen Vi Khe's introduction of each tree, the new life of each species, and hidden in it is the deep philosophies of his predecessor.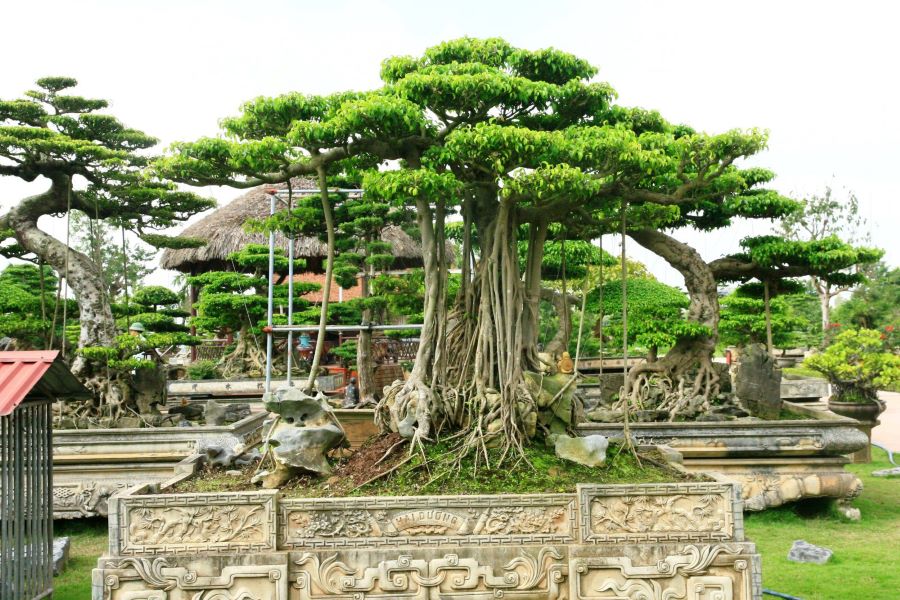 Pham Phao Traditional Trumpet Making Brass Village
Pham Phao village, Hai Minh commune (Hai Hau district, Nam Dinh province) is famous for producing and repairing trumpets from the French colonial period. It has created over 800 talented folk musicians from the countryside. Most from children to old people in Pham Phao parish are no strangers to the trumpet, they consider it an indispensable spiritual food. On normal days, locals are farmers but when there is a festival they become trumpet artists with trumpet brass. The unique feature of Pham Phao brass craft is that most of the stages are done manually. Visit Pham Phao to have an interesting experience.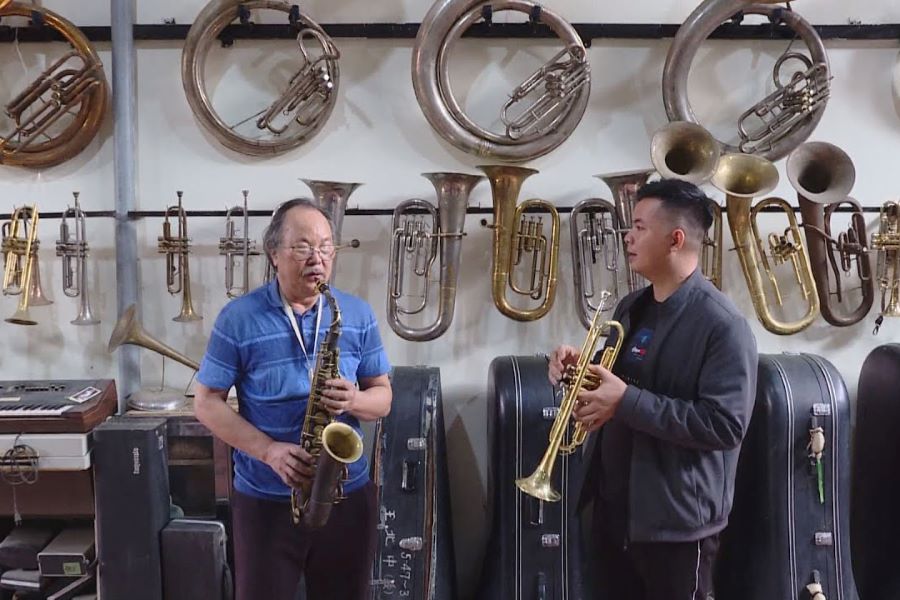 Xuan Thuy National Park
Xuan Thuy national park is a perfect destination for travelers who are keen on seeing animals in their native habitat. Xuan Thuy park is home to over 100 species of migratory birds and 215 species of birds living in the forests and mangrove swamps all year round. There is a magical habitat of 500 kinds of sea creatures under the waters of the park such as Sea Fox, Sea Cat, and a ton of shrimps, fishes, and colorful crabs. Visiting Xuan Thuy national park, tourists will be mesmerized by the pristine landscape with amazing biodiversity at first sight.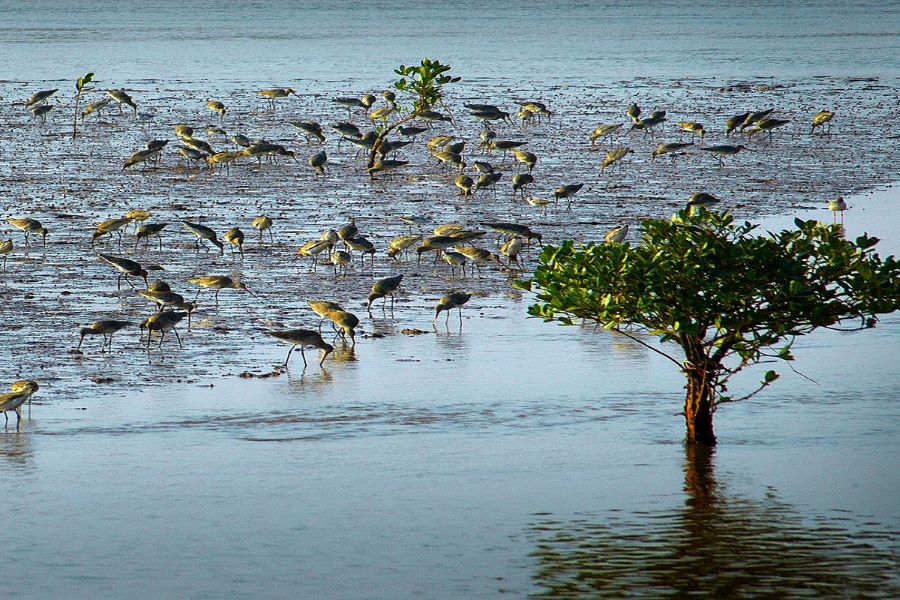 Bach Long Salt Village
Located in the northern of Nam Dinh, Bach Long is a peaceful commune that has no rice fields like other Vietnamese villages. Set your food to Bach Long to admire the sunrise when locals go to the field or at dawn when they work to avoid the heat. In Bach Long, white salts are the symbol of life, adults work on salt farms, and children play with kites that carry their dream of having a good harvest of salt. Visit Bach Long commune in Nam Dinh to experience the production of salt and escape from the bustling city.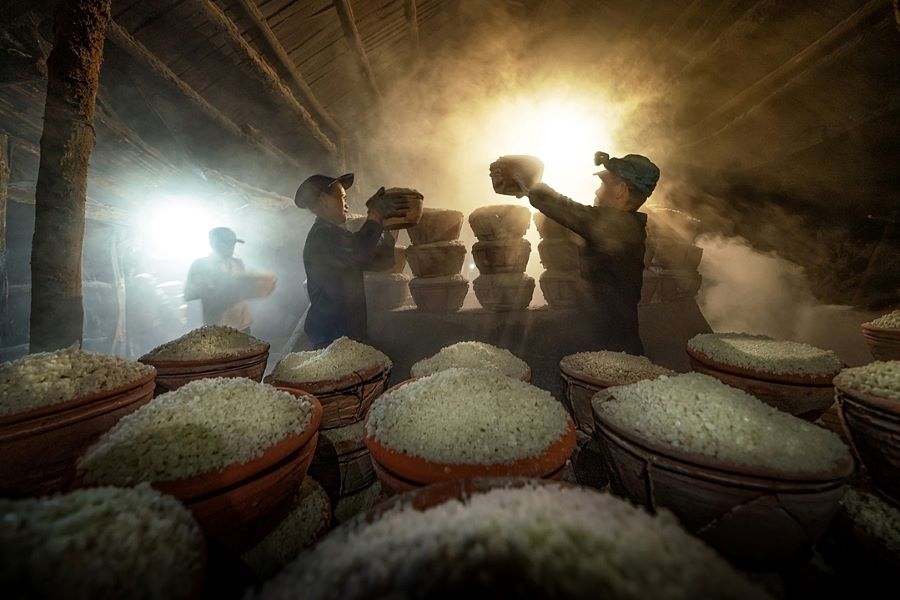 Take your Nam Dinh tours right now to enjoy those great experiences. Feel free to contact our experts if you want to have a perfect Vietnam day tour.
Top 5 Famous Dishes In Nam Dinh Tours
Beef Noodle Soup
Although you can find beef noodle soup anywhere throughout the country, Nam Dinh beef noodle soup is still unique. Soft noodles, fresh beef, and sweet broth with individual family secrets create the flavored beef noodle soup that you never forget. Especially, to have a perfect bowl of beef noodle soup, sliced beef must be dipped and salted immediately to retain the freshness and nutrition of the meat. Beef noodle soup Vien Nhan Lane, Pho Dang Hai Bien, Pho Dien Bien, and beef noodle Soup Street are some famous restaurants we recommend for you to taste this delicious specialty.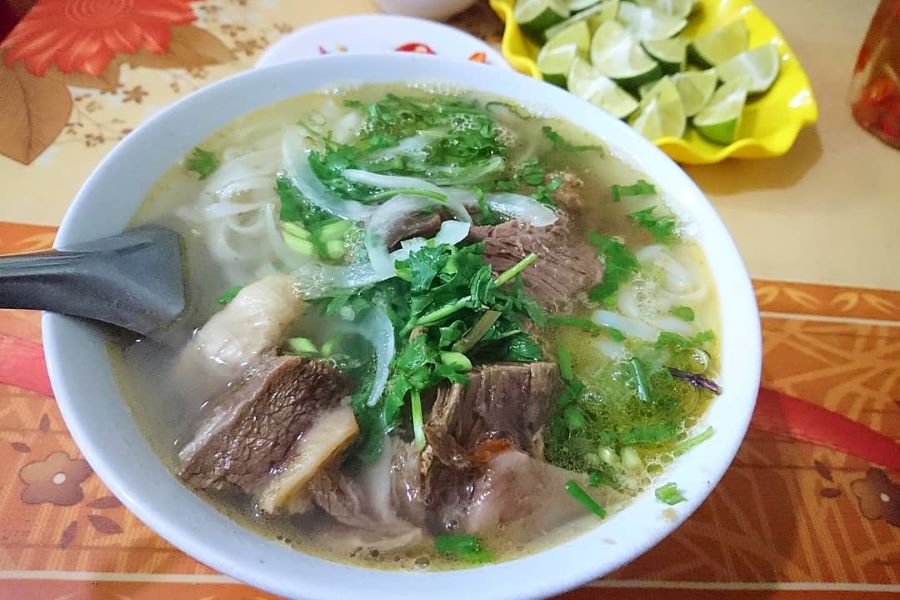 Longan Cake
Although the name of this cake is "longan cake", it is not made from longan fruit. This name refers to the shape of the cake which is as yellow and round as longan. The traditional ingredients of this cake include glutinous rice in Hai Hau commune, eggs, sugar, lard, and more. Grind or pound sticky rice into powder, mix with fresh chicken eggs, squeeze it into small cubes and deeply fry with moderate fire, and finally add sugar to form the "mantle" outside… That is the traditional recipe of "banh nhan" which has egg flavor, the sweetness of sticky rice, and a slightly crunchy exterior. To feel the full flavor of this dish, do not forget to enjoy cake labels with a cup of tea.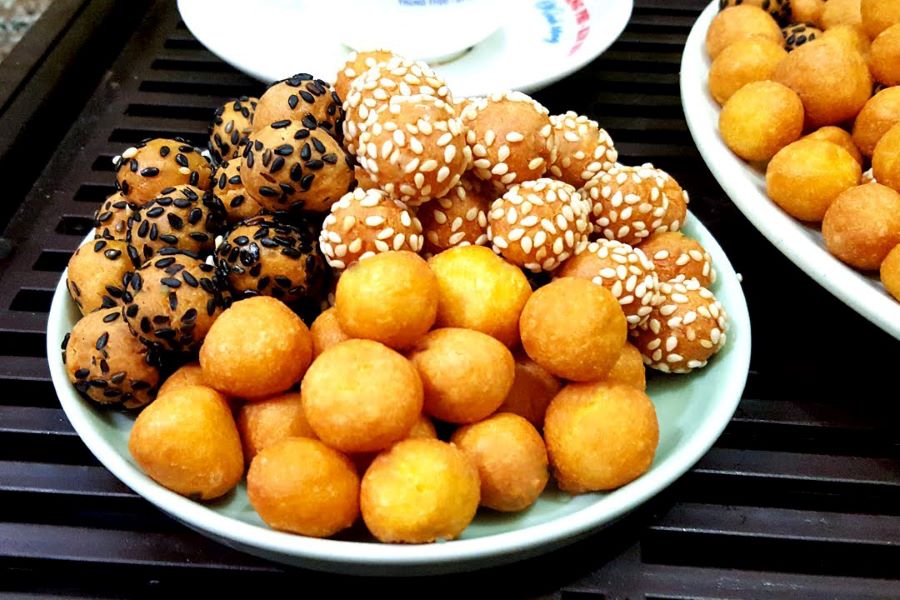 Xoi Xiu in Nam Dinh
Xoi xiu - a unique dish of Nam Dinh is a harmonious combination of sticky rice, barbecue pork, sausage, and special fragrant sauce. Mix it up and enjoy the fragrance of sticky rice, fleshy sausage, sweet and soft xa xiu, and spicy pepper meat sauce. Stop by a restaurant on Hoang Van Thu or Hang Sat street to try this tasty delicacy.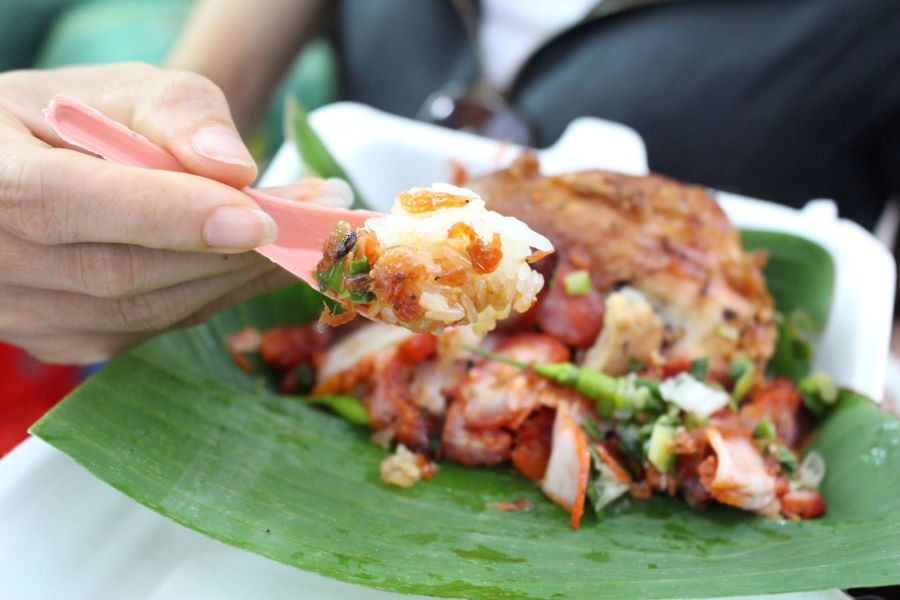 Xiu Pao Cake
Xiu Pao – a specialty of Nam Dinh is a tiny and fragrant pie. The ingredients of Xiu Pao cake are wheat bread, meat, eggs, flour, lard, and some characteristic spices depending on the recipe of each family. Especially, meat is often marinated with minced garlic, five-spice powder, oyster sauce, honey, and fried until it turns off brown and fragrant.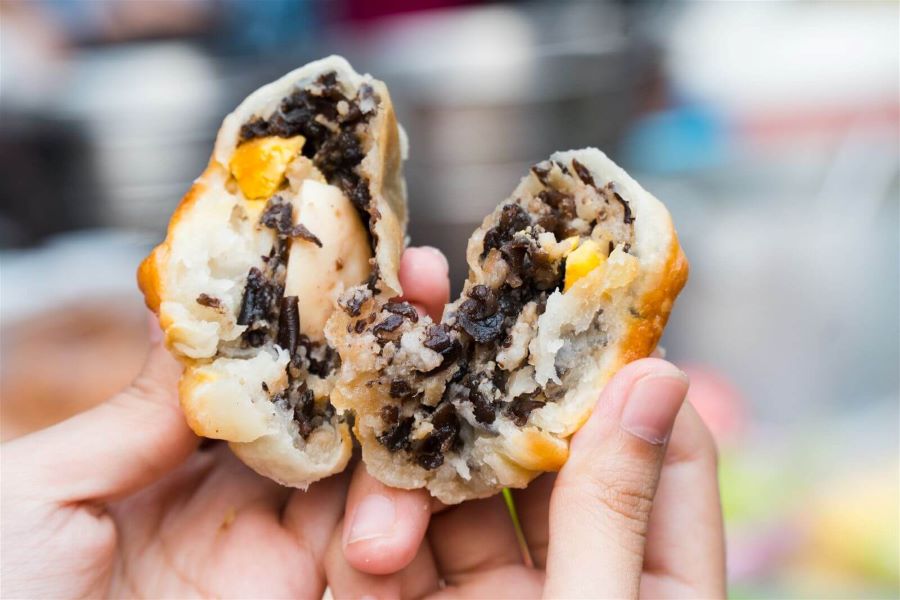 Siu Chau Candy
Siu Chau candy is a delicious specialty of Nam Dinh which is made from very simple ingredients like peanuts, sesame, sugar, and malt. The name of the candy has long been associated with a famous candy store in Vi Hoang river. To make Siu Chau candy, locals have to roast sesame and peanuts and cook sugar to the malt on the fire. When the mixture of boiling water, peanuts, and sesame will be grasped together. Then pour the mixture of the hot candy into a tray of sticky powder to prevent sticking and thinning. Finally, cut it into small pieces to fit the mouth. Siu Chau Candy is a sweet gift for your friends and family members.