Hanoi Tours, Day Trips & Authentic Tours around Hanoi
Hanoi is one of the most charming cities in Southeast Asia. Years of war and political isolation have combined to keep the Vietnamese capital off the tourist map – at least until fairly recently. Travelers will be surprised and delighted to find that Hanoi is probably the most beautiful capital city in Southeast Asia, combining indigenous architectural treasures with fine examples of French colonial architecture. The people are friendly, the food is excellent.
See the best of Hanoi with our Hanoi tour packages offering a private, flexible, and unique tour experience for Vietnam vacation. We offer elaborate Hanoi City tour packages with the most famous Hanoi attractions of your choice. 
Tour Route: Calypso Cruise - Dark and Bright cave - Lan Ha Bay - Viet Hai village - Ba Trai Dao - Tra Bau area
Tour Highlights
Marvel at the stunning landscapes of Ha Long Bay and Lan Ha Bay, a paradise for nature lovers.
Explore the captivating Dark and Bright Cave, with its hidden lake and karst formations.
Experience a culinary delight with a cooking demonstration by the talented chef.
Discover secluded islands, pristine beaches, and the charming Viet Hai village in Lan Ha Bay.
Engage in serene activities like kayaking, cycling, and Tai Chi exercises on the sundeck.
---
Best Things to Do & See in Hanoi Tours
Thang Long Imperial Citadel
Established in 1010, Thang Long (the Flying-up Dragon) has been the capital of Vietnam for hundreds of years. Thang Long Imperial Citadel was the living and working place of Vietnamese Emperors as well as a royal family during 4 dynasties from the 11th century to the 18th century. During that period, the construction was expanded, renovated, and completed by outstanding architects as well as the hands of thousands of workers.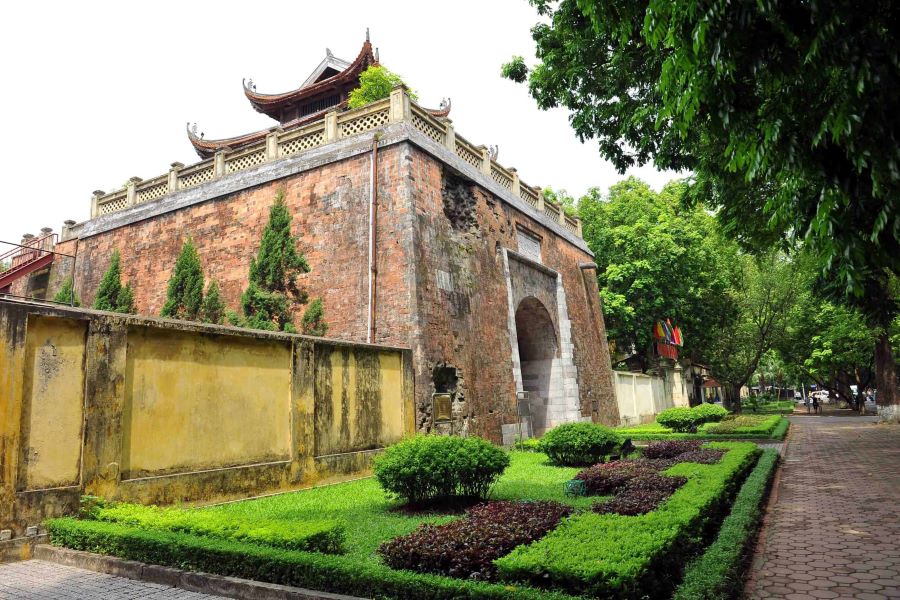 Having been the center of Northern Vietnam for centuries, Thang Long Imperial City gathered the essence of Vietnamese culture, architecture, and religion of Vietnamese. Although most of the Citadel was destroyed, the left relics such as the Flag Pole, Northern Gate, or Kinh Thien Palace are enough to prove the prosperity as well as the development of one of the richest and oldest cities in Southeast Asia. Therefore, the Imperial City of Thang Long was recognized by UNESCO as a World Cultural Heritage Site in 2010 on the occasion of the 1000th birthday of Hanoi.
Address: No. 19 Hoang Dieu St, Ba Dinh District
Opening hours: 8 am to 5 pm – Tuesday to Sunday
Temple of Literature
Considered the first university of Vietnam, the Temple of Literature was constructed in 1070 and dedicated to Confucius, universal education, and a historical museum. Nowadays, it becomes one of the most important relics and a symbol of Vietnamese traditional architecture.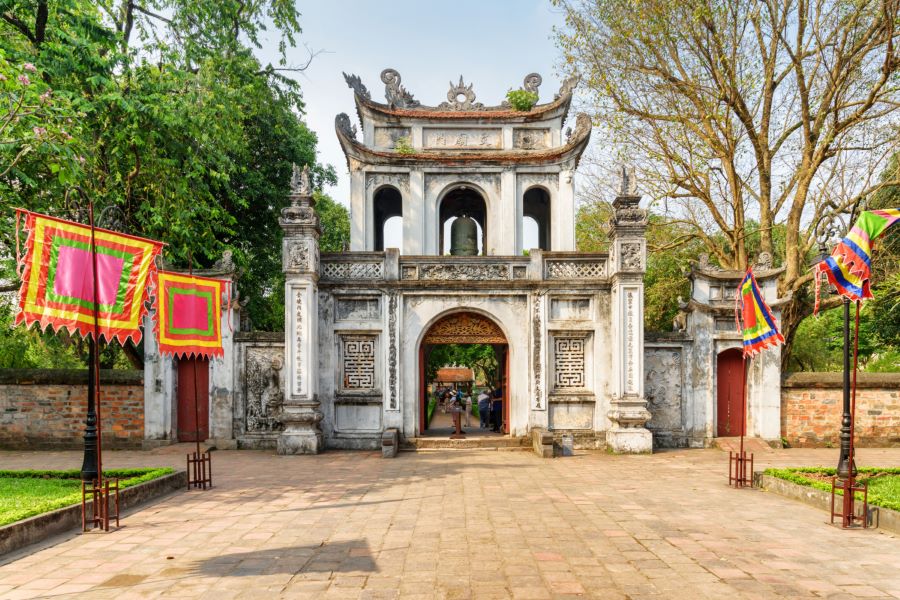 The construction offers tourists five courtyards two of which are spectacular gardens. The third one is featured with Khue Van Pavilion and Thien Quang Well. The Fourth courtyard is the temple for worshipping Confucius while the fifth one is Thai Hoc with a bell tower and a large drum. Temple of Literature also maintains the turtle steles engraved with the names of successful students at the national exams. A visit to this relic during your Hanoi tour will absolutely fire your imagination about the history and religion of Vietnam.
Address: No. 58 Quoc Tu Giam St, Dong Da District
Opening hours: 8 am to 6 pm every day
One-pillar Pagoda
The pagoda is widely known as the representative of Vietnamese Buddhism and religious architecture. This iconic construction is made of wood and built on only a single pillar 4 meters high. The pagoda looks like a lotus which is a symbol of purity according to Buddhism. Besides, it has a Guan Yin statue sitting on a lotus which is used for worship. Even non-religious tourists visiting One-pillar will be impressed by its charm and beauty.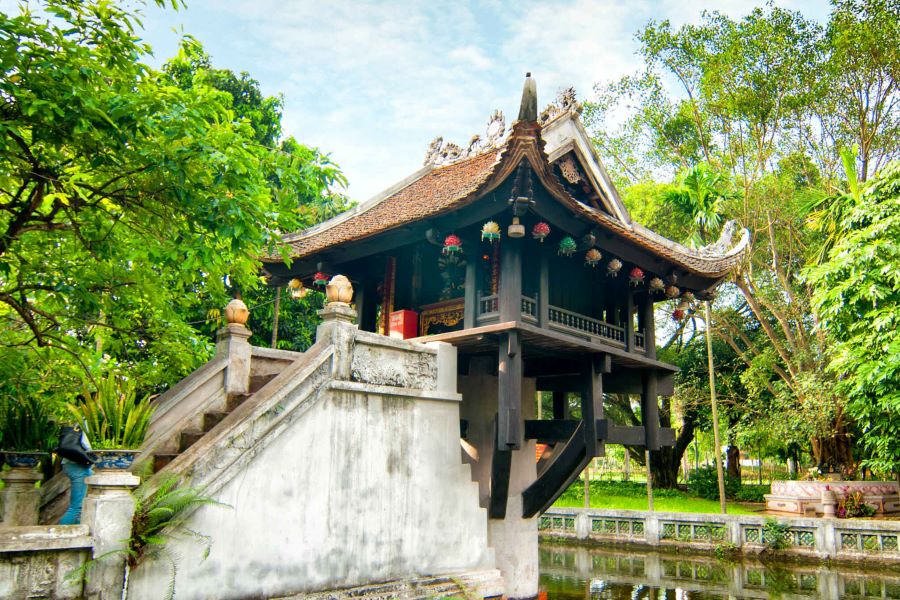 Address: Ba Dinh District
Opening hours: 8 am to 5 pm
The President Ho Chi Minh
The greatness of president Ho Chi Minh in minds of the Vietnamese people is similar to the one of President Abraham Lincoln in minds of Americans or Lenin in minds of Russian. Therefore, Ho Chi Minh Mausoleum was built in the admiration of the Vietnamese their "beloved Uncle Ho". Setting foot inside the mausoleum, you can admire his body preserved in a glass case.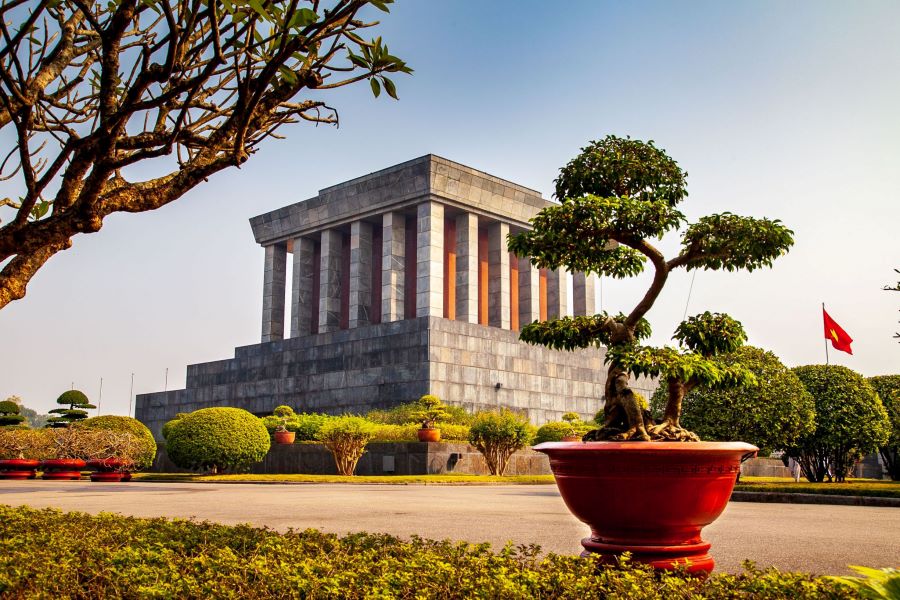 Maximum security and regulations such as elegant clothes, no camera, and photography are strictly applied. No entrance fee is required but a donation is accepted. After visiting Ho Chi Minh Mausoleum, your Hanoi tour should include an exploration of the Ho Chi Minh Museum as well as his working place and accommodation nearby.
Address: No. 8 Hung Vuong St, Ba Dinh District
Opening hours: 7.30 am to 10.30 am (Tuesday – Thursday)
7.30 am to 11.00 am (Saturday and Sunday)
October is maintaining time.
Hoan Kiem Lake & Hanoi Old Quarters
Hoan Kiem Lake is the green lung of Hanoi and a popular area for tourists to hang out. Especially, the surrounding areas of Hoan Kiem Lake have open walking streets at the weekends. It is a wonderful time to enjoy the peaceful moments with the fresh air from the lake as well as the disappearance of dust, noise, and smoke from vehicles. You can slowly sightsee the statue of King Ly Thai To, walk on the red The Huc Bridge reaching to Ngoc Son Temple. Besides, you should participate in interesting outdoor activities organized by the locals. If they make you exhausted, sit down at a stone bench near the lake, taste the amazing Trang Tien ice cream, listen to the live music performed by street bands, and immerse yourself in the astonishing view of the lake. You will be ready again for an unforgettable night at Hoan Kiem Lake.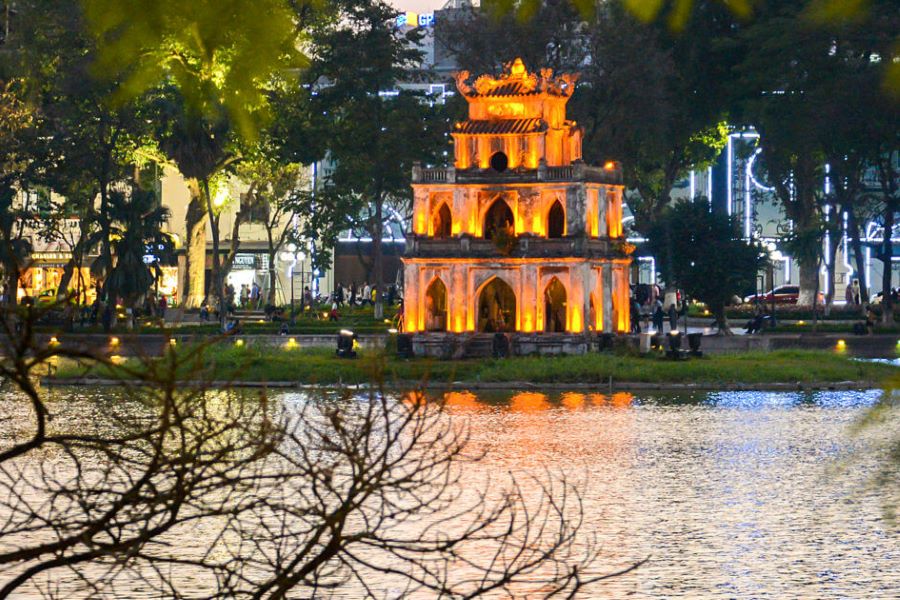 The best time to wander around Hanoi Old Quarters may be in the morning. Start your Hanoi tour with an awesome breakfast with dozens of delicious dishes in food stalls along the streets; you will have enough energy for a day of exploration. The narrow streets in old quarters seem to become larger thanks to the small number of vehicles. On wandering the old quarters, you will feel like you are in the past of the 20th century because surrounding you is the houses and constructions with a combination of French and Vietnamese architecture. When more vehicles appear on the streets, you should pay a visit to Dong Xuan Market – the biggest traditional market in Hanoi. You are surely overwhelmed by the huge number of products and goods sold here. If you wish to taste all Hanoi specialties, the market is exactly the paradise of food. Provided that, you wish to buy some souvenirs as gifts, diverse products from handicraft arts, paintings, and pottery will give you a wide range of choices.
Location: Hoan Kiem District
Dong Xuan Market: Dong Xuan St, Hoan Kiem District
The Water Puppet Show
The art of water puppets was born when the rice paddies were flooded and the farmers controlled the puppets over the water for entertainment. Throughout history, this folk art has been preserved and developed and has now become a well-known performance all over the world.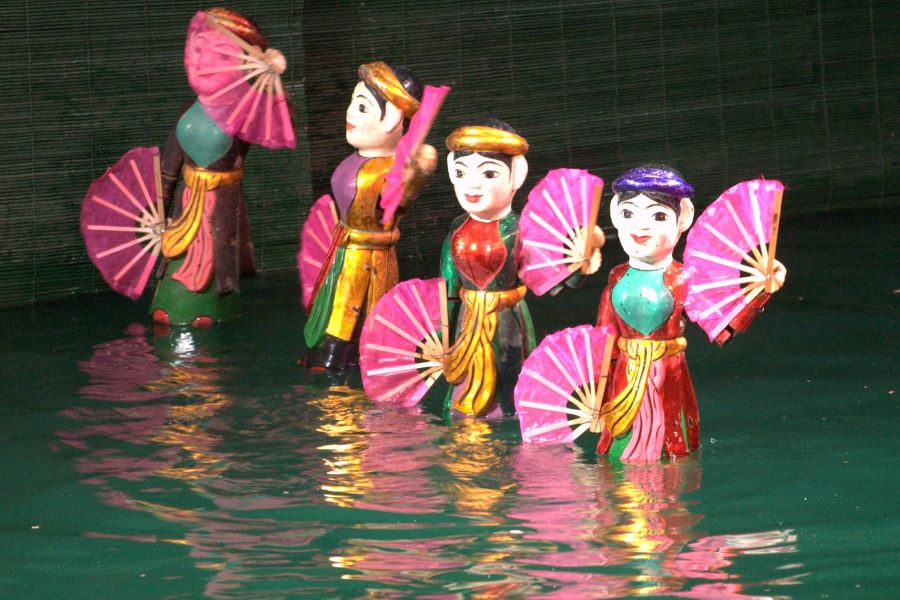 The stage of the water puppet show is a pool. Behind a bamboo screen, puppets are skillfully controlled by puppeteers. Every water puppet show will tell you a tale or a legend accompanied by folk music from drums, bells, and flutes. Thang Long Water Puppet Theater always performs this type of traditional art at its best.
Address: No. 57B, Dinh Tien Hoang St, Hoan Kiem District
Spend Time on Nature
If your Hanoi tour exploring the hustling and bustling makes you tiring, a discovery of Ba Vi National Park completely changes your mood. The land of diverse floras and faunas, magnificent mountains, and dreaming streams will be worth your exploration.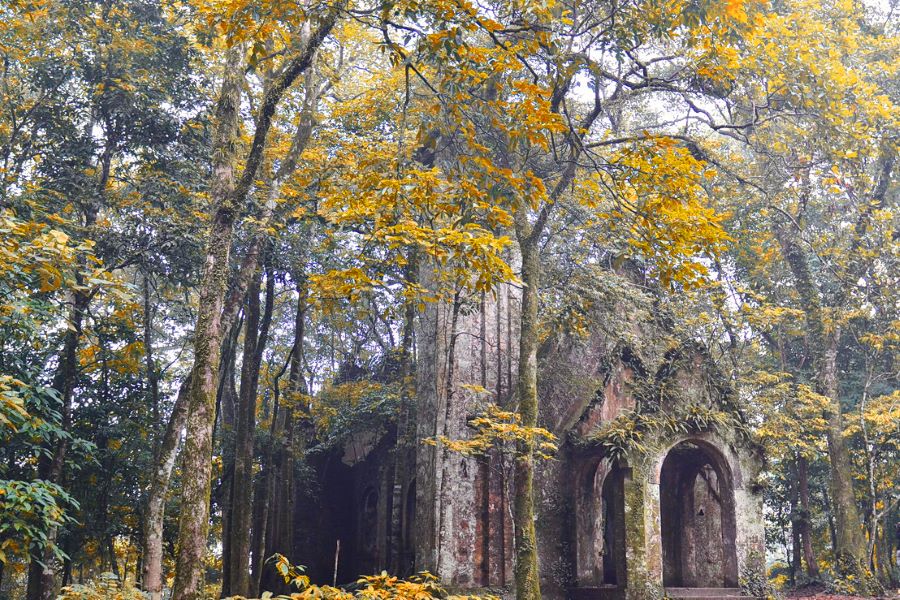 Ba Vi National Park also offers Tan Da Spa where you can enjoy the best relaxation with mud baths, herbal baths, or happy ending massage. Enjoy the breathtaking nature while your body is taken care of by the soft and skillful hands of masseuses will satisfy your requirements or even beyond expectations.
Location: about 60 km to the West of Hanoi
Top 6 Hanoi Museums - Fascinating Places To Visit on Hanoi Tours
Ho Chi Minh Museum
Located in the Ho Chi Minh complex, the Ho Chi Minh museum is one of the most resourceful museums in Hanoi that you cannot miss. The whole museum is an elaborate description of Ho Chi Minh's life from his childhood to his pass away. Its highlights include mementos of Ho's life, and some fascinating photos and dusty official documents relating to the overthrow of the French and the onward march of revolutionary socialism. Visitors definitely will be mesmerized by a series of artifacts, miniatures and various gifts gathered nationally and internationally there.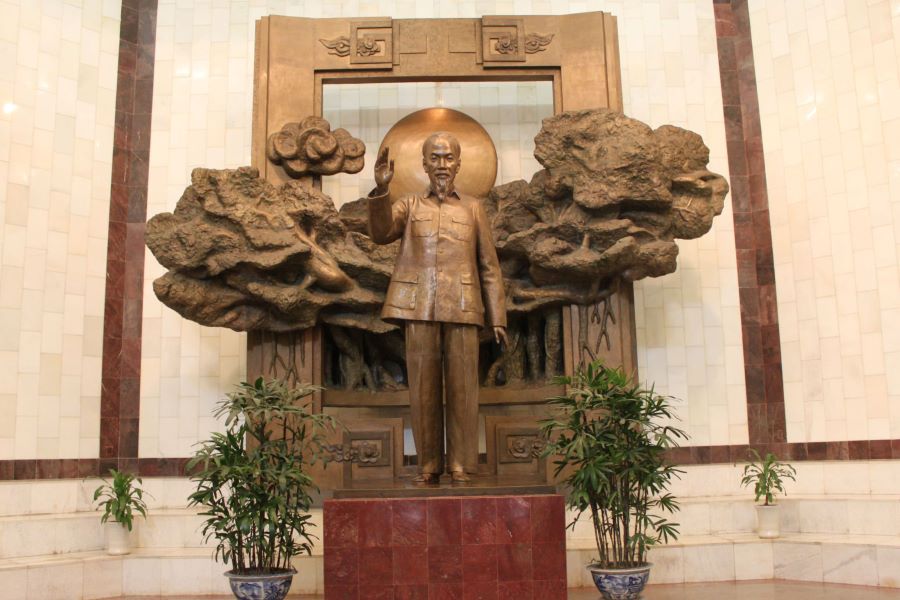 Address: No. 19 Ngoc Ha St, Doi Can Ward, Ba Dinh District
Opening hours: 8 am to 4.30 pm
Vietnam National Museum of History
Built between 1925 and 1932 by Ernest Hebrard architect, the museum retains unique Indochina architecture. The National Museum of Vietnam was formerly home to the École française d'Extrême-Orient. Exhibit highlights of this impressive museum include a bronze drum from the Dong Son culture, Bat Trang pottery, Hindu statuary from the Khmer and Champa kingdoms, jewelry from imperial Vietnam, wooden stakes in Bach Dang Battle, and displays relating to the French occupation and the Communist Party. National Museum of Vietnam guarantees tourists the full and comprehensive knowledge about the historical periods of Vietnam country from prehistoric times until the period of struggling for national construction and defense. Make sure you do not miss it on your Hanoi tour.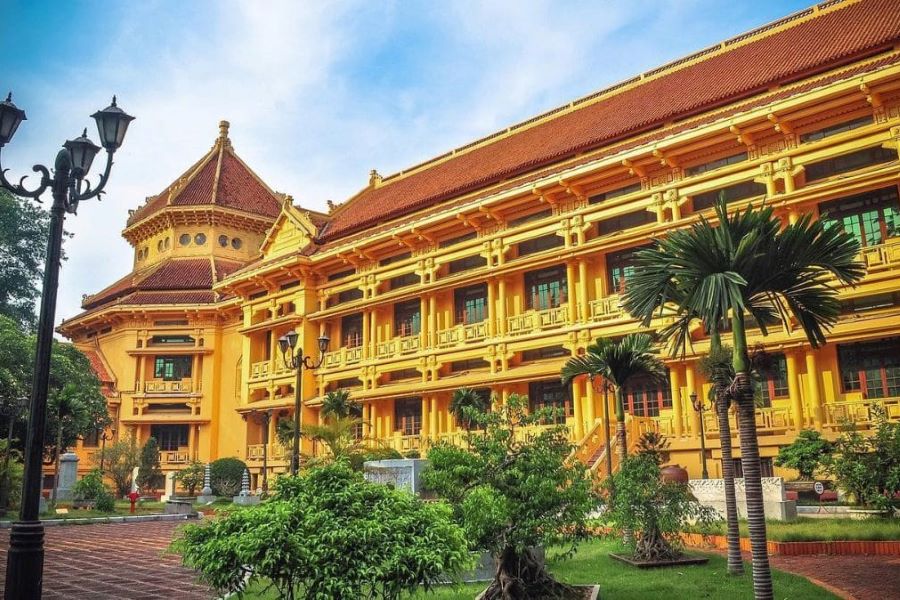 Address: No. 216 Tran Quang Khai St, Hoan Kiem District
Opening hours: 8 am to 17.30 pm (Except the first Monday of each month)
Hoa Lo Prison Museum
Different other museums in Hanoi are places of sweetness, gorgeousness, and light, Hoa Lo Prison Museum or " The Hanoi Hilton" is a place filled with many grim stories. It is the place of brutality, torture and the Hilton no one wants to stay in. The remaining chilly, damp cells, rusted iron stock used in the torture of prisoners, and a macabre French guillotine are the evidence of the French colonialists' crime. Visit this historic destination to witness the life and sufferings of prisoners in the most notorious prison in Vietnam.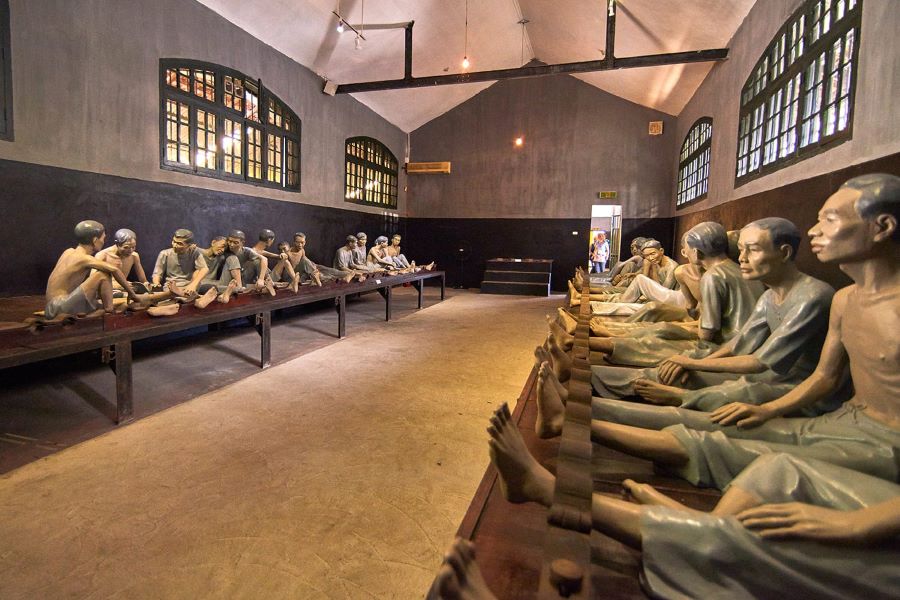 Address: No. 1 Hoa Lo St, Hoan Kiem District
Opening hours: 8 am to 5 pm
Vietnamese Women's Museum
Vietnamese Women's museum in the eyes of foreign tourists is an excellent and impressive museum showcasing the roles of women in Vietnamese society as well as culture. The museum features a stunning collection of propaganda posters, a hard-hitting exhibition on women 's role in wartime, and a fascinating costume-heavy display of Vietnam'ethnic minority groups. Wander around the museum to explore the much-neglected subject of family life and maternity and the moving display on the 'Heroic Mothers of Vietnam' that memorializes women who lost children during Vietnam's many years of warfare.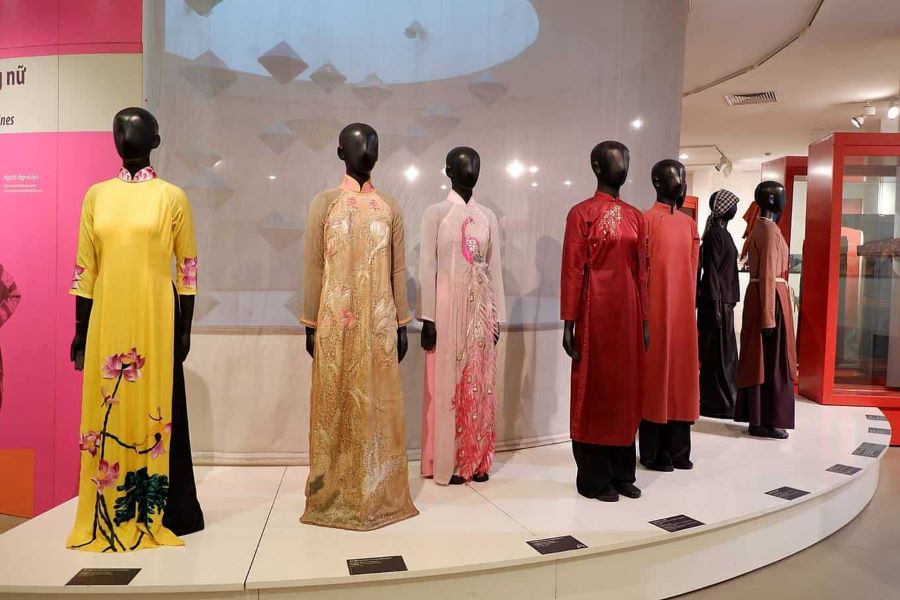 Address: No. 36 Ly Thuong Kiet St, Hoan Kiem District
Opening hours: 8 am to 17 pm
Vietnam Museum of Ethnology
As the largest and the most interesting museum in Hanoi, the Vietnam Museum of Ethnology is worth a thorough visit, for those who are keen on learning about the multiculturality of Vietnam and for those who would appreciate some large green spaces. It is a captivating and exciting exploration of the 54 ethnic minorities of Vietnam. Visitors will be impressed by the elaboration of the traditional architecture of ethnic minorities' houses there, at the same time being thoroughly engaged in a ton of fun traditional games and activities such as water puppet show, calligraphy, and stone game. Visit this museum to get as close as any tourist can to the religious and cultural ceremonies and everyday rituals of the many different people of Vietnam.
Address: Nguyen Van Huyen St, Cau Giay District
Opening hours: 8 am to 5.30 pm (Except Monday)
Vietnam Fine Arts Museum
Built in the 1930s as a Girl School for Indochina high-ranked officers the Vietnam Fine Arts Museum is a real treasure trove of traditional, religious, modern, and contemporary Vietnamese art. This special museum not only exhibits impressive paintings, sophisticated ceramics, and lacquers created by modern Post-war artists but many of its contents date back as far as pre-historic and feudalism times. It is probably true that the most compelling highlights of the museum are ancient Champa stone carvings and some astonishing effigies of Quan Am, the thousand-eyed, thousand-armed goddess of compassion. Head to this place to soak up Vietnam's artistic treasures.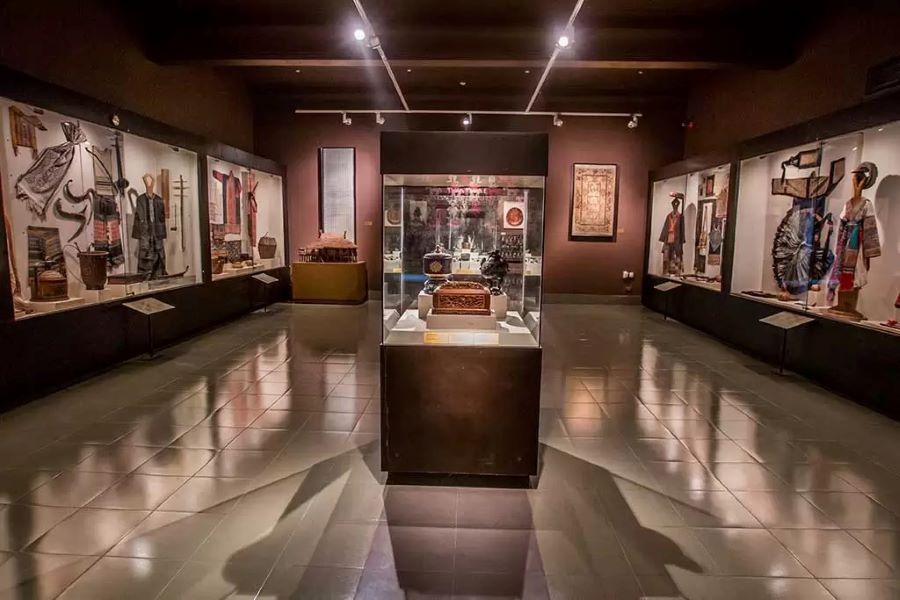 Address: No. 66 Nguyen Thai Hoc St, Ba Dinh District
Opening hours: 8.30 am to 5 pm
Top 5 Best Hanoi Dishes - Top Must-Try Foods in Hanoi Tours
Bun Cha - Grilled Pork & Vermicelli
Bun Cha is the top choice for lunch on Hanoi tours. This dish has two different kinds of pork: strips of meat and minced pork patties. The porks are soaked into a bowl of fish sauce and served with a basket of fresh herbs, a helping of rice noodles, some red chillis, and minced garlic.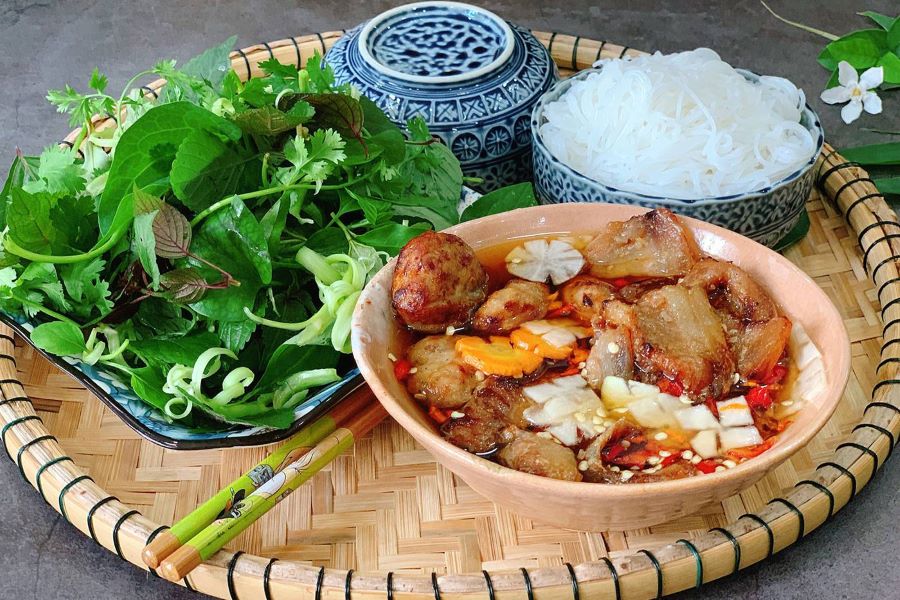 Suggestion: Bun Cha Huong Lien (No. 24 Le Van Huu St, Hai Ba Trung District)
Nem Cua Be - Crab Spring Rolls
Another specialty of Hanoi you should try is nem cua be or crabmeat spring rolls which are the perfect complement to bun cha. The ingredients of this dish conclude minced crab, pork, vermicelli, and mushrooms mixed with various spices. All of these are rolled in rice sheets, deeply dried, and cut into bite-sized pieces. This crispy snack is often served with fresh herbs and lettuce. You can dip it into sour and spicy sauce or into the savory bun cha soup.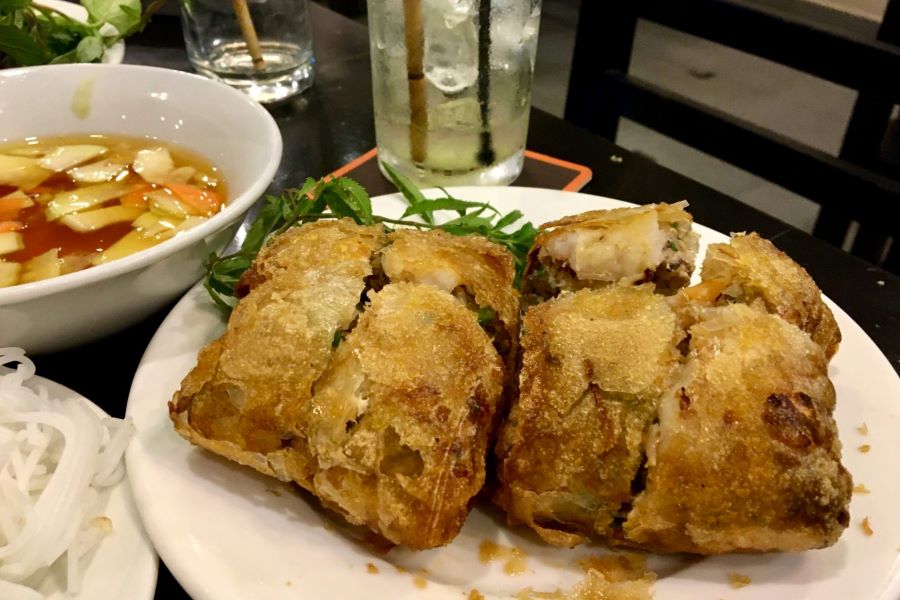 Suggestion: Dac Kim restaurant (No. 67 Duong Thanh St, Hoan Kiem District)
Cha Ca - Turmeric Fish with Dill
Cha ca is a perfect combination of white fish seasoned with garlic, ginger, turmeric, and dill served on a sizzling pan. This special dish is so popular among locals that there is a street in Hanoi Old Quarter named after it.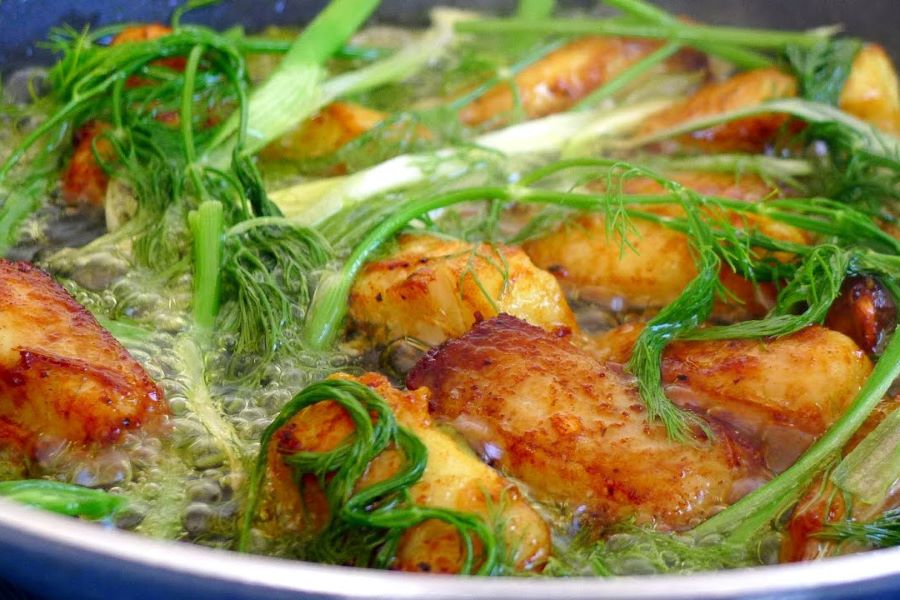 Suggestion: Cha Ca Thang Long (19, 21 Duong Thanh St, Hoan Kiem District)
Bun Thang - Rice Vermicelli with Chicken, Egg, Pork
Bun Thang is one of the most attractive dishes in Hanoi. This dish impresses tourists with the flavourful broth which is a harmonious combination of 20 different ingredients, including dried shrimp, squid, shrimp paste, spring onion, coriander, ginger, mushroom, beet, fish sauce, sugar candy, and vinegar. Like other Vietnamese noodles, it is served with a mountain of fresh herbs and chili.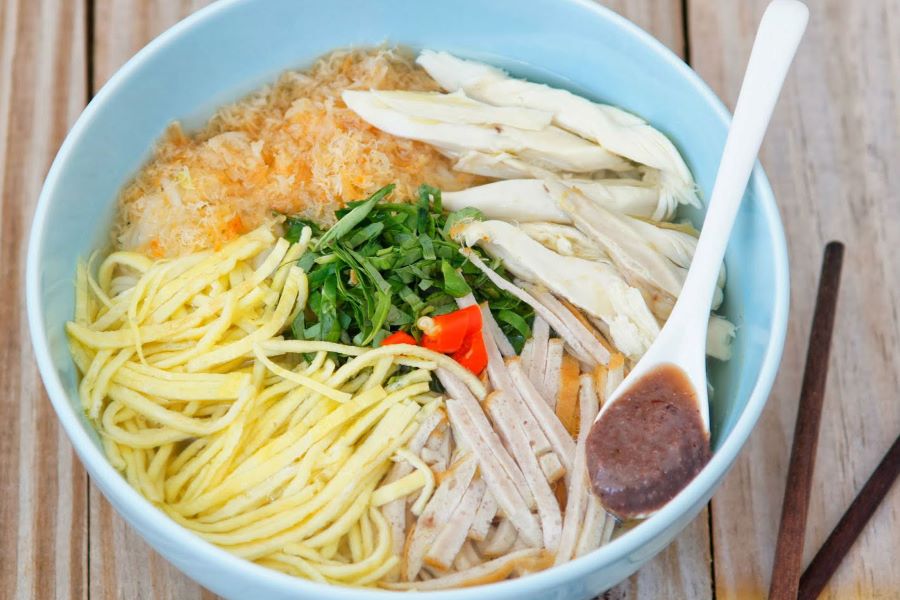 Suggestion: Bun Thang Ba Duc (No. 48 Cau Go St, Hoan Kiem District)
Banh Cuon - Steamed Pork Wraps
Banh cuon is a combination of pork and minced wood ear mushroom filling wrapped in freshly steamed rice paper. It is served with onions, Vietnam ham (cha lua), steamed bean sprouts, and cucumbers. Dip the banh cuon into the source for additional flavor and enjoy its mild taste.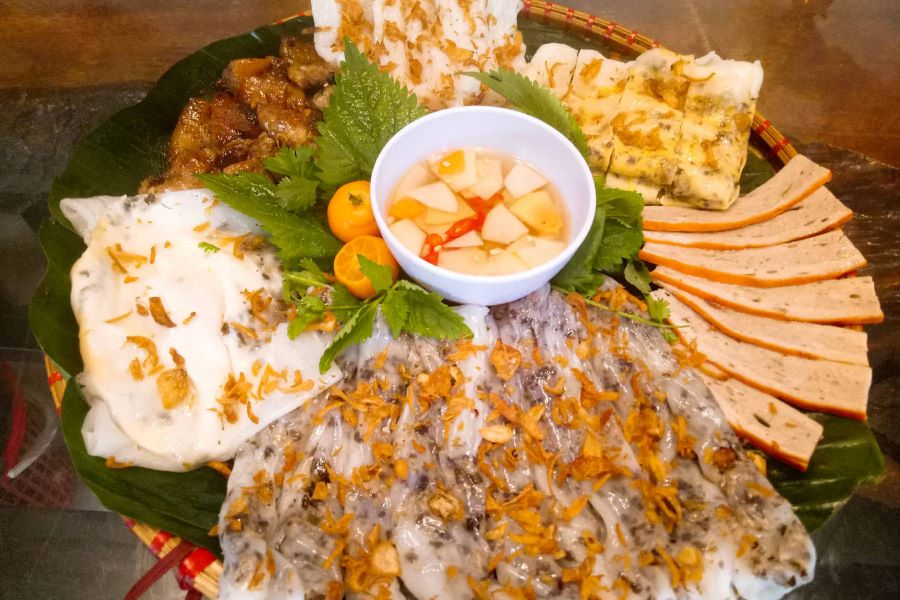 Suggestion: Banh cuon Ba Hanh (No. 26B, Tho Xuong St, Hoan Kiem District)
Best Time to Visit Hanoi
To be honest, there is no bad time to visit Hanoi. Every season brings different images of Hanoi and different activities based on the weather.
Weather in Hanoi
Located in a tropical area, Hanoi has the typical climate of Northern Vietnam: hot summer with rainfalls (May to September) and cold winter with rare rains (November to January). Although the average temperature in a year is 23.6oC, it can drop to 10oC in January while reaching more than 40oC in June. In addition, Hanoi has two more comfortable seasons in February, March, April, and October which are wonderful for outdoor activities.
Spring in Hanoi
Hanoi's spring lasts from February to April. At that time, the humidity is the lowest of the years while rains seldom happen and the skies are full of bright blue. This is also the occasion of the Tet holiday and other festivals after Tet. Exploring the scenic beauties of the capital on foot at this great temperature and ambiance absolutely leaves you with unforgettable memories.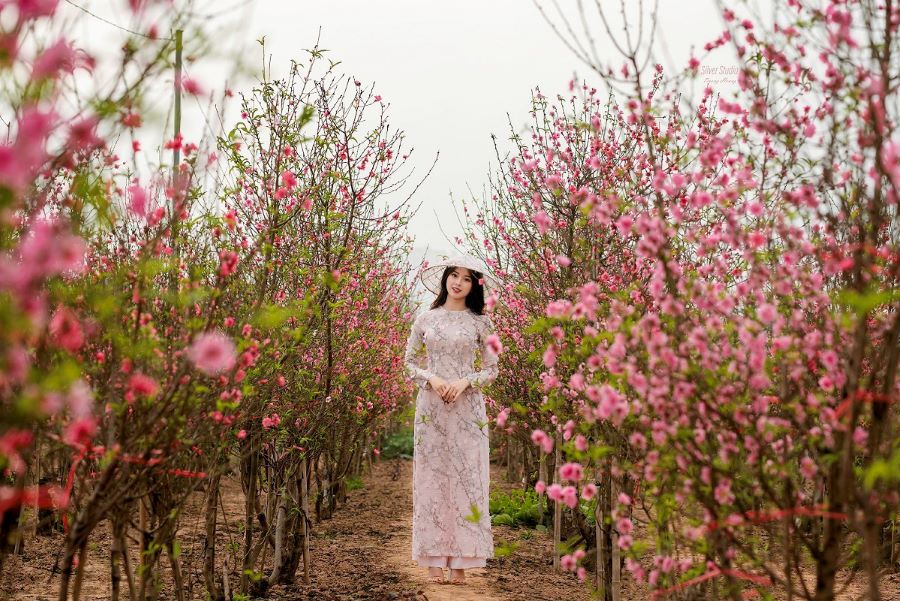 Summer in Hanoi
Summer in Hanoi is such a steaming time that you do not want to live without the air-conditioners. It is also known as the rainy season with a lot of rains and thunderstorms, often in the afternoon. However, the rains leave as fast as they come. The atmosphere after the rains is cool and comfortable. It is high time to go out and enjoy the exciting nightlife in Hanoi and refresh yourself with amazing street foods. During the daytime, you still discover the city through indoor activities at historical museums, vibrant shopping malls, and splendid coffee shops.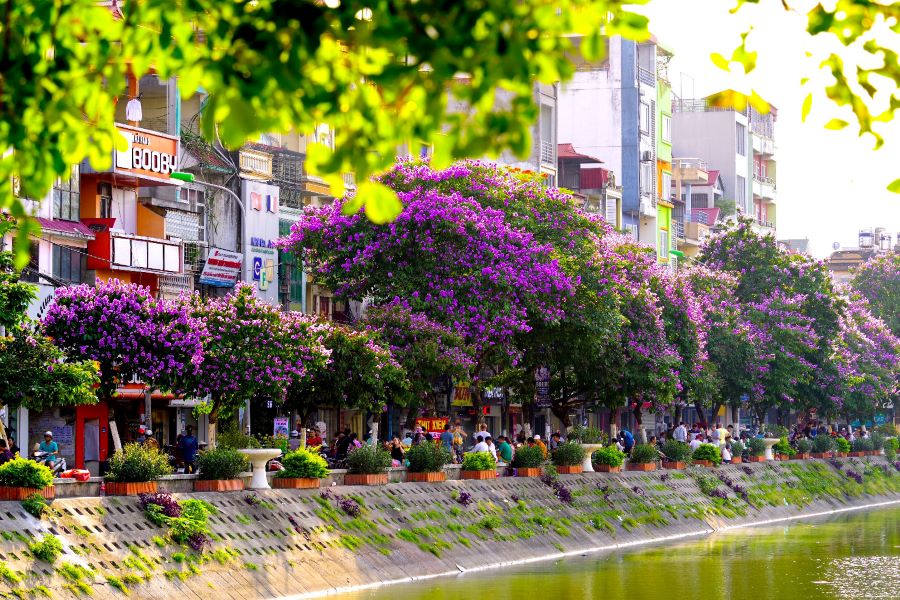 Autumn in Hanoi
In autumn, the temperature starts decreasing, and becomes wonderful to set foot outside. You will see a beautiful and romantic Hanoi with warm sunshine, cool winds, and yellow leaves. Spend time visiting old quarters and Hoan Kiem Lake and enjoying the best specialty of autumn - Com (green rice), you will definitely feel peaceful and relaxed.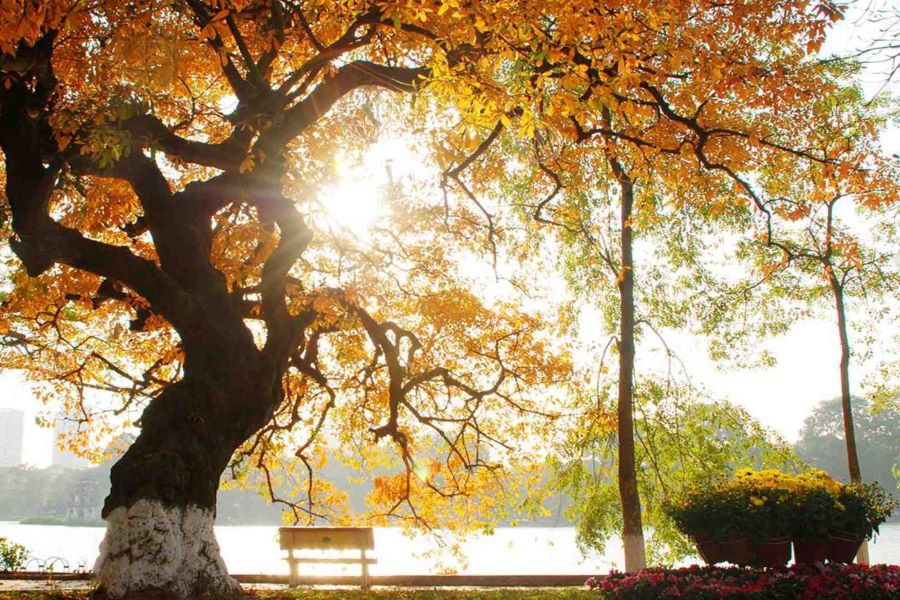 Winter in Hanoi
The coldest time of the year may look dreary with the gray sky and no sunlight but very interesting with activities of the locals to prevent the chill. Fire is burned along the streets and joined by a lot of people. At night, going out to enjoy hot street foods and drink will help to warm you up on a chilly day. In winter, the famous destinations are all covered by the gray of the winter which is different from what they used to be. A strange Hanoi in winter is the last one of four pictures about the transformations of the city in every season.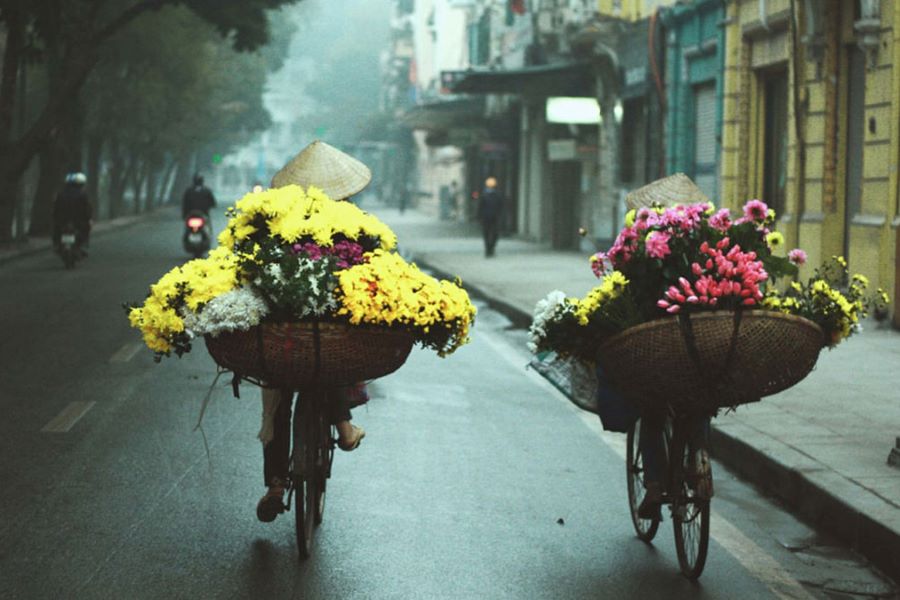 Hanoi Travel Guide
Hanoi General Information
Location: Northern Vietnam
Population: Approximately 7.7 million (2017)
Language: Vietnamese
Currency: Vietnam Dong (VND)
Natural Condition: Located at Red River Delta
The mountainous area in the West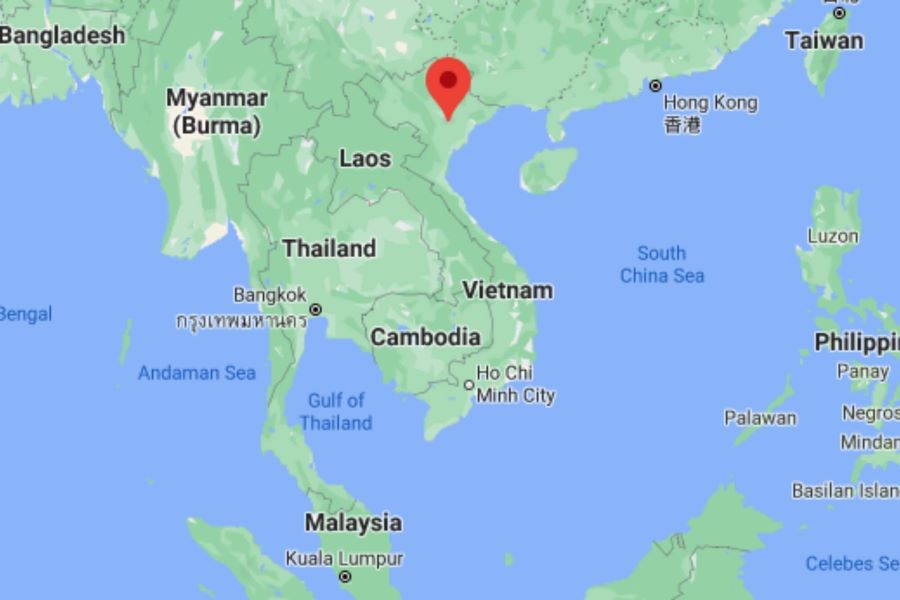 People, City & Culture in Hanoi
Hanoi People
The people of Hanoi (Hanoians) are well-known for their elegance having been established and developed for a thousand years. This characteristic is shown through communication, costume, and the eating way. The Voice of Hanoians reaches the correct Vietnamese standard of pronunciation and word use. Besides, they always show respect in communication with others through polite attitudes and gracious gestures.
Hanoians prefer neat, tidy, and elegant clothes. Therefore, ao dai is always chosen by both men and women of Hanoi on special occasions. Nowadays, it can be seen young Hanoians wear the modern fashion of Western styles but still keep the traditional grace and beauty. This proves that Hanoians are not conservative but know how to be trendy in today's vibrant life.
Hanoi City
Hanoi has proudly been named the capital of a thousand-year civilization. Throughout such a long-established history, a lot of historical constructions such as the Temple of Literature, One-pillar Pagoda, Thang Long Imperial Citadel, etc are still well-preserved by generations of Hanoians.
Today, Hanoi becomes the financial and commercial capital of Vietnam and Southeast Asia. Skyscrapers, shopping malls, and amusement centers appear around the city, raising the living standards of Hanoians. However, narrow streets and stalls on pavements in Hanoi are great memories for locals and visitors to the historical capital.
Hanoi Culture
Hanoians live in modern society but always toward traditional values. In daily life, they always show respect for their ancestors. Therefore, the altar and worshipping rooms are the most important and solemn places in every house. Besides, the strong relationships of members of a family, neighbors in a street, colleagues at school, and at work contribute to building a strong society where everyone can understand and empathize with each other.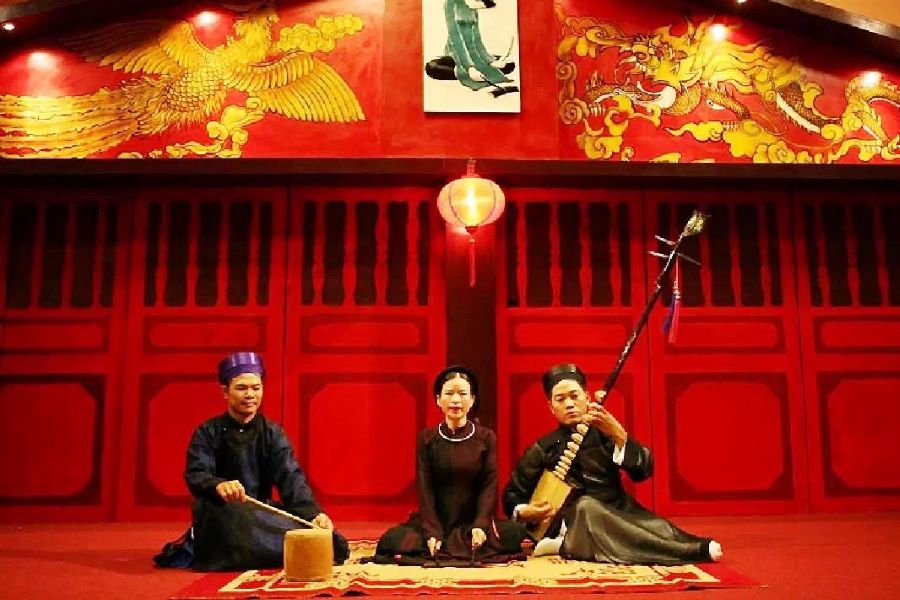 Buddhism has great effects on the beliefs of Hanoians. Hundred-year-old pagodas in Hanoi are popular destinations for citizens to pray to God for health and fortune. In addition, Hanoians also live and work hard and kindly mainly based on the commandments of Buddhism.
Traditional festivals and holidays are taken place annually in Hanoi to celebrate special occasions such as the Lunar New Year (Tet holiday) or memorize the great contributions of national heroes (King Ly Thai To, King Quang Trung, and President Ho Chi Minh).  These cultural values have existed up to now thanks to lessons of tradition and culture the previous generations have taught the next ones.
Transportation in Hanoi
The traffic system is not good enough to meet the high requirements of locals and visitors so traffic jams often happen, especially during rush hours. However, you can choose some means of transport to avoid traffic jams as well as reach every corner or narrow street in the city. Names of recommendation are motor taxi and taxi. Additionally, you can hire a motorbike to have the unique feel of your Hanoi travel.
Some recommended taxi brands:
Taxi Group: (Tel +84 24 38 53 53 53)
Mai Linh Group: (Tel +84 243 8 33 33 33)
In addition, cyclo is the advised transportation for quiet, leisurely, and eco-friendly travel to cover short distances in Hanoi. Recently, Hanoi Hop-on Hop-off buses have been introduced to the public. Sitting on these double-deckers, sightseers will visit all famous destinations in Hanoi and hear their interesting information through headphones set at every seat. Moreover, they can get off the bus at any fixed stops along the route.
Mobile Phone & Internet Access in Hanoi
Mobile phone connections are available everywhere in Hanoi. Foreign tourists may need to register with Vietnamese mobile operators for international roaming services and other associated costs. Viettel, Vinaphone, and Mobifone are some advised options. Their stores around Hanoi also provide you with customer services and SIM cards for purchase. Internet access and Wi-Fi connections are available in hotels, airports, restaurants, coffee shops, and public places.
Useful Information for a Perfect Hanoi Tour
Crossing the roads, keep calm, slow walk, and pay attention to the distance between you and the incoming vehicles to decide whether to keep walking or stop. If it is too difficult, just follow a local.
In summer, always carry an umbrella if walking or a raincoat if traveling by motorbike. Rains can immediately happen. Ice cream is an ideal food to eat and Trang Tien ice cream is one of the best choices.
In spring, drizzles can last all day long so boots are recommended instead of scandals and sneakers to walk on slippery roads.
Wear elegant clothes especially in religious places to show your respect to the Gods as well as Hanoians.
Do not underestimate the weather in Hanoi, it is unpredictable. Always update the information from weather forecasts and prepare plan B if plan A is canceled by the weather.
The motorbike does not look as scary as it seems. Rent a motorbike and try a new feeling of visiting Hanoi. You may possibly love it more.
Booking a Grab is more convenient than hiring a motor taxi on the streets.
Some food stalls are open all night so spend a night without sleeping enjoying their dishes. It is really astonishing.
Only during the Tet holiday and early mornings, Hanoi streets are not crowded with vehicles. If you want to visit Hanoi without smoke and noise, these occasions should be considered.
On the three last days of the week, Hoan Kiem Lake and old quarters ban all the vehicles and become walking streets. There are a lot of interesting outdoor and cultural activities organized by Hanoians so do not miss them.
Some of the Common Sentences You Should Know during your Hanoi Tour
Hello = Xin Chao (Sin chow)
Thank you = Cam on (kahm uhn)
Sorry = Xin Loi (Sin Loy)
How much? = Bao nhieu? (Baow nyew)
Too expensive = Mac Qua (Mac wa)
Can you reduce the price? = Giam gia duoc khong? (zam za khom)
The bill please = Tinh Tien (Din tian)
Help me = Cuu toi (Cute toy)