In Vietnam, Hanoi, Ha Long Bay, Hoi An, or Sai Gon are common destinations for travelers, but this small country has far more amazing places to explore. Ban Gioc Waterfall in Cao Bang Province is evidence of a natural unspoiled beauty spot for local and international visitors during their Vietnam vacation. Traveling a bit far from Hanoi for about 370 kilometers, Ban Gioc waterfall will be worth the distance and not make you disappointed.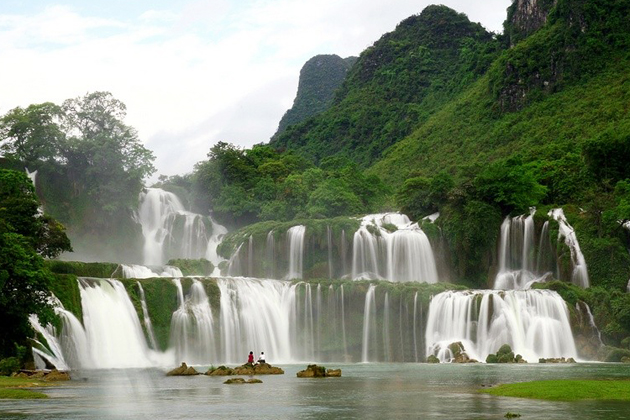 Ban Gioc Waterfall Map
Ban Gioc Waterfall or Detian Falls is a combination of two waterfalls on the Guichun River, which flows between Vietnam and China. To be more specific, the waterfall is located between Trung Khanh District of Vietnam and Daxin County of China.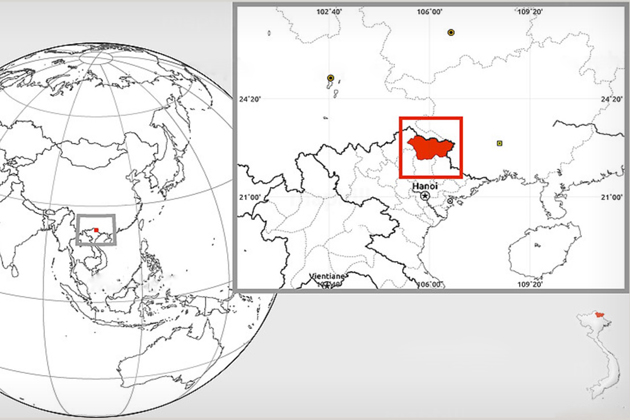 Located in an area of long-established karst, throughout millions of years, the waterfalls finally have its unique beauty today. Ban Gioc Waterfall includes two parts which are the main waterfall and the subordinate ones. Dropping from a height of 70 meters, the waterfall then divides into three smaller falls by rocks and trees. The waterfall is considered the biggest natural waterfall in Southeast Asia and one of the four biggest border waterfalls together with three famous waterfalls (Iguazu Falls, Victoria Falls, and Niagara Falls).
Top Things to Do & See at Ban Gioc Waterfall
Tourists used to have special permission in order to visit the area because the waterfall is located on the border of Vietnam and China. However, since 2015, you just need to show up and buy a ticket that costs around $1 at the kiosk and there is no need to have any identification papers.
The sceneries in the region are unbelievably magnificent. You can take many good photos of yellow rice paddy fields, some wooden bridges gurgling creeks, and green grassy banks on the foot of the waterfall. Here you can see local farmers harvesting the crops, most of which is done by hand. You can also behold a big water wheel made of bamboo along the river supplying water for the local life and crops.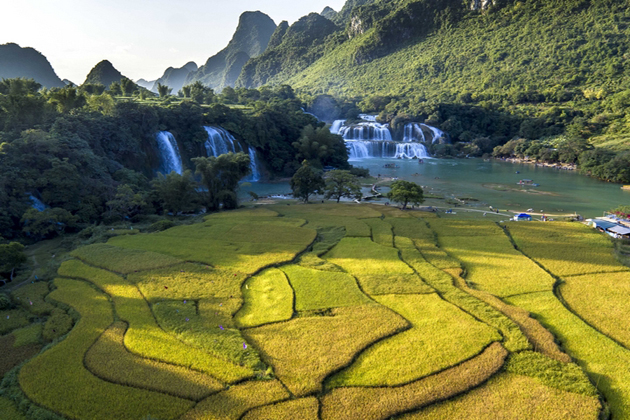 Downstream the river by a bamboo raft is much enjoyable and fascinating as well. You just need to hire one, which may cost $2.50 to have a closer look at the view. The ride may take around 10 minutes. Pay attention to warning signs as the nearby area maybe have the height level of water or sharp stones.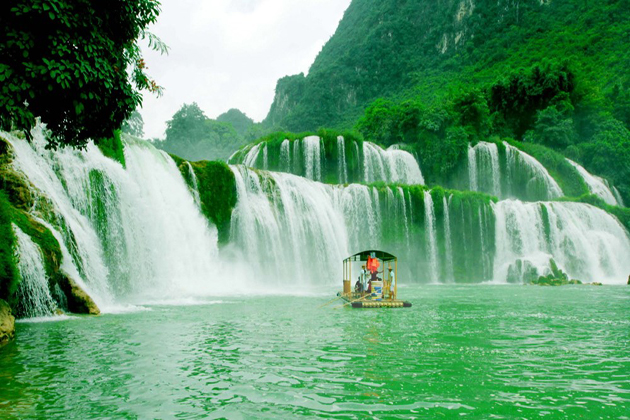 In Ban Gioc, you can visit not only Ban Gioc waterfall, but also nearby attractive places such as Nguom Ngao Cave, Pac Bo cave – Lenin Stream, or Thang Hen Lake.
The Best Time to Visit Ban Gioc Waterfall
In fact, you do not have to worry about which time of the year to enjoy Ban Gioc Waterfall's beauty to the fullest. Ban Gioc waterfall in each season brings in a typical beauty. During the dry season (from October to May), Ban Gioc waterfall is beautiful, gentle, elegant as a fairy, who is still afraid of the live scene. Cool water in the summer of Ban Gioc waterfall will make you want to drop yourself and blend into it.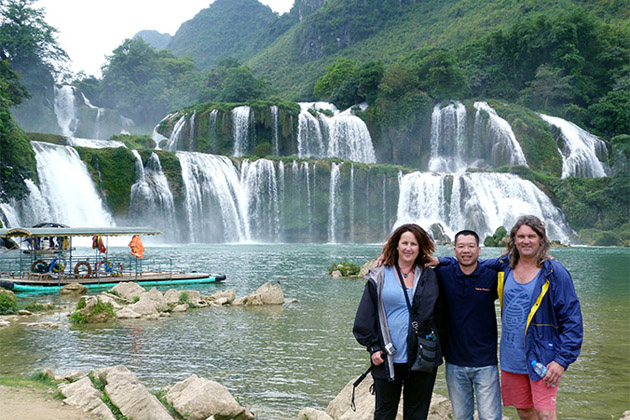 Between June to September is the period when the beauty of Ban Gioc waterfall is completely opposite to the summer and at its most majestic charm. The water is not flowing so smoothly that it starts to flow faster and faster, the foam splashes like clouds. In the rainy season, your trip may be a bit more difficult than summer, but the beauty of the waterfall can be enjoyed at any time. However, the most ideal time for visiting Ban Gioc Waterfall is between September and November when there is less rain and the harvest is in its full swing.
How to Get to Ban Gioc Waterfall
From Hanoi to Ban Gioc Waterfall
To get to Ban Gioc Waterfall, you can rent motorbikes or cars to drive from Hanoi because Hanoi and Ban Gioc Waterfall are only about 370km apart and each means of transportation will give you their own advantages. If you travel by motorbike, you can be flexible in time and stop at the beautiful roads before reaching Ban Gioc waterfall. You can also go by coach, a good thing when you take the coach is traveling time will be faster, within about 9 hours. The price of a coach ticket from My Dinh bus station or Luong Yen bus station to Ban Gioc waterfall ranges from VND 190,000 – 210,000.
From Cao Bang City to Ban Gioc Waterfall
A national highway called QL3 is the easiest and quickest way to reach Ban Gioc Waterfall from Cao Bang Province. The motorbike will give you the best experience of spectacular views along the route, which is available in most of the hotels and guest houses for nearly $10 per day. Besides, bus and motor taxi are available in the city center at a reasonable price for a movement to the waterfall. Some tourists go hiking to enjoy the pristine nature in Cao Bang.
Ban Gioc Waterfall Accommodation
There are a number of hotels and homestays for your accommodation in Trung Khanh town, Cao Bang Province, which may rate from 20 USD per night. Sunny Hotel, Thanh Loan Hotel, Bang Giang Hotel, or Saigon Ban Gioc Resort are common accommodations for tourists.
Specialties in Ban Gioc Waterfall
Coming to Ban Gioc waterfall without trying Cao Bang cuisine will be a big mistake. Seven-flavored Cao Bang roasted duck will be a dish that when someone has ever tried will have a good compliment. Unlike other roasted duck, to have a delicious famous dish of Cao Bang roasted duck, the picking duck to processing and the marinated duck meat with 7 characteristic flavors should be done meticulously.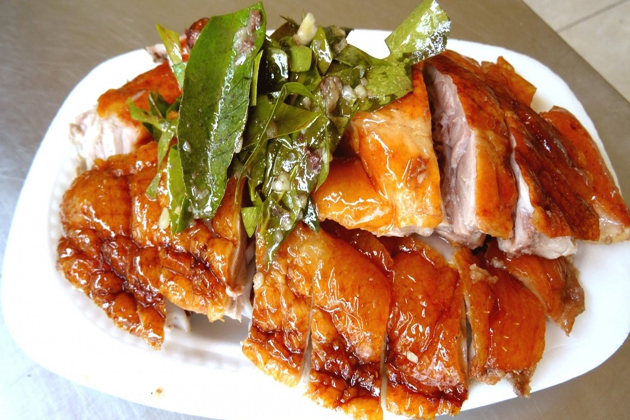 You can also try the delicious taste of Trung Khanh chestnuts. Whether you prepare boiled, roasted, fried, or preserved with leg pork, chicken, the chestnut flavor still remains. Eating Trung Khanh chestnuts will make you feel like enjoying the nature of Cao Bang in the heart. In addition, Ban Gioc also has many amazing dishes such as canarium sticky rice, specialty rice cake Khau Sli, ant eggs cake, Khao cake, sour Pho, or bee larvae porridge. When you have the opportunity to enjoy these dishes, you will feel extremely strange delicious taste thanks to the mountainous flavor here.