Things to Do & See
Best Time to Visit
At A Glance
Travel Guide
Top 8 Things To Do & See in Hue Tours
Hue Imperial City
Located on the northern shore of Huong River, the Forbidden City was the home and working place of Kings and the royal family of Nguyen Dynasty (1802-1945). The citadel is surrounded by high walls buried deeply underground so that no one from outside can intrude the Imperial City. The construction proved the skillfulness and talent of the Vietnamese which can equally compared to the Chinese. Hue Imperial City used to have more than a hundred palaces but the wars destroyed most of them. However, the left ones such as Ngo Mon (the south gate), Flag tower, Long An palace are well-preserved and opened for visitors to explore the architecture and history of Vietnam.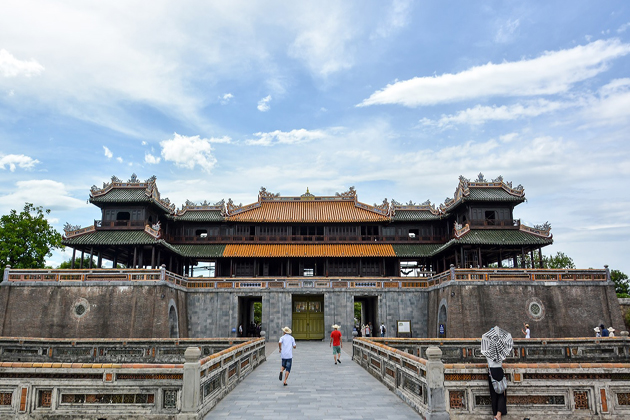 Tombs of Nguyen Kings
Tomb of King Tu Duc (1829-1883)
The tomb is located at Thuong Ba village, Thuy Xuan Ward, Hue City. In his period, King Tu Duc loved arts and poems so his tomb was built with the artistic and poetic style. Inside the tombs, you will be amazed by its luxury and delicacy of every detail which can be considered as the representative of Nguyen dynasty's architecture.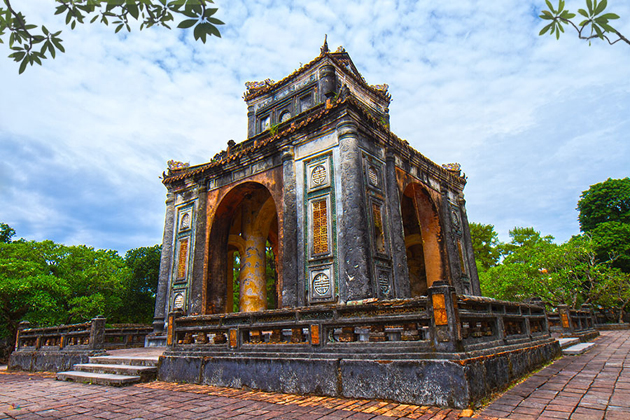 Tomb of King Khai Dinh (1885-1925)
Located in Thuy Bang village, Huong Thuy District, Hue City, the tomb of King Khai Dinh is different from the architecture and style of his ancestors' tombs. The construction was inspired by French, Roman, and Indian art and architecture which is similar to his time and characteristics of King Khai Dinh – the melting pot of Western and Eastern cultures.
Thien Mu Pagoda
The pagoda is on Ha Khe Hill near Huong River, 5km to the West of Hue. It was built in 1603 in the period of Lord Nguyen Hoang (1525-1613). After completion, Thien Mu pagoda became the symbol of the prosperity of Buddhism in Vietnam at that time. Up to now, it has still maintained the ancient construction such as Phuoc Duyen (1844) tower or 2-ton bronze bell from the period of Lord Quoc (1691-1725).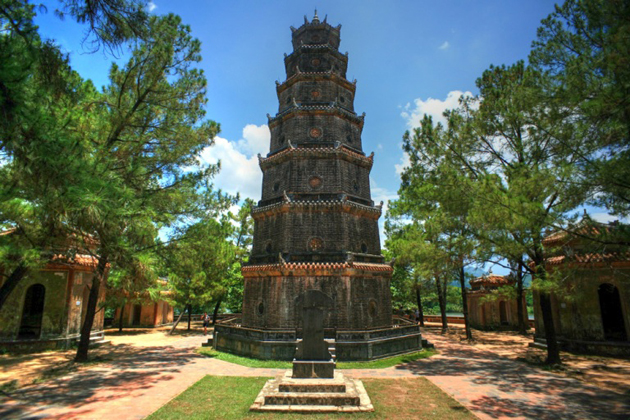 Relax At My An Hot Springs
My An Hot Springs may be on the top list of ideal places to relax after a long trip to visit a chain of highlights in Hue tours. It offers therapeutic mineral water treatments, spa services as well as the modern accommodations in large traditional houses. Hit this place on Saturdays when it is full of festivals to soak into the colorful atmosphere. If you prefer a quiet space you should go there during the winter months when the accommodation is quite decent.
Shop At Dong Ba Market
Shopping around is one of the most relaxing things to do in Hue tours. Spend a half day in Dong Ba market is the best way to discover Hue city via local specialties. It is the heaven of traditional crafts which reflect the ancient cultural feature such as Hien Luong scissors, Phu Cam conical hats, Nam Thuan sweets, etc. Dong Ba market also enchants tourists by a ton of tasty street foods that you cannot find anywhere else such as clam rice, sour shrimps and so on. Visit this bustling market to immerse yourself in the culture of Hue. Do not forget to pick up some unique souvenirs like for your family members or friends.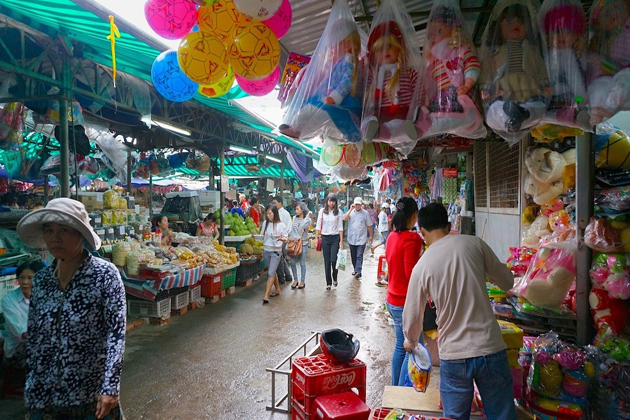 Explore Hue By Bicycle
Thanks to less traffic than other major cities in Vietnam, Hue is one of the best city for cycling. The popular route is riding along Huong river, over the Truong Tien bridge, and into the 200 years old Citadel before heading to the city center to soak up a series of coffee shops, fashion boutique, motorbike repair store, and hairdressers. Another perfect choice is riding around the suburb of Hue to admire a scenic landscape and enjoy the fresh air. Visitors also can join in a cycling tour riding from Danang, along the stunning coast road and climbing up to Hai Van pass. Riding about more 30km and stop at a sideroad restaurant to get a bite before heading to Hue. That 's such an amazing experience in your Hue tour!
Swim At Thuan An Beach
Located in Phu Vang district, Thuan An beach is an extremely enjoyable destination for travelers after a long day of exploring Hue attractions. It is also an ideal place to admire the pristine landscape, feel the fresh air, enjoy sea-bathing and relax. In addition, you and your friend can camp at the beach and visit Thai Duong temple which worships Thai Duong Godness and whale - a sacred animal of locals.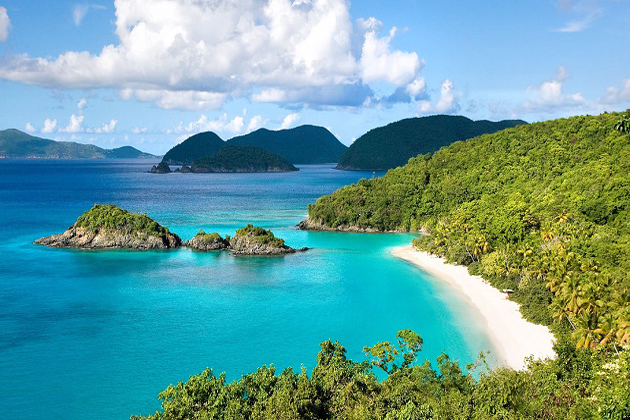 Jungle At Bach Ma National Park
Bach Ma National Park is well-known for its biodiversity with over 140 species of plants, including orchids and ferns as well as more than a hundred decaying French villas. Bach Ma guarantees you an exciting experience with a lot of fun activities such as camping, rappelling, trekking, or wandering through that jungle in order to explore the beauty of flora and fauna of Bach Ma. The best time to head to Bach Ma National Park is in February when the famous Rhododendron simsii blossom vividly along the winding streams and at the bottom of Rhododendron waterfall. Visiting there from June to August if you want to escape from the heat of summer.
Top 5 Mouthwatering Dishes You Must Try In Hue Tours
Hue-Style Beef Noodle Soup (Bun Bo Hue)
Bun Bo Hue is the most famous delicacy which you can taste in any sideroad restaurants in this elegant city. The ingredients to make this special dish include pork bones, noodle, lemongrass, red annatto-see-colored oil, shrimp paste, chili and different spices. A bow of Bun Bo Hue is a harmonious combination of pork knuckle, soft white noodles, fresh beef slices, a vibrant spicy broth, veggies, and the texture of the blood of duck. As with many Vietnamese noodle dishes, Bun Bo Hue is also served with a mountain of herbs, bean sprouts, shredded banana flower, shredded cabbage, and shredded lettuce.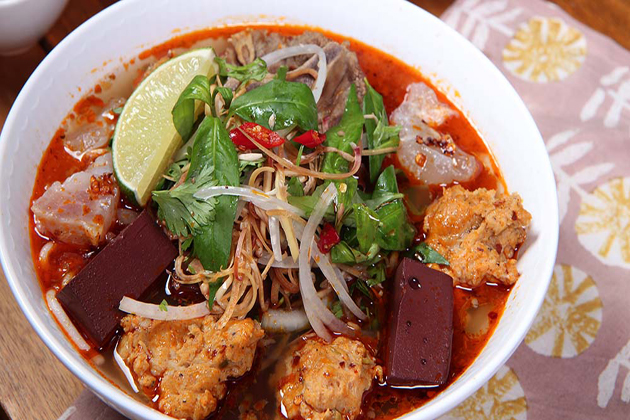 Rice with clams (Com Hen)
You absolutely must taste rice with clams if you are in Hue. This dish is a mild combination of pork fat, onion, chili pepper, star fruit, Vietnamese coriander, mint, rice and taro stems. Stop at a sideroad restaurant to enjoy a bowl of " com hen " - the balance of saltiness, sweetness, sourness, and spiciness.
Hue Style Sweet Soup (Che Hue)
Hue Style Sweet Soup (Che Hue) is the perfect combination of condensed milk, mung bean, and jelly. Actually, there are various versions of Che which made from different ingredients such as black-eyed peas, tapioca, red kidney beans, lotus seeds, aloe vera, sesame seeds, jelly, taro, fruits like longan, jackfruit, mango durian, and lychee. If you have a chance to visit Hue City, make sure you will not miss four famous and unique versions of Che Hue including Che with lotus seed tastefully wrapped within longan, Che with purple sweet potatoes, Che with floating sticky rice cakes plus with shrimp, and Che with rice pastry and bean.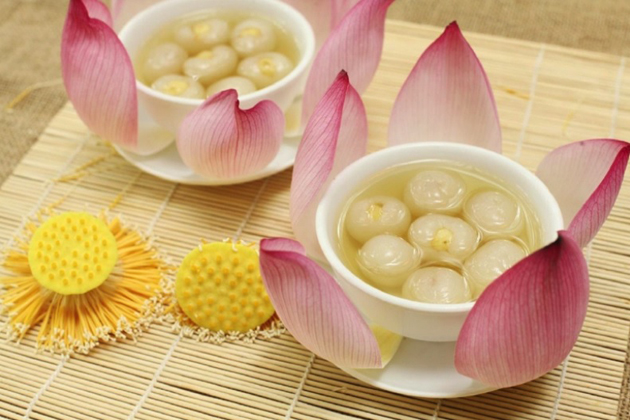 Wet Cakes Grilled Meat (Banh Uot Thit Nuong)
"Banh uot thit nuong" is a great specialty of Hue that tourists cannot miss when coming to the ancient capital land. To make the shell of this dessert, the locals will mix rice flour with chestnut starch or cassava starch in proper proportion. And then the shells are carefully wrapped in the roll, filled with grilled beef or pork and fresh herbs. Dip the rolls into the special sauce – a combination of Vietnamese fish sauce, freshly sliced chilies, lime juice, and garlic to enjoy the perfect flavor of this delicacy.
Bloating Duckweed - Shaped Cake (Banh Beo)
Bloating duckweed – the shaped cake is simple, rustic but special with the attractive fragrant of rice flour, the sweetness of fried dried shrimp, and the spiciness of the dipping sauce. The name "Banh Beo" refers to the shape of the cake which is thin, rounded like the duckweed and you can easily realize that "banh beo" in Hue is thinner than that in other provinces. Taste this dish with the sour and spicy sauce… yummy! We hope that after reading this article, you will get some ideas for your Hue tours.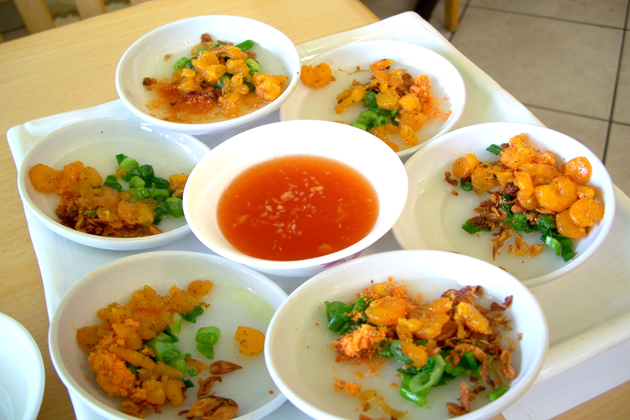 Weather in Hue
Hue's weather is intermediate between Northern and Southern Vietnam. The average temperature is about 25
o
C. The city has two distinct seasons: the dry season (from December to May) and the wet season (from June to November).
Best Time to Visit Hue
January to May: the Perfect Time for a Hue Tour
At that time, Hue is on the dry season when rains rarely happen and the weather is temperate in daytime and cool at night. Most well-known festivals in Hue are organized during this time such as Tet Holiday (in February) or Hue Festival (in April). You will have a chance to enjoy cultural performances, traditional music shows, royal arts, and delicious local dishes. Besides, comfortable weather makes the sightseeing on your Hue tour at destinations in the city more interesting.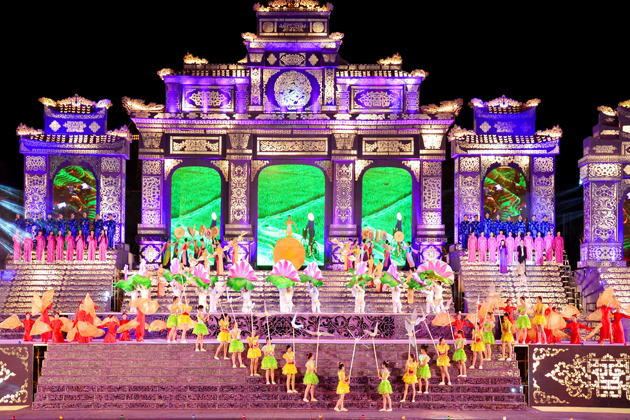 May to July: Exploring the Dreaming Hue
Wet season begins in Hue on these months. However, visiting Hue on this occasion is still possible. The sunlight together cool breeze fills the atmosphere of Hue. Colorful flowers blossoming in the summer contribute to the brilliance of the city. A peaceful and lovely Hue is waiting for your exploration.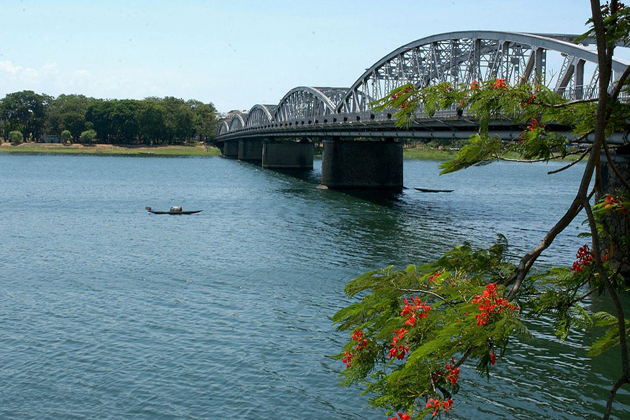 August to December: Experiencing a Different Hue
Rains may interrupt your Hue tour but it also brings a lot of emotions for tourists. There is a ton of indoor activities are recommended in downpours in Hue. You can discover the history of Hue in historical and cultural museums or see Hue ancient streets without the appearance of people in the coffee shops. When it stops raining, you can go out for outdoor activities.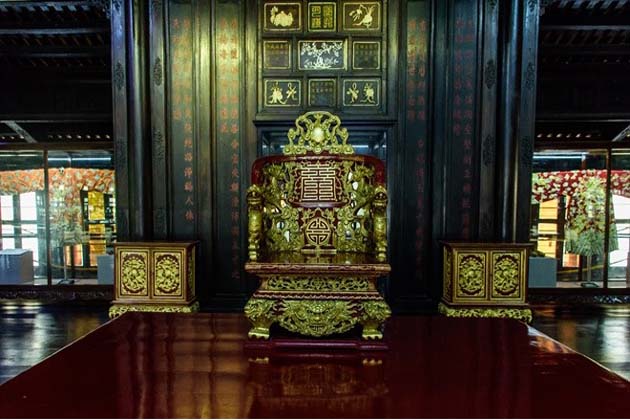 Hue General Information
Location:
Central Vietnam, Thua Thien Hue Province
Population:
Over 450,000 (2018)
Language:
Vietnamese
Currency:
Vietnam Dong (VND)
Natural Condition:
Mostly delta
Mountainous area in the West and North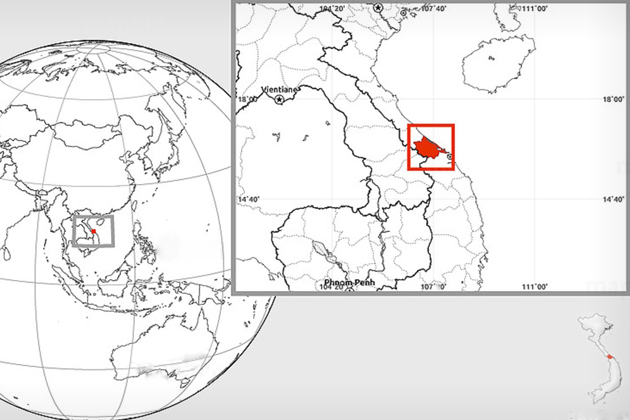 People, History & Culture in Hue
Hue People
Hue people are generally friendly and hospitable. They always welcome tourists by their cheerful smiles as well as polite gestures. Their lifestyle seems nostalgic and treasures traditional values. Women in Hue prefer charming ao dai with long black hair to modern outfits of the 21
st
century. Not as fast as Saigoneers, as energetic as Danang ones or as delicate as Hanoians; Hue people are slowly and rustically like the peaceful home they live.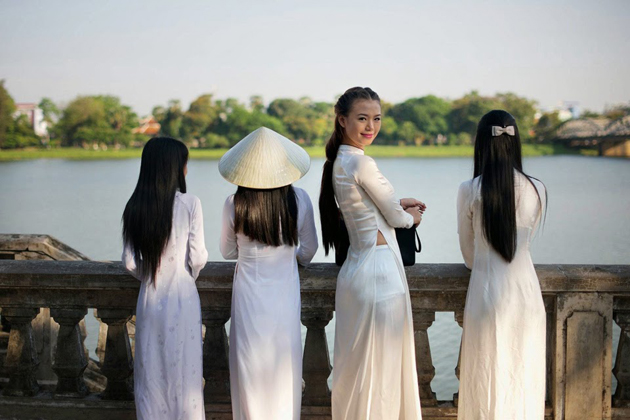 Hue History
In the 14
th
century, Hue used to belong to Champa. In the 17
th
century, Nguyen Lords became the rulers of Southern Vietnam and developed Phu Xuan (the old name of Hue) to be a vibrant city. After conquering all Vietnam, King Gia Long (1762-1820) chose Phu Xuan as the capital of Nguyen Dynasty (1802-1945). Therefore, it owns a lot of historic constructions and cultural values such as Hue Imperial City, Tombs of King Tu Duc (1829-1883) and King Khai Dinh (1885-1925), Thien Mu Pagoda, Hue Royal Court Music, and the diverse Hue royal as well popular cuisine.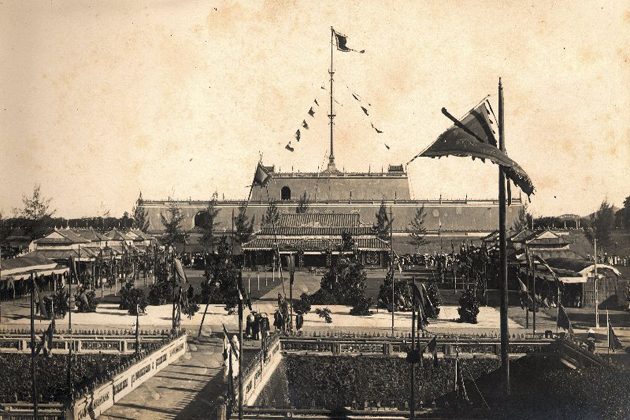 Hue Culture
Over a long period of formation and development for centuries, Hue has integrated the precious materials and spiritual values to create a unique culture. In the process of forming Hue culture, there was an impact of Dong Son culture brought by people from the North before the 2
nd
century. With the cultural addition of Sa Huynh from the South, the melting pot of Vietnamese and Cham culture was established and developed till the 19
th
century. At the end of 19
th
century, Hue culture has been influenced by the flow of culture from other countries such as France, India, China, and Southeast Asia. In short, Hue culture is the perfect combination of cultures all over the world.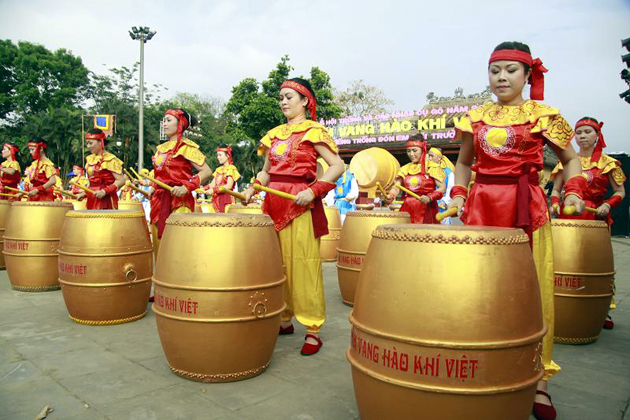 Hue Travel Guides
How to Get to Hue
Plane
Hue has Phu Bai domestic airport so you can arrive at Noi Bai International Airport in Hanoi or Tan Son Nhat International Airport in Ho Chi Minh City then take a flight to Hue. Names of recommendation are Vietnam Airlines and Vietjet. Check their website for detailed flight information.
From Phu Bai Airport, there are two options to get to Hue:
Taxi
(around 250,000 VND/$10 for a single ticket)
Bus
(around 50,000 VND/$5 for a single ticket)
For saving your time and energy, you can fly to Danang International Airport in Danang then travel to Hue (100km) by taxi, train or bus.
Taxi
(around 1,200,000 VND/$50 for a five-seat car)
Train
(around 120,000 VND/$5 for a single ticket) from Danang station (No. 202 Hai Phong Street)
Bus
Daily Travel Mart
Tel: +84 913 140 033 - +84 913 140 033
Price: around 150,000 VND/$8 for a single ticket
BNT Travel

Tel: +84 984 859 723
Price: From 80,000 VND/$4 to 180,000 VND/$8
Train
From Hanoi to Hue
Hanoi station
Address: No. 120, Le Duan St, Hoan Kien District
Tel: +84 43 942 3697
From Saigon to Hue
Saigon station
Address: No. 136 Ham Nghi Street, District 1
Tel: (+84 028) 3846 8701
Bus
From Hanoi to Hue
Travel time: 12-16 hours
Price: 250,000 VND/$10 to 350,000 VND/$15 for a single ticket
Some recommended transportation companies:
Hoang Long Company

Address: 43 Nguyen Huy Tuong St, Thanh Xuan District
Tel: +84 978 600 558
Camel Travel

No. 459, Tran Khat Chan St, Thanh Nhan Ward, Hai Ba Trung District
Tel: +84 943 696 611
From Saigon to Hue
Travel time: About 20 hours
Price: 400,000 VND/$17 to 500,000/$20 for a single ticket
Some recommended transportation companies:
Hoang Long Company
Address: 73 Hoang Long St, Thu Duc District
Tel: +84 925 950 950
Tam Minh Phuong Company
Tel: +84 234 381 0667
Transportations in Hue
Motor
You can consider some companies of hiring motorbike below:
Hue Motor Adventure
Address: No. 35/42 Nguyen Cong Tru St
Tel: (+84) 054 362 4044
Nam Thanh Company
Address: No. 48 Le Loi St
Tel: +84 054 382 8951
Besides, you can ask the hotels you stay for this service.
Taxi
Some famous taxi brands in Hue
Dong Ba Taxi
Tel: (+84) 0234.3.84.84.84
Mai Linh Taxi
Tel: (+84) 0234.3.89.89.89
Phu Xuan Taxi
Tel: (+84) 0234.3.87.87.87
Bike
Renting bicycles in Hue is not only cheap and safe but also friendly to the environment.
Price: 40,000 VND/$2 – 60,000 VND/$3 a day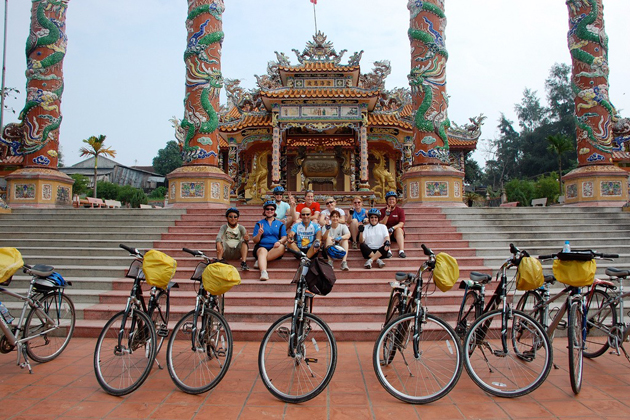 Hue Smile Travel
Address: No. 42 Nguyen Cong Tru St
Tel: +84 935 484 415
In addition, ask the staff of the hotel you stay for hiring a bike.
Cyclo
Another environment-friendly way on your Hue tour is cyclo. The average price is about 20,000 VND to 30,000 VND per hour. You can hire a cyclo easily on the streets in Hue.
Mobile Phone & Internet Access in Hue
The quality connection of mobile phone is Hue is needless to discuss. As the foreign tourists, you need to register with Vietnamese operators such as Viettel, Vinaphone or Mobifone for international roaming service, SIM card purchase, and others.
Internet access and Wi-Fi connection in Hue are available in destinations, café, hotels and other public places.
Useful Information for a Perfect Hue Tour
In wet season
, carry with you a
raincoat
or an
umbrella
since downpour is aggressive and suddenly happen.
Check the weather
forecast regularly to have a suitable plan for your Hue tour.
Prepare plan B
is recommended as the weather in Hue at this season is quite unpredictable. You should choose clothes made of materials which are
easy to dry
and
waterproof
.
Jackets and coats
are recommended especially at night when it gets cold. Besides,
sneakers
will be very useful to keep you from wiping out on slippery roads.
In dry season
, always
bring a bottle of fresh water
to keep you hydrated when exploring outdoors. You can
wear any clothes
fitting your styles. But in religious places, show your respect by wearing
pants
and
covering your shoulders
.
A map
should be included in your backpack for a convenient Hue tour.
When hiring a motor or bike in Hue, check the
brake, horn, lights
carefully. Besides,
note the contact
of the company you hire in case you get in trouble with your vehicle when traveling.
The roads in Hue are quite wide and not too many vehicles so rent
a bike or motorbike
on your Hue tour is absolutely safe and interesting.
Bike and cyclo
are only convenient for traveling in the city center. To go to the destinations in the suburb of Hue,
taxi and motorbike
will help you save time and energy.
Before purchasing for anything in Hue, remember to ask their price first
Hue cuisine
is spicy so if you do not prefer spicy food, ask the waiters/waitress to reduce the spice.
With these informative things, your Hue tour will leave you unforgettable memories. Wish you have a safe and fun travel.