Phan Thiet is a rich mix of geographical wonders, dreaming beaches, vibrant fishing villages, verdant mountains, and astonishing historical relics dating back the 9th century. It is needless to say that travelers have a mountain of things to do and see in Phan Thiet, the capital of Binh Thuan province in southern Vietnam.
The 4 Best Things to Do & See in Phan Thiet
Have Fun at Mui Ne Beach
As one of the most stunning tropical beaches in Vietnam, Mui Ne Beach is a perfect destination for all kinds of tourists. Thanks to the turquoise water and warm weather, Mui Ne beach is a great place for swimming as well as other water activities such as windsurfing, snorkeling, and scuba diving. With the consistently strong winds, Mui Ne is also an ideal place for kite surfing. Hit Mui Ne Beach to have a great time.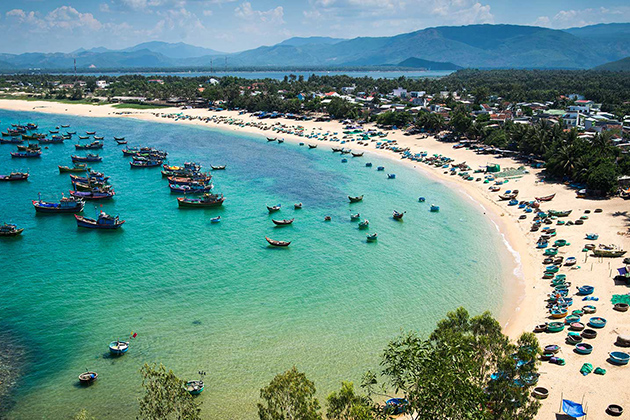 Visit Mui Ne Fishing Village
Mui Ne Fishing village offers you a breathtaking view of the endless coastline lined with swaying palm trees and colorful fishing boats moored on the sea. To avoid the scorching heat, you should visit the village in the early morning or late afternoon. Go to the fishing harbor in the early morning when the fishermen return from the sea to admire the stunning moment of sunrise and to witness the daily life of local people. Visit the village you also can sample a wide range of fresh grilled seafood at affordable prices.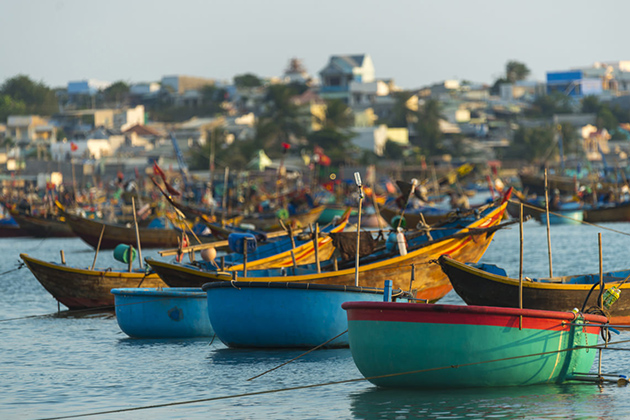 Binge on Mouthwatering Food
If you are in Mui Ne, Phan Thiet you absolutely must try its tasty cuisine. As one of the most famous destinations for seafood lovers, Mui Ne offers a ton of fresh seafood from grilled red snappers, clams to mussels. You also will see many specialties on the menu of many restaurants in Mui Ne such as dishes from crocodiles, snakes, and turtles. Besides seafood, you can taste a lot of fresh tropical fruits such as mangoes, litchis, mangosteens, and papayas. You will see dragon fruits are sold a lot there. Give it a try! Trust me, it's so yummy!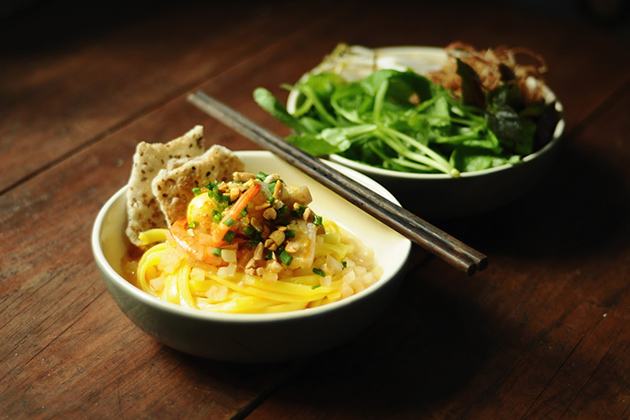 Go Quad Biking at White Sand Dunes
As one of the most exciting activities in Mui Ne, quat biking will give you an amazing experience. Rent a bike to get to the white sand dunes. It's so much fun to go quad biking there. Challenge yourself with the sand dunes of 25km on the rented quad bike. After having fun with quad biking, you can walk to the lotus pond and admire the romantic and peaceful sunset.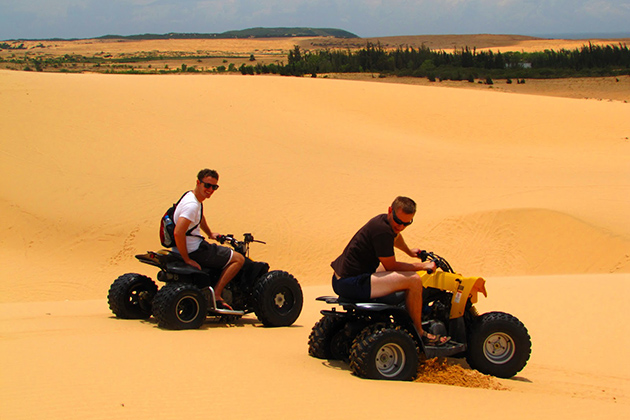 Top 3 Recommended Things to Do & See in Phan Thiet
Head to Red Sand Dunes
If you have enough time to go quad biking at the White Sand Dunes, you can visit the Red Sand Dunes instead. Stretch a few kilometers from the center, Red Sand Dunes can be reached easily by car or motorbike. Sand-sledding is a must-try activity at the Red Sand Dunes. There is a chain of ocean-opposite resorts and hotels next to the Red Sand Dunes. Therefore, after soaking into those sand dunes, you can relax in one of those resorts. Sit at Red Sand Dunes in the late afternoon to admire the amazing moment of sunset. That vivid scene is such a masterpiece of Mother Nature. Take your camera to capture this wonderful moment.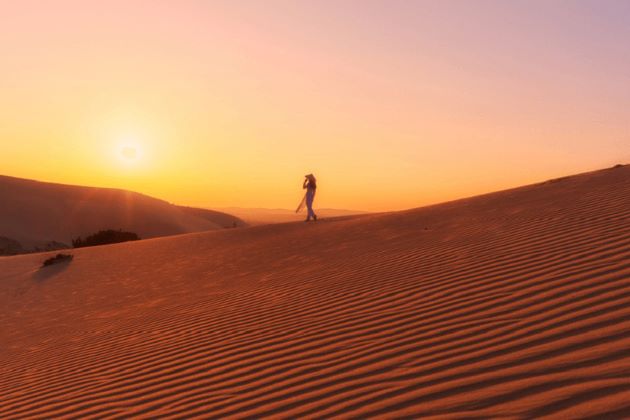 Explore the Fairy Stream
Fairy stream is one of the most wonderful places you cannot miss in Phan Thiet. Surrounded by limestones, this stream gurgles between fishing villages and beaches. Take off your shoes to feel the warm water. After exploring this muddy stream, you can go through green trees and limestone formations to reach the silver waterfall. From the Fairy Stream, you can visit some factories to witness the production of fish sauce.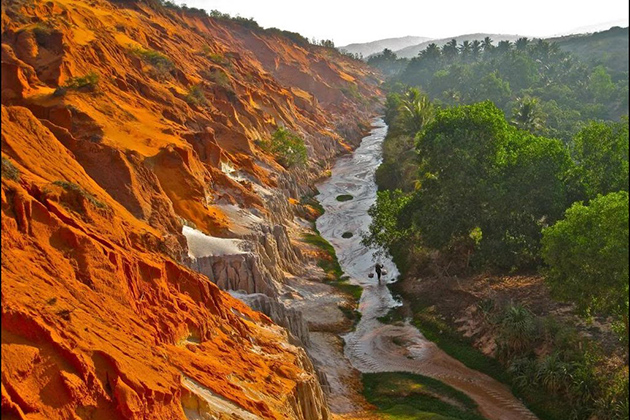 Treat Yourself Nostrils at Fish Sauce Vats
As a popular condiment of Asian food, fish sauce is produced in many places throughout Vietnam. In Vietnamese, fish sauce is called "nuoc mam". Like Phu Quoc island, Phan Thiet is well-known for its special fish sauce made from fresh fish and salt. Visit Phan Thiet, tourists will have an opportunity to visit a factory of fish sauce. Coming to there, you can see the whole production of Phan Thiet fish sauce. It is such an interesting experience you cannot forget. If you like, do not forget to buy some bottles of fish sauce to take back home. Vietnamese people often choose the fish sauce to give friends and relatives after their Phan Thiet vacation. Feel free to contact us to have a wonderful Vietnam vacation!