Like a pearl of Hai Phong City, Cat Ba is known by most visitors with beautiful blue beaches stretching along the banks of sand. However, in this "Paradise of beaches", there are many other interesting destinations that many tourists may not know. One of them is Cat Ba National Park – a place where visitors can enjoy the immense nature of the forest and the sea as well as interesting outdoor activities. With an area of 16,196 hectares, Cat Ba National Park has been recognized by UNESCO as a world biosphere reserve with a rich and unique population of species. With a quite short distance from, why not spend a day in your Vietnam vacation going trekking in Cat Ba National Park if you are a passionate explorer.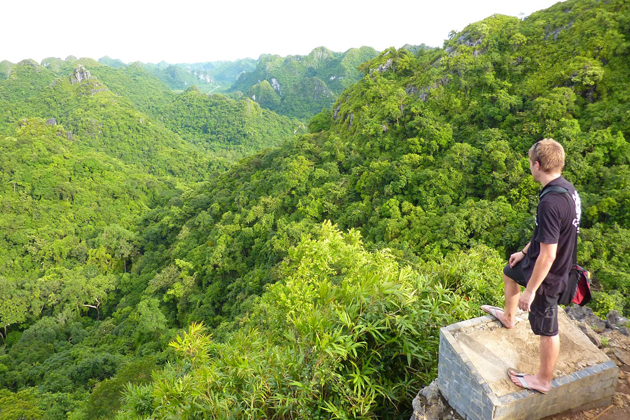 Things to Do and See in Cat Ba National Park
The rich diversity of ecosystems and high biodiversity with many rare endemic species of plants and animals, beautiful natural scenery of primeval forest, many mysterious caves and the sea of magnificent bays, hundreds of islands with many different shapes and a lot of romantic beaches have made Cat Ba National Park become an attractive tourist destination with countless types of activities and exploration.
Cat Ba Forest Ecological Tour
Coming to Cat Ba National Park, visitors can choose different routes with different forest ecosystems to explore the fauna and flora resources of different forest types such as the evergreen rainforests, mangrove forests, limestone karst forests or Kim Giao wood forests. Long routes (4-8 hour trekking and climbing) include Ao Ech – Viet Hai, Clouds – Military Caves; Kim Giao – Me Con – Tung Di. Short routes (2-3 hour hiking) consists of Kim Giao – Dinh Ngu Lam Forest, Trung Trang Cave – Uy Ban Cave, etc. Your efforts will be rewarded with the breathtaking panoramic view of all Cat Ba National Park and an unforgettable adventure in pristine areas.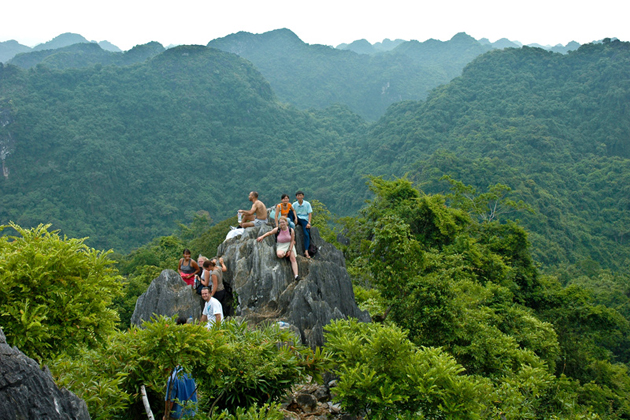 Cat Ba Marine Ecological Tour
In addition to the forest eco-tour activities, Cat Ba National Park is promoting investment in the development of marine eco-tour to serve the need to enjoy the vast marine resources. In Cat Ba National Park, tourists can choose the type of water-based activities in Van Bay, Viet Hai, Van Ta, Tra Bau. Kayaking to explore the bay ecosystem, snorkeling, fishing, swimming or enjoying water sports are the interesting experience you should try.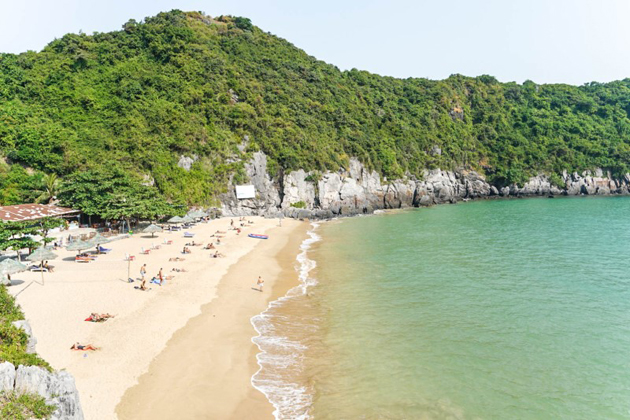 Exploring Cat Ba Caves
The Cat Ba Archipelago was formed by tectonic movement and the rise and fall of sea level millions of years ago. According to the geologists, the Cat Ba archipelago has karst topography, with many caves and cracks. In Cat Ba National Park, there are many unique caves, attracting thousands of visitors every year such as Trung Trang cave, Uy Ban cave, Thien Long cave. The caves are wonderful works sculpted by the hand of natural creation through the tectonic process for millions of years. This unique ecosystem is home to many species of animals and also the place where archaeologists found fossil bones, stone tools of the ancient Vietnamese.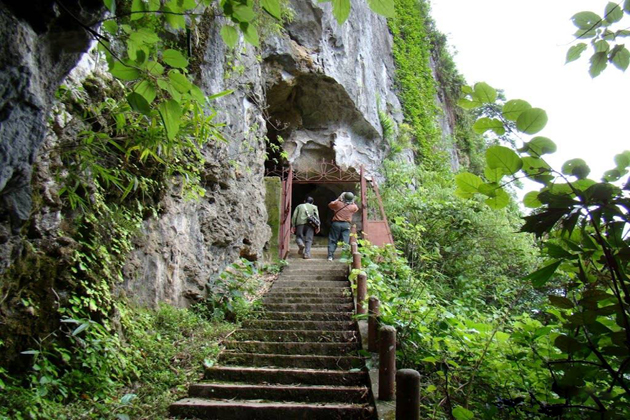 Observing the Diverse Fauna
For visitors interested in observing, studying or exploring animals, reptiles, and insects, Cat Ba National Park is an ideal place. According to the results of preliminary research statistics, Cat Ba National Park has 58 species of mammals, 55 species of reptiles, 25 species of amphibians, and 274 species of insects. Visitors can easily see the primates such as yellow monkey, red face monkey in Cat Island or other areas like Eo Bau, Dong Co, Me Con… Besides, Cat Ba National Park has over 205 bird species, including Hong Hoang, Cao Cat, …. and some birds in the Word Red List of Threatened Species. In Cat Ba National Park, visitors can see not only wild forest birds, waterfowl on the island but also the migratory birds. Remember to carry with you a camera to make a wonderful photo collection of these rare animals.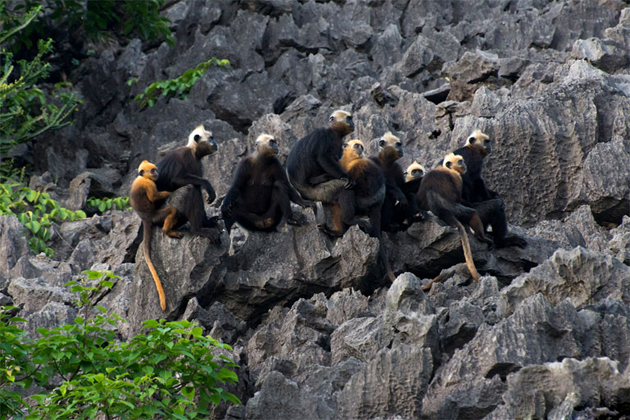 Cat Ba National Park Travel Guides
Best Time to Visit Cat Ba National Park
You can visit Cat Ba National Park any time of the year, but the best time to visit Cat Ba National Park is around April to October. By this time, the weather in Cat Ba is very nice and pleasant, so you can experience exciting mountain climbing activities or discover the most diverse natural ecosystems in the fullest way. One more note for your wonderful experience, local tourists typically come to Cat Ba National Park on weekends and holidays, so that you ought to take your journey on weekdays to keep away from crowds, the possibility of running out of hotels, and increasing price.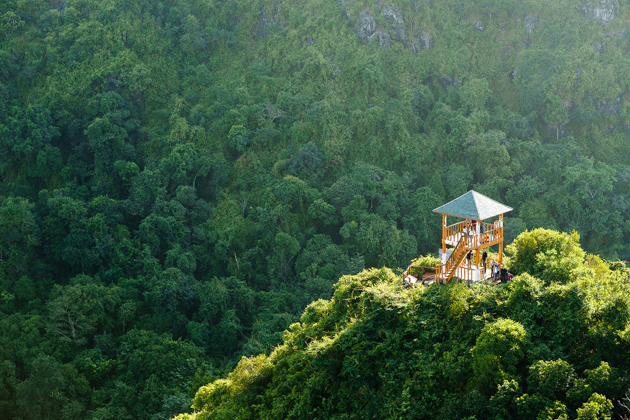 How to Get to Cat Ba National Park
In calculating the distance from Hanoi to Cat Ba island and excluding the passage to the ferry, the distance from Hanoi to Cat Ba is about 160km. Therefore, it is quite easy and quick to set a trip to Cat Ba National Park as an addition to your Hanoi tour.
Drive to Cat Ba National Park
It will be an enjoyable experience for travelers if you rent a motorbike or car to get to Cat Ba National Park. The route from Hanoi to Cat Ba National Park can be divided into 2 stages as follows:
From Hanoi to Hai Phong City
You can start from the center of Hanoi and go by Vinh Tuy bridge or Thanh Tri bridge because the road is airy and easier. When crossing the Red River, you take the new Highway 5 to Hai Duong province then go further about  40km to reach Hai Phong.
From Hai Phong City to Cat Ba National Park
When you arrive at the center of Hai Phong City, turn left to Chua Ve and make sure that you do not go to the city center. At Chua Ve intersection, turn right for 10 km to Dinh Vu ferry. Here, you buy ferry tickets to the station Got. It will take about 45 minutes. Then, you drive for another 30 minutes to go down the ferry connected Cat Hai island and Cat Ba island. Sitting on the ferry for another 30 minutes, you will reach the other side. Therefore, you can choose two routes: around island coastal route or through the primary forest route to drive about 25km to Cat Ba National Park. Each route provides you a very different exciting experience.
Go by Coach and Speedboat to Cat Ba National Park
From Hanoi, you can catch the coach at Luong Yen bus station to go to Hai Phong. The coach also offers high-speed boat tickets to Cat Ba island for you. If you want to go by yourself, you can choose to take a speedboat in Ben Binh (when your coach gets to the foot of Lac Long Bridge, you will take a 5-minute walk to this port). Then, you buy speedboat tickets to Cat Ba.
Things to Remember When Traveling to Cat Ba National Park
In the process of exploring Cat Ba National Park, you have to walk and climb a lot so you should prepare yourself with climbing shoes or a pair of sandals. If possible, just pick up the most needed personal items: drinking water, towels, and climbing sticks.
You should also pay attention to the time to visit because Cat Ba National Park is only open from 8 a.m to 5 p.m.
Smoke, camping fire, and litter are seriously restricted in Cat Ba National Park.