Minh Mang tomb (also called Hieu Tomb – means filial piety) was built under the reign of two Kings – Ming Mang and his successor, King Thieu Tri. The tomb was built from 1840 to 1843 by more than ten thousand workers and soldiers on Cam Khe mountain, near Bang Lang T-junction, 12 km away from Hue Citadel. Visitors can have a boat trip from Hue tours, along Huong river, to reach the tomb.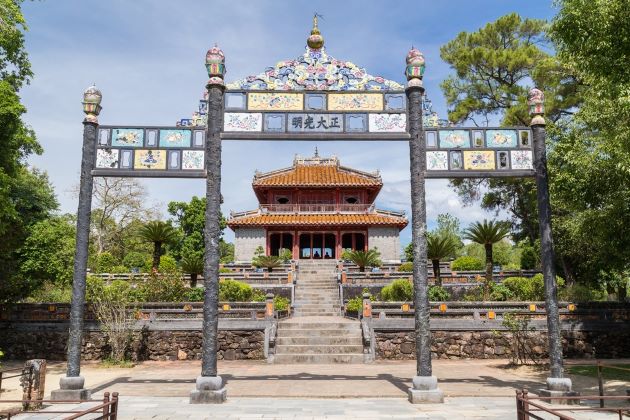 History of Minh Mang Tomb
In February 1820, when Gia Long passed away, his fourth son named Nguyen Phuc Dam acceded and labeled himself King Minh Mang. Not until 1840 did the king decide to construct his tomb in Cam Khe mountain (An Bang village, Huong Tra district) whose name was then changed into Hieu Mountain and call the tomb Hieu Tomb.
In January 1841, King Minh Mang died of illness when the constructions were still on its way. His son – King Thieu Tri acceded and continued carrying out building the tomb based on the former design. In August 1841, the corpse of Minh Mang was moved into Buu Thanh (the circular wall surrounding the grave) and in 1843, the construction of the tomb was finished. Cam Khe mountain, from a wild and separated one, through the hands and creativity of human, has become a majestic tomb with glorious architecture which not only comes along with nature but also is highly appreciated by its spiritual value.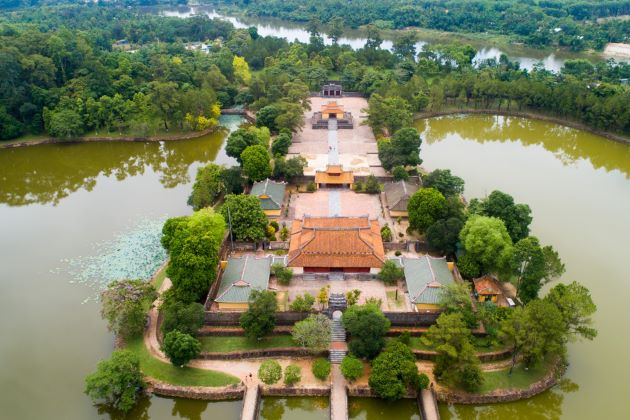 Architecture of Minh Mang Tomb
Minh Mang Tomb is a comprehensive architecture of about 40 large and small works including palaces, castles, temples, etc., which are organized symmetrically on a vertical axis (called Than Dao) from the Great Red Gate to La Wall behind the king's grave. The works are distributed in three parallel axes. In general, the tomb includes some parts below.
The Great Red Gate
It is the main gate with three ways and 24 roofs decorated gloriously. The main way which is in the middle was opened only one time for the king's coffin to pass; the other two on the left and right ones are particularly for others.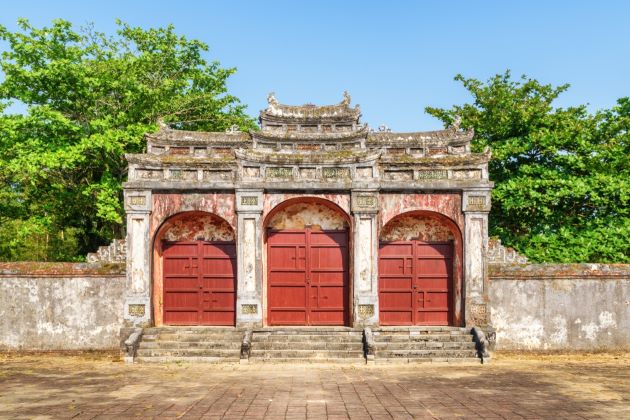 Bi Temple
Located behind the Great Red Gate, Bi Temple is the representative of Vietnamese architecture of religious place. Outside of the temple, there is a large yard with 2 lines of stone mandarins, elephants and horses. Inside of it, there is a stele engraved the script that Thieu Tri Emperor wrote about his father achievements.
Main area
It is the worshiping place for royal family. If you continue to go inside the tomb, you will reach the Hieu Duc Gate and Sung An temple adoring the tablets of the King and his Queen – Ta Thien An Empress in the center.
Minh Lau
Going through 3 bridges – Trung Dao (in the middle), Ta Phu (left), Huu Bat (right) cross Truong Minh lake, you can visit Minh Lau (which means lightening pavilion) lying on Tam Dai Son hills. The pavilion has a square shape of 2 floors and 8 roofs. Two sides of the pavilion respectively stand two pillars on two hills called Binh Son and Thanh Son. Behind Minh Lau, there is a flower garden which is set up based on a symmetric axis to form a Chinese letter meaning longevity.
Buu Thanh (the Surrounding Wall of the Grave)
New moon shaped lake – Tan Nguyet lake embraces round Buu Thanh in the middle. Passing a bridge with 33 stone steps over Tan Nguyet lake, visitors arrive the place where the king rests. It's a hill named Khai Trach Son located inside Buu Thanh.
Apart from its majestic and imposing features, Minh Mang tomb also allures tourists by the captivating beauty of nature which has been somehow distorted to combine harmoniously with the architecture here.