Hoa Lo Prison (or ironically known as Hanoi Hilton) is a historical site in the French Quarter of Hanoi. The prison has been receiving great notoriety because it was under French colonization. Anyone who pays Hanoi day trips or Vietnam tour packages should absolutely visit this destination for more understanding of Vietnam and Hanoi history.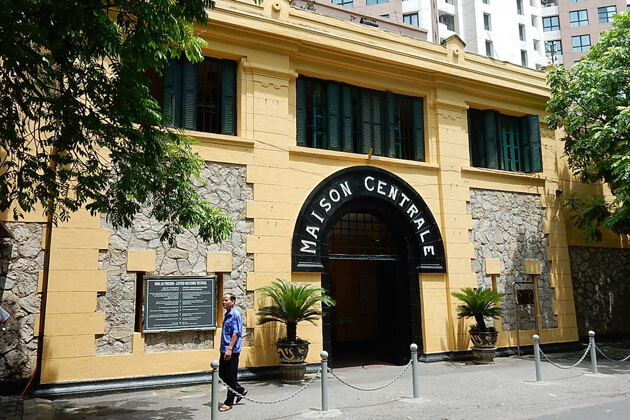 History of Hoa Lo Prison
Hoa Lo prison was constructed between 1886 and 1901 and named Maison Centrale. It was considered one of the three most savage prisons in Vietnam, along with Con Dao Prison and Son La Prison. The prison was designed to hold around 500 prisoners; however, by the 1930s, the number of prisoners had soared to approximately 2000 and most of them were political prisoners. With a large number of prisoners and poor living conditions, the prison became the symbol of "hell on earth" in Vietnam. Later, Hoa Lo was one of the historical evidence of colonialist exploitation by the French. After the Vietnamese government took power in the prison, was the place where captured hundreds of American pilots. John McCain was occupied here for five years and a half as a POW (Prison of War). It was a POW prison between 1964 and 1973.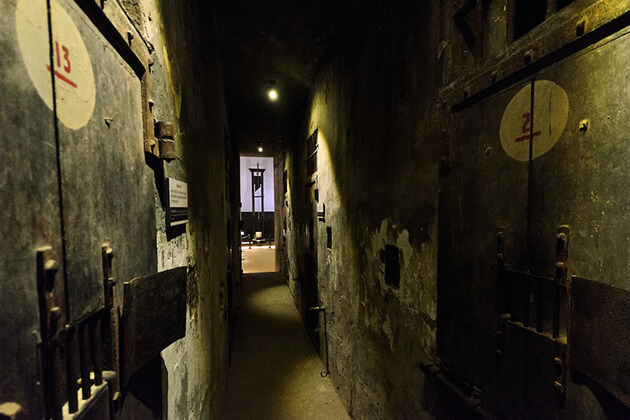 Structure of Hoa Lo Prison
By the time Hoa Lo was built, it was one of the biggest and solid prisons in Indochina, covering an area of 12,908 square meters. The museum nowadays displays quite exactly the original architecture of the prison as it was: a complex with rooms for criminal prisoners, cachets, and cells for Vietnamese political prisoners, a public toilet, a yard, and a kitchen. The prison was divided into two parts: the outer area and the inner area. The outer side included sections for European prisoners, healthcare center, kitchen, guard's camp, and Secretary Office. There were 9 separate sections, which were locked with doors made of tole and iron. The detention rooms were narrow, dark, and dirty while the death rows were the places to keep leaders of the resistance. The prison was surrounded by a 4-meter-high wall topped with pieces of broken glass and bare wire with high-voltage electricity.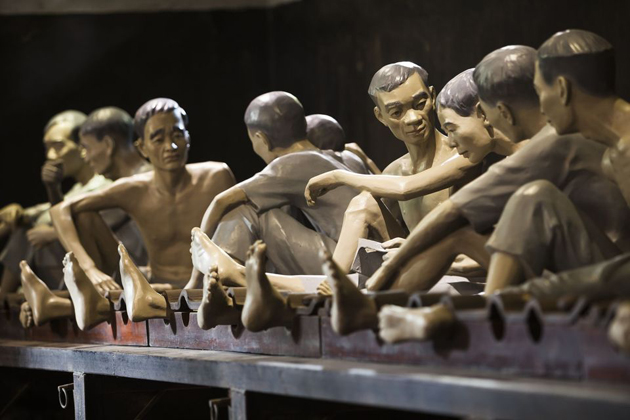 Inhumane Life in Hoa Lo Prison
There were about 25-30 Vietnamese prisoners captured in a shared room where they were fettered almost of the time. They were served with rotten rice, tough buffalo, old sow meat, old sow meat, rotten dried fish, or stunning vegetables. One day, they only had 15 minutes for walking and standing naked around a tank in the middle of the yard to have a bath. If a prisoner made a mistake, they would be moved to a single, tiny, and darkroom where they sat all the time on a sloping cement floor. They suffered a hundred kinds of savage torture that threatened their lives. The prisoners were beaten with boxing, hung up or down, soaked and burned with gasoline, or even beheaded with guillotines.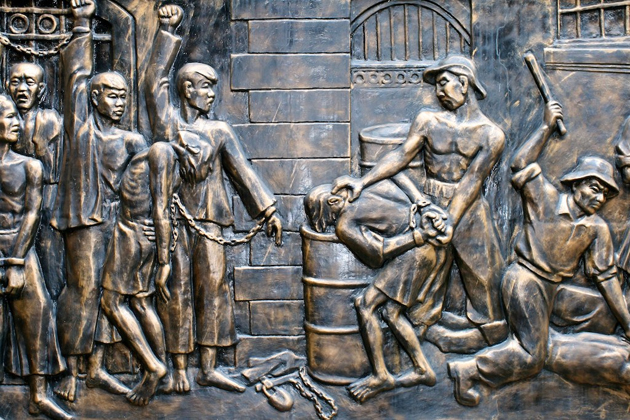 The prison was so solid and unbreakable that in 36 years, no one could escape from prison. The first prison-break happened in 1932 to 7 prisoners. Thereafter, during the Second World War, the French lost and the Japanese replaced the French's position. Taking advantage of this situation, many prisoners escaped from the prison and participated in the revolution. Spend Vietnamese educational travel exploring Hanoi Hilton to broaden the knowledge of the dire war in Vietnam during the French colonial period.
Location of Hanoi Hilton – Hoa Lo Prison Relic
Hoa Lo prison is located at 1 Hoa Lo Street, Tran Hung Dao Ward, Hoan Kiem District, Hanoi (Near the Supreme People's Court)
Hoa Lo Prison Opening Hours – Entrance Fee – Dresscode
Opening hours: 08:00 am – 5:00 pm daily
Address: No.01 Hoa Lo Street, Hoan Kiem District, Hanoi
Phone number: 04.39342253 – 04.39342317
Price ticket: 30.000VND/adults. Students are discounted at 50%. Free for children under 15
Transportation: You can easily catch a taxi or a motor-taxi to get there at a cheap price. You can also catch bus numbers 02, 09, 11, 34, 40, and take a short walk to reach the prison.
You have to guide yourself in prison. The signs are written in Vietnamese, English, and French. You can also make a booking from a reliable tour agency to understand more.
You need to wear elegant clothes
The prison is in the center of the city. From here, you can easily reach other places of interest in your Hanoi day tours such as the Old Quarter, Temple of Literature, Ho Chi Minh complex, or Women Museum.