There are variations of choices for tourists who want to enjoy a real nightlife in Cambodia. And if you wonder which are best places to hang out at night in Cambodia (especially in Phnom Penh or Siem Reap), here are top 8 best recommends in Siem Reap and Phnom Penh.
Cambodia Nightlife in Phnom Penh
Riverhouse Lounge
Built on the riverfront in a French colonial style, the construction is divided into two parts: the relaxing and blowing balcony looking into the Tonle Sap River along with the VIP area for special services and the lively club called The Lounge. This is one of the longest-running nightclubs in Phnom Penh. Each night has a live local DJ and one time a month promotes an international DJ. If you have a long tour in Phnom Penh, check it carefully out for their program, they also have plenty of choices on the drink menu and cocktails are set priced for Cambodia.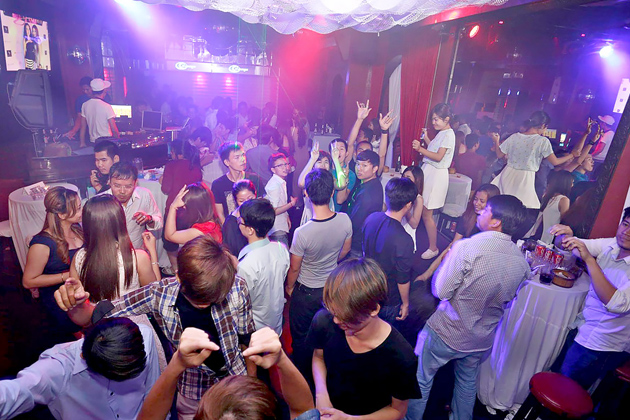 Address: 157 Sisowath Quay, Phnom Penh
Closing time: 3 a.m
Happy hours: 2 p.m to 7 p.m. Buy 1 get 1 free all cocktails and draft beer
The Mad Monkey
Located in the centre of BKK1, the Mad Monkey is away from the main tourist area but always packed. Known as a backpacker hostel for Phnom Penh nightlife, the place still embraces two bars inside including a rooftop beach bar overviewing the city, with the number of cocktails on offer over 40. The free shot is given every hour however the price is a bit more expensive than many backpacker bars in the city. Don't worry, The Mad Monkey will not disappoint you, it has a chilled-out atmosphere and highly qualified service.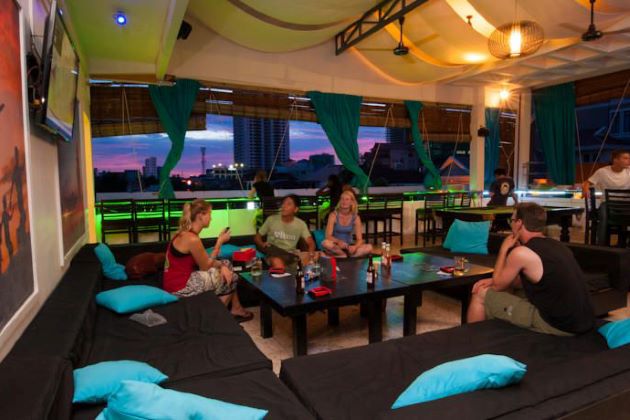 Address: Street 302, BKK1, Phnom Penh
Opening hours: 3 p.m – midnight
Happy hours: 5 p.m to 8 p.m, sometimes changes due to their promotions
Eclipse Sky Bar
Rewarded at the 1st prize for the best sky bar in 2014 people's choice award, the Eclipse Sky Bar, is the highest rooftop bar and restaurant in the city. You can spend a relaxing evening while overlooking the entire city of Phnom Penh with a cocktail in your hand. However, the bar is fully open-air, so it is not advisable during the wet season or in the winter. Especially, every weekend there is a band performing live music from 9 p.m. Similar to any other rooftop bar in the world, drinks and food served are pricier than normal ones, so it is worth preparing money carefully.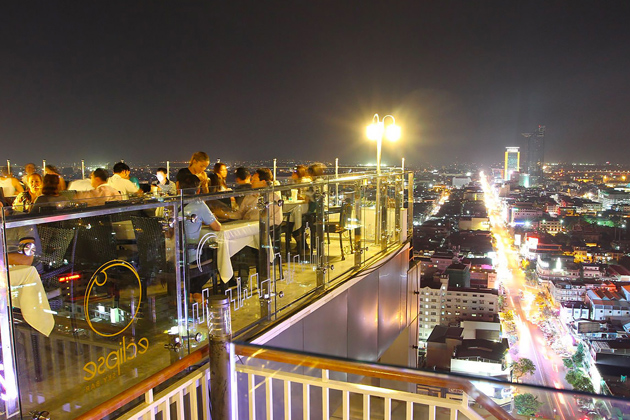 Address: Phnom Penh Tower, 23rd Floor
Opening hours: 5 p.m to 2 a.m
Happy hours: 5 p.m to 7 p.m with 30% sale off all drinks except for spirits or wine
Cambodia Nightlife in Siem Reap
Angkor What? Bar
Constructed in 1998, this was the very first bar on Pub Street of Siem Reap. To 2017 it still a very lively night spot which has the traveller's free graffiti all over the walls. Also, the bar is a bit extraordinary, little atmosphere and blasts generally bland club jams. Besides, Angkor What? Is known for an acceptable price, just stop by for a cheap draft beer or sweet bucket cocktail, visitors will never forget this place due to its careful services and traditional drink.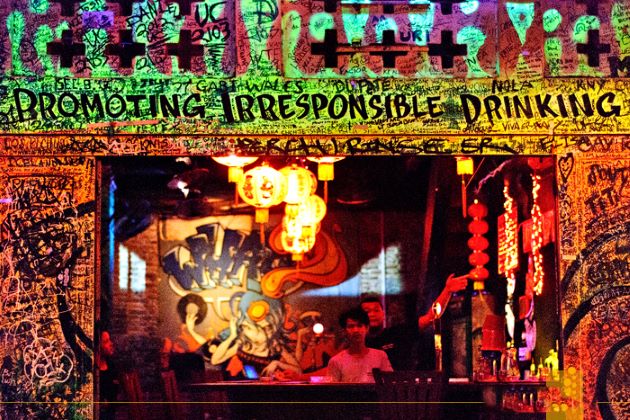 Address: Street 8, Siem Reap 17259
Opening hours: 1 p.m to 4 a.m
Laundry Bar
Laundry is one of the most chilled bars in town thanks to low lighting and discerning decor, this is the place to come for electronica and ambient sounds. It boosts up a weekend or when guest DJs hit up the volume. The bar served reasonable – priced drinks, unpredictable soul music with friendly staff. It is incredible to hear James Brown while sipping a cool pastis (wine with anit) on such a hot night. Laundry is a bit more "grown-up" than any other bars in Siem Reap since it still keeps all the classy outside of the compact Angkor.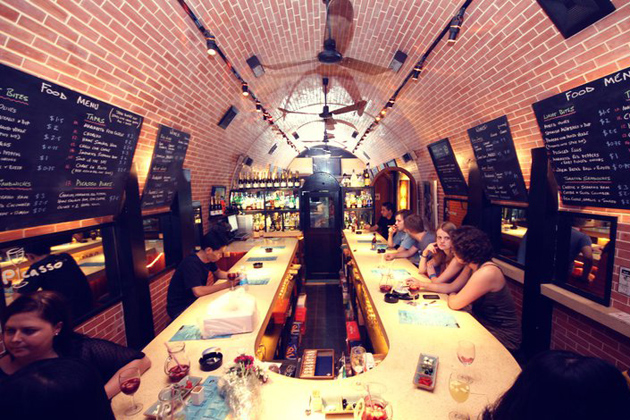 Opening hours: 4 p.m to midnight
Address: Street #9, Pub Street, Siem Reap
Asana
Initially, Asana looks like the newest venue, but when stepping inside, tourists can witness something unique in the nightlife scene in Siem Reap. Asana is one of few traditional Khmer wood houses left nowadays. The owners wanted to re-create the ancient custom that was missing from the nightlife in Siem Reap. Like any other Cambodia houses in the past, Asana has comfortable seats or swinging hammocks for you to feel totally relaxed. Along with the traditional draft beer, wine and cocktails, you can enjoy Khmer home – cooking with finger food and platters.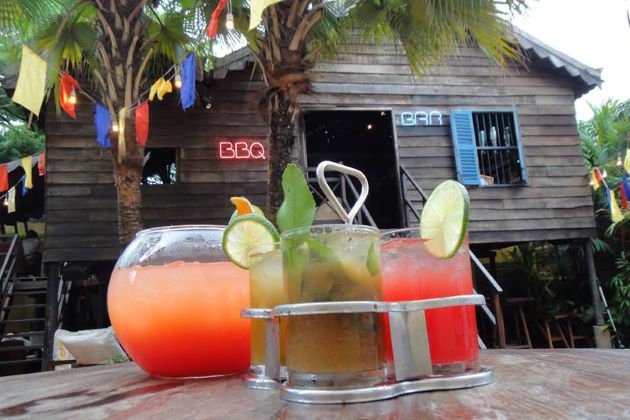 Opening hours: 11p.m to 2 a.m
Address: Street 7, The Lane, Siem Reap
Angkor Night Market
Known as one of the most thriving night markets in Siem Reap, Angkor Night Market is the best place for tourists to pick up some lovely gifts for a Cambodia Tour. Founded in 2007, the first purpose of Angkor Night Market is to preserve traditional Khmer handicrafts and improve the lives of Khmer people, but today it is selling all kind of souvenirs in Cambodia for travellers. The market consists of over 200 bamboo huts showing and selling a wide range of clothing and crafts including paintings, shadow puppets, the recycled material handmade bag… Especially, Angkor Night Market is a five – minute walk from Pub Street so it is an ideal place for tourists those are not fond of the noisy crowded avenue.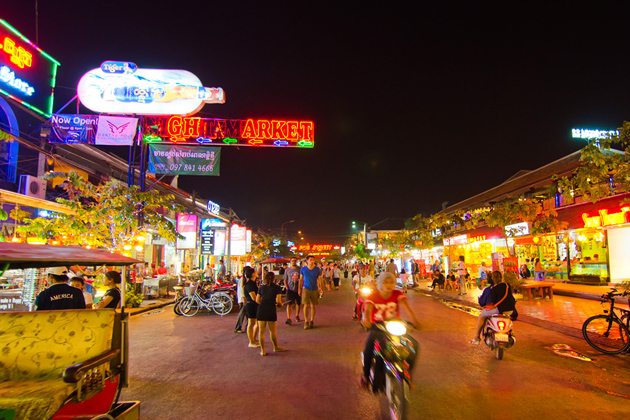 Opening hours: 4 p.m to 0 a.m
Address: Off Sivatha Boulevard, Siem Reap
Cambodia Cultural Village
If you do not have enough time to take a full Cambodia tour to discover all stunning traditions and customs in this country, then you should drop by Cambodia Cultural Village. The village is an expansive theme parking showing the Cambodia lifestyle, beliefs, customs and culture as well as lives of hill tribe group. Covering over 210,000 square metres, it comprises a historical museum with wax statues of prominent kings, queens, ambassadors, monks, ethnic minorities, movie stars or even dancers. Tourists can enjoy a wide range of live performances such as traditional Cambodian wedding traditions, Apsara dances and fishing performances. Especially, visitors can sample authentic Khmer cuisine as well as enjoy pampering foot and body massages.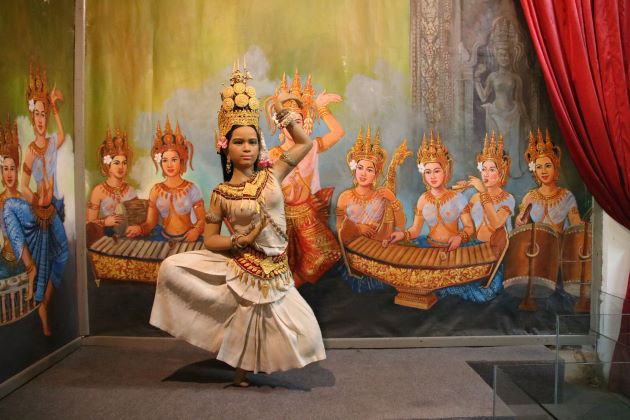 Closing time: 9 p.m
Address: National Road #6, Krours Village, Siem Reap