Vietnam is such a special country that is filled with traditional markets, vibrant streets, entertaining vendors, countless souvenir stalls. They are almost guaranteed to leave you with heavier luggage and a lighter wallet at the end of your journey to this S-shaped country. Read on to discover the 10 Vietnam souvenirs and gifts to buy in Vietnam.
https://www.quatangquy.com/
The 10 Best Vietnam Souvenirs & Gifts
Coffee
Today, Vietnam is the world's largest producer of Robusta coffee. Vietnamese coffee is famous for its preparation and special taste as locals put milk mainly instead of sugar into strong coffee. Therefore, tourists can enjoy themselves in the coffee shops of Vietnam, most of them have a green, fresh and quiet atmosphere. Vietnamese coffee is a great gift idea for coffee lovers, which can also be offered with a typical Vietnamese coffeemaker. To buy coffee and coffeemaker as a souvenir when in Vietnam, you should choose carefully, the best coffee for a gift is the original ones called dried coffee beans.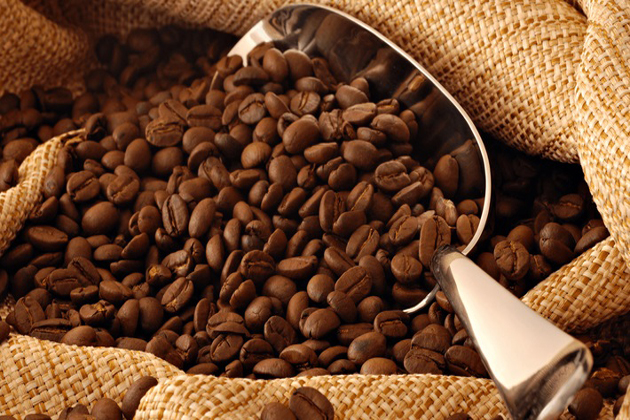 Price: Around USD 2-3 per 100 grams of Robusta coffee. Arabica coffee is much more expensive. And only USD 2 for a coffeemaker.
Where to buy: This souvenir is widely shown in Vietnamese stores and shopping malls. But coffee in Central Highland stands out from the crowd thanks to its premium quality and amazing taste.
Hand-made Home Decor Items
The perfect combination of rustic wood and creative, skillful artists creates unique wood artworks, luxury home decor, and unique furniture. These wine glass holders surely brighten up the living space and raise the inspiration for their owners. Travelers from the USA & Canada can acquire an amazing item after the trip cause it is recently available on Amazon.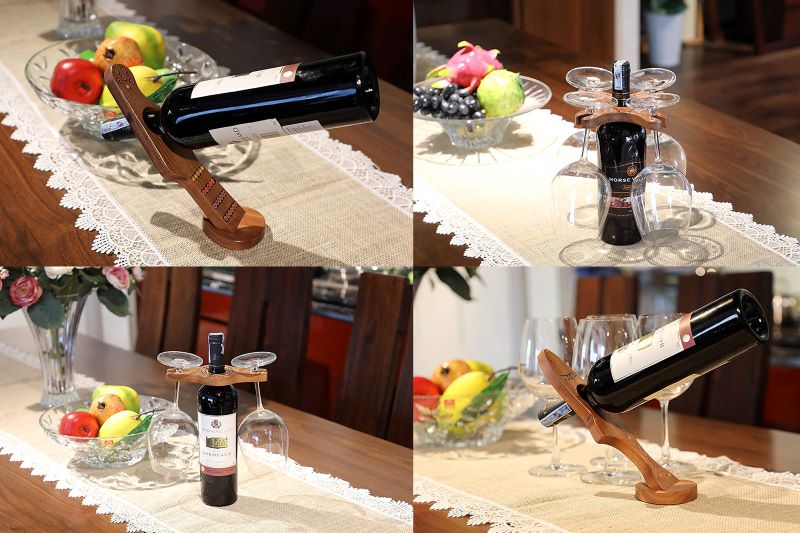 Silk
Be one of the most common materials used daily by the locals, silk is easily met in a scarf, paintings, and many kinds of Vietnamese traditional costumes. Silk in the country is made in traditional handlooms at very beautiful patterns, along with distinguished colors and sizes. Everywhere around Vietnam can tourists buy woven silk or products made of silk, but it is highly recommended for Hoi An town – one of the top 10 best places in Vietnam or Van Phuc Village (nearby Hanoi center). Silk in Vietnam is renowned for brilliance and you can effortlessly find some unique souvenirs to buy here.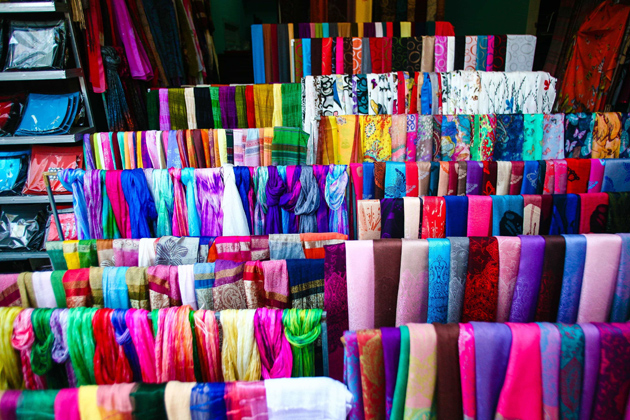 Price: You can buy silk by the meter from USD 4. For clothes and accessories, count at least USD 12. Stoles and scarves are a little less expensive.
Where to buy: Van Phuc Villiage, Hoi An town, Nha Trang city
Ceramic Products
In your Vietnam discovery with Vietnam Tour Company, you will easily find ceramic products at every corner of Vietnam due to its old age of developing and spreading. Vietnamese ceramic products are exported all over the country, and even internationally. It unfolds in various shapes and colors, but the traditional version is characterized by the whiteness of its porcelain. They are often at an affordable price to buy for your friends and family. A reasonable gift for a Vietnam journey should be a ceramic vase, lacquer vase or such variety in a plethora of sizes, shapes, and colors.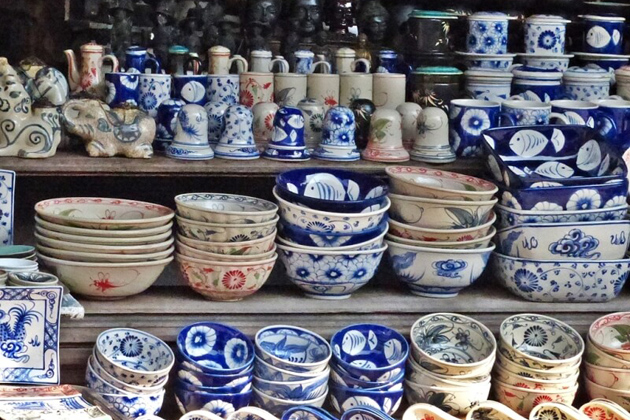 Price: Between USD 5-10 for a cup, it will be half of the price if you participate in a workshop and make the object by yourself.
Where to buy: Bat Trang Ceramic village in Hanoi, Bau Truc Village in Ninh Thuan province
Do Paper Postcards & Traditional Paintings
Do Paper is made from the bark of Do tree, a wild plant normally found around many local riverbanks. It was popular for many years before the modern paper appeared. Nowadays, Do paper is only used for making Hanoi's ethnic greeting cards, watercolors, folk paintings or bamboo-bound notebooks.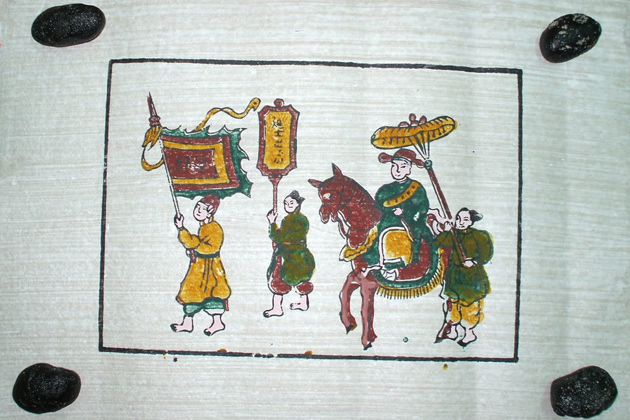 Price: More than USD 2 for a notebook.
Where to buy: Dong Ho village in Bac Ninh province, souvenir shops in Hanoi Old Quarters
Ao Dai
Ao dai has long been the Vietnamese traditional dress for both males and females. It is a tight-fitted long dress worn over long pants. The ao dai is a little bit different in length nowadays for various uses, however, it stays the same design and traditionally made in every corner of Vietnam. Generally, there are two main colors for an Ao dai, one for the long dress itself and a second contrasting color for the trousers worn underneath. Tourists can easily choose themselves and have a tailor specialized in creating Ao dai do the remains.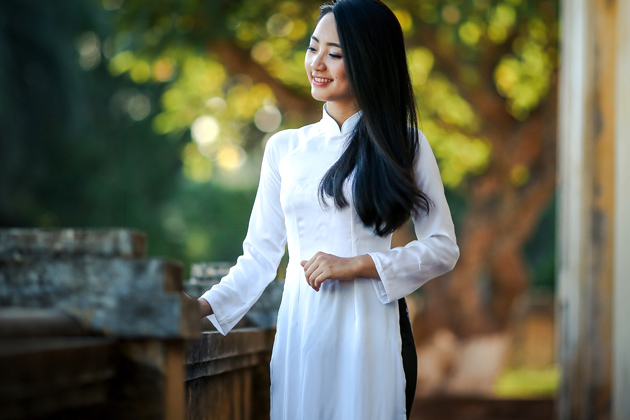 Price: It often takes 5 to 7 days to finish an Ao dai at the cost of at least USD 50.
Where to buy: Ao dai can be easily found in tailor shops in Vietnam
Conical Hat
Referred as a leaf hat or "non la", this is a symbol of Vietnam, which is over 3000 years old. It is a circular cone made of bamboo cataphylls and sometimes is decorated with pictures of flowers or Vietnamese girls on the outside. Non la is usually used by local women or grannies, they use it as an umbrella during rains or as a sun protector during summer days. Also, conical hat is for performance or a fashion item worn with any kind of Vietnamese traditional costumes.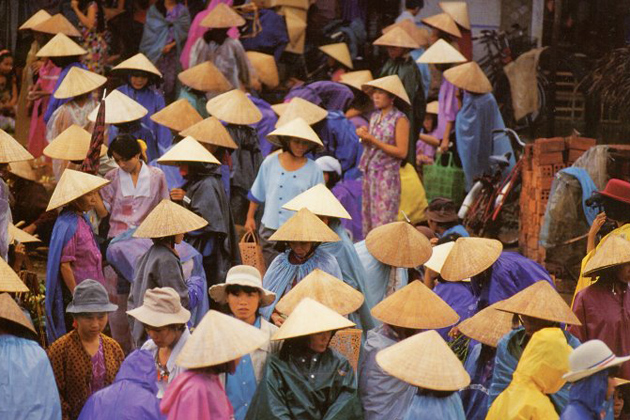 Price: From USD 2 for the simplest.
Where to buy: This souvenir is often sold in traditional markets in Vietnam or souvenir shops
Vietnamese Embroidery
The art of the hand-embroidery piece of clothing and framed silk pictures is an ancient handicraft tradition in Vietnam. Visitors can mostly encounter picturesque natural scenes such as flowers, trees, animals, birds, and even human patiently basted in one colorful thread a one time. Also, daily life scenes and portraits can be created with this old technique. Offered in various hand embroidery shops, the vast variety of designs and patterns along with the vibrant colors and spiritual depth of the artwork usually baffle tourists when coming here. Especially in some shops, visitors can exchange or sketch their individual idea to the artist, who creates a personalized present for friends and family.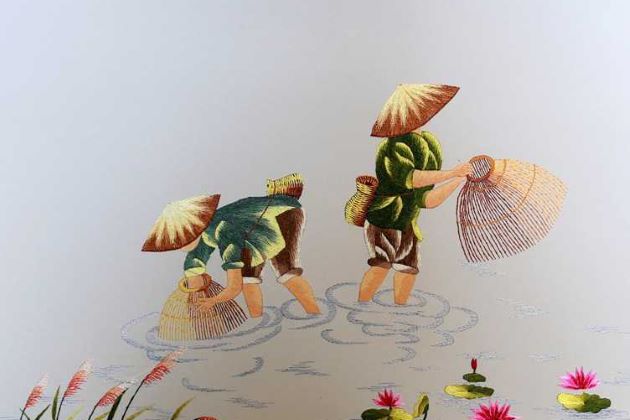 Price: From USD 4-5 for simple creations.
Where to buy: You can buy it at markets of ethnic minorities in Sapa or Ha Giang province
Wooden Clogs
Guoc Moc or wooden clogs are soft of traditional footwear for both males and females in the past. After a thousand years of the feudal period, they mostly remained in a trio of Non La, Ao Dai, and Guoc Moc to increase the gracefulness of Vietnamese ladies. Nowadays, locals use them non-frequently due to the changing of lifestyle in Vietnam and the modernization of society. Then only in cultural activities such as Cai Luong and Ca Tru that people wear Guoc Moc. However, you can still buy wooden clogs at some traditional stores in the country.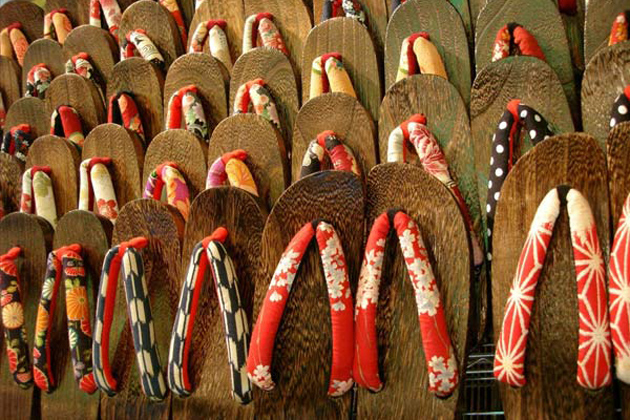 Price: About USD 5-10 for a pair of wooden clogs.
Where to buy: Wooden clogs are available in souvenir shops in Vietnam
Sand Paintings
Sand paintings are the art if pouring colorful sand and powdered dyes on a sticky surface and fixating it later with spray to prevent them from coming off again. In Saigon, people use the 2nd method of forming art called sand painting which is created by pouring the colorful sand between two glass panes or in a specially designed mug or vase. The layers of sand form an incredible piece of art, making a stunning look on every shelf and creating an excellent souvenir to buy in Vietnam. There are four categories of sand painting in Vietnam: landscape, portrait, labor scenes, and the classical art of calligraphy.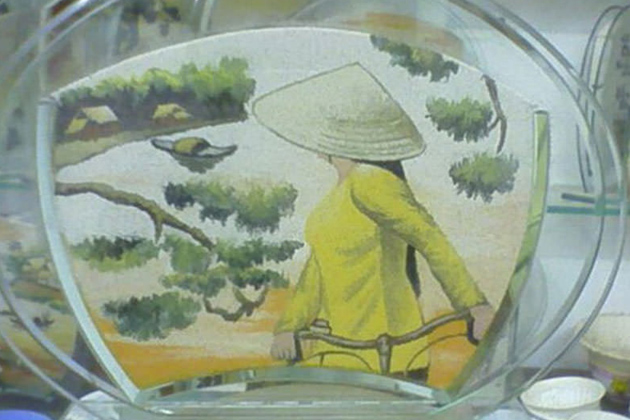 Price: From USD 10 to USD 1000 for a masterpiece, depending on the painting's sophistication.
Where to buy: This typical Vietnam souvenirs can be bought in shops in Hanoi Old Quarters
Musical Instruments
Bamboo flutes and mini T'rungs are very popular among travelers when discovering Vietnam. The bamboo flute is made of a small bamboo pipe and easy to bring back home. The sweet tone of these traditional Vietnamese instruments will thrill your ears and remind you of the most memorable moments from your journey to Vietnam. Saigon or Ho Chi Minh City is the best place for those who are kind of traditional flute play since there are many clubs of students or young flutists playing and practicing every evening.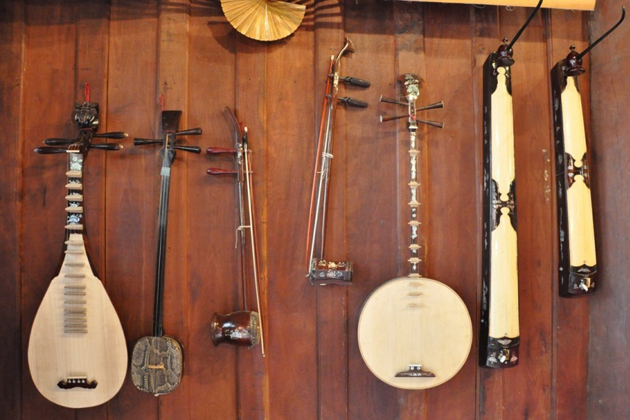 Price: It is about USD 20 for the Vietnamese traditional musical instrument model.
Where to buy: Hang Non st and Hang Manh st in Hanoi Old Quarters; Nguyen Thien Thuat St in Ho Chi Minh City
Bamboo Dragonfly
Bamboo Dragonfly is a unique souvenir that you cannot find it anywhere else except Vietnam. The most special feature of it is that bamboo dragonfly can stand by its mouth on any surface, even on the top of your finger. In some cases, you also can draw on the bamboo dragons in your own way. Your kids would be excited when they receive these cool gifts.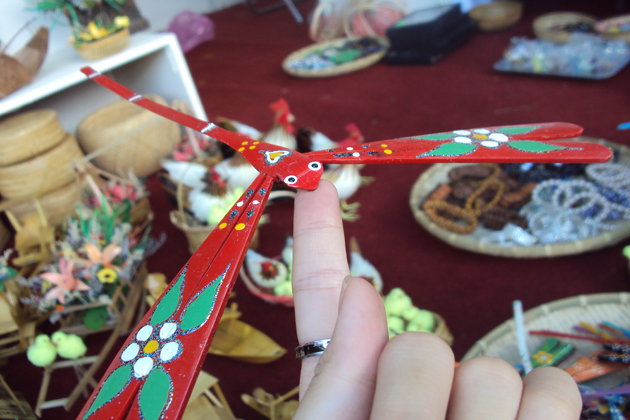 Price: The price is quite agreeable, which is about USD 2-3 for a bamboo dragonfly.
Where to buy: Souvenir shops in Hanoi and Ho Chi Minh City
The Recommended Vietnam Souvenirs & Gifts
In addition to these 10 best Vietnam souvenirs above, the ones below which you can easily purchase in souvenir shops around Vietnam are also highly recommended for you to buy in wonderful trips to this beautiful country.
Hand Fan
In the past, hand fans appeared in any house of Vietnamese people and used to cool off in summer days. Nowadays, visitors can see colorful hand fans in some traditional Vietnamese dances. The materials to make traditional hand fans include paper and bamboo frame while a modern one can be made from silk or other kinds of fabrics. Pick up a vivid hand fan to remind yourself of an elegant Vietnam.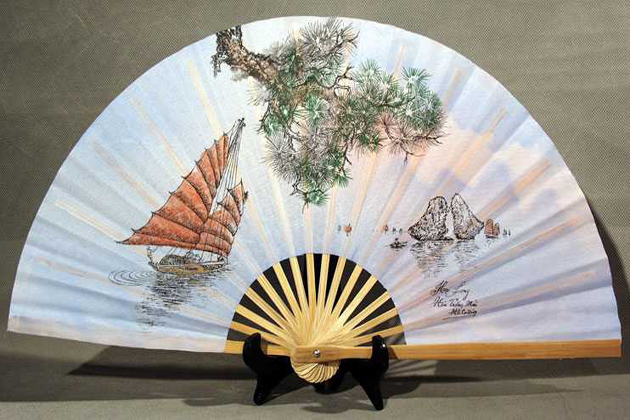 Price: About USD 1-2
Where to buy: This Vietnam souvenirs can be found at Thach That village and Old Quarters in Hanoi
Lacquer
Vietnam lacquer is distinct in its style using resin from the trees, which darkens in the open air. Applied in multiple layers, usually on wood, it becomes strong and weather resistant. In Vietnam, the work of lacquer has been part of the heritage for centuries. Craftsmen are constantly improving their technique, and decorate objects inlaid with mother-of-pearl, gold shells, or even gold leaf. You can find all types of objects in lacquer: trinkets, furniture, or tables. High-quality lacquer item has to go through about 20 manufacturing steps before being sold to the market.
Price: Around USD 2 for smaller items, USD 15 for table sets, and can go up to several hundred dollars for furniture. The price also depends on the length of the process that the object has undergone.
Vietnamese Paintings
Have you heard the Vietnamese paintings and artworks are considered one of the best in the world in terms of art values and profound implications inside? In Vietnam, the Nguyen Art gallery is famous for showcasing the most authentic and original paintings and artworks which absolutely catch your eyes at first sight.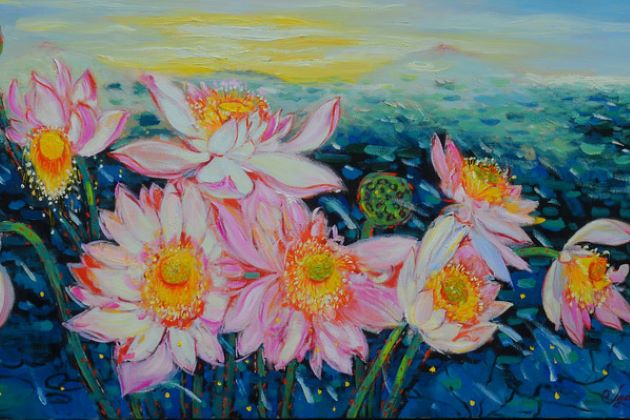 Tea
The tea culture was introduced by the French during the colonization in the 19th century, but it was not until the following century that tea production has really grown. Today, Vietnam is the 5th World tea producer. There are different kinds of tea such as green tea, lotus, jasmine, chrysanthemum, artichoke, and so on. The most emblematic of the country remains undoubtedly lotus-scented tea.
Price: USD 2-3 per 100 grams of tea.
Rice papers
Easy to transport and preserve, rice papers are a must for Vietnamese cuisine. They are used especially for the famous spring rolls. There are two types of rice papers: the soft can be rolled easily, while the rigid must be moistened to be able to be worked.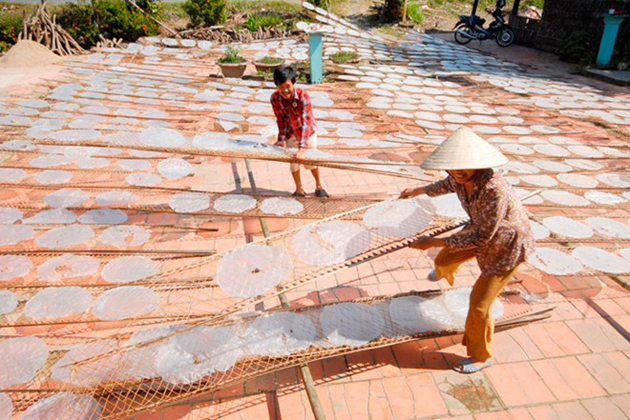 Price: USD 1 for twenty patties.
Propaganda Posters
Reminiscent of the war years, the propaganda posters are now reprinted on media and sold in many souvenir shops. They are not bulky, they are easy to transport and are a nice gift idea from Vietnam, and their graphics are often very unique and impressive.
Price: USD 5 -10 per poster, depending on the size.
Humorous T-shirts
It is a classic souvenir of Vietnam: in all markets of the country, you will find printed slogan t-shirts with humorous logos and diverting famous brands.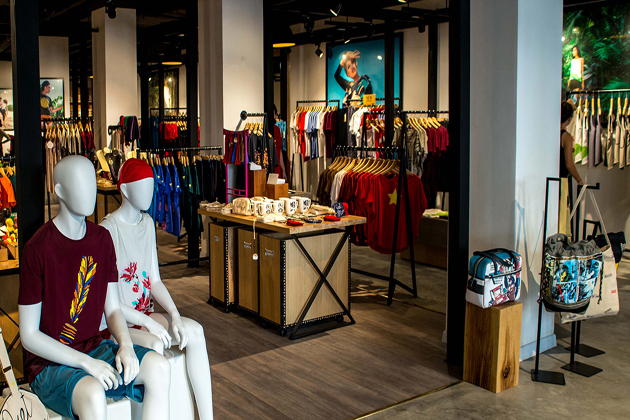 Price: You will need to negotiate to get a good price for these t-shirts, often sold for tourists. It will be around USD 3-4 for a T-shirt.
Calligraphy
Coming from the Chinese tradition, calligraphy was very popular in Vietnam, before disappearing during the war. Today, it takes its place in the heritage of the country. Vietnamese calligraphy uses Chinese ideograms but also the traditional Vietnamese alphabet (Han-nom). It is deployed mainly on vertical supports, where the calligraphers write on demand characters supposed to bring good luck to those who receive them. In Hanoi, the calligraphers settle in front of the Temple of Literature for a month in the Tet period.
Price: Around USD 3-5 depending on the size and quality of the calligraphy.
Pearls
Phu Quoc Island, which is in the south of Vietnam, is known for its pearl production. There are many pearl farming farms. If you have the opportunity to visit this paradise island and want to bring back a beautiful memory, do not miss the pearls.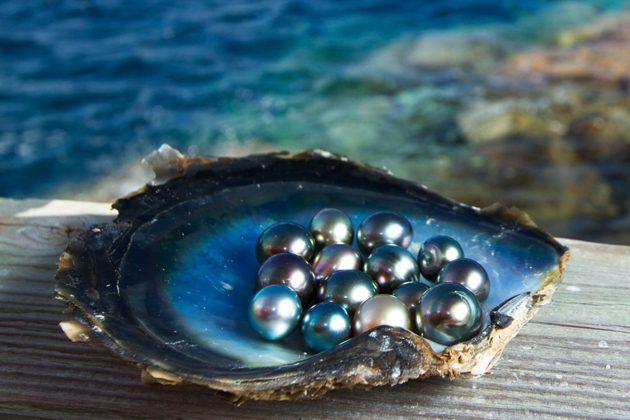 Price: A simple pearl, without frame or jewel, is around USD 10. Prices increase according to the work, the decor, and the materials used for the item. A pearl necklace from Phu Quoc can be worth up to USD 7,000.