A typical question that every traveler deliberate for a few days prior to their vacation is what souvenirs to buy in Cambodia to bring back home? If you are planning to visit Cambodia one day, you might have been no exception. In this article, Viet Vision Travel will give you a well-listed recommendation on things to buy in Cambodia so that you are in no need to worry about that matter so far and take time to think about planning your Cambodia tours.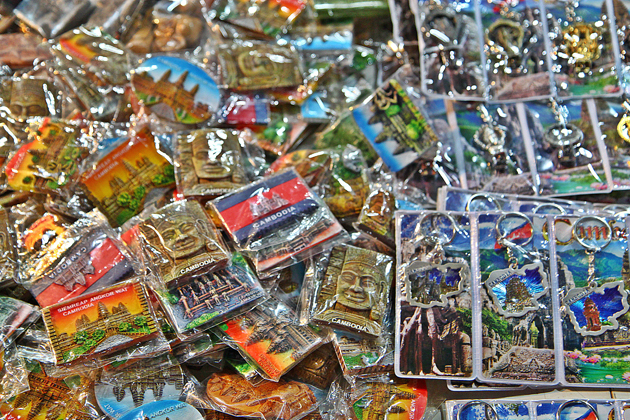 Top 5 Cambodia Souvenirs & Gifts
Pidan Silk
Cambodian is known for its tradition of silk weaving throughout the history of centuries. If you are looking for a feature of Cambodian fashion, it must be Pidan silk. For those who don't know, Pidan is a typical kind of ikat silk used in Cambodian wedding traditions, funerals, or Buddhist festivals. The silk is usually decorated with things related to Cambodian culture such as temples, Buddha, Angkor Wat. However, it is rarely found in Cambodia souvenir shops nowadays and facing extinction. Pidan Khmer is the only place selling Pidan silk with traditional ikat method and natural dyes. The pidan products are made by local residents from Takeo and Kandal provinces and also a program run by CYK (Caring for Young Khmer) – an organization working for the welfare of young children and women in Cambodia.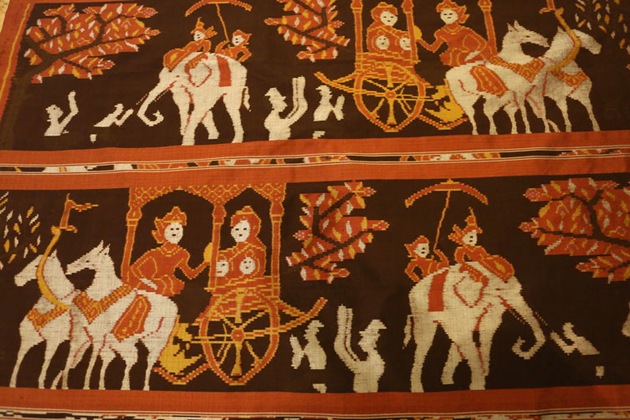 Tailor-made Cambodian Clothes
When it comes to terms of fashion, a traditional custom must be the first ideal for tourists to think about. There are many tailor shops opening in Cambodia especially in Phnom Penh. You can be guaranteed that you have something that Cambodians wear daily no matter what sample and size.
Hand-made Home Decor Items
The perfect combination of rustic wood and creative, skillful artists creates unique wood artworks, luxury home decor, and unique furniture. These wine glass holders surely brighten up the living space and raise the inspiration for their owners. Travelers from the USA & Canada can acquire an amazing item after the trip cause it is recently available on Amazon.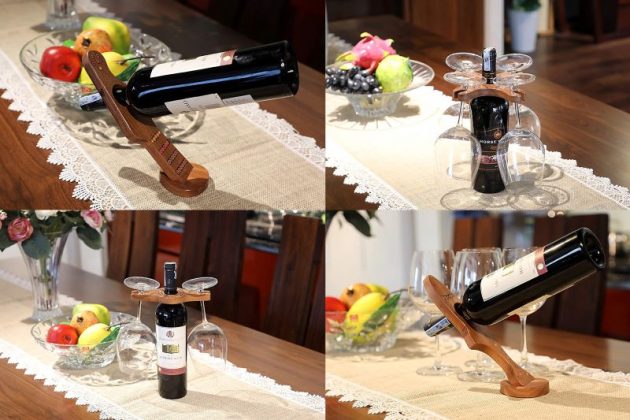 Cambodian Krama
Krama in the Khmer language means scarf. It is incomplete when you miss Krama for your full set of Cambodian custom. If you have heard about "nón lá" of Vietnamese or Turban of Indian men, you may know what Krama refers to. This sole Khmer headwear brings you a hundred ways of using: head tie, head wrap, belt, baby carrier, or just simply a scarf around your neck. Even when you are not a fan of the traditional style, Krama with its wide shade of color can match perfectly with your normal suits.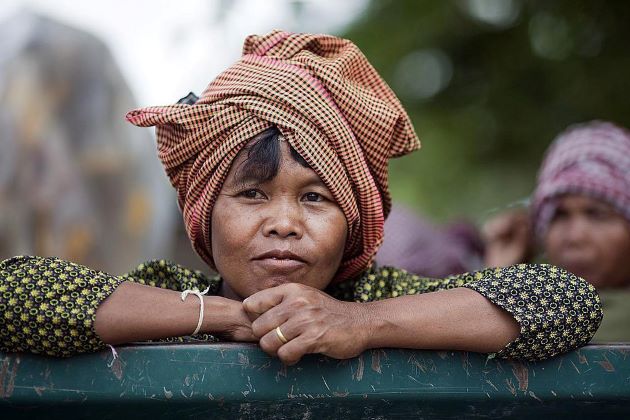 Kampot Pepper
Known for the world's best pepper, Kampot pepper which is grown in Kampot province is featured by its long-lasting taste and appreciated by European chefs between the 19th and 20th centuries for its notably floral and slightly sweet flavor. You can take a tour to visit a pepper farm to see how Cambodian grow such a best kind of pepper and then buy some fresh peppercorns right in their stems. For those who do not have a chance to visit a pepper farm in your Cambodia tour packages, you can also buy dried pepper and other typical ingredients as souvenirs in the local markets or shopping centers.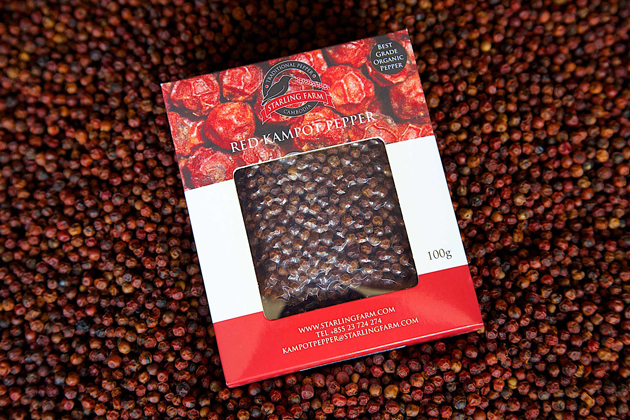 Other Khmer Fashion Items
Cambodian handicrafts are always the best choice for your must-buy list of souvenirs. As these fashion items display a sense of the culture of the country, Khmer tailor-made clothing, crafts, accessories, bags are more interesting than ever, particularly to women.
Silver
The night market in Siem Reap is the best place to buy products made from silver from silverware and silver jewelry to betel nut boxes. Widely used in the 11th century by Cambodian, silver is a popular metal and not precious metal as it is in other countries. However, its unique designs based on Khmer patterns make silver jewelry in Cambodia stunning and truly representative of the country's spirit. What you bring back home is probably not a gift from Cambodia, it's a sense of the country that you have ever landed on.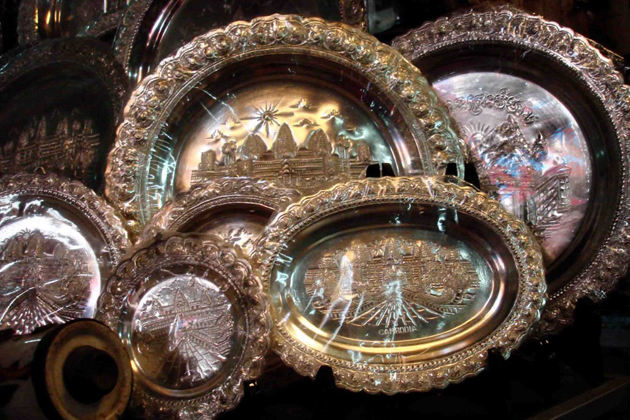 Natural Hand-made Body Products
Want to bring the scents of Angkor as lovely Cambodia gifts back to your home country? Who says it's impossible? A wide range of things for you to consider including soap, massage oils, body cream, and other kinds of scents for example candle, home perfume, and incenses that let your beloved friends and relatives enjoy the air filled with Cambodia sense even when they haven't been there.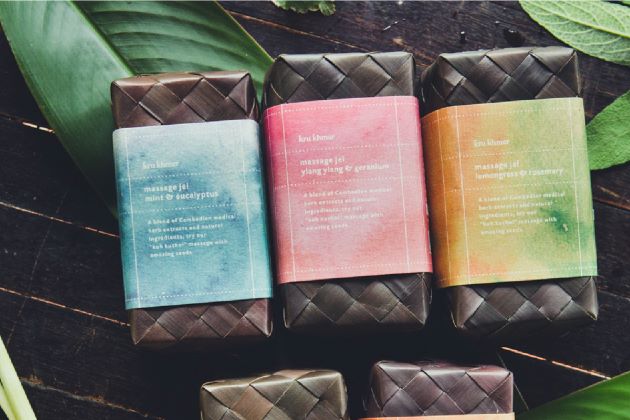 Baskets
Each country has its own way to make basketry items, which is the reason why having something made by local residents becomes precious though you can buy beautiful items at very reasonable prices here in Cambodia.
Sculptured Works
The one that is carefully made by local artists is unique. You may see images of Cambodia cultures such as a small version of a statue, Buddha figures, heads, Khmer patterns through these works.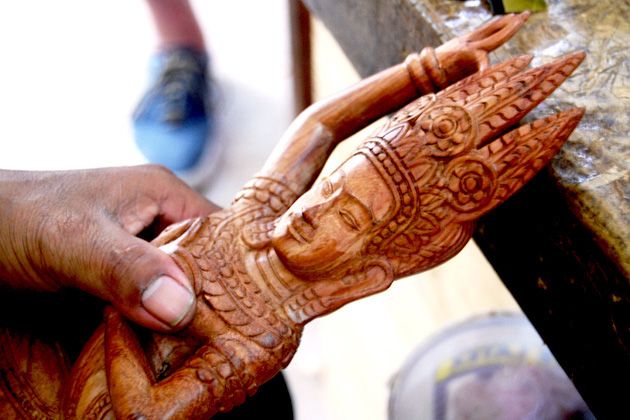 Rice Paper Printed
As we will think about rice paper as an ingredient in spring rolls, now Cambodian makes it outstanding by putting rice paper on the bas-relief carving of Angkor Wat, for example, then rubbing it with charcoal. This decorative, meaningful, and affordable souvenir is totally worth the tourist's money and undeniably must be in the Cambodia souvenirs' list.
Recommended Cambodia Souvenirs & Gifts
Woven Mats
Traveling to Cambodia, visitors will see woven mats everywhere throughout the country. Woven mats can be used to sleep in hot weather, sit in the living room, and pray in the temples. These mats are made from grass, rattan, and other materials. In the past, it takes much time and effort to create an ornate handmade woven mat. Thanks to modern technology, it becomes much faster. Visit some villages in Cambodia like Osmose Project at Preal Toal to buy a beautiful ornate woven mat for your friend.
Betel Nut Boxes
Made from silver with eye-catching ornate design and crafted to different animal shapes, betel nut boxes are a unique souvenir you should buy when visiting Cambodia. These special boxes are not only beautiful decoration but also the reflection of the owner's status. Betel nut boxes are often made by hands because they require complicated and craftsmanship traditional skills.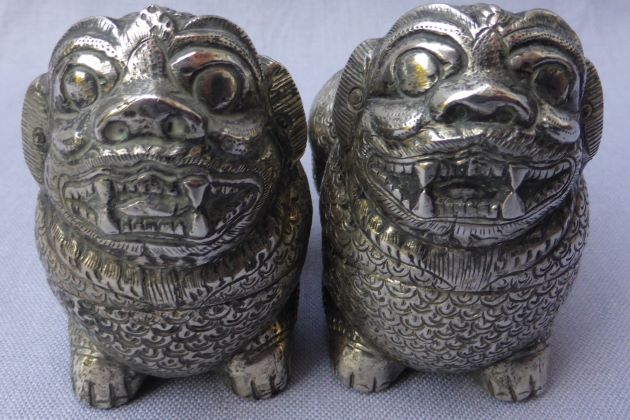 Mekong Quilts
Another good souvenir to buy in Cambodia is the vivid color and beautiful quilts made by the Cambodian women in the rural area. These quilts are not only soft but also durable for a lifetime. Visit Siem Reap and choose a beautiful quilt to take back home.