Do you have a plan to enjoy the Fansipan cable car? Do you know how to have perfect Sapa tours? Here are some tips we want to share with you.
Sapa is much more fantastic with Fansipan cable car
Opened since February in 2016, Fansipan cable car tours have welcomed many both domestic and foreign tourists. Many people are eager for going to Sapa to experience the Fansipan cable car. What did the tourists say about the special cable system with two Guinness World Records?
A tourist said that he have ever thought that he could set his foot on Fansipan peak – the roof of Indochina, but now thanks to the cable car he and his family can stand this 3000 meters height mountain. Many tourists feel very excited though they have gone to Sapa many times and admit that their tours become more interesting with the cable car system.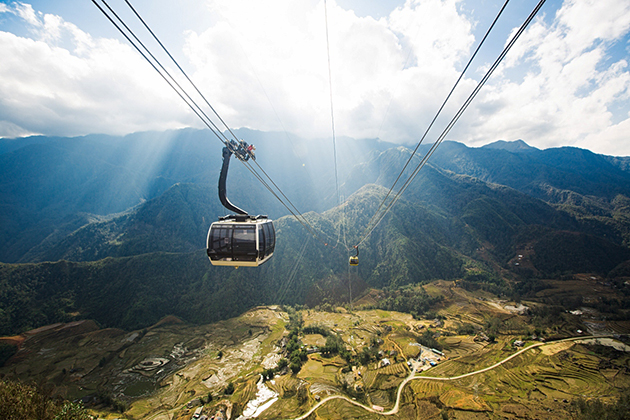 How to reach Fansipan cable car?
Go to Sapa
To enjoy Fansipan cable car you have to go to Sapa first. There are many ways go to Sapa from Hanoi, you can go by motorbike, car or train.
Go by motorbike
Many young people who have the passion for discovering new things and places like going to Sapa by motorbike. However, there are many risks when you drive for over 3000 kilometers long road. Moreover the road to Sapa quite hard to drive with a lot of hills and mountains. Give it a try if you have a good health.
Go by train
There are many trains going to Lao Cai with different qualities and prices. Trains often start at 9 pm or 10 pm and arrive in Lao Cai the next morning. To get to Sapa you have to take a car from Lao Cai to Sapa. Price for an air-conditioned car depart from Hanoi is from VND 500,000 to VND 1,000,000.
Go by touring cable car
If you travel in a group or go with your family, you can rent a 4-seat car, 7-seat car or 16-seat car. The price is about VND 3,000,000 or VND 4,000,000/turn depend on the type of the car.
Go by passenger car
Taking a passenger car to go to Sapa is the best and most popular choice. Since the Hanoi-Lao Cai Highway is opened to the public, the journey by car become faster, more safety and more convenient a lot.
There are many companies offer high quality touring cars which go from Hanoi to Sapa such as Sapa Express, Camel Travel, Queen Café, Sao Viet, Hung Thanh, Inter Bus Liner, etc. With only VND 200,000/ ticket, you can rent a high-quality car with all modern facilities such as leather chairs, air conditioner, TV, free water for drinking, wifi and European standard toilet.
It takes you 6 hours going to the center of Sapa town. You can relax on the car or check into the hotel to relax before sightseeing.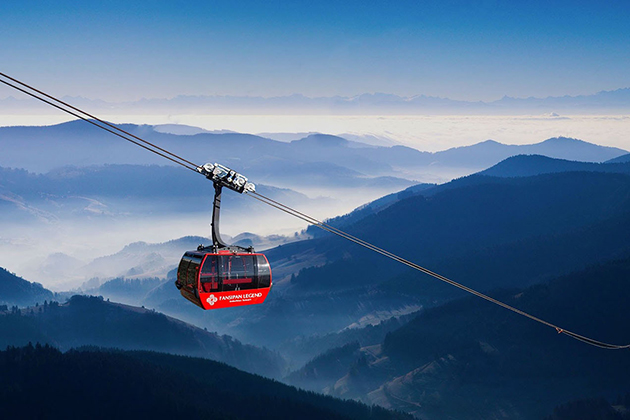 From Sapa town to Fansipan cable car station
Located in Fansipan Legend tourist area, Fansipan cable car station is 3 km away from the Stone Church – the center of Sapa town. You can take a taxi or walk to the cable car station. It takes you about 10 minutes and VND 40,000 for a taxi. If you want to walk to the station you can go from Stone Church pass Thac Bac T- junction, turn left to Nguyen Chi Thanh street and go straight to Fansipan Legend ( about 1.7 km). With many signs along the road, you can get to the station easily.
Buy Fansipan cable car tickets
You can buy tickets at the station, the price of tickets are listed publicly. The price for an adult ticket is VND 600,000, for children who 1m-1,3m in height is VND 400,000. Children below 1m in height can go free. The tickets are circular tickets and are magnetic cards so you have to keep it carefully because you will have to give it back.
Note that, the cable tickets are only valid for use during the day so do not buy in advance to keep tickets if you do not have time to go to Fansipan that day. The best way is when you go to the station to buy tickets directly, now the purchase of cable tickets quite fast, easy, you do not have to wait long as before.
Fasipan cable car itinerary
Each cabling can accommodate from 30 to 35 people, the capacity of the whole system is about 2000 passengers/ hour. Sapa station is in Muong Hoa valley, the station is a 3000 meters high point and very close to Mount Fansipan. The distance between the two stations is over 1400 meters. The cable car journey is 15 minutes instead of climbing two to four days as before.
The journey is not too long, but it is enough for visitors to admire the beautiful natural landscape at the height of thousands of meters. It is the primitive forest Hoang Lien Son, poetic Muong Hoa, the magnificent Hoang Lien Son mountain range, etc.
The higher you go, the more clouds you see, the temperature will also decrease and the wind can make your cable swing a little, do not fear just a little challenge for your courage!
After stopping at the station, visitors will take about 20 – 30 minutes to climb 600 more ladders to reach the top of Fansipan peak, touching the landmark in the roof of Indochina.
Indochina is no longer a dream far away with many people as before since the cable car Fansipan was born.
Beside Fansipan peak, you can also visit the beautiful Fansipan Legend with Bamboo Garden, Bao An Thien Tu, Bich Van Thien, restaurant, shopping center, etc. You should spend a half day to enjoy all the beauty of Fansipan Legend.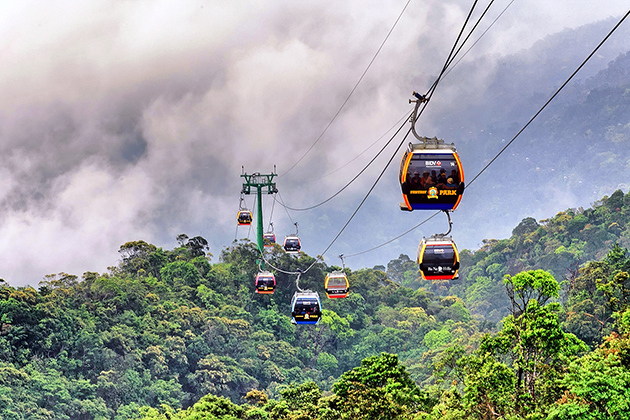 Things to remember when taking the Fansipan cable car
Bring snacks, drinking water or some favorite food so you do not get hungry or thirsty because food and services on the mountain are expensive
Do not bring too many things, bulky items because the management will not allow you into the cable car cabinets
Dress neatly, warm enough for climbing, dress clothes which can be easily take off if it is hot. Whether you take your cable car tour in the morning or afternoon, remember to bring your gloves, towels, and woolen hat because the temperature on top of the mountain is just about 8 degrees Celsius
When climbing on the climb you remember to take a break should not be too hard because the steps are high and steep. The air is nearly 300 meters high, so it is quite thin, you have to go slowly to avoid low blood pressure and shortness of breath.
When climbing, absolutely do not smoke because it is easy to cause the forest fire
Do not litter along the way as you will affect the surrounding landscape
Now your Fansipan journey becomes easier and so much fun with amazing cable car journeys.
With those useful tips above Viet Vision Travel hope that you get some ideas for your Vietnam vacation as well as new experiences in Fansipan, Sapa in the near future!
For more information or book a tour please feel free to drop a comment below or email us at [email protected].