As a tranquil and peaceful village nestled within the breathtaking valley of Muong Hoa, Ta Van village is one of the most exciting destinations in Sapa, which still retains its pristine character and culture. If you are a fan of traditional things, the value of the country, then you shouldn't miss visiting this amazing place in Sapa tours.
What to Do in Ta Van Village
Ta Van village is actually a small community with hospitable, amiable, and friendly people living together at peace. They scatter at the foot of the mountain, the valleys, or along the streams. They live on growing rice and producing Vietnamese instruments as well as engraved silver.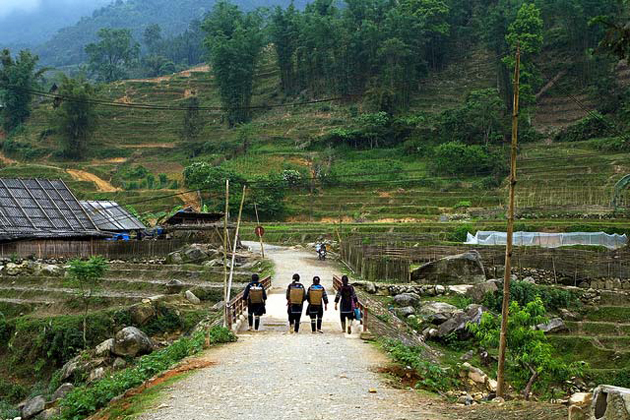 Time has gone by and people in Ta Van village's tradition and culture have been well-preserved. They love in traditional stilted houses with a solemn room as a place to show respect and a great attitude to their ancestors. The beauty of the landscape as well as people has become a rich source of inspiration for various cultural fairy-tale, riddles, proverbs, and poetry.
In Ta Van village, tourist will be overwhelmed by the quiet space and extremely peaceful that contrast completely when in the center of Sapa. The terraced fields are covered with rice and the color of the trees makes the landscape very attractive and special.
If you go Ta Van right in the season of the rice harvest, you will be looking at a beautiful picture that is not like anywhere. Just walk to see the scenery along the road and feel the cultural value of the village. Another great experience is that you need to sleep in the house on stilts in the village overnight to feel the unique culture of this peaceful land.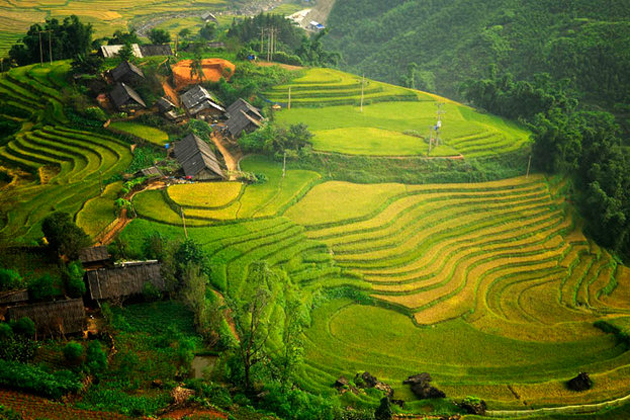 Do not forget to enjoy the unique but also extremely delicious food processed from corn, glutinous rice, buckwheat, chicken, pork to truly get yourself into this place.
If you fancy exploring the unique values of ethnic minority culture and tradition, Ta Van village will satisfy your desire to indulge in experiencing truly rural life. Take a leisurely walk through hill tribe villages such as Hmong and Dao people, it is interesting to learn more about their customs and practices. Especially, pamper yourself with amazing festivals and folk games of Giay people.
Ta Van Village Travel Guide
How to Get to Ta Van Village from Sapa
Van village is located in Muong Hoa valley about 11km away from Sapa town, in the direction of Southeast. Through May bridge or a new wooden bridge crossing Muong Hoa stream, there is the residence of many ethnic people: Dao, Mong, Dao …  Visitors often go to Ta Van in 2 ways:
Trekking: Visitors can walk to Ta Van village on the long-distance and enjoy the beauty of Muong Hoa valley, watching the terraced fields with majestic mountains.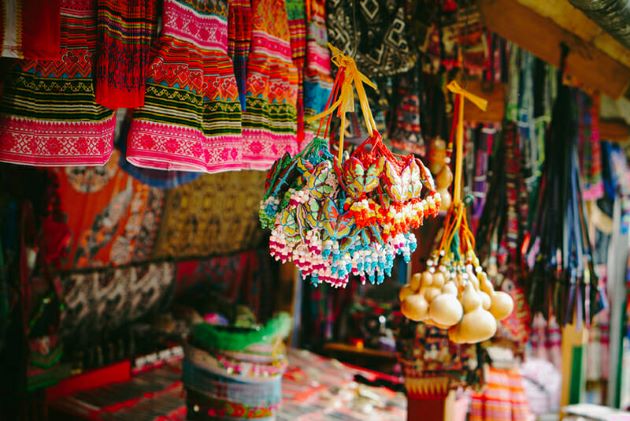 Motorbike/ taxi: You also can rent a taxi or motorbike for yourself, you have to drive carefully because the road is quite rugged.
Best Time to Travel Ta Van Village
You can travel to Ta Van village at any time of the year. There are many beautiful and charming things but according to travel experience in Ta Van, you should come here from May to September. During this time, you will have the opportunity to see the golden rice fields as a painting of nature. The fragrant rice incense blends on the wind like an attractive invitation to all visitors to Ta Van village.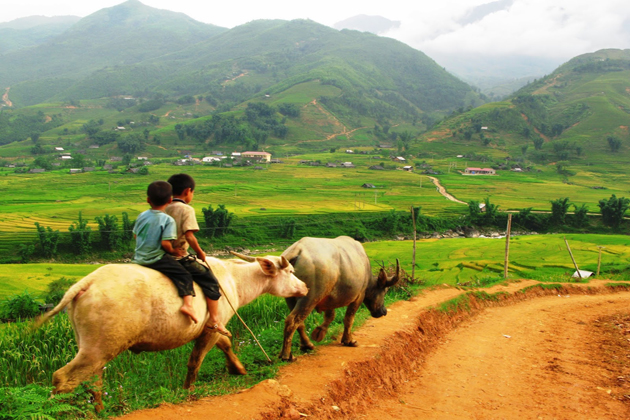 Accommodations in Ta Van Village
Ta Van is home to ethnic minorities, so now there are no motels or hotels, but only one type of accommodation is homestay. You can easily see the sign with the price in front of the local house to welcome visitors to stay with the floor. There are about 40 households living with homestay as long as it greets visitors every day.