The Four Palaces Show (also called "Tứ Phủ" in Vietnamese), is the traditional performance of Vietnamese people. Director Viet Tu wants to cultivate this show, which is inspired by the belief of mounting the medium ("lên đồng" in Vietnamese) but artistically changed to introduce to foreign tourists those visiting Hanoi. The Four Palaces Show is a special gift from Vietnamese custom, also a traditional art performance that was practiced through the decades.
Last year, UNESCO recognized the mounting the medium as intangible heritage. In the July, the show was recognized by TRIPADVISOR as an excellent service of 2017.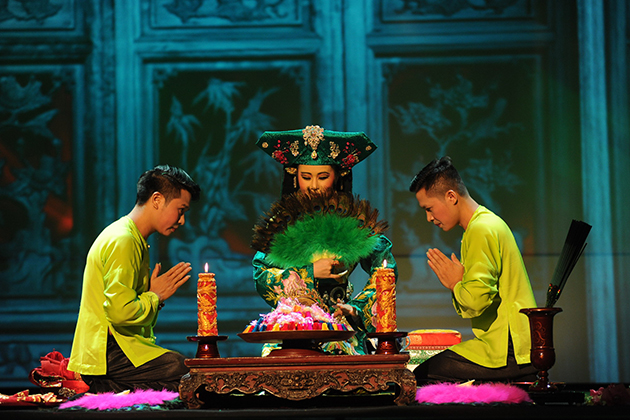 Schedule Detail
Show time: Thursday and Saturday every week, divided into 2 parts: one starts art 6p, another at 7.30 pm
Duration: 45 minutes
Location: The Worker Theater (Cong Nhan Theater), Address: No 2 Trang Tien Street, Hoan Kiem District, Hanoi.
Special price: Please contact us for special deal.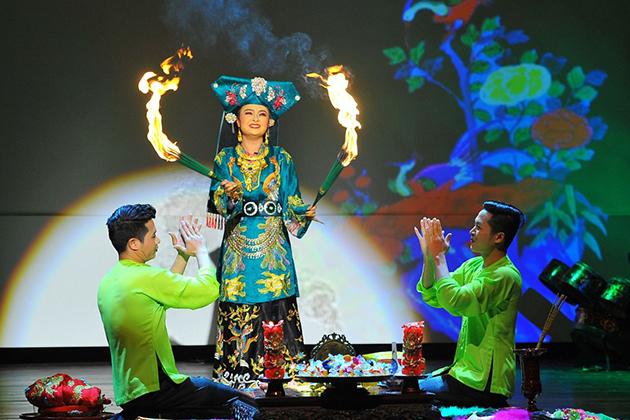 Full Itinerary
In 45 minutes of the Four Palaces Show, audiences can have an opportunity to witness the outstanding practiced traditional custom and culture of Vietnamese people's lives. Going into trance is a unique ritual performance of Vietnam with thousand years of history, which offers a different experience you have never had before. During the session, a number of artistic elements such as music, singing, dancing and the use of colorful costumes are involved in through three parts of the show: "Chầu Đệ Nhị", "Ông Hoàng Mười", "Cô Bé Thượng Ngàn".
It would be amiss if discovering Vietnamese culture without its rich tradition of spiritual belief, and The Four Palaces Show brings the fullest taste of this religious performance. Or if you want to explore more about this unique Vietnamese ritual practice, then do not hesitate to contact us at our hotline +84 909 896 286 or email to us at [email protected]