Dong Ba Market is located along the northern bank of Perfume River, on Tran Hung Dao Street, 100 meters to the north away from Truong Tien bridge. Before the appearance of Dong Ba market, there was a market named Qui Gia which was established under Gia Long's reign. In 1885, Nearly a century had passed when Hue capital was invaded and Qui Gia market was burned by the French. Not until 1887 was the market rebuilt by Dong Khanh Emperor and renamed Dong Ba.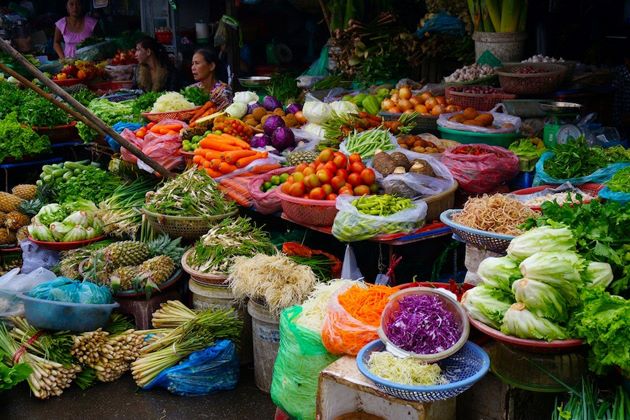 Best Things to Do & See in Dong Ba Market
In Dong Ba Market, an eye-catchy old bell tower standing among the monument will surely attract visitors' attention. Covering an area of up to 16,000-meter square, the market is constructed of nine buildings and four new sections selling all kinds of products from the Vietnam food list to facilities. Like other markets in Vietnam, each section sells a typical type of product only. The entire second floor is for clothes, for example.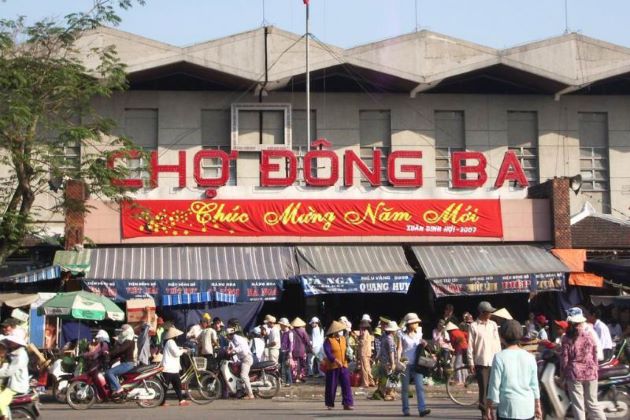 What to Buy in Dong Ba Market
Tourists can find all of Hue's specialties in Dong Ba Market from "Non la bai tho" (conical hats with a poem in them) from Phu Can village, "me xung" (candies) to "tom chua" (Hue sour shrimp). People say that Dong Ba Market is a haven for Hue's traditional foods which is famous not only for its delicious taste but also for its budget-friendly cost. Therefore, it's really a try-worthy place to visit in Dong Ba Market – the food court where myriad number of street vendors will provide you some of the best dishes that you have ever tried.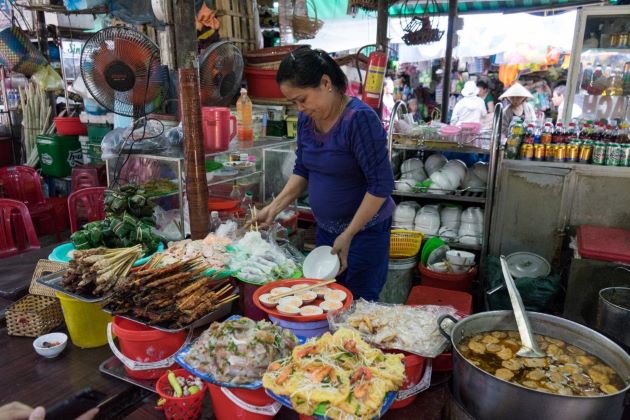 In fact, although people have set up a number of the market in Hue, Dong Ba Market is still of importance, as a wholesale market, to the economy of the city. Every day, thousands of traders visit the market to exchange their products. Thus, visiting Dong Ba Market, not only tourists can buy some traditional products to present your relatives and friend as Vietnamese souvenirs and try some special dishes in the food court, but you can also investigate the typical ways of trading of local people.
Best Time to Visit Dong Ba Market
The market opens from early morning at about 3.00 am to the evening at 8.30 pm. Very early in the morning, the sellers have to arrive at the market to arrange their products so as to buyers can purchase their needs at any time. Moreover, this is also the time for wholesalers to trade their goods with smaller retailers. Thus, if you want to discover the trading methods or to buy things at a lower price, early morning is the most appropriate time.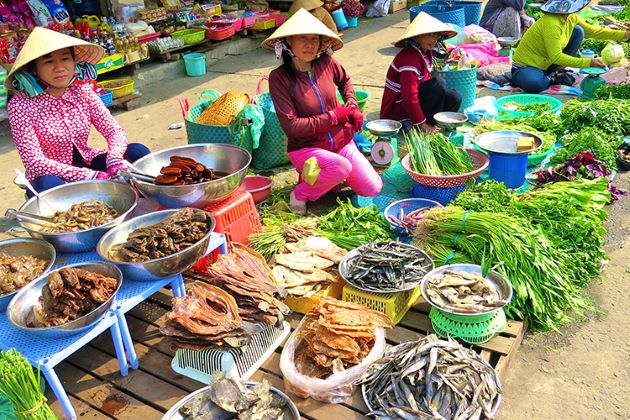 On a daily basis, the number of customers can be ranging from 5000 to 7000; this number can be doubled during peak time such as holidays. Visiting the market during holidays will be quite interesting as you can feel the hectic pace of life here, but it's likely that you will have to hustle with a large number of consumers and, as a result, watch out for the pickpockets. Besides, you also shouldn't visit the market on the first January according to Lunar Year because not many stalls open during this day. The market will probably operate normally on the fourth day of the year.
Dong Ba Market is really worth a visit on your Hue day tours as well as Vietnam tour packages.