As a country with a territory stretching 1,680 km from north to south, Vietnam is divided into many regions. In each region of the country, people have different appetites, which contributes to bringing richness and diversity to Vietnamese foods. If you want to discover Vietnamese cuisine when you spend your time in Vietnam vacation, this Vietnamese food list with names and pictures below is right for you.
Northwestern Vietnamese Food Names: The Mature Aroma of Vietnamese Mountainous Region
Thang Co (Horse Meat)
In Sapa Tours, visitors not only can enjoy beautiful natural landscapes and mild weather all year round but also can try a unique culinary specialty, which is called "Thang Co". However, not everyone can eat Thang Co because the original Thang Co is made from a hold horse, even the large intestine. Thang Co is a traditional food of H'mong people, originating from the mountainous Ha Giang Province, northwest and gradually popular with all ethnic minorities in the northern mountains. Thang Co is cooked quite simply with 12 traditional spices including cardamom, salmon, cinnamon, citronella, ginger, and many other special spices of the mountainous ethnic group. In it, the " Thang Co" leaf is the most important spice. The horse's meat and internal organs are washed, seasoned with spices, and then boiled in a saucepan with bones, viscera, blood, and the above 12 spices for hours. When eating, people can add some chili, pepper, or salt.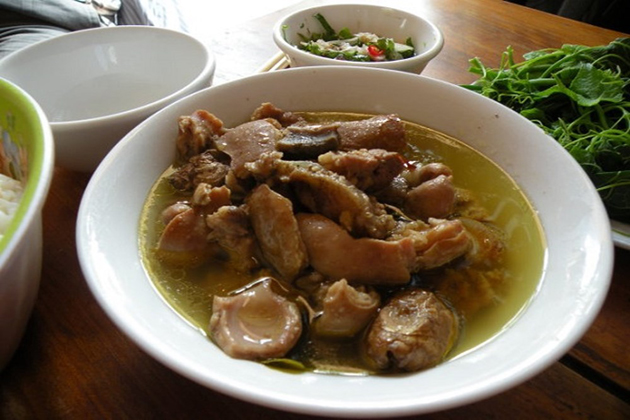 You can test the flavor of Thang Co at Sapa's highland markets or give it a try at these restaurants:
A Quynh Restaurant
Address: 15 Thach Son Street, Sapa Town
Moment Romantic Restaurant
Address: 26 Muong Hoa Street, Sapa Town
Trau Gac Bep (Dried Buffalo Meat)
Trau Gac Bep is known as dried or smoked buffalo meat, which is a traditional food of Thai ethnicity in the Northwest of Vietnam. The lean parts as filet, corn, and back of the buffalo are sliced into bars. Then, they are soaked in hot spices such as chili, pepper, ginger … and an indispensable "soul of Northwest spice": Mac Khen seeds. After the meat is soaked, it is hung in the kitchen. Through weekly hang on the kitchen, every stripe of meat absorbs the natural smoke. The spices also slowly leach soaked the meat inside. After a few months or even a year, the buffalo meat shrinks. Outside of the meat bar is dark brown but the meat inside is still rosy and has a strong taste. When you want to eat, just steam, smashed, tear and dip the buffalo meat with "cham cheo" salt (a special Thai spice) to add flavor to Trau Gac Bep.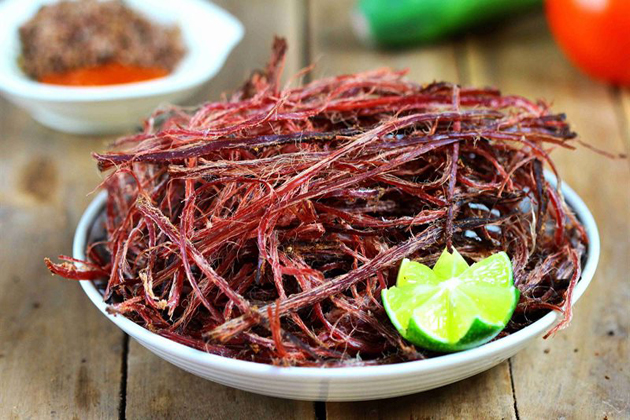 Try this at one of the Vietnamese highland markets or these addresses:
Sapa Grilling Area
Address: Cau May Street, Sapa Town
Fansipan Restaurant
Address: 25 Cau May Street, Sapa Town
Xoi Ngu Sac (Five-Colored Sticky Rice)
Xoi Ngu Sac is a kind of sticky rice that Tay ethnicity usually make on the occasion of New Year, which is very spectacular and delicious. Tay people think that Xoi Ngu Sac, which consists of blue, crimson, white, black, purple, or other colors, represents the five elements: metal, wood, water, fire, earth. The talents of ethnic people are reflected in the use of natural materials to dye for sticky rice. With the color white, people simply use sticky rice. The blue and red ones are made from "Com Xoi tree". For the black or purple colors, the cook uses "Gun leaves" to soak the rice.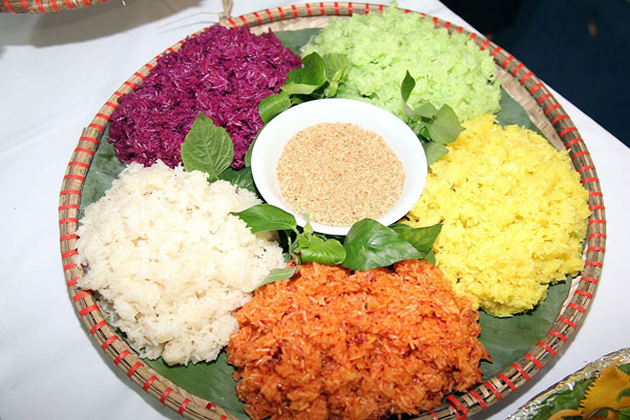 You can easily find this kind of sticky rice in every mountainous area, such as Sapa Town, Moc Chau Town, and Ha Giang Province  or try it at:
ATK Bang Mai Restaurant
Address: Tin Keo, Phu Dinh Commune, Dinh Hoa District, Thai Nguyen Province
Reu Da Nuong (Grilled Moss)
A Thai ethnic dish that makes all visitors curious is grilled moss.  Grilled moss is a specialty only in the Northwest areas of Vietnam. Moss often cling to the stone mounds where the stream bed. This grilled moss has a very simple processing but a very exotic delicious taste. Moss after being cleaned will be marinated with salt, Mac Khen seeds, ginger, and chili. Then, it will be wrapped with a layer of green leaves and grilled on a charcoal stove. This dish is often eaten with sticky rice.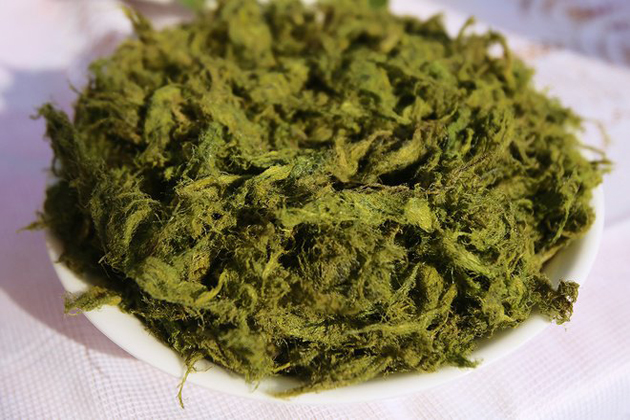 Reu Da Nuong is a favorable dish in Son La Province, Ha Giang Province, and Lai Chau Province. Therefore, if you have a chance to visit those places, don't forget to ask locals for this unique specialty.
Chao Au Tau (Medicinal Porridge)
As a unique dish, showing the culinary characteristics of Ha Giang, Chao Au Tau is made from a very poisonous bulb called "Au Tau" that usually grows on rocks in the northern hills. Poisoning of Au Tau bulbs can be deadly, but it is also a precious medicine. Through the skillful processing of ethnic minorities, Chao Au Tau is good for health with a special flavor. Bulbs after soaking in rice water for one night will be stewed for 4 hours with glutinous rice, minced meat, and bone marrow. The ingredients are quite simple but with the special processing of the people here, the porridge has become very unique and greasy.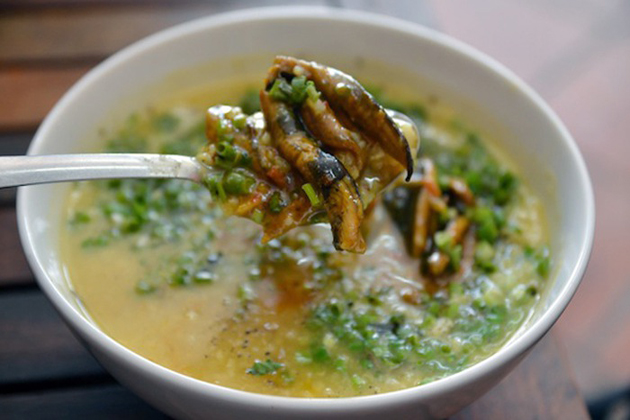 Huong Stall
Address:  2 Highway, Dong Van Town, Ha Giang Province
414 Stall
Address: 414, Nguyen Trai Ward, Ha Giang Town, Ha Giang Province
Northern Vietnamese Food Names: The Delicacy of the Vietnamese Traditional Cuisine
Pho (Vietnamese Noodle Soup)
Pho is the culinary essence of the Vietnamese people if you come to Vietnam without trying a bowl of Pho, especially Northern Pho, you will be like never come to Vietnam. As a traditional Vietnamese dish, Pho is one of the typical dishes for Northern Vietnamese cuisine. The processing of broth for Pho is the most important step. The traditional Pho broth needs to be simmered from bovine bone and some secret spices. Northern Pho or, especially, Pho in Hanoi has a light sweetness from grilled ginger, anise, and the aroma of beef cooked to the point. Hanoi Pho broth's color is often clear, beef is thicky sliced, and the white noodles are tender, thin, and soft on the tongue. This traditional flavor of Pho certainly will bring the most satisfying feeling for all tourists, even the most demanding one.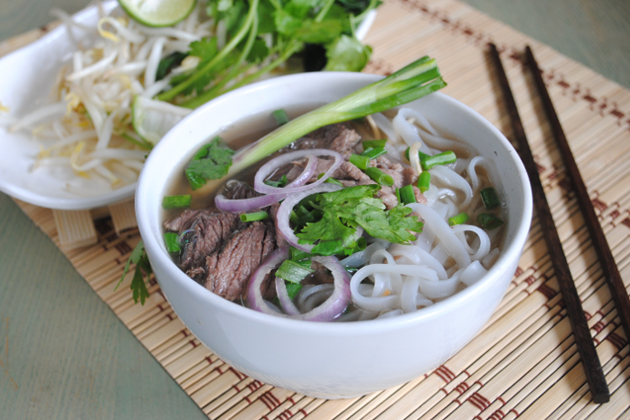 Pho Thin
Address: 13 Lo Duc Street, Hai Ba Trung District, Hanoi
Pho Bat Dan
Address: 49 Bat Dan Street, Hoan Kiem District, Hanoi
Pho Ly Quoc Su
18 Le Truc, Hoan Kiem District, Hanoi
Banh Cuon (Steamed Rice Rolls)
In Northern Vietnam, Banh Cuon has become a cheap and tasty breakfast made and sold at stands. Northerners are fans of Steamed Rice Rolls with meat. The powder for Banh Cuon must be made from high-quality rice to ensure whiteness and good appearance. After steaming, rice flour sheets are rolled with meat (chicken, shrimp, or pork), minced wood ear mushroom, and onions. Banh Cuon is served with salted shredded meat and a bowl of fish sauce with few slices of Vietnamese ham (cha lua). The taste of the Banh Cuon will be improved if some drops of mangdana essence are added to the sauce.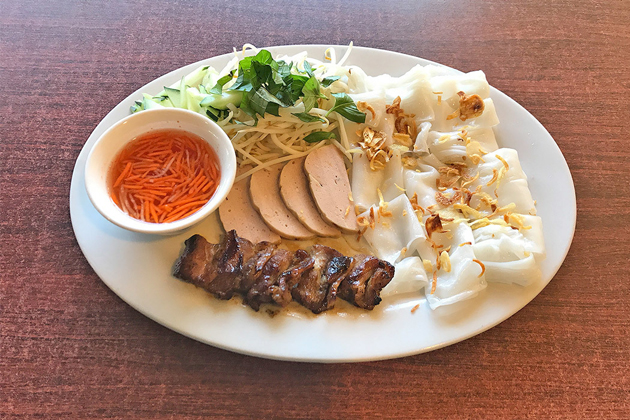 You can easily spot roadside vendors selling Banh Cuon all over Hanoi, but these addresses are good alternatives:
Banh Cuon Gia An
25 Thai Phien Street, Hai Ba Trung District, Hanoi
Banh Cuon Ba Hoanh
66 To Hien Thanh Street, Hoan Kiem District, Hanoi
Bun Ca Cay (Spicy Fried Fish Vermicelli)
Originated in Hai Phong City, Bun Ca Cay is a blend of country flavors mixed with the taste of the sea. This simple dish includes crispy fried fish, white soft vermicelli with the aroma of special broth. When enjoying this dish, you will see the bowl of Bun Ca Cay as a colorful picture with the green color of the petiole of Indian taro, the red of chili sauce with tomatoes, and the yellow of fried fish. Moreover, you will feel the sweet taste of the bone, crispy of fried fish, the spicy hot of the chili, and the cool taste of vegetables at the same time, which will give you a special experience of taste.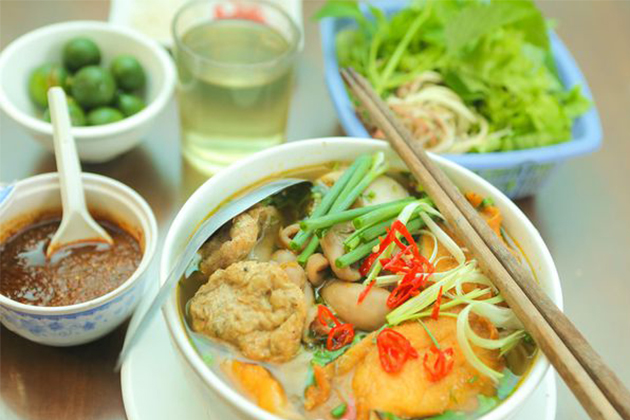 Bun Ca Cay Hai Phong
Address: 87 Nui Truc Street, Ba Dinh District, Hanoi
Bun Ca Cay Tran Phu
Address: 10 Tran Phu Street, Ngo Quyen District, Hai Phong City
Cha Ca La Vong (La Vong Fried Fish)
Cha La La Vong is one of the famous brands of cuisine in Hanoi. This dish is highly appreciated by its taste on one side but carries the culture of the old quarter on another side, the sophistication, skillfulness of Hanoians. Cha Ca La Vong is a marinated fish dish, grilled on charcoal and then fried in fat pans. The secret of the recipes is kept by the Doan family at Old Quarter. American Journalist – Patricia Schultz has brought Cha Ca La Vong to "the 1,000 Places to See Before You Die" book. In late 2003, the US news agency MSNBC placed Cha Ca La Vong Restaurant in the fifth position in 10 places you should know before you die along with nine famous places in the world.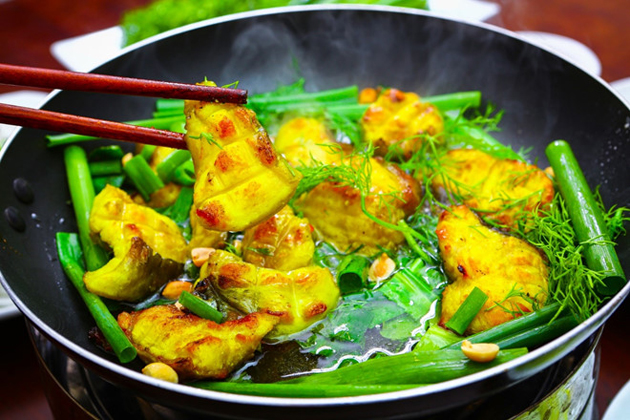 Cha Ca is so popular amongst locals that there's a street in Hanoi Old Quarter named after it. The Cha Ca La Vong Restaurant on No.14 Cha Ca Street is the "ancestor restaurant" of the dish.
La Vong Grilled Fish
Address: 14 Cha Ca Street, Hoan Kiem District, Hanoi
Cha Ca La Vong Restaurant
Address: 107 Nguyen Truong To Street, Ba Dinh District, Hanoi
Cha Ca Thang Long
Address: 19-21-31 Duong Thanh Street, Hoan Kiem District, Hanoi
Thit De Ninh Binh (Ninh Binh Goat Meat)
Ninh Binh not only attracts tourists by owning a lot of beautiful natural sceneries but also captivates the soul of food lovers with a diverse menu of mountain goat meat. Ninh Binh goat meat is more delicious than ones from other regions because Ninh Binh goats are raised on rocky mountains. Ninh Binh people have the secret recipes to turn the goat dish into a famous specialty. Especially, the half-cooked goat meat served with lime juices, herbs such as apricot leaves, fig leaves,…  has a very nice and strange taste.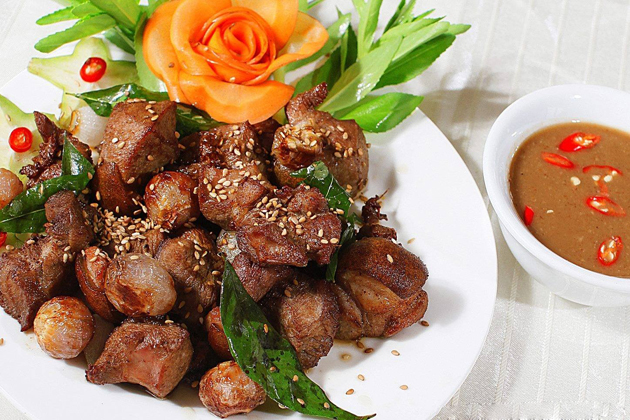 Recently, you can have a chance to taste Ninh Binh Goat Meat in many places in Northern Vietnam when you're in Vietnam vacation.
Luong Thuong Restaurant
Address: Le Lai Street, Tam Diep City, Ninh Binh Province
Thit De Khanh Thom
Address: 211 1A Highway, Thiên Ton Town, Hoa Lu City, Ninh Binh Province
Nam De Restaurant
Address: 1 Dong Me Street, Nam Tu Liem District, Hanoi
Central Vietnamese Food Names: The Sweet Soul of Vietnamese Cuisine
Banh Mi Hoi An (Hoi An Vietnamese Baguette)
Banh mi Hoi An is known as the best sandwich in the world and also the street food that tourists want to enjoy the most when coming to Hoi An ancient town. When eating Banh Mi Hoi An, eaters will be satisfied with all 5 senses: tasty look, delicious taste, pleasant hearing, warm hot holding, fragrant smell. The crispy baguette filled with savory pieces of roast pork, greasy pate, salted shredded meat, a few herbs, and exclusive sauces. Only with a small, simple Banh Mi at a street-side bar, you can enjoy a  hold "paradise" of delicious tastes: salty, sweet, crispy, tender, and soft.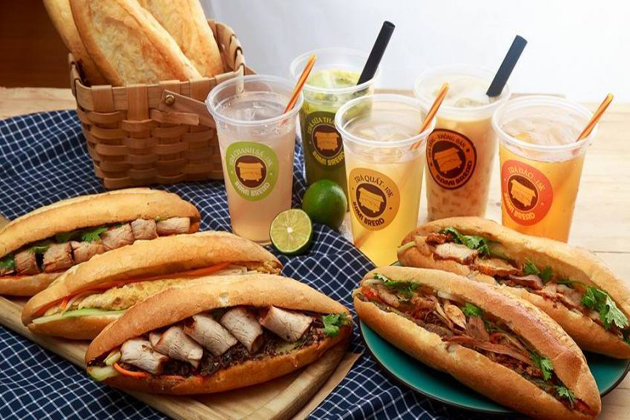 Banh Mi Phuong
Address: 2B Phan Chu Trinh Street, Hoi An Town, Quang Nam Province
Banh Mi Madam Khanh
Address: 115 Tran Cao Van, Hoi An City, Quang Nam Province
Banh Canh He (Vietnamese Noodle With Chives)
Banh Canh He is famous as a specialty of Nau ( Phu Yen Province). This dish is very popular in Phu Yen, Saigon, and many other central coastal provinces … Although it is a very simple dish, Banh Canh He is loved by many people, including foreign visitors. The main ingredient of the soup bowl is fish cakes, which is usually made from fish in the Phu Yen sea, such as sardines, barracuda, sailfish … Especially, the soup broth used in Banh Canh He dish is not from the bone but must be cooked from fresh fish. Therefore, Banh Canh He broth will have the naturally sweet taste of fish without fat. Fresh fish cakes, rice noodles, quail eggs and chopped chives mixed together with a bowl of broth will give your taste a wonderful flavor.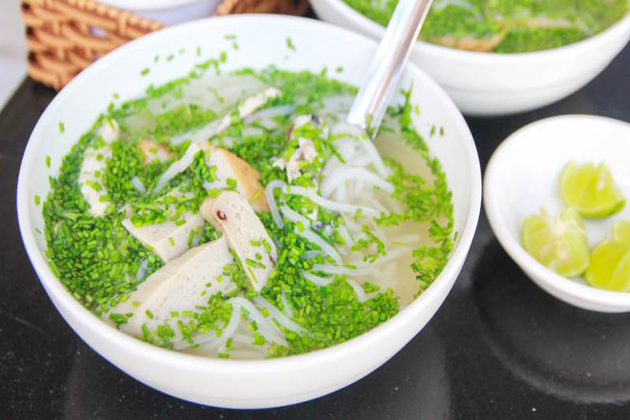 Banh Canh He Ca Dam
Address: 75 Tran Quy Cap Street, Ward 3, Tuy Hoa City, Phu Yen Province
Co Mai Phu Yen
Address: 54 Hoa Su, Ward 7, Phu Nhuan District, Ho Chi Minh City
Cao Lau (Yellow Noodles With Pork and Greens)
Being considered as a specialty of Hoi An town, Cao Lau can't be ignored by anyone. This is a delectable dark pork broth with fat yellow noodles, slices of juicy pork,  served with bean sprouts, green vegetables, slices of, and crispy croutons. The noodles must be made with the water from one of the closely guarded ancient Cham wells hidden throughout Hoi An. Another special feature of Cao Lau is the yellow noodles, which are mixed with the Cham ash wood, which is taken from Cham island. Once in Hoi An, visitors shouldn't miss enjoying a bowl of hot Cao Lau to feel the taste of this old and mysterious land.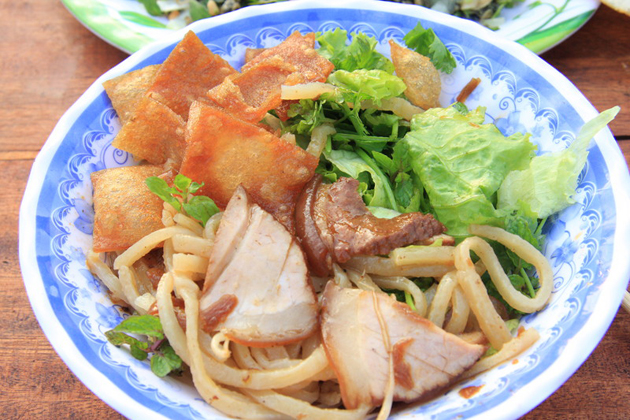 Cao Lau Ba Be
Address: Tran Phu Street, Hoi An Town, Quang Nam Province
Thanh Cao Lau
Address: 26 Thai Phien Street, Hoi An Town, Quang Nam Province
Banh Canh Ca Loc (Vietnamese Noodle With Snake-Head Fish)
As a famous dish of Central Vietnam, Banh Canh Ca Loc has the sweet taste of fish, the softness of mixed rice noodles, which creates a satisfying taste of almost all people who have tried this dish. The most common way to cook Banh Canh Ca Loc is seasoning the snakehead fish with marinade and grinding the fishbone out for broth used. The aromatic noodles, the tender fish, the spicy special scallions, and the hot pepper make the visitors once eat will never forget the taste of Banh Canh Ca Loc.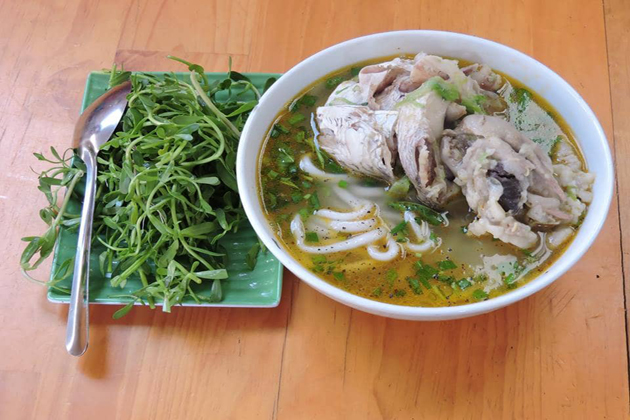 Lua- Banh Canh Ca Loc
Address: 444 Dien Bien Phu Street, Thanh Khe District, Da Nang City
Banh Canh Ca Loc Thuy Duong
Address: 5 Mai Di Street, Hai Chau District, Da Nang City
Com Ga Tam Ky (Tam Ky Chicken Rice)
One of Vietnam's famous foods, which originated in the Central of the country, is Com Ga Tam Ky. The main ingredient of Com Ga Tam Ky is authentic Tam Ky chicken (Quang Nam Province) and rice cooked with chicken broth. Tam Ky chicken rice dish has a lot of eye-catching colors: The yellow chicken, the red chili, the green papaya, and leafy vegetables, which are all local produce. The delicious Com Ga Tam Ky dish contains the essence of The Central of Vietnam lands.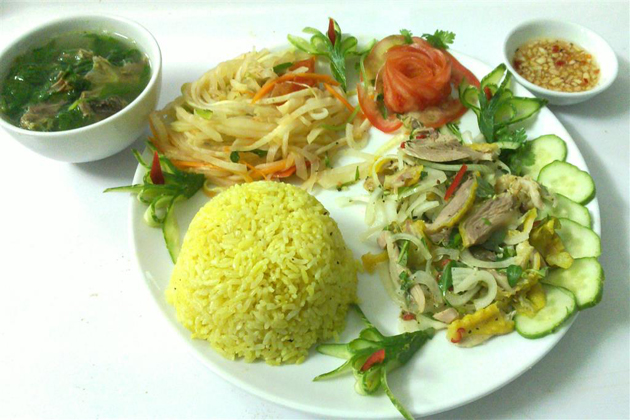 Com Ga Nguyet
Address: 571 Phan Chau Trinh Street, Tam Ky City, Quang Nam Province
Com Ga Long
Address: 53/16 Phan Chau Trinh Street, Tam Ky City, Quang Nam Province
Southern Vietnamese Food Names: The Wild & Breadth of Vietnamese Food Culture
Banh Trang Tron (Rice Paper Salad)
As the "specialty" of the city, Banh Trang Tron is a snack that perhaps no one in Saigon does not know. Banh Trang refers to pieces of rice paper or can be known as steamed rice batter that's been sun-dried. It is cut up into strips and tossed with a delectable mixture of ingredients that commonly consist of: dried shrimp, peanuts, Vietnamese coriander, hard-boiled quail eggs, shredded green mango, Vietnamese style beef jerky, dried garlic, lime juice, and chili paste. The results are a spicy, tangy combination with an enormous array of textures. This dish is almost exclusively sold on the streets and has the ability to conquer the taste buds of any tourist.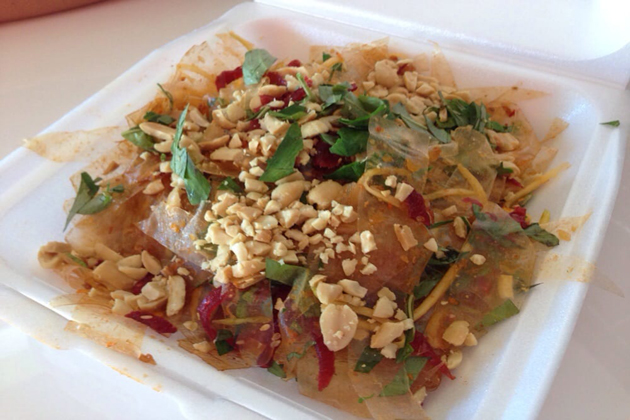 Banh Trang Tron Chu Vien
Address: 38 Nguyen Thuong Hien Street, Ward 5, District 3, Ho Chi Minh City
Banh Trang Tron Van Kiep
Address: 106 Van Kiep Street, Ward 3, Binh Thanh District, Ho Chi Minh City
Lau Ca Keo (Ground Dragon Fish Hotpot)
Lau Ca Keo is a folk dish with the delicious typical taste of Southern Vietnamese cuisine. Fresh ground dragon fish is put directly into the pot without being fishy in order to make the broth sweeter. Lau Ca Keo has a sour taste of the River Leaf- an interesting taste. It is served with banana flowers, bitter vegetables, bean sprouts, spinach. When eating Lau Ca Keo, eaters can dip the fish into tamarind sauce to get the best taste.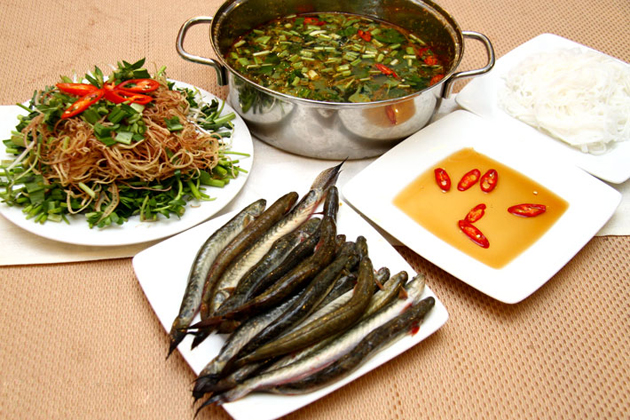 Lau Ca Keo Ba Huyen
Address: 87 Ba Huyen Thanh Quan Street, Ward 7, Ho Chi Minh City
Mua Rung Restaurant
Address: 4 Su Thien Chieu Street, Ward 7, District 3, Ho Chi Minh City
Banh Khoai Mi Nuong (Vietnamese Cassava Cake)
Sai Gon street is a culinary paradise with a variety of street food from restaurants to snacks that are sold along the road. One of the favorite street food in Saigon is Banh Khoai Mi Nuong or Grilled Manioc Pie. The pie makers use their hands or molds to make the boiled maniocs into a round pie, then bake it on a charcoal stove. Banh Khoai Mi Nuong should be baked slowly with a warm fire in order to get the golden crust and the greasy inner part. After tasting a piece of Banh Khoai Mi Nuong, visitors will feel the simplicity but delicious from the Southern street food.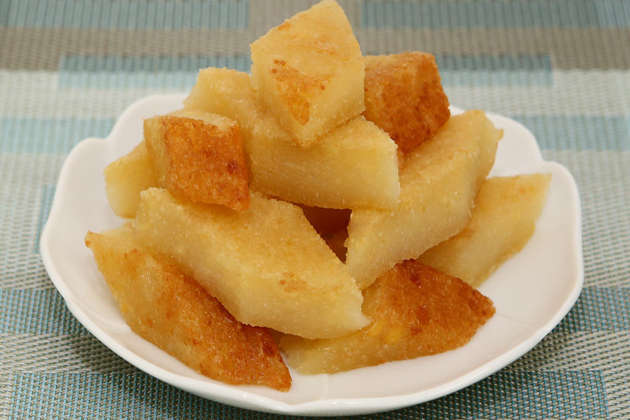 Banh Khoai Mi Nuong is very popular in Saigon. You can go to some food streets like Phan Xich Long (Phu Nhuan District), Ba Chieu Market, Vuon Chuoi Market (District 3) or this suggested address to enjoy this pie:
Banh Khoai Mi Nuong
Address: 830 Su Van Hanh Street, Ward 13, District 10, Ho Chi Minh City
Com Chay Kho Quet (Fried Burnt Rice With Stewed Fish Sauce)
Com Chay Kho Quet is originated in the South of Vietnam. In the past, the Southern Vietnamese farmers were too needy so they thought of eating burnt rice with stewed fish sauce for savings. However, recently, Com Chay Kho Quet has become a dish that visitors everywhere love to eat because of its specific flavor. The right taste of Com Chay Kho Quet must have a crisp, aromatic smell of new rice and a salty, sweet taste of the stewed fish sauce. When eating, you have to break the burnt rice to pieces, then dip them into the stewed fish sauce. The crispy burnt rice pieces blended with the savory flavor of the stewed fish sauce can stimulate the taste of anyone.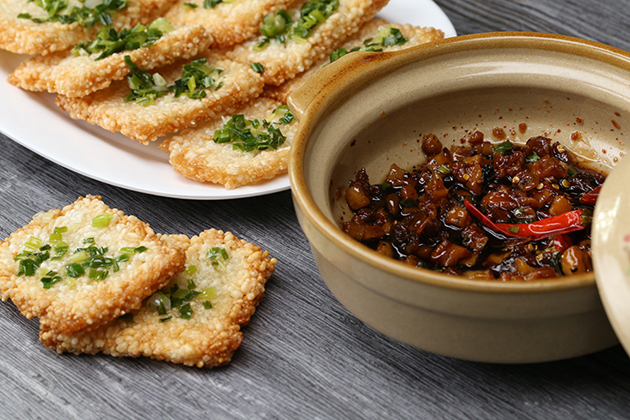 Gao Restaurant
Address: 33 Le Quy Don Street, District 3, Ho Chi Minh City
Com Chay Kho Quet
Address: 567 Tung Thien Vuong Street, Ward 12, District 8, Ho Chi Minh City
Duong Dua Chien Gion (Deep-Fried Coconut Worms)
Being known as "the most delicious Southern Vietnamese specialty", the coconut worm was one of the delicacies to tribute the kings of the Nguyen Dynasty.  After the preliminary processing, a few peanuts will be added into the coconut worms, then roll them over a mixture of flour, eggs, a little pepper, and salt. The deep-fried coconut worms have a very juicy and greasy flavor, which make the eaters become excited in taste.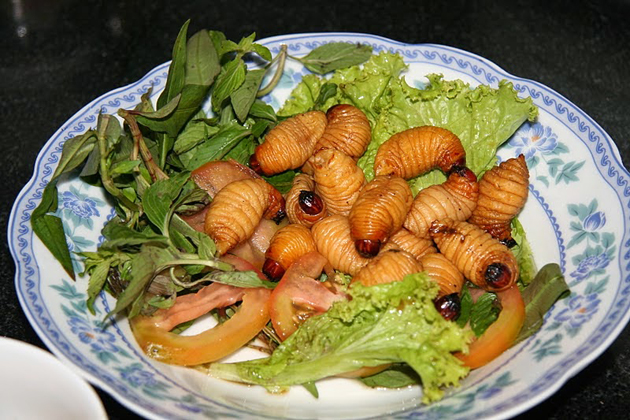 Stop Restaurant
Address: Pham Van Dong Street, Ward 11, Binh Thanh District, Ho Chi Minh City
Duong Dua Restaurant
Address: 71/34 D1 Street, Ward 25, Binh Thanh District, Ho Chi Minh City
Western Vietnamese Food Names: The Color & Fragrance of the Mekong Delta
Ca Tai Tuong Chien Xu (Deep-Fried Gourami Fish)
Since ancient times, the Western Vietnamese people have created many delicious river-folk dishes to treat the soulmates and friends like grilled catfish or grilled chicken in clay. Especially, there is a unique dish in Western Vietnamese cuisine, which is called Ca Tai Tuong Chien Xu. The gourami fish has the natural flavor of the river-folk so it doesn't need any spices. The dish is stand-out with the crispy but soft fried fish, fresh vegetables, and vermicelli. In order to add more flavor, it is indispensable to add garlic and chili sauce, which let you feel the essence of rustic dishes of the people who lived in the Mekong Delta.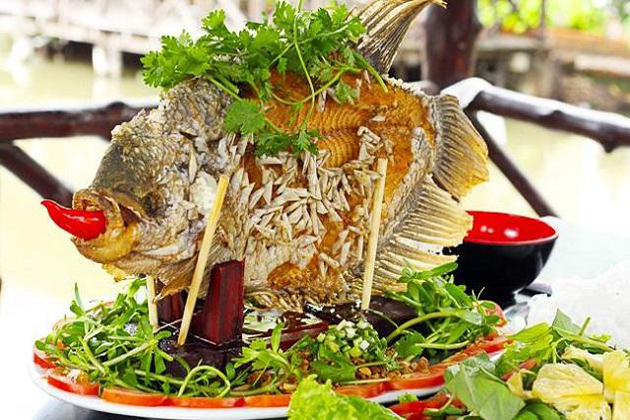 Huong Sen Restaurant
Address: 51/14B Pham Thai Buong Street, Ward 4, Vinh Long City
Com Goi La Sen (Rice Wrapped In Lotus Leaves)
Com Goi La Sen is attached to the life and culture of the Western Vietnamese people, especially in Dong Thap Province. The rice for Com Goi La Sen is Dragon Blood Rice, which is a kind of red rice with a better taste than any other rice. Lotus seeds are selected, then mixed with the rice and sesame salt, and wrapped in lotus leaves to steam. The rice wrapped in lotus leaves has an impressive taste of lotus seeds, precious rice and black sesame salt with a subtle aroma of lotus.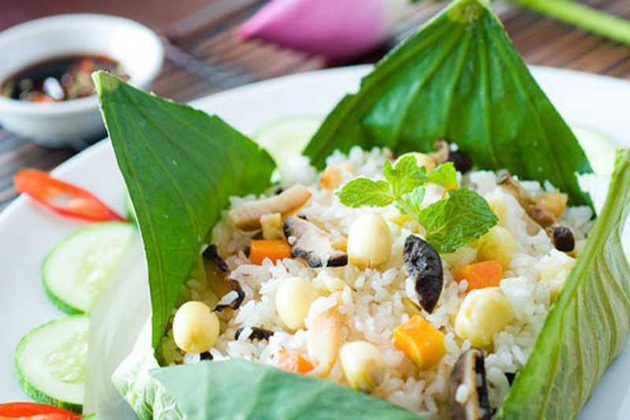 Xeo Quyt Restaurant
Address: Hamlet 4, My Hiep Commune, Cao Lanh City, Dong Thap Province
Nom Buoi (Pomelo Salad)
One of the most familiar tropical fruits to the Western provinces of Vietnam is grapefruit or pomelo. Pomelo after being peeled and split will be mixed with shrimp, meat, fish sauce, and other special spices of Western Vietnam. When enjoying, Nom Buoi will create a small interesting explosion of pomelo bulbil in your mouth. In just one bite, you can taste the sweet and sour flavors of pomelo and the mature aroma of sesame, onions, and shrimps. This dish is very suitable for those who love to eat but afraid to gain weight.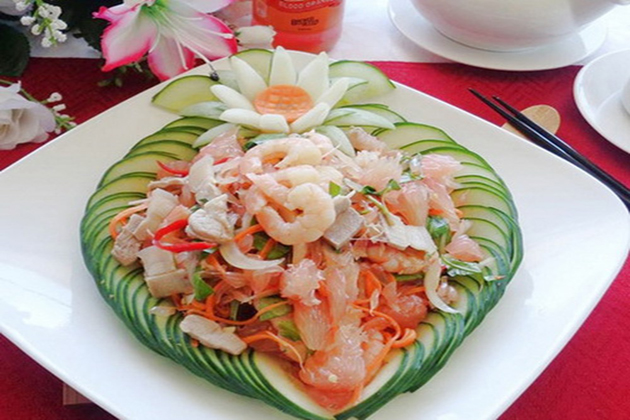 Buoi Nam Hue Tan Trieu Village
Address: 109/7 Lane 9, Tan Binh Town, Vinh Cuu District, Dong Nai Province
Banh Bo Thot Not (Sponge Cake With Toddy Palm Sugar)
Toddy Palm ( Thot Not) is a unique specialty of the Mekong Delta area, which is processed into many different extraordinary dishes. Western Vietnamese people choose the old Thot Not fruit to mash for water and mix with rice flour. In addition, the sugar uses in the sponge cake should be toddy palm sugar in order to make a dark yellow layer for the cake's coat. After steaming, Banh Bo Thot Not will be spongy and redolent of toddy palm sugar and coconut milk, which makes tourists cannot resist.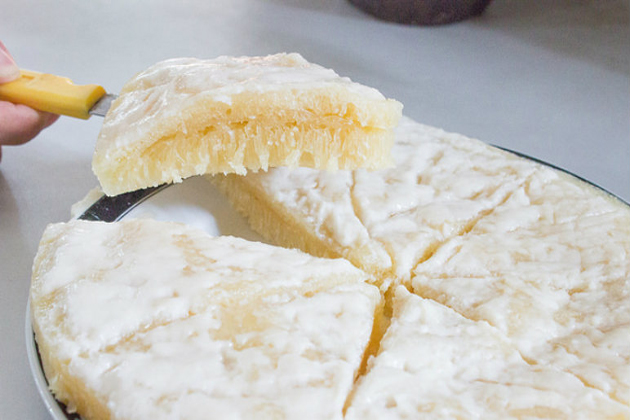 Banh bo Ut Dut
Address: 13 Nguyen Thi Minh Khai Street, Tan Chau Commune, An Giang Province
Banh bo Thot Not Tri Ton
Address: Tri Ton Market, Cach Mang Thang 8 Street, Tri Ton Commune, An Giang Province
Banh Pia (Vietnamese Durian Cake)
Banh Pia or also known as Vietnamese Durian cake is a famous specialty of Soc Trang Province. Banh Pia is mainly made from green beans, taros, salted egg yolk, wheat flour, and especially a segment of durian, which creates an exclusive flavor for this cake. Banh Pia brings not only the essence of Western Vietnamese areas but also a hidden philosophy: Outwardly fragile but hides an extraordinary power. Enjoying Banh Pia with a cup of hot tea, tourists will see the value of this cake when the bitter taste of tea brings up the scent of durian and spread it on the tip of the tongue.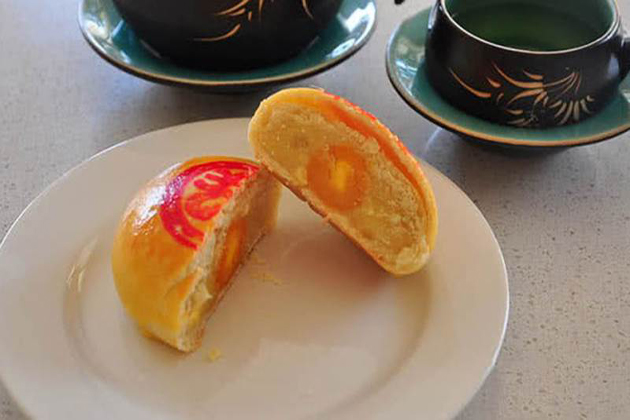 You can buy Banh Pia as a gift for your friends and family in your Vietnam vacation at some suggested addresses:
Tan Hue Vien
Address: 153 Highway 1A, An Hiep Commune, Soc Trang City
Banh Pia Soc Trang
Address: 422 Highway 1A, Chau Thanh Commune, Soc Trang City
Thanks to the love of Vietnamese people and visitors for the food above, tourists now can easily find these dishes everywhere throughout Vietnam. Feel free to ask local people about this food everywhere you go to Vietnam. Hope that our Vietnamese food list with names and pictures will be useful for your travel to Vietnam.