Nha Trang is a coastal city in the South Central Coast of Vietnam. Therefore, Nha Trang beaches are in search of many tourists for their Vietnam vacations. Visiting Nha Trang, tourists would be overwhelmed by its spreading beaches with a number of sightseeing and recreational activities during their holidays. Consider the best Nha Trang beaches that travelers should not miss in Nha Trang tours.
Top 4 Wonderful Nha Trang Beaches
Nha Trang Beach
About 6 kilometers in the length of bright sand, Nha Trang Beach is home to many luxury hotels and resorts. At any time, tourists can have opportunities to soak in the water, build up some pretty sandcastles, or lie on the pristine beach. In the afternoon, you can walk along the beach or simply sit still and watch the magnificent sunset to end the day. It cannot be better if you simultaneously enjoy the soft sound of the waves with a coconut drink in beautiful natural scenery. Moreover, many interesting and adventurous entertainment activities at Nha Trang beach await you to explore and will bring you the great relaxing moments in Nha Trang such as parasailing, windsurfing, canoeing, flyboarding,…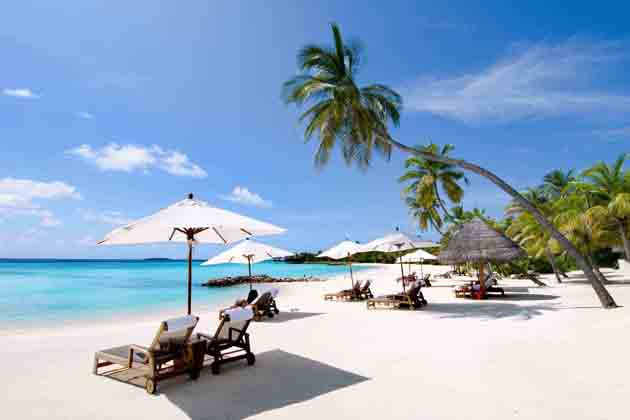 Bai Dai Beach
Your beach holidays to Vietnam will not be complete without a trip to Bai Dai Beach, one of the most beautiful white sandy Nha Trang beach. From Nha Trang City, driving through Nguyen Tat Thanh Boulevard for about 20 kilometers, tourists could travel to Bai Dai Beach. Its name has a meaning of a lovely princess awaken after a long sleep by the locals, is in Cam Hai Dong commune, Cam Ranh Town, Khanh Hoa Province. Bai Dai possesses several kilometers of long smooth sandy beach and coconut lines swaying in the wind. The water is on a little depth so tourists can have some frolic and feel so much pleasure. Nowadays, the beach still remains its pristine and stunning beauty. In the near future, Bai Dai is expected to be a top famous attraction with high-end resorts. With a large area of smooth sand, Bai Dai is a perfect place for team building activities like tug of war, beach volleyball, or soccer.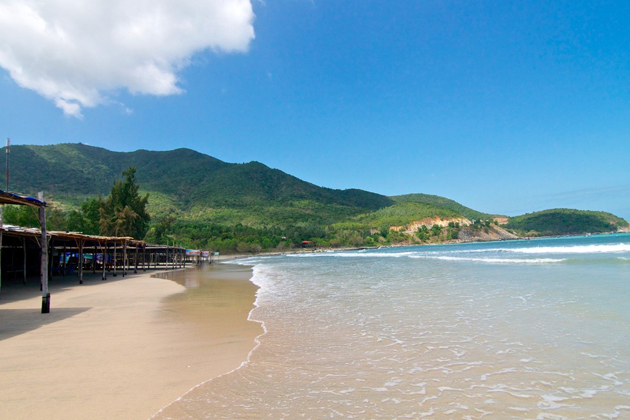 Tran Phu Beach
Tran Phu Beach is easy to be reached from most of the places in Nha Trang, turning it into one of the best Nha Trang beaches. Tran Phu Beach is named after the street that stretched alongside the beach with plenty of beachfront resorts, hotels, museums, seafood restaurants, and souvenir shops. During the day, you just need to pay from $2 to rest on deck chairs on the beach to enjoy the cool sea breeze and beautiful natural scenery of Tran Phu beach. If you are more active, you can participate in a wide array of sports on the beach such as snorkeling, surfing, biking, meditating, or doing yoga.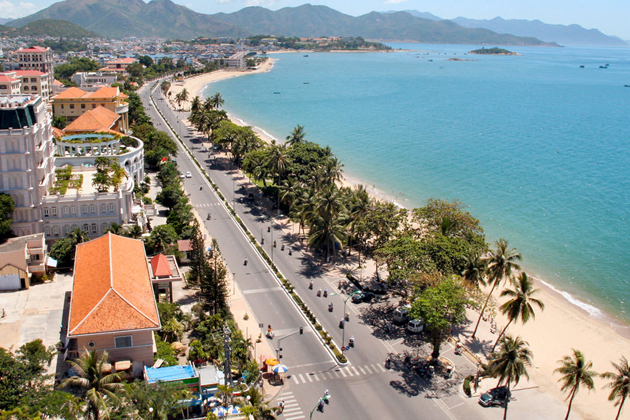 Doc Let Beach
Located in Van Phong Bay and 40 kilometers from the city center, Doc Let is a semi-circular beach with long white sand, turquoise blue water, and coconut-palm lines along the coastline. Doc Let Beach is the shallowest beach among all the beautiful Nha Trang beaches. This beach is quite small and has light waves so it is safe for everyone to swim, including the elderly and young children, which is an ideal place for family tours. On the beach, tourists can take part in some exciting activities such as windsurfing, water-skiing, or parachuting. Snorkeling, which is a most-liked activity in Doc Let beach, offers tourists a chance to explore the multicolored coral reefs. Not only famous for its beautiful pristine beach, but Doc Let is also known as a seafood paradise where serves full of fresh signature seafood dishes. Nothing is more perfect for a day than having fresh seafood at cheap prices after immersing yourself in nature.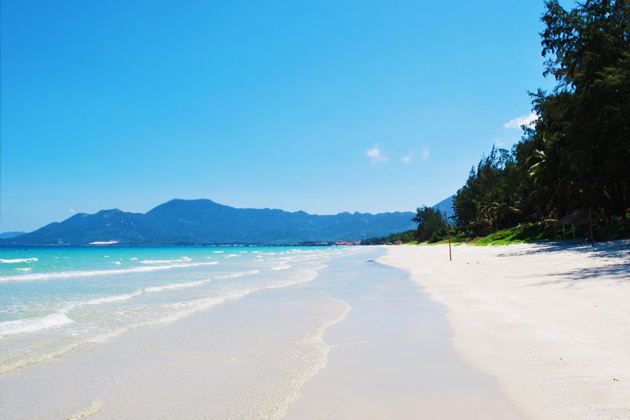 Top 4 Recommended Nha Trang Beaches
Hon Chong Beach
Hon Chong Beach is just in the North of Tran Phu Beach separated by a headland. Driving for about 5 minutes from the iconic Po Nagar Cham Towers, tourists are welcomed by a peaceful beach area and piled rocks stretching out to the sea. Hon Chong Beach is a pristine beach, which is not affected much by human hands and also associated with many interesting legends in Nha Trang. In Hon Chong Beach, visitors will see many rocks with different sizes, strange shapes, layers by layers stacked. It is free to enter the beach, but you need to pay a little sum of money to climb the rocks. From the top of the rocks, you can see many beautiful islands in the distance such as Hon Tre, Hon Mot,.. or the fishermen with the wooden boats floating offshore.  Walking approximately 300 meters to the south of Hon Chong, you can see Hon Do (Red Island) where has a Buddhist temple on the top of the hill while Hon Rua (Tortoise Island) is in the North East.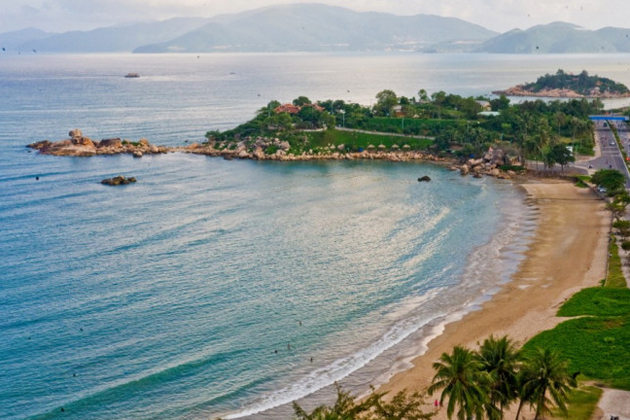 Bai Tru Beach
The beach is located on Hon Tre Island in Vinh Nguyen Ward, Nha Trang City, Khanh Hoa Province. Bai Tru is known as one of the most beautiful, blue, and clear Nha Trang beaches. Although Bai Tru is located on an island, it does not have as many waves as it heads towards the mainland. Besides swimming in the cool blue sea, sunbathing on the pristine white sand, hiking along the seashore, snorkeling, fishing, and shrimping, you can relax under the shade of green coconut palms to admire the panorama of nature. Thanks to that, when it comes to Nha Trang beaches, one can't help mentioning Bai Tru – an amazing place to leave behind all the bustle of life.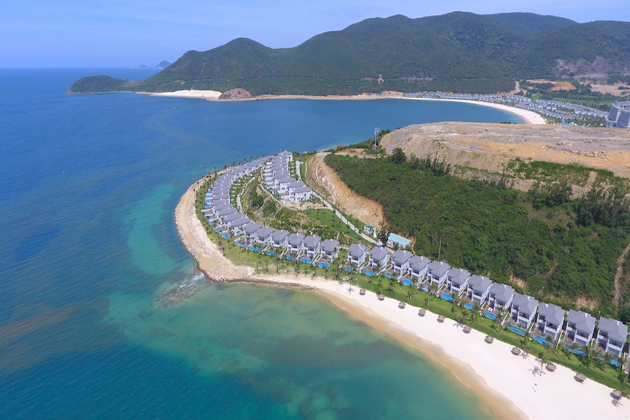 Son Dung Beach
Located in Van Ninh district, Khanh Hoa province, Son Dung Beach with crystal blue sea water is suitable for families to play and swim. There are no vehicles, even bicycles because there is only the main road along the beach. However, when the sea level rises, people will not see the road and they have to spray the corals in the sand to form a small path to walk. A special feature of Son Dung Beach is that you just need to dig a small hole in the ground, you will have fresh water. This is a very interesting thing because very few places can exploit freshwater resources right near the sea like that.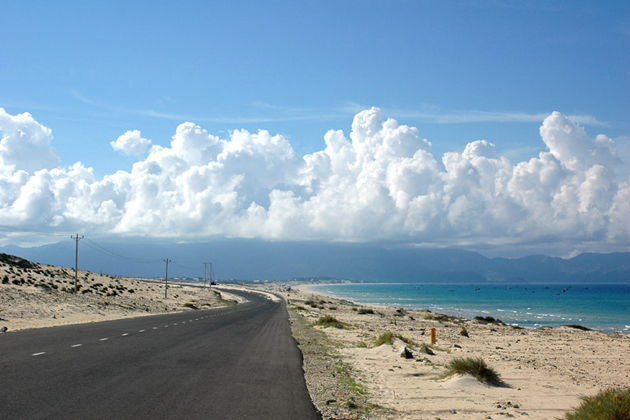 Hon Tam Beach
7 km far from the Southeast of Nha Trang City, with an area of over 100 hectares, Hon Tam in Nha Trang Bay is a place that many prestigious magazines on tourism voted annually as one of the 29 most beautiful bays in the world. Hon Tam Beach is famous for its wildness and pristine nature beauty all four seasons. Hon Tam Beach is also a place where you definitely have to visit in Nha Trang tours because of the beautiful beach and many extremely attractive activities such as beach volleyball, flyboarding, pearl diving, underwater walking, water moto, free mini-golf or scuba diving. For those who love check-in, Hon Tam Beach is an ideal destination for taking beautiful pictures of nature and resorts with 5-star quality.