Top 5 Stunning Beaches for Vietnam Beach Holidays
With more than 3400km of coastline, Vietnam posses a ton of idyllic tropical islands, stunning coves and picture-perfect white-sand beaches that are perfect destinations for beach hoppers worldwide. Because of so many amazing beaches to discover with so limited time, we've made a list of top 5 stunning beaches for Vietnam beach holidays. Check it and do not miss any of them to have a perfect Vietnam vacation!
Nha Trang Beach
Nha Trang enthralls tourists not only by crystal-like water and stretch of dazzling white sand of the beach but also by the beautiful surrounding island. Visit this stunning beach to dip your toes into the powdery sand, to take part in water sports and to watch the breathtaking sunsets. Nha Trang also offers a wide range of 5-star resorts that satisfy any type of tourists such as the luxurious Evason Ana Mandara and Six Senses Spa with private beach, and the Vinpearl Resort and Spa with an amusement park, shopping mall, and endless entertainment options. Relax on a resort and take a romantic walk on the pretty park or interestingly creative sculpture garden. This destination guarantees you an exotic get-way from the bustling city.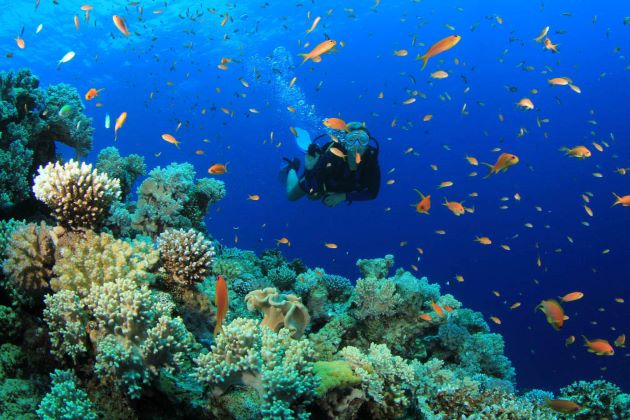 Best time to visit Nha Trang on Vietnam beach vacation packages. It would be from February to April when the temperature is just around 26-27 degrees Celsius, and precipitation is at the lowest level of the year.
Mui Ne Beach
As the most prominent coastal resort town of Phan Thiet city, Mui Ne is famous for its stunning sandy beach. Mui Ne beach impresses tourists at first sight by swaying palms and towering dunes. This amazing destination is the best choice for tourists who are looking for sand dunes and kite surfing. You and your friends can camp on the beach as entertainment, that's so much fun! Explore this beach and visit the original fishing village where the locals still catch fish with giant round boats.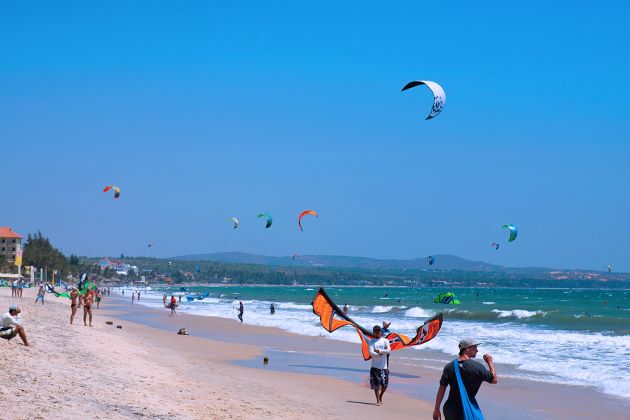 Best time to visit Mui Ne on Vietnam beach vacation packages: Thanks to its unique climate, any month of the year would be a great time to visit Mui Ne. However, according to the local people's suggests, the best time for visiting Mui Ne would be the months between August and April of the year.
Danang Beach
During the Vietnam war, Danang was a central fighting area but now it becomes one of the most attractive tourist destinations of Vietnam with charming beaches including My Khe, My An, Non Nuoc and Cua Dai. White powdery sand, crisp sunshine, a chain of coconut palm trees and a pristine coral reef waiting for visitors to explore, Danang is the perfect choice for many beach activities such as surfing, scuba diving, etc. Enjoy a day sunbathing, sip cool coconut water and listen to the sound of the wave lapping the shore. Watching sunset is also such an amazing experience you cannot miss!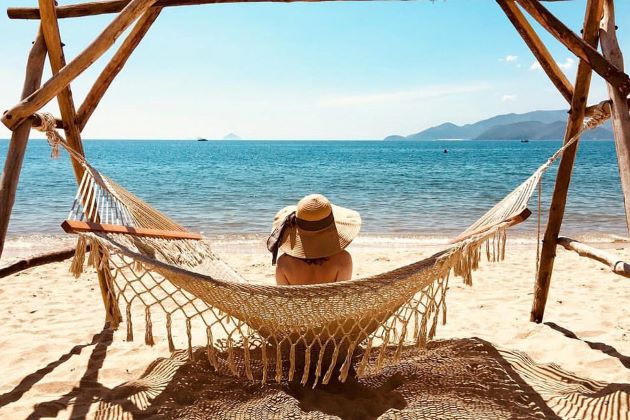 The best time to visit Danang beach: From April to May is the perfect time to visit Danang beach because these months are the beginning of the dry season, so it's not too hot and really suitable for swimming, sunbathing and other outdoor activities.
Phu Quoc Island
Phu Quoc Island – the biggest island in Vietnam is a paradise for beachgoers with its perfect white sandy beaches and palm tree-lined waters. The most beautiful beach that you cannot miss on this island is Long Beach (Bai Truong), a yellow-sand beach stretching along the west coast of the island. You also can find many perfect local beachside bars there. Having the coldest beer imaginable while looking out at the turquoise blue waters…it is awesome!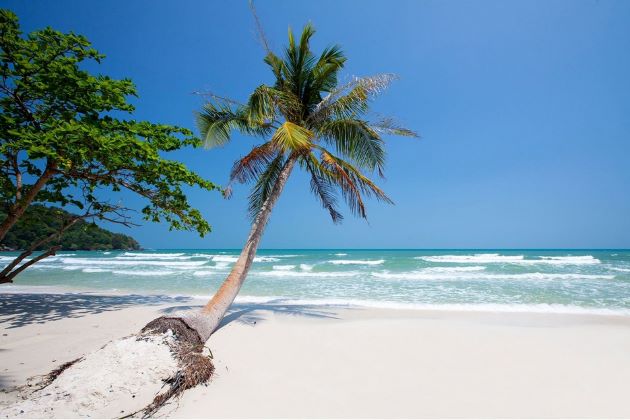 Best time to visit Long Beach: From November to March is an ideal time with consistent temperatures around 25-28 Celsius (77-82 Fahrenheit) and lower humidity.
Cua Dai Beach, Hoi An
As one of five Vietnamese UNESCO World Heritage Sites, Cua Dai is the ideal place for travelers who want to find their own patch of paradise. Cua Dai beach has captured the hearts of many visitors by clear water with tropically blue waves. This destination also offers many bungalows as well as plenty of great seafood restaurants located just around the coast. Visit the beach at sunrise to witness the fishing boats cast away for the day selling their catch later to the restaurants and hawkers lining the beach. You also can find a stream of unique souvenirs, fresh fruit, drinks and other local goods there.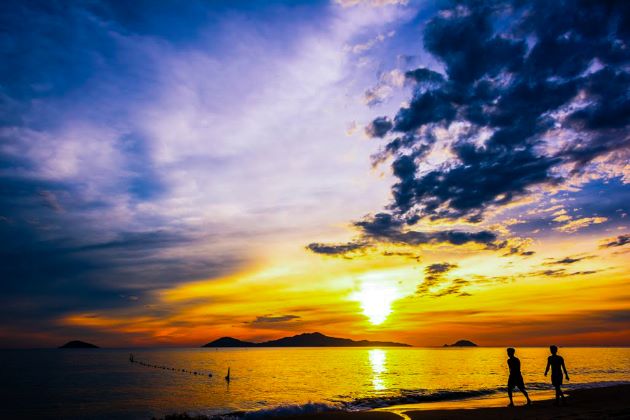 Best time to visit Cua Dai beach: From May to July is considered as the best time to explore this beach with temperatures averaging around the mid-30s Celsius.
Recommended for Vietnam Beach Holidays
Con Son Island, Con Dao Archipelago
Con Dao Archipelago not only is known for its colonial past where the French built the most notorious prison but also for 200km of stunning coastline and amazing coral reefs. These islands poss plenty of pristine beaches, untouched jungles and an overall serene atmosphere. Some of the most beautiful beaches on Con Son Island such as Lo Voi, An Hai, Dam Trau, and Bat Dat Doc, etc. If you are fond of biking, trekking or diving, do not hesitate to visit Con Dao Archipelago right now!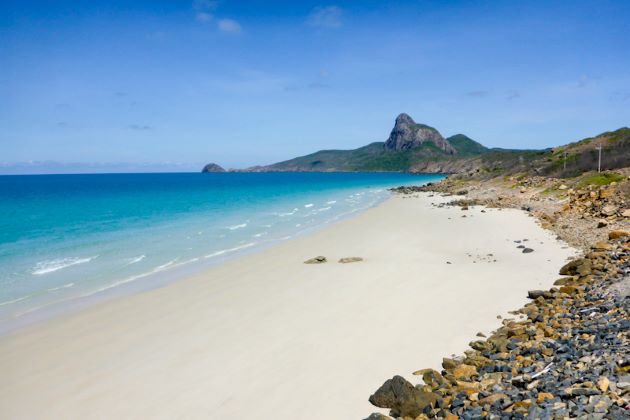 Doc Let Beach, Hon Khoi Peninsula
If you need a break from your bustling city, Doc Let Beach is the best choice for you with idyllic sand surrounded by evergreen trees. Because this beach does not have many modern tourist facilities so it is often not crowded and is a peaceful beach paradise for visitors. This beach also is perfect for sunbathing and sipping cocktails with the occasional swim in the turquoise waters to cool off.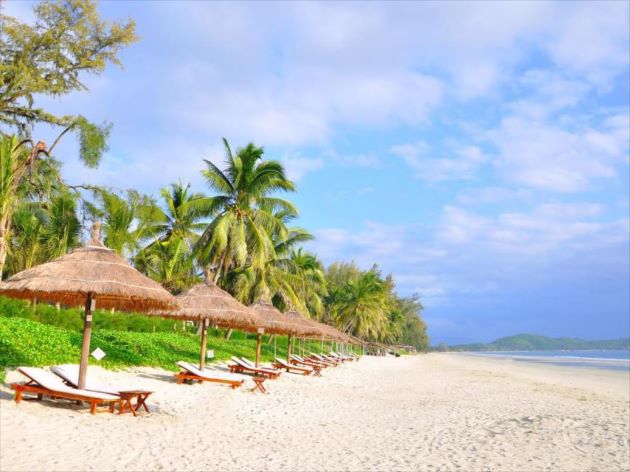 Check out our Vietnam vacation and tours, we guarantee you a memorable Vietnam beach vacation packages with such amazing experiences!