Ngoc Son temple is located on Ngoc (Jade) islet which lies in the northern part of Hoan Kiem Lake (Lake of the Restored Sword), a beautiful and famous lake in the center of Hanoi City. The lake is what remains from a portion of the Red River when the latter changed its course. The temple is the must-see attraction during Hanoi day trips as well as Vietnam tour packages.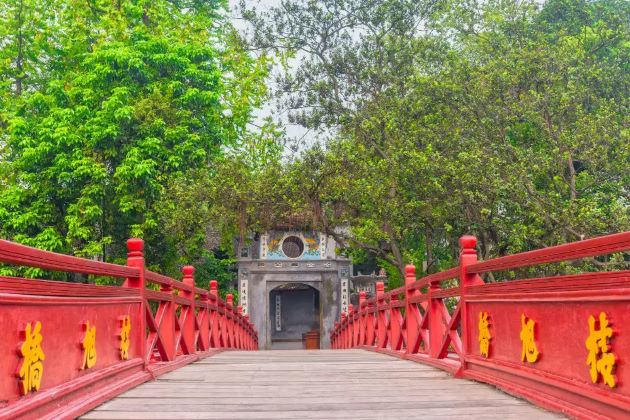 The Legend of Ngoc Son Temple
Ngoc Son temple is associated with the legend of a national hero: King Le Loi (1385 – 1433) led the war resistance against the Ming invaders with a sword given by God; after victory, one day as the King was boating on the lake, a tortoise came out of the water, grabbed the sword and disappeared in the depth of the lake. As a result, the lake was named "Ho Guom" (Sword Lake) and or "Ho Hoan Kiem" (Lake of the Restored Sword).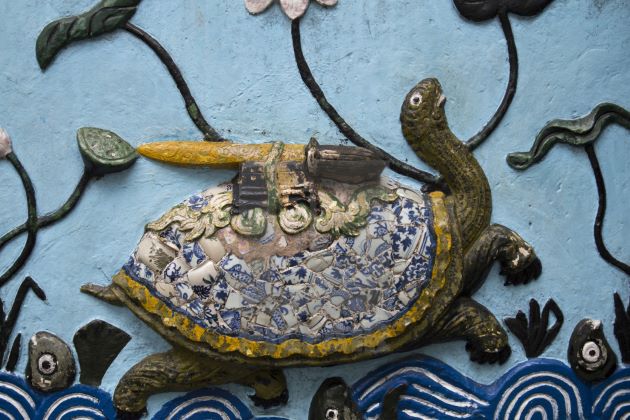 The History of Ngoc Son Temple
From 1735 to 1739, Lord Trinh Giang had the Khanh Thuy Palace constructed on Ngoc islet together with 2 mounds Ngoc Boi, Dao Tai – in front of Ngoc Son. At the end of the 18th century, King Le Chieu Thong burnt down the Khanh Thuy Palace. Then, rich and generous people donated to the building of a pagoda on the very spot, which was named Ngoc Son (Jade Hill). In 1843 the charity which managed the pagoda turned it into a temple with the same name to be dedicated to the cult of three Gods: Quan Cong, a famous Chinese general in the novel The Three Warring Kingdoms (in the inner chamber); Tran Hung Dao general, a famous Vietnamese general who defeated the Mongolian invaders in the 13th century (in the outside Chamber); Van Xuong, God of Literature (in the middle chamber). Later, a fourth altar was set up in honor of La Dong Tan, a famous mythical personage from China.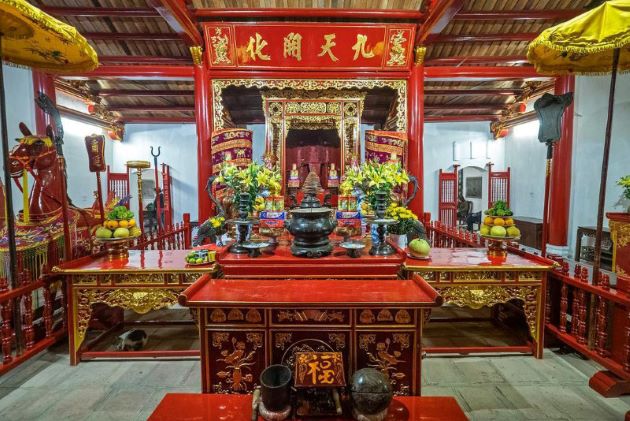 In 1864, a famous personality of Hanoi, Nguyen Van Sieu, repaired the temple strengthened the eroded lower part of the islet, built the Tran Ba Dinh pavilion (wave preventing) and The Hue bridge (Perching morning sunlight) for linking Dao Tai and Ngoc Boi islets, and set up on Dao Tai islet the Thap But (Brush Tower). This tower is 9m in height 2.2m in weight and in diameter at the base; it bears the inscription Ta Thanh Thien (Writing on the Blue Sky).
The Construction of Ngoc Son Temple
The main axis of Ngoc Son Temple runs from North to South, through the Inner Chamber, the other worship halls, the Trail Ba Dinh Pavilion, and then looks towards the Tortoise tower (in the middle of the lake). The temple is surrounded by trees and The Huc bridge leads visitors to the inside part of the complex. All this gives the temple and it is setting some originality and is a pleasant surprise for visitors. Repairs were carried out in 1886, 1889, 1916, and 1952.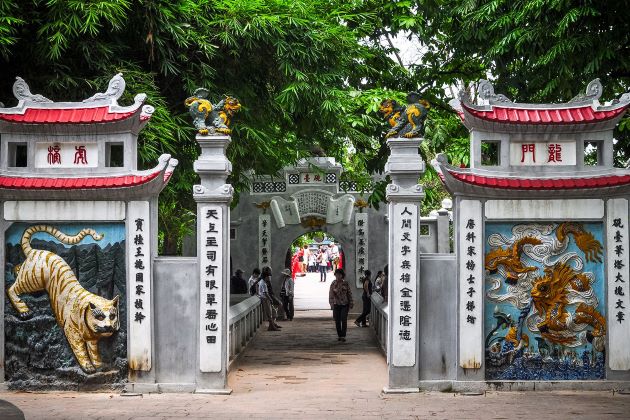 Ngoc Son Temple Travel Guide
Opening Time & Dress Code
From Monday to Friday: from 7h00am to 18h00
On Saturday and Sunday: from 7h00am to 21h00
Dress code: Elegant clothes
Vietnamese traditional music show: from 19h45 to 20h45 on Saturday and Sunday every week (no fee)
Contact: 04 66829064 – 04 38255289
Address: 90, Tho Nhuom street, Hoan Kiem Ward, Hanoi