Khai Dinh Tomb or Ung Lang is a relic of the Hue Imperial Citadel. The tomb is located in Chau Chuc village, Huong Thuy Town, Thua Thien Hue province. This is a place where Khai Dinh – Nguyen Dynasty's 12th king in the feudal history of Vietnam – was buried.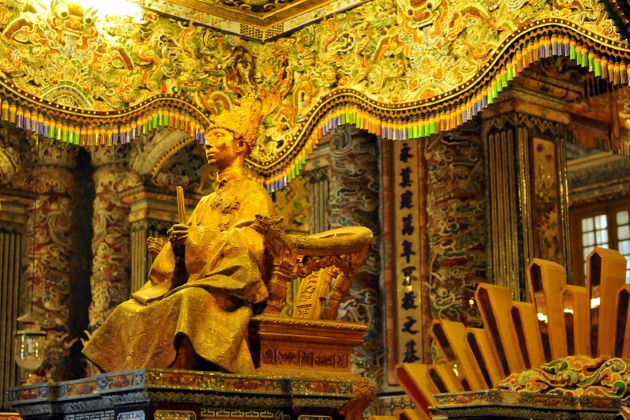 History of Khai Dinh Tomb
In order to build his own tomb, Khai Dinh had consulted with many of the geographers and finally chosen the slope of Chau Chu mountain as a location for the construction of the tomb. In this position, Khai Dinh tomb takes a low in the front hill to be its screen; it takes Mount Vung and Kim Son as "Green Dragon lying on the left" and "White Tiger on the right". The king changed the name Chau Chu Mountain into Ung Mountain and called the tomb Ung Lang.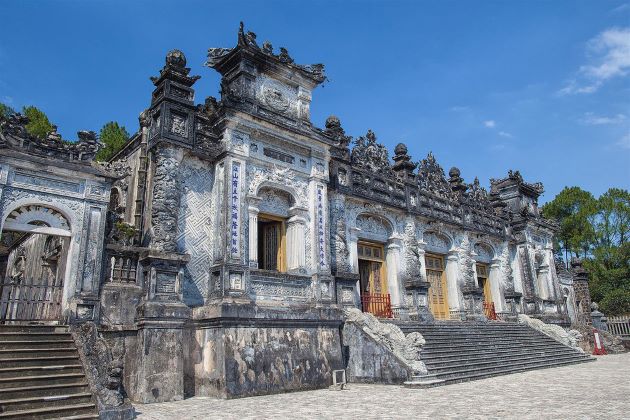 The tomb was started to construct on September 4, 1920 by commander Le Van Ba and it took 11 years to complete. Those who participated in the construction of the tomb included many famous craftsmen and artisans throughout the country, such as Phan Van Tanh, Nguyen Van Kha, Ky Duyet, Cuu Sring, etc. To have money to build the tomb, King Khai Dinh has asked the government to allow him to raise agricultural taxes to 30% on a national scale and spend that amount of money on his tomb. This act of Khai Dinh has been harshly accused by history.
Structure of Khai Dinh Tomb
Compared with the tombs of the predecessors, Khai Dinh Tomb is much more modest, with a size of 117 m × 48.5 m, but in reverse, the tomb is extremely elaborate constructed and time-consuming. To build the tomb, Khai Dinh let his mandarins travel to France to buy iron, steel, cement, Ardoise tile, etc. and let people travel by boat to China and Japan to buy porcelain, colored glass, etc. to build this monument on the hill.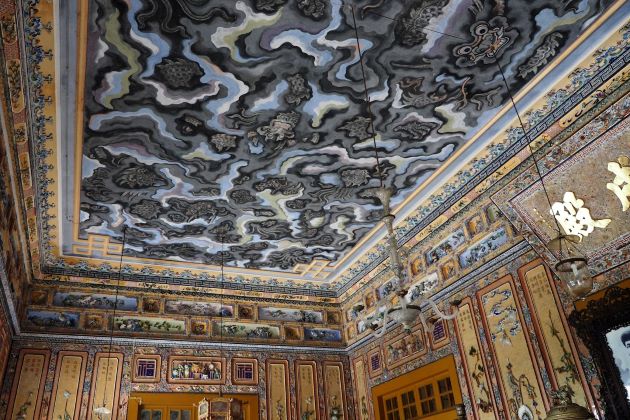 This tomb is a combination of Vietnamese and European architecture. The outside of the tomb is covered by blackened concrete, making the monument extraordinarily majestic. However, the interior design is much more colorful with myriad number of mosaics. The way leading to the Honour Courtyard with the presence of the concrete mandarins is also a mixture of Vietnamese and European elements. After passing the three-level stair, tourists meet the main building – Thien Dinh. Inside of Thien Dinh, the wall and the ceiling are ornamented with some natural pictures such as the Four Seasons, Eight Precious Objects and Eight Fairies. In the middle of the building stands the copper statue of Khai Dinh king whose corpse is buried 18m under the statue.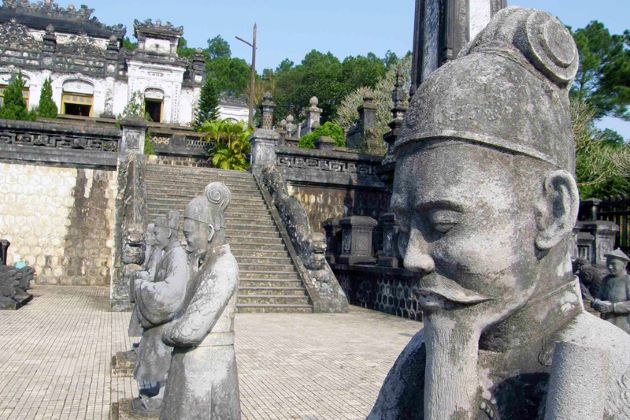 Khai Dinh Tomb together with Tu Duc Tomb is really a work of artistic and architectural value. It enriches the variety of the complex of Tombs in Hue and is worth your while in your Hue day tours as well as Vietnam tour packages.