Once dearly described as "the Pearl of the Orient", Ho Chi Minh City or Saigon is the largest city of Vietnam enchanting tourists by the Western architecture, impressive landscape, modern shopping malls as well as mouthwatering local dishes. Some popular highlights you cannot miss when visiting Ho Chi Minh City are Saigon's Post Office, Saigon Opera House, Independence Palace and War Remnants Museum, Ben Thanh market, etc. To have perfect Ho Chi Minh City Tours, you should consider about the weather of the city and then pick up the best time to visit this destination. Here is some useful information we want to share with you. Enjoy reading and hope you have a wonderful Vietnam vacation!
Overview of Ho Chi Minh's Weather
Thanks to the pleasant climate all year round, you can take your Ho Chi Minh City tours at any time of the year. With a tropical climate, Ho Chi Minh has two distinctive seasons dry and wet. The dry one is considered the best time to visit Ho Chi Minh City.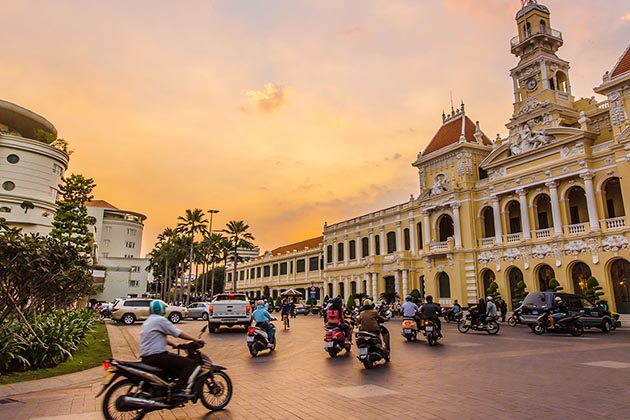 The Dry Season: From December to April
Starting from December and lasting until April, the dry season is the hottest, with the average temperature of 28 °C. In late April, the temperature can reach 39 °C around the daytime. December is the coldest month of the year is when the temperature may fall below 17 °C in the early mornings. To escape from the normal sticky weather of Saigon, you should take your tour in December when the humidity is moderate. In addition, from December to April, the sky is blue and clear making a stunning backdrop for the Notre Dame Cathedral in Saigon.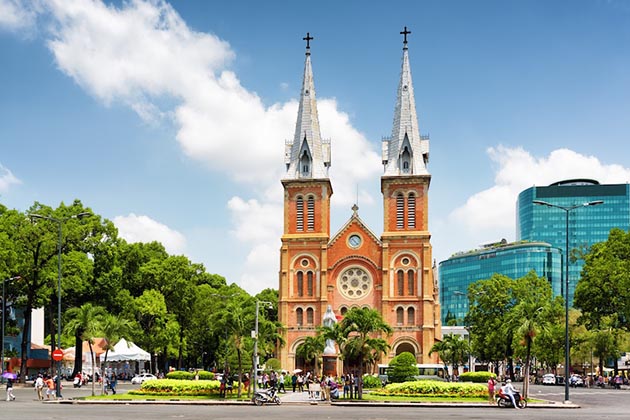 Especially, if you visit Ho Chi Minh City during this time, you will have an opportunity to celebrate Christmas and New Year explosively with local people here. Make sure that you book air tickets and hotels at least one month before the trip because during Lunar New Year (around late-January and mid-February), many shops and stores will be closed and air tickets will be fully booked just before it.
The Wet Season: From May to November
Tourists often visit Ho Chi Minh City during the dry season but the rainy season still has its advantages. Lasting from late June to September, the wet season is the time when the city is endowed with a rare nice climate. At that time, the rains occur more frequently, so it is quite humid and rainy. However, it's only raining for a short time, clear as quickly as they come, and give space for even more sunlight. Because the period from April to June is the season transforms from spring to summer, the weather is unpredictable.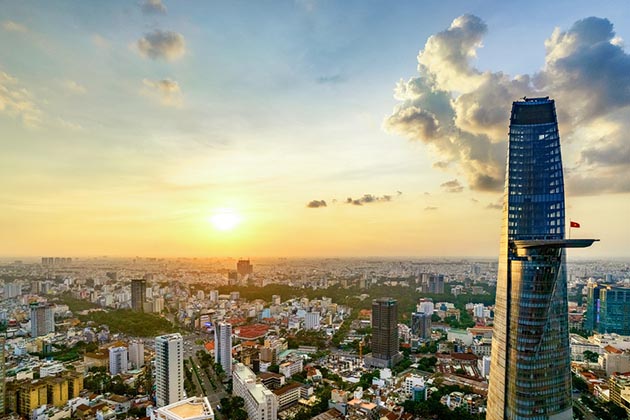 During the wet season, there are many national holidays such as April 30th holiday is called the Vietnam Reunification of North and South, May Day on May 1st, and Vietnam National Day on September 2nd. Therefore, if you visit Ho Chi Minh on these days, you will see many typical organizational events taking place in the city. Note that, during these days, transportation and restaurant services may be a little scantier for visitors, especially in nearby tourist spots such as Nha Trang beach, Mui Ne, and Dalat. Traveling during the time from June to beginning September is a good choice for beach and sun lovers. If you take your Ho Chi Minh tour on two last months of the season, you need bringing warm clothes because the temperature will colder. Note that, you also should bring a raincoat and an umbrella to avoid the rain.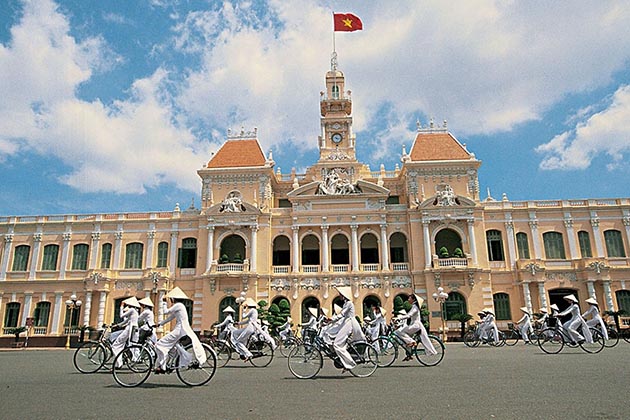 With some useful information above, we hope that you get some ideas about Ho Chi Minh City Tours. Actually, every time during a year is usually a good time for visiting this city in general. You don't have to worry about the weather of the best time to visit Ho Chi Minh City; all you need is good services and well-planned tours. Please feel free to contact us if you have any questions about the trip, our experienced experts will help you clear all the problems.