Ly Son Island is a district of Quang Ngai province in central Vietnam, located about 30 km from the shore, with an area of nearly 10 km2 and a population of over 20,000 people. It consists of 3 small islands: Cu Lao Re Island, An Binh Island, and Mu Cu Island – the smallest and uninhabited one. Ly Son Island has left an unforgettable impression in the hearts of visitors with its sunny days, dreaming beaches, and hospitable locals.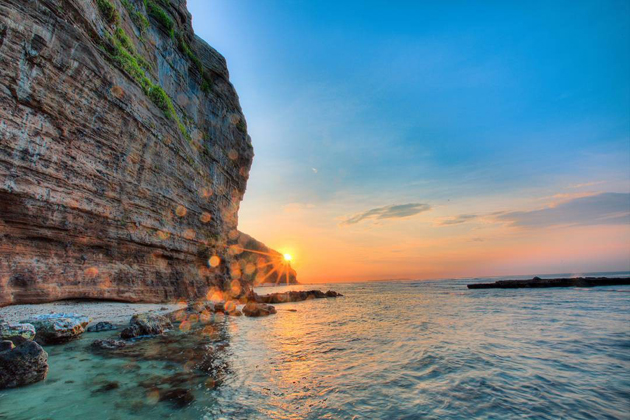 Ly Son Island Attractions
Hang Pagoda (Cave Pagoda)
It also has another name Thien Khong Thach Tu (the stone pagoda from heaven). The pagoda was built by King Le Kinh Tong (1588-1619). The name "cave" is based on its location in the largest cave of Ly Son Island at the mountain cliff of 20m high. Hang Pagoda is recognized as the national heritage as its historical and architectural value.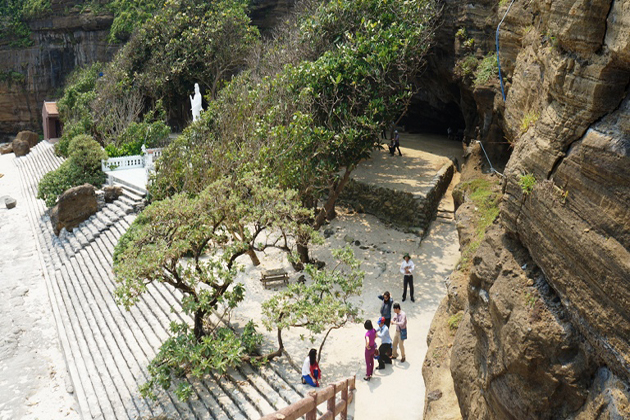 Kingdom of Garlic
Ly Son Island is extremely famous for the vast garlic fields where the "lonely garlic" is planted and then exported to countries around the world. According to scientists, garlic from Ly Son helps to prevent cancer cellule as well as boost the human immune system. It will be absolutely a wonderful gift from your Vietnam vacation for your family and friends.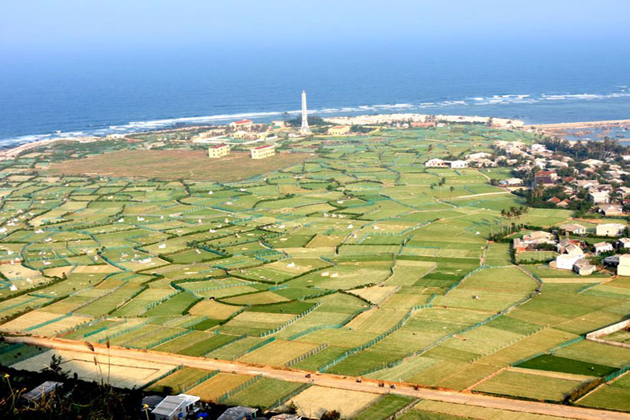 Duc Pagoda and Guan Yin Statue
The temple is located at the slope of Gieng Tien mountain- the volcano has been sleeping for thousands of years on Ly Son Island. Visitors have to pass more than 100 stairs along the mountainside to reach the Duc pagoda.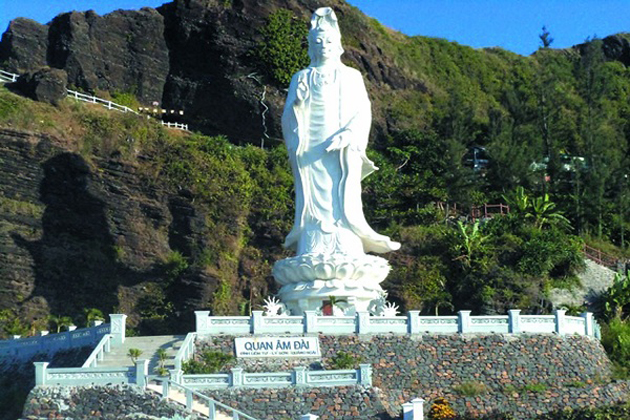 The Guan Yin statue at Duc pagoda is 27 meters high, leading to ancient shrines and mosses inside the mountain. According to the legend of Buddhism, Guan Yin chose Ly Son to dwell, keeping the locals safe from natural disasters. From the pagoda, you can have a panoramic view of the picturesque beach. Especially, the most interesting activity is climbing Mount Liem Tu to see the volcanic crater which is now a pan-shaped landscape of green grass. Looking down from the peak, tourists will be overwhelmed by the breathtaking scenes with the immense forests, blue sea with white sands, and the red basalt soil established from lava thousands of years ago.
Unique Culture of Ly Son Island
Ly Son is the "museum" of legends and spiritual ceremonies such as the one for soldiers sacrificing their lives to protect Truong Sa and Hoang Sa Island on Bien Dong (East Ocean) since Nguyen Dynasty (1802-1945). It has also preserved a lot of priceless historical documents affirming the Viet Nam's sovereignty over sea and islands.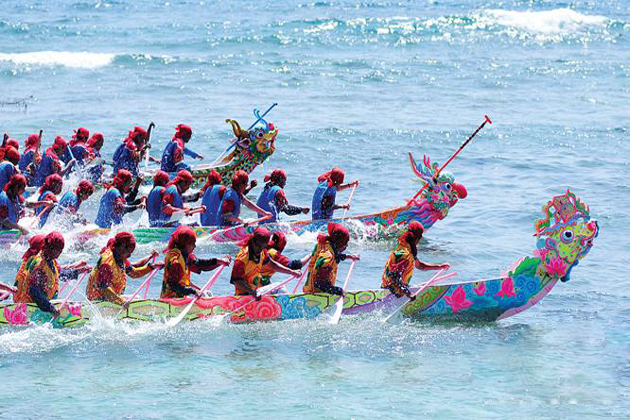 Today, Ly Son Island is the well-known tourist destination of unique natural scenery as well as many cultural relics such as Hang Pagoda, Duc Temple, An Hai Temple, Hoang Sa – Truong Sa monument, and the culture of Cham and Sa Huynh (in the 2nd century A.D.). Most of them were recognized by the Ministry of Culture, Sports, and Tourism as national cultural history. Besides, traditional festivals such as Ly Son boat racing after Vietnam New Year (in February) has attracted a lot of visitors.
Ly Son Cuisine
The cuisine in Ly Son is attached to garlic and seafood. The locals always focus on the natural taste, smell as well as nutrition of all ingredients. Hence, the common type of food in Ly Son Island is salads.
Garlic Salad
The symbol dish of Ly Son Island is made from garlic body. The outer shell of garlic is removed, then washed and steamed without water to ripen. Later mix processed garlic with spices and sprinkle a little peanut, fresh vegetable, and herbs. Garlic salad is not only absolutely delicious but also good for your health thanks to the amazing uses of Ly Son garlic.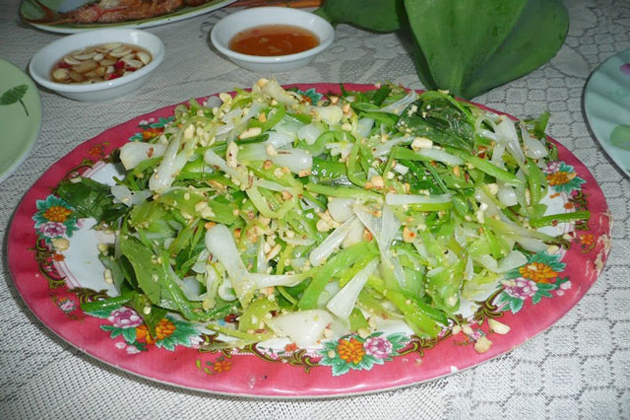 Jellyfish Salad
Fresh jellyfish just caught up by fishermen in the morning is soaked in water with a green banana chopped to prevent from losing its water. Then jellyfish is mixed with aromatic herbs, sliced mangos, and the sauce of fish sauce, garlic, chili, sugar, and vinegar, etc. In addition, fried onion and peanuts are sprinkled on the top to boost the smell. This simple but nutritious food is the must-try when visiting Ly Son Island.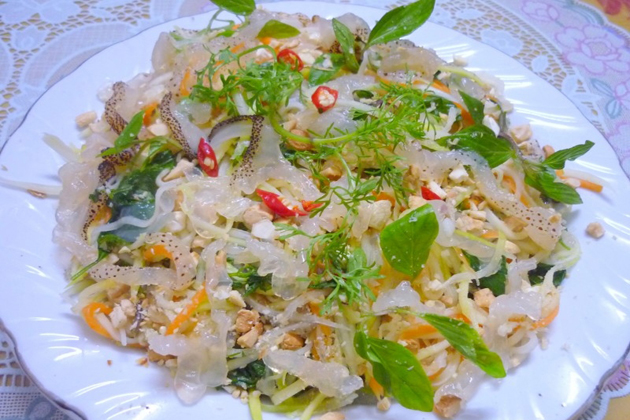 Ly Son Island Travel Guide
Transportation
After arriving in Sa Ky port in Binh Son District of Quang Ngai province (by coaches or trains from big stations in Danang, Hanoi or Saigon), tourists can travel by boat to Ly Son Island which takes about 1 hour by high-speed one (around 100,000 VND for a single ticket) or about 2 hours and a half by wooden boat (around 50,000 VND for a single ticket).
Accommodation
Although Ly Son is far from the land, the facilities and living standards are invested a lot by the authority. Ly Son hotel is the biggest and most modern one in the island. However, if it has no room left, well-equipped homestays or small hotels are always available at reasonable prices for you to consider.