Vietnam is an ideal destination foodie cannot miss. Vietnamese cuisine captures the heart and soul of anyone for the first time. Step your foot on this country to sample mouthwatering dishes like Pho, Bun Cha, or Banh Mi. Check out this blog to know more about Vietnamese food names and to have a wonderful Vietnam vacation. Enjoy reading!
Regional Differences of Vietnamese Cuisine
Influenced by the geography of the country, the Vietnamese cuisine is divided into three distinct regions including the North, Central, and the South. Each region has a ton of unique local specialties which definitely compete for your attention and affection. However, the cuisine of any region also has two things which are rice and a very specific fish sauce. The North's food is mountainous and cooler than other regions' food. You can easily realize that soups play a large role in North cuisine.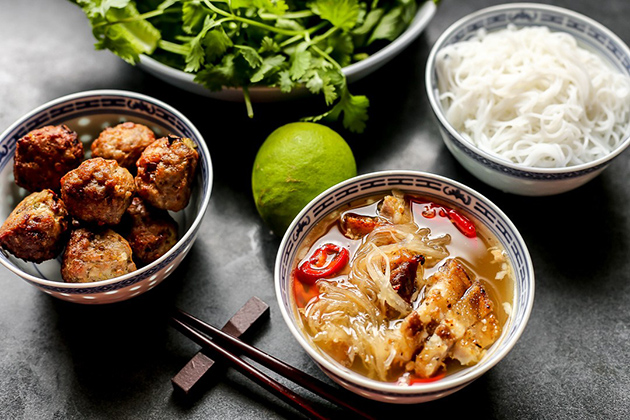 Visit Hanoi capital to taste the specialties of this region such as Pho, Bun thang, and Cha Ca. Hue is an ideal place to taste Central's food which is very distinct and made up of several small dishes. Do not forget to sample some mouthwatering dishes such as Banh Khoai (Vietnamese savory fried pancake), Banh Nam (steamed rice dumplings), Banh Bot Loc (translucent tapioca dumplings), and more. Affected by Thai cuisine, the South's food is spicier than food from the rest of the country. Spend time in Ho Chi Minh city to feel the amazing flavor of the South.
Vietnam Cuisine Has a Mountain of Fresh Herbs for Flavor
A huge bowl overflowing with fresh herbs is a common image in any restaurant and stalls in Vietnam. People think that a delicious and nutritious meal must have vegetables. Herbs are served in a huge bowl or tray accompany with many different dishes from noodles, soups, sandwiches, rolls to rice. The herbs are plentiful, diverse, and fresh. They not only make the meals more attractive but also bring forth the delicious flavors of the foods.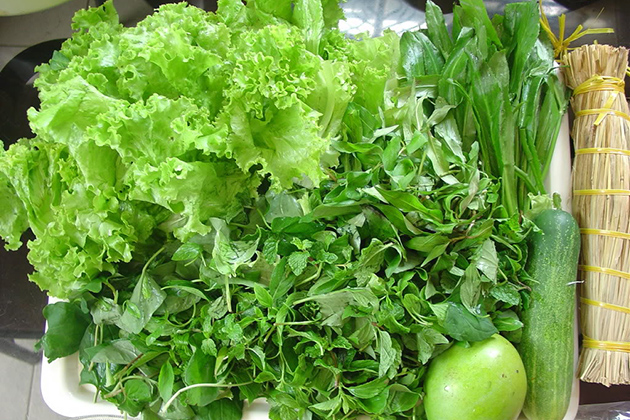 Eating Low to the Ground
Vietnamese people eat very close to the floor. You can easily find many luxurious restaurants with waiters in Vietnam, however, those are not the best places to taste Vietnamese cuisine. Look for a small plastic stool on the sidewalk and join the crows of locals slurping down hot tasty bowls of soup. In the afternoon, nothing is more exciting when you sit in a street stall to taste Che (Vietnamese sweet soup) and chat with local peoples. Sometimes you can see local women sitting on even smaller stools, about half the size (about 15 inches) when washing dishes.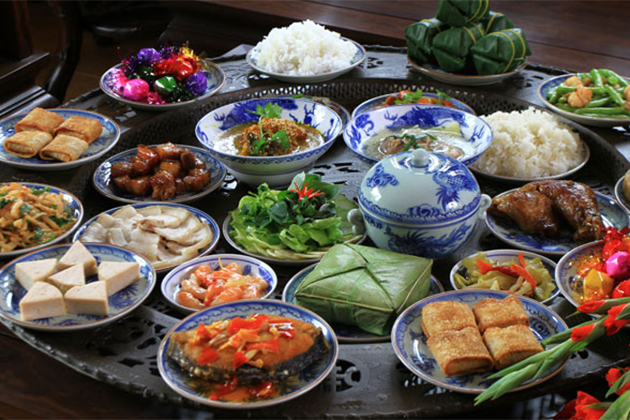 Drinking Coffee in Vietnam
As the world's second-largest producer of coffee, Vietnam has many kinds of coffee that served both hot and iced ranging from very strong, black, or with condensed milk (called ca phe sua). If you are in Hanoi, do not forget to taste Egg Coffee (ca phe trung) the most famous coffee in the north of Vietnam. It is a dark coffee topped with egg yolk whipped with condensed milk into an airy froth. Egg Coffee is quite rich and tastes similar to tiramisu dessert. Vietnamese people love drinking coffee in a small roadside coffee shop while watching the forever crowded traffic of Vietnam filled with motorbikes flowing.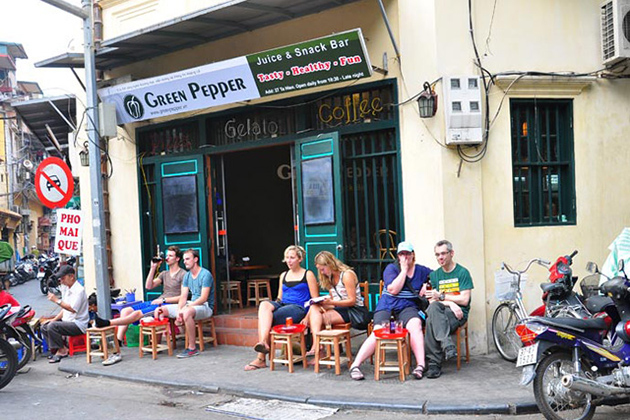 Don't Miss Che or Vietnamese Soup Desserts
Che is the famous sweet dessert in Vietnam, you can find it in many stalls on the sidewalk and street vendors. It is a perfect combination of fruit, vegetables, beans, seeds, glutinous rice, and tapioca powder, and is often topped with coconut milk. With colorful ingredients and special flavors, Che is a great and cool drink in summer. Make sure you don't miss Chè Long Nhãn Hạt Sen – Logan and Lotus Seed Sweet Soup and Chè Trôi Nước – Sweet Glutinous Rice Dumplings…Yummy!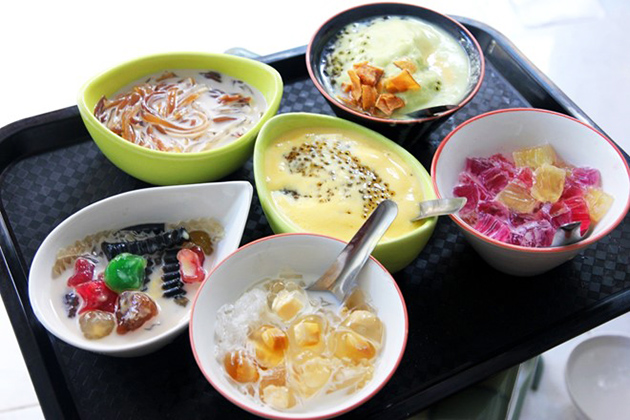 In conclusion, Vietnamese cuisine is as fascinating and vibrant as its culture, with incredible flavors and tastes. Feel free to contact us if you want to have delightful Vietnam culinary tours throughout the country.