Learn how to prepare and cook authentic Vietnamese food at a fun and interactive half day with our English speaking Vietnamese chef in Ho Chi Minh City. Refresh your culinary skill and creativity, exploring a unique Vietnamese local market, and enjoy lots of authentic Vietnamese food and cooking tips along the way.
Experience our service with
Guides: Hand-pick from our best guides, mature, acknowledgeable, all are licensed, great senses of humor
Drivers: friendly, responsible, reliable with many years driving experience, door-to-door services
Vehicles: comfortable, spacious, air- conditioned, big window
Viet Vision Travel Office: 24/7 customer service, accommodate all your needs
Tour route: Half Day trip – morning class
Duration: Half days
Date: Tuesday to Sunday, 1 session: 8h30 am till 1pm.
Start/End: Ho Chi Minh City/Ho Chi Minh City
Active level: Easy
From 8:30 am to 9:30 am – Market visit: our Vietnamese Chef will guide us through the colorful and vibrant Ben Thanh market to purchase the ingredients we will use during the cooking lesson.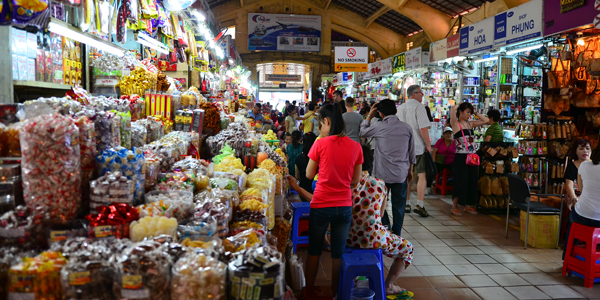 From 10 am to 1 pm – Cooking Class
– We will use Vietnamese kitchenware to realize and enjoy a tasty 3 courses meal.
-Complimentary dessert & free flow of Tra-Da and water.
-Nice folder with detailed recipes.
All Chefs and team are fluent in English.