Tour Highlights
Visit formed Australian Military Base in Vietnam: Nui Dat SS Hill
Pay respect at the Long Tan Cross Memorial
Savor the authentic Vietnamese food
Go deeply into the ANZAC's role in the Vietnamese conflict
Explore the Long Phuoc Tunnel
Appreciate the breathtaking scenery from the top of Ming Dam
Tour all the most popular attractions of Vung Tau City
Relax with the white sands and calm blue water
Experience our service with
Guides: Hand-pick from our best guides, mature, acknowledgeable, all are licensed, great senses of humor
Drivers: friendly, responsible, reliable with many years driving experience, door-to-door services
Vehicles: comfortable, spacious, air- conditioned, big window
Viet Vision Travel Office: 24/7 customer service, accommodate all your needs
Tour route: Ho Chi Minh City – Nui Dat Mountain – Long Tan Cross – Long Phuoc Tunnel – Vung Tau – Ho Chi Minh City
Duration: 2 days
Start/End: Ho Chi Minh City/Ho Chi Minh City
BRIEF ITINERARY
Day 1: Ho Chi Minh City – Nui Dat SS Hill – Long Tan Cross, Long Phuoc Tunnel – Vung Tau (B, L)
Day 2: Vung Tau – Ho Chi Minh City (B)
Day 1: Ho Chi Minh City – Nui Dat SS Hill – Long Tan Cross, Long Phuoc Tunnel – Vung Tau (B, L)
We start today at 08:00 from Ho Chi Minh City by road; our first stop is the sight of the former Nui Dat Task Force Base. Little remains of this camp except for the columns of the main gate. The former runway is now a wide street in the local village and the old helipad is now a soccer field. A school established by the Australians is nearby. Later we drive past the location of the Horseshoe (access not permitted these days due to mining activity) to the Discourtesy Rubber Plantation.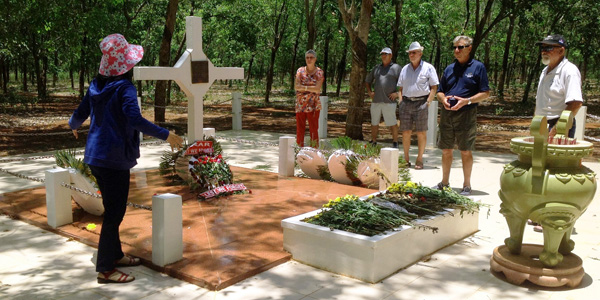 Visit the Long Tan Cross Memorial, before continuing on to the Long Phuoc Tunnels and visit Ming Dam (no longer the "Secret Zone") and Long Hai. We keep driving to Vung Tau City via to visit the massive War Memorial at Back Beach (the previous site of the Australian Logistics Group and the Peter Badcoe Club). Then we visit Front Beach, Bao Dai Summer House, the airport area, (previous home of "Wallaby Airlines"), the town center and market area. We continue to make our way to Vung Tau on the way we stop to visit Ba Ria Markets on the way. A large antenna is still visible on Radar Hill". Overnight in Vung Tau city.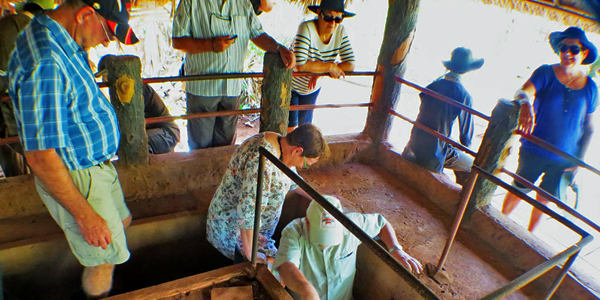 Day 2: Vung Tau – Ho Chi Minh City (B)
After breakfast at the hotel, we are free at our leisure at beach city. Enjoying your time at the beach and manage your own lunch. In the afternoon, we transfer back to Ho Chi Minh City.