The "culture" of breakfast is a significant thing when tourists think of a country, especially the one which has a diverse culinary like Vietnam. Vietnamese people wake up early and often spend time finding something to satisfy the empty stomachs in the morning. To meet this demand, an uncountable number of food stalls and restaurants serving dozens of Vietnamese breakfast can be found easily everywhere in Vietnam. Consider the list of best foods for breakfast in Vietnam and plan to eat all of them in your Vietnam vacation.
Common Foods for Vietnamese Breakfast
Pho – Vietnamese Noodle Soup
Japan has sushi, South Korea has kimchi, Mexico has taco and Vietnam has pho. This noodle soup totally contains all the features of Vietnamese cuisine. Pho is made of rice – the most basic food in Vietnam. Pho has the hot broth cooked from beef, pork and chicken bones, the popular poultries of Vietnamese farmers. Its smell is the combination of a variety of traditional seasons, herbs, and spices. The Vietnamese eat pho all around the year but they prefer tasting it when the cold dominates the weather. Every cook has their own recipes of making pho so how tasteful the noodle soup is based on the feelings and emotions of the gourmets.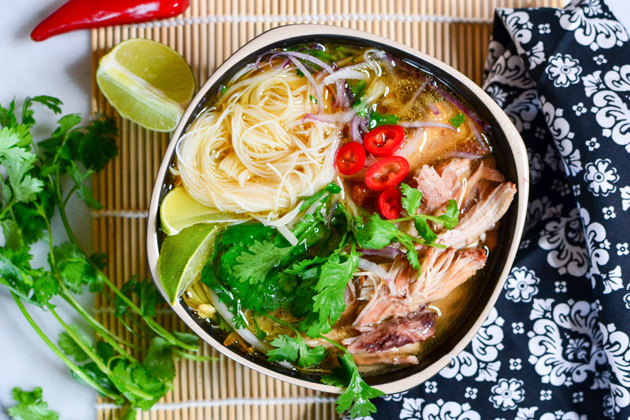 Banh Mi – Vietnamese Sandwich
Banh mi is younger the other Vietnamese breakfasts. After invading Vietnam, the French popularized their cultures and bread and pâté were two of them. How did the Vietnamese do when changing French foods into one of the ten dishes in the world you have to try before death. The answer is the wonderful combination of bread and pâté with traditional ingredients such as Vietnamese sausage, Vietnamese processed beef, chicken, and pork as well as unique pickles and secret sauces. If you eat one type of banh mi each day, make sure that your trip to Vietnam will last at least a year as there are too many types of banh mi.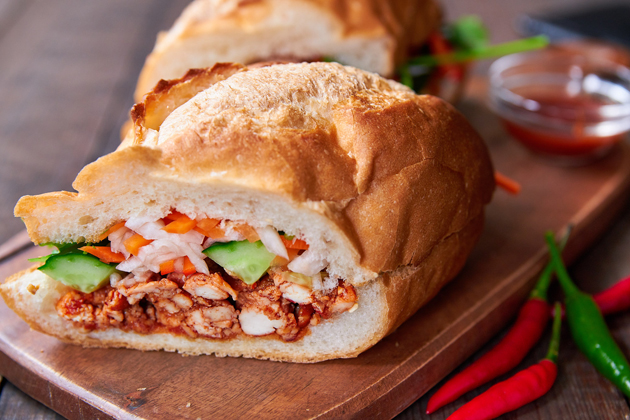 Typical Foods for Vietnamese Breakfast in Hanoi
Bun Cha (Rice Vermicelli with Grilled Pork)
What makes this Vietnamese breakfast attractive is the perfect combination of its ingredients. Well-seasoned sliced or minced pork are grilled over hot coals until changing into charming brown. Then it is put into a bowl of a dipping sauce made of fish sauce, vinegar, sugar, lime, garlic, and chili together with pickles made of green papayas and carrots. This wonderful sauce is eaten with white rice vermicelli and herbs. Order a cup of cool beer and a dish of seafood rolls, you will completely enjoy the same taste as President Obama did.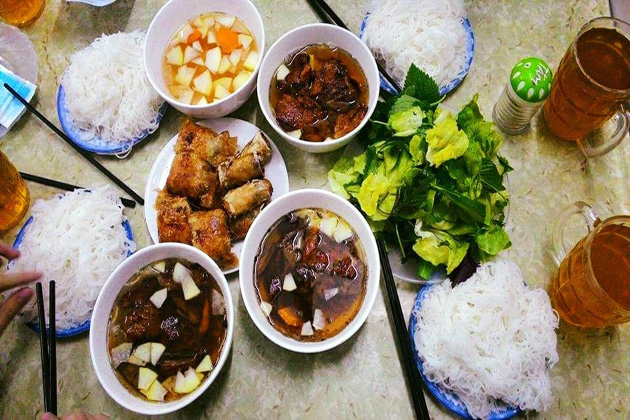 Names of recommendation are Bun cha Huong Lien (chosen food stalls by Obama) at 24 Le Van Huu St and Bun cha Tuyet at 24 Hang Than St.
Bun Thang
Vietnam has many different types of vermicelli soup but Bun thang is exactly the symbol of long-established Vietnamese history and breakfast. "Bun" means white rice vermicelli and "thang" means an ancient unit of Chinese herbal medicines as this food has plenty of ingredients and looks like a pack of herbal medicine in China. The hot soup of Bun thang is the tasty broth of chicken, pork bones, dried shrimps, spices and grilled ginger. Put the vermicelli into the bowl, top up with shredded boiled chicken breast, shredded Vietnamese ham, persevered radish, sliced mushrooms, boiled shrimps, salted eggs, crispy fried shallot, Vietnamese mint, chopped spring onion. Then ladle the hot soup over the bowl. Remember to add some mam tom (shrimp paste) and enjoy entirely the thousand-year quintessence of Hanoi culinary.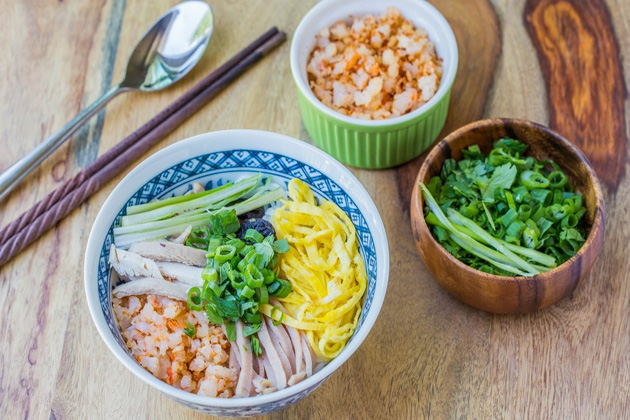 Suggested food stalls are Bun thang Ba Duc at 56 Bat Su St and Bun thang Thuan Ly at 33 Hang Hom St.
Xoi (Sticky rice)
Xoi, pho, banh mi are top 3 delicious and popular breakfasts in Vietnam. Surprisingly, there are so many types of Xoi in various colors depending on its toppings. Vegetarian toppings are red, green, black beans; lotus seeds, copra, peanuts, sweet corns etc. Meat options include pork, sausage, liver pate, chicken, dove, and ham, etc. Each topping brings a unique taste for Xoi, leaving you unforgettable feelings. Fill your empty stomach in the morning by tasting one type of this astonishing Vietnamese breakfast.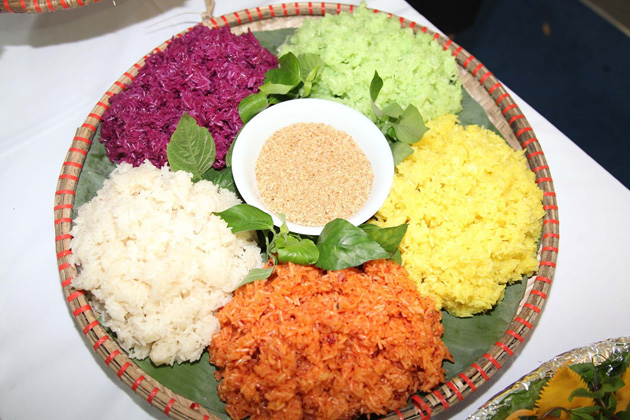 You can find stalls selling Xoi on the most of the streets in Hanoi such as 57 Hang Nhuom St or 41 Duong Thanh St.
Chao (Congee)
Chao is the simple breakfast to eat and very good for your digestion. Like Xoi, a lot of things are added into Chao to boost the taste and nutrition. They are diverse from minced pork, fried clams, crullers, ribs, quail eggs, chicken, eels, and fresh herbs, etc. Start your energetic day by enjoying a hot delicious of Chao.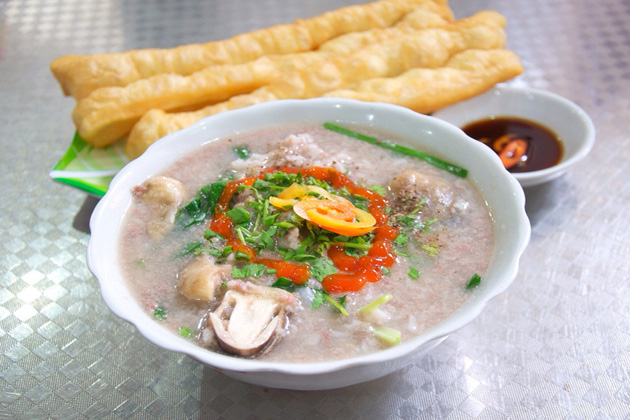 You should taste Chao at some traditional stalls like Nhat Quan stall in 1 Hoang Dao Thuy St and Huyen Anh stall in 14 Dong Xuan St.
Unique Foods for Vietnamese Breakfast in Ho Chi Minh City
Bot Chien (Fried flour cake)
This Vietnamese breakfast has simple ingredients, easy process but the amazing taste and enough energy for your day of activities. The small cubes of flour cake and lard are fried with beaten eggs together with liver pate until their two sides change into attractive brown. Drizzle some soy sauce over the dish, mix well and taste.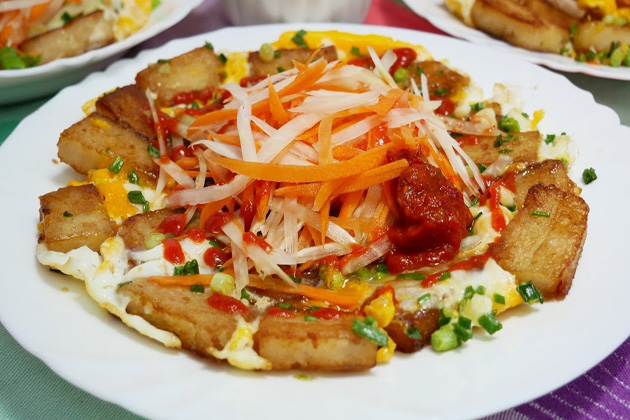 Bot Chien Dat Thanh at 227 Vo Van Tan St and Bot Chien Ong Ba the at 40/53A Vĩnh Khanh St are the best advice.
Pha Lau (Viscera Stew)
Considered as a separate breakfast of Saigon, anyone firstly seeing Pha Lau will frown by its look. But once eating it, you will be fascinated by the flavor. Pha Lau is processed from viscera of pigs or cows (spleen, liver, and heart) combined with pepper, garlic, fish sauce to deodorize their rancidity and stewed with the flavor of white wine to make the crunchy and fatty dish. Order some bread to eat with soup of Pha Lau to satisfy your hunger.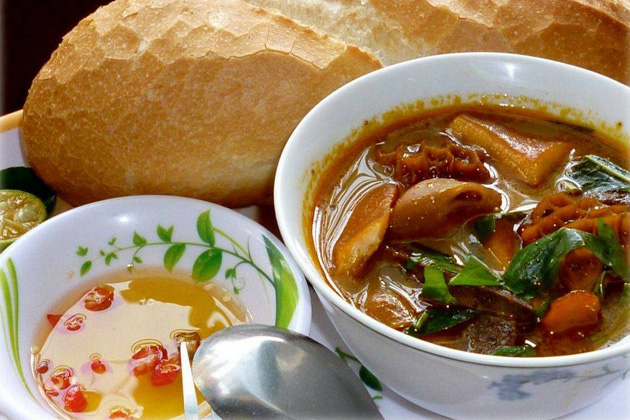 Names of suggestion are Pha Lau co Thao at 243 Ton Dan St and Pha Lau Li at 1A Suong Nguyet Anh St.
Hu Tieu
The breakfast includes boiled noodle, shrimps, quail eggs, pork, liver, and fresh herbs. Hu Tieu can be served in two forms dry and wet. In dry Hu Tieu, the noodle is mixed well with a mixture of oyster sauce, soy sauce and sugar to create the wonderful smell. Wet Hu Tieu is quite similar to Pho in Hanoi, using hot broth made from pork bones, dried squid, sugar, and fish sauce.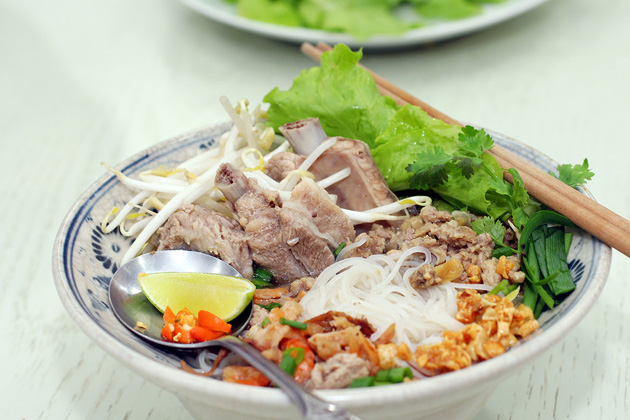 Suggested food stalls are Hu Tieu Nam Vang at 90D Tran Quoc Thao St and Hu Tieu Suon Non at 147A Tran Hung Dao St.
Other Special Vietnamese Breakfasts
Mi Quang (Quang Noodle)
Mi Quang is regarded as the symbolic Vietnamese breakfast, containing the excellent elite of the cuisine of Central Vietnam. The fragrant chicken, the fresh vegetables, the fatty taste of the sauce, the aroma of peanuts, and the crispiness of rice paper are mixed well together to create the awesome smell that you never forget. Danang is the well-known destination for impressive bowls of Mi Quang.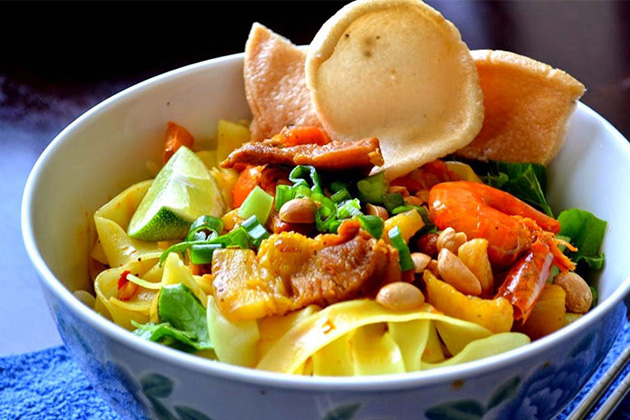 Bun Bo Hue (Hue Rice Vermicelli Soup with Beef)
If Hanoi is famous for Pho, Bun bo Hue is the characteristic breakfast of dreaming Hue. A bowl of Bun bo Hue is the harmonious combination of beef, vegetables, and thick rice vermicelli. What makes this food unique is the sweet broth made from beef bones and special spices. People said that traveling to Hue without tasting Bun bo Hue in the morning is such a great mistake.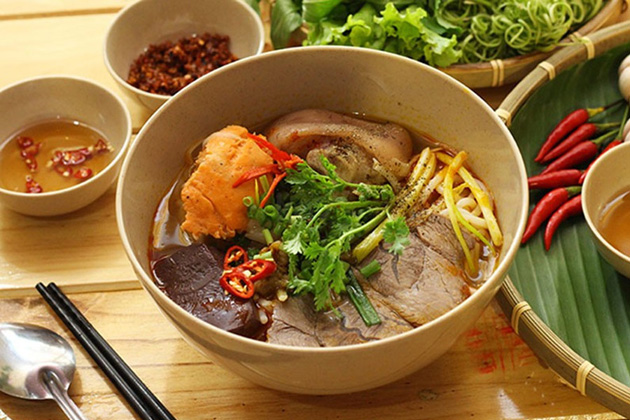 How to Eat Vietnamese Breakfast as a Local Do
In Vietnam, breakfast is slow. Vietnamese people often spend 30 minutes or even an hour for breakfast. After ordering the foods, they often wait some minutes for their breakfasts to be processed. During this time, they will prepare chopsticks, fresh herbs, and spices. As enjoying the meal, they will talk about their life, jobs, and family. Then, they will drink a cup of green tea or coffee to balance the mouth and stomach. A day of working and studying just start now.