Each nation in the world has its own typical traditional costumes. If Vietnam has charming Ao Dai, Cambodia has an impressive "sam pot", Laotian traditional dress is well-known for the unique "Sinh" and "Salong". Set your foot in Laos to contemplate the Lao people dancing Lam Vong in their traditional clothes. Lao men and women have different traditional costumes with diverse styles and colors.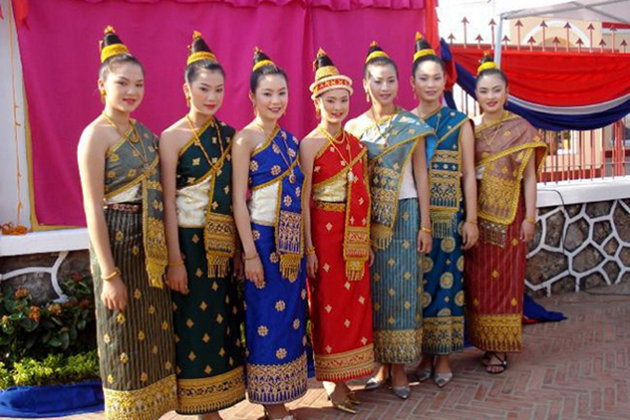 Laotian Traditional Dress & Weaving Skills
In the past, Lao men and women wear the same garments made by textiles with no color or any patterns. Women just wore simple earrings and coiled hair down to both sides to the back. Nowadays, Laos Sinh changes a lot, becoming so delicate with elaborate embroidery patterns and diverse colors. Laos is also famous for its weaving art which is handed down from mother to daughter as a sign of eligibility for marriage. Laos women had to raise the silkworms on a constant diet of mulberry leaves.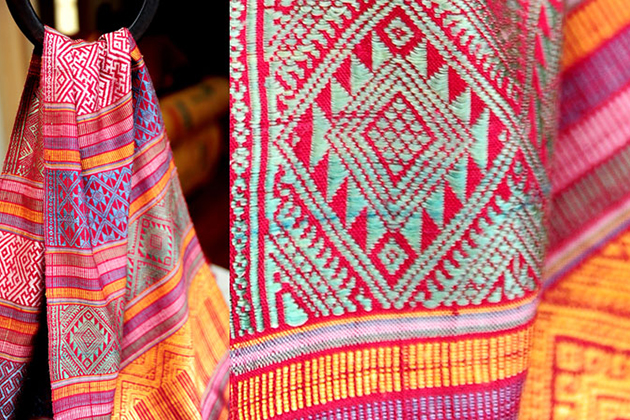 After that, the silk is woven on handlooms in the north or on foot looms in the south. The weaving technique of each region throughout this country is different. For example, the weaving products of the south are renowned for the intricate patterns of elephants, temples, Khmer influenced designs, and features intricate beadwork. The northeast people often use raw silk and cotton, and tye-dying raw silk known as matmii or ikat. Each glamorous Sinh is really a work of art reflecting skillful handicraft technique as well as the culture of Laotians.
Sinh – The Traditional Clothes of Lao Women
Because in the Lao people thinkings women are considered as the mother of the nation, Laos women are expected to look gorgeous. Visiting Laos, you will run into Laos women wearing simple Sinhs with a little decoration in daily life from working in the fields to selling agricultural products. However, if you soak into an important Lao ceremony, you will see many Lao women coiling their hair and wearing colorful scarves, blouse, silk skirts, and sparkling pieces of jewelry. The traditional Sinh set of Laos women often consists of three main parts including a sinh, a suea pat, and pha biang.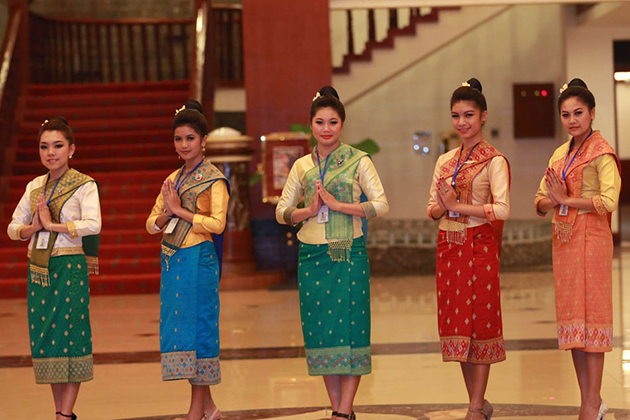 Worn by Laos women in specific events, Laos Sinh or phaa sin is a wraparound skirt made of silk and cotton woven and decorated with exquisite patterns. It includes three parts Hua sinh, Phuen sinh, and Tin sinh. Suea pat is a long-sleeved shirt with no buttons which is used to wrap the right side of the front panel of the shirt over the left side of the front panel and tie two panels together by strings. Pha Biang is a shawl-like garment worn by both men and women. It is a long piece of silk about a foot wide, draped diagonally around the chest cover one shoulder which its end drops behind the back.
Salong – The Traditional Costumes of Lao Men
Unlike Sinh of Lao women, the traditional costume of Lao men is Salong which are big pants in various colors. Laos men often wear these special pants in important events, ceremonies, and even in contests. Salong is often combined with a shirt, knee-length white socks, and a pha biang. Lao men often wear "yao"or "hang" – a wrapped around skirt which is designed with two ends twisted together, pulled between the legs, and fixed into the waistband at the back. However, it takes a lot of time and effort to make yao or hang because it is made of heavy plied silk and delicate embroidered.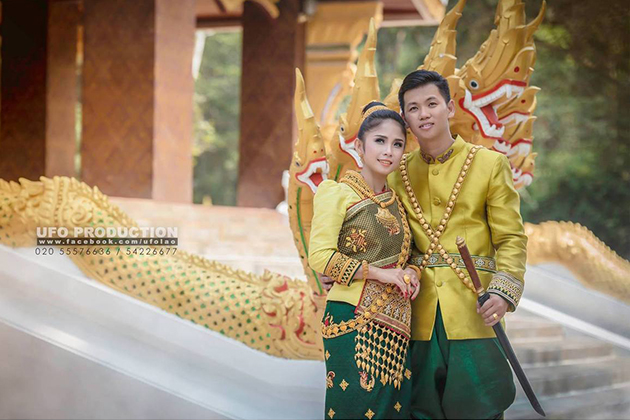 The Laos Traditional Clothing of Ethnic Group
Laos is a multi-ethnic country that has a rich history and culture. Each ethnic group has its own customs and traditional clothes. Costumes of Laotians diversified among different ethnic groups, presenting their distinguished concept about nature as well as reflecting the richness of their spiritual life and sense of art. For example, if the Black Hmong wear deep indigo dyed hemp clothing that consists of a jacket with embroidered sleeves, apron, sash, and leg wraps, the flower Hmong people is outstanding with beaded fringe trim along the shoulder and chest or head wraps of colorful tartan.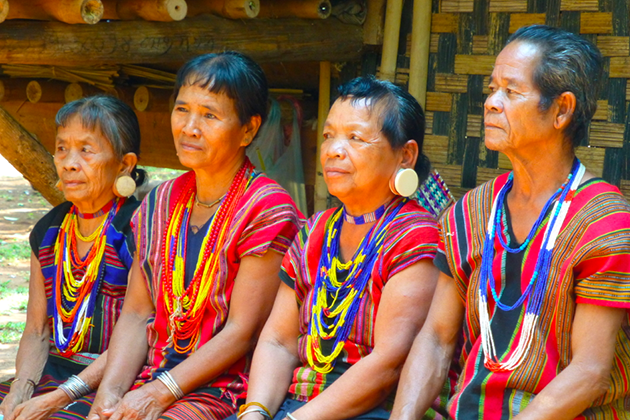 Traveling to Laos is a great choice for all types of tourists. Taking Laos tours, you will have a chance to wear impressive Lao traditional clothes. Do not forget to buy a set of Laos Sinh for your own and pick up some sets for your family members or friends. Check out Top 10 Souvenirs to Buy in Laos for more interesting information.