Same as other countries, the flag of Cambodia is the national emblems. This Cambodia flag was first used in 1948 and replaced by the other flag in 1970. It was reintroduced in 1993 under the issue of the Cambodia National Constituent Assembly.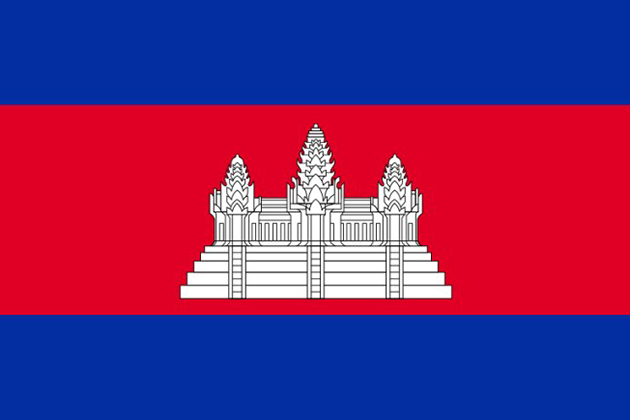 Design of Cambodia Flag
The flag is designed with a horizontal rectangular shape having the length-width ratio is 25:16. The Cambodia national flag consists of three stripes which two sides are blue and the center is red. The red stripe has a width double than the blue one with the white depiction of Angkor Wat – the national symbol – in the middle. This is one of two national flags in the world that consists of the image of a structure, the other is from Afghanistan.
History of Cambodia National Flag
Around 1850, the Cambodia flag has an outline of the Angkor Wat in the center. However, that draft was not used. The present flag was adopted due to the national independence in 1948 and was not replaced until 1970 when the Lon Nol's Khmer Republic and then Khmer Rouge ruled the country.
Since then, Cambodia has five other national flags including the flag of Khmer Republic (1970-1975), the flag of the Democratic Kampuchea (1975-1979), the flag of the People's Republic of Kampuchea (1979-1989), the flag of The State of Cambodia (1989-1991), the flag of The United Nations Transitional Authority in Cambodia (1992-1993).
In 1993, the country reverted to a monarchy, the flag version 1948 was readopted but the red outline of the Angkor Wat's image is changed into black. The reintroduction of the flag came with the election for the National Constituent Assembly and also the reinstitution of the Cambodia monarchy in the same year.
Meaning of Cambodia Flag
The meaning of the Cambodia flag depends on the color and the image of Angkor Wat.
Red: the bravery of Cambodians which is clearly revealed through wartime. This color also represents the nation of Cambodia.
Blue: the sense of liberty, cooperation, and brotherhood of the whole nation. It is also the symbol of the country's monarchy and the King.
White of Angkor Wat: the religion and beliefs of the country – Buddhism, and the virtue of purity which relates to the structure of the universe.
Angkor Wat: the integrity, justice, and heritage of Cambodia. It is also a great spiritual and cultural role among people in this country.
Previous Images of Cambodia National Flags
Flag of Cambodia Before 1863

Flag of Cambodia During 1863 – 1948

Flag of Cambodia 
During March – October 1945

Flag of Cambodia 
During 1948 – 1970

Flag of Khmer Republic (1970-1975)

Flag of The Democratic Kampuchea (1975-1979)

Flag of The People's Republic of Kampuchea (1979-1989)

Flag of The State of Cambodia (1989-1991)

Flag of The United Nations Transitional Authority in Cambodia (1992-1993)

Cambodia National Flag 1993 – Now