Vietnam boasts spectacular mountains, stunning beaches, poetic valleys as well as silver waterfalls. Here is the list of top 6 magnificent waterfalls in Vietnam we wish to share with you.
Top 3 Best Waterfalls in Vietnam
Ban Gioc Waterfall | Cao Bang Province – North Vietnam
Situated in Non-Nuoc Cao Bang Geopark, Ban Gioc Waterfall is the most spectacular waterfall in Vietnam. It's the heaven of freshness and relaxing with the cool atmosphere, crystal water, and picturesque surrounding landscape. Visit Ban Gioc Waterfall you also have a chance to get a glimpse of ethnic locals' lifestyle as well as soak up in their colorful market. Ban Gioc Waterfall is a worth-visiting destination you cannot miss during your Vietnam vacation.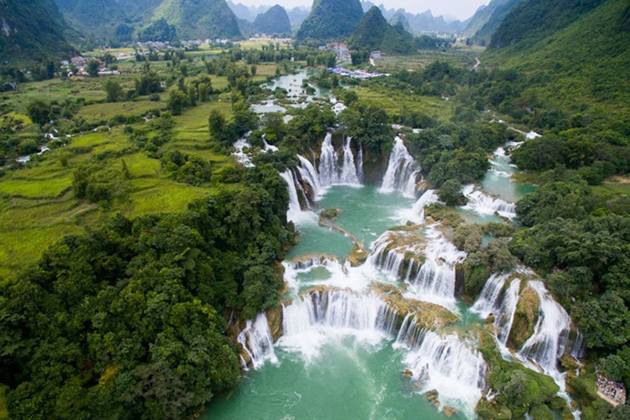 Thuy Tien Waterfall | Dak Lak Province – Central Highland Vietnam
As one of the most beautiful waterfalls in Vietnam, Thuy Tien waterfall impresses tourists with its poetic beauty. Flowing down onto. Visit Thuy Tien waterfall, you can immerse yourself in a spectacular mountainous landscape, and the rhythm of nature. Flowing down onto rocky terraces, the waterfall looks like a blossoming white flower twinkling in the golden sunshine. You also can swim in many poetic lakes in which water flows gently through dense jungles. Besides Thuy Tien Waterfall, you can see many impressive other waterfalls such as Trinh Nu, Krong Kmar, and Dray Sap. Let Thuy Tien Waterfall awaken your sense with its charming beauty.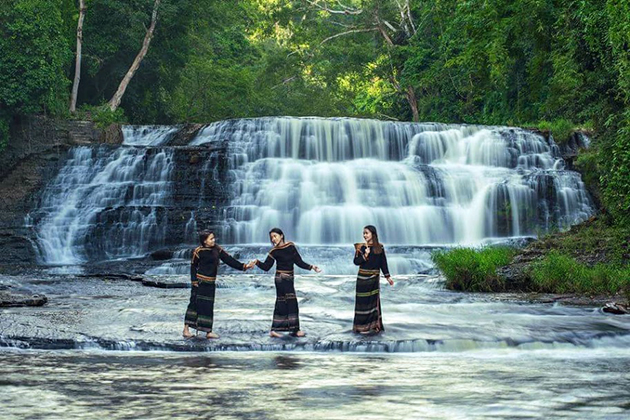 Silver Waterfall | Sapa – North Vietnam
Another destination on this list is the silver Bac Waterfall. Situated about 12km away from Sapa town center, it is a great place for adventure holidays to Vietnam. From afar, Bac waterfall looks like a big white dragon looking down from Ham Rong mountain. Visit this stunning waterfall, you can sink into the clear and cool water as well as relax in the extravagant surrounding landscape. Taking Sapa tours to get to this stunning waterfall.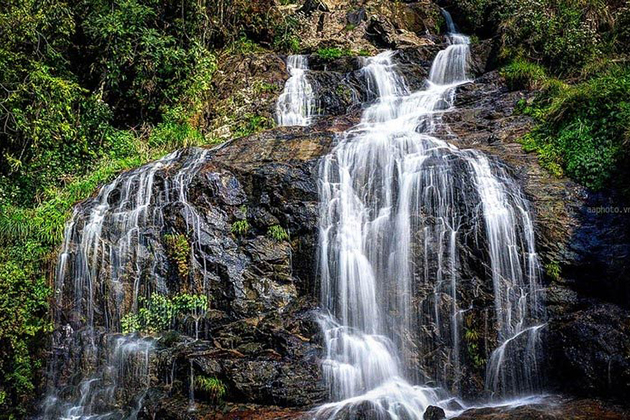 Top 3 Famous Waterfalls in Vietnam
Ba Ho Waterfall | Nha Trang – South Vietnam
In Vietnamese, Ba Ho means three lakes. This serene waterfall is refreshingly natural and quiet. The simplest way to get to Ba Ho waterfall is by renting a motorbike and riding north along the coast about 27 kilometers. Visit Ba Ho Waterfall you can swim in a crystal clear water in many pools under the waterfall. It's such an interesting experience to trekking through a lot of stepping stones as well as rocks. Don't miss this pristine destination when you take your Nha Trang tours.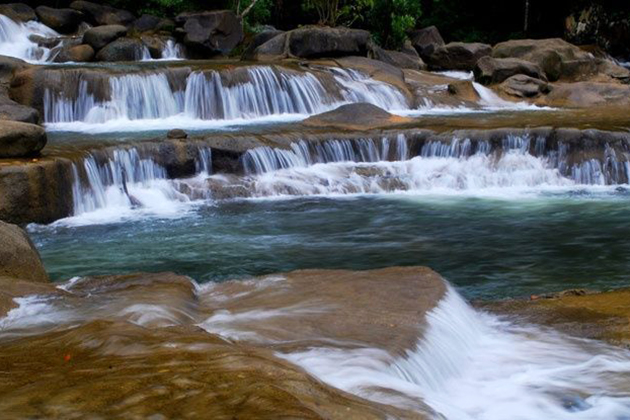 Khe Van Waterfall | Quang Ninh Province – North Vietnam
Khe Van Waterfall enchants you with its pristine beauty. It is a gorgeous waterfall plunges down from a spectacular mountain range at 1000 meters above the sea level. Going there, you will be impressed with hundreds of vivid wildflowers along the winding roads leading to this waterfall. You will be mesmerized by the imposing three-story waterfall. The top layer has a serene stream gurgling from the cliff down to a large lake. The second layer has a natural swimming pool where you can immerse yourself in cool water. Khe Van Waterfall also is home to diverse ethnic groups such as San Diu, Tay, and San Chi. Staying in a homestay and learning more about their culture and custom are great experiences.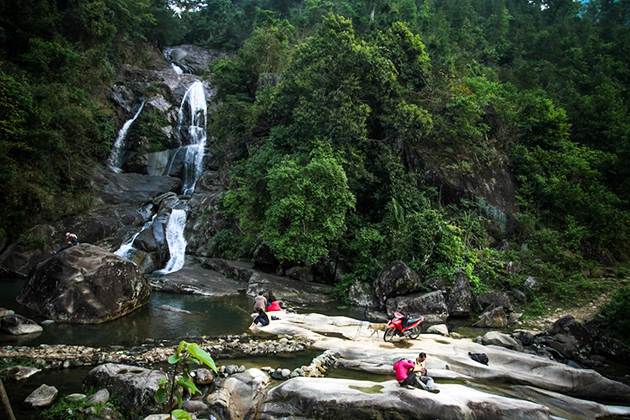 Dalanta Waterfall | Dalat City – South Vietnam
Dalanta Waterfall is an attraction you cannot miss in Dalat city. Visiting this waterfall, tourists can indulge in many adventure activities such as climbing the cliff, exploring the dense forest, and hiking along the stream to get to Prenn Bridge. There is a poetic stream that is gurgling at the foot of the waterfall. Your Dalat tours will become more wonderful with this amazing destination.