Cuc Phuong National Park is located in Ninh Binh province, about 120km to the southwest of Hanoi and 45km to the northwest of Ninh Binh. Cuc Phuong covers an area of 25,000 ha and shares the border with Ninh Binh, Hoa Binh, and Thanh Hoa. It is the first national park of Vietnam and also the largest nature reserve of the country. Cuc Phuong is one of the most significant areas for biodiversity in Vietnam besides Cat Ba National Park, Phong Nha-Ke Bang National Park, Cham Island, and Cat Tien National Park. If you have a chance to visit this magnificent land once in your life, Cuc Phuong National Park should be one of your highlights during your Vietnam vacation packages.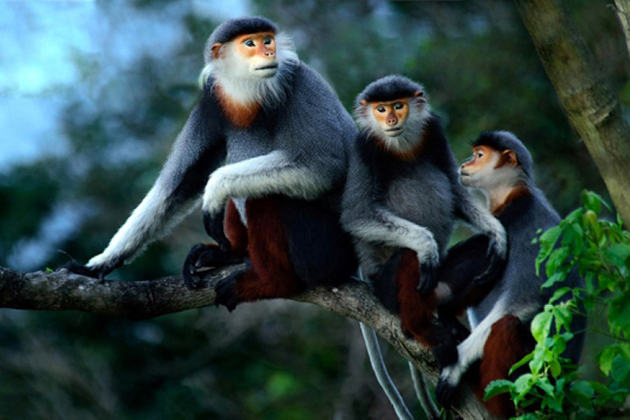 In 1960, Cuc Phuong became a forest reserve. The area was consecrated as National Park by President Ho Chi Minh in 1962. But before this milestone, Cuc Phuong has a long history of 7,000-12,000 years of development for human habitation. Artifacts including stone axes, tools for grinding, knives, bone spears were found in many caves in the park. In 1789, the Quen Voi section of the park was the struggling site for the civil war. The region was also home to thousands of dwellers of the Muong ethnic minority before 1987.
Unique Landscape & Climate of Cuc Phuong National Park
Cuc Phuong National Park stretches on the foot of Annamite Range, consisting of limestone mountains and flourishing valleys. The elevation of the park may range from 150m to 656m (the summit of Silver Cloud Mountain or Nui May Bac in Vietnamese). There are a number of caves that are now approachable for discovery and exploitation.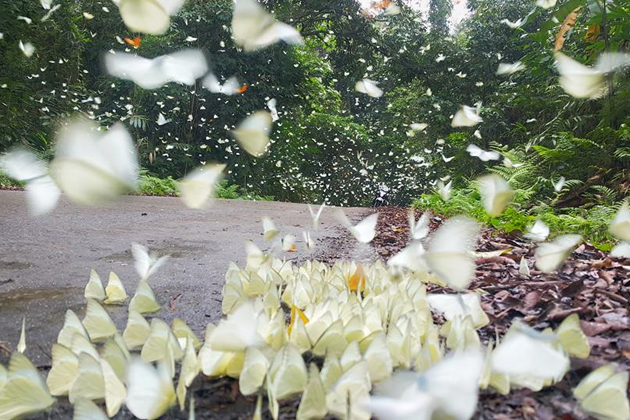 The weather in Cuc Phuong is quite pleasant all around the year. The average temperature is 21 Degree Celsius. The highest temperature may reach to over 30 Degree Celsius and the lowest is just around zero. There are two main seasons in the year: the dry season ranges from December and January, the dry season is between November and February.
Biodiversity of Cuc Phuong National Park
An astonishing diversity of flora and fauna are found in Cuc Phuong National Park. The region houses 97 mammal species, 300 species of birds, 36 species of reptiles, 11 species of fish, 17 species of amphibians, thousands of species of insects. In the forest, many animals can be spotted such as bats, squirrel, black bears, elephants, rhinos, tigers, jungle cats, leopards, monkeys, slow loris, gibbon, macaque, peacock, partridge, silver pheasant, finches, and pipit, etc.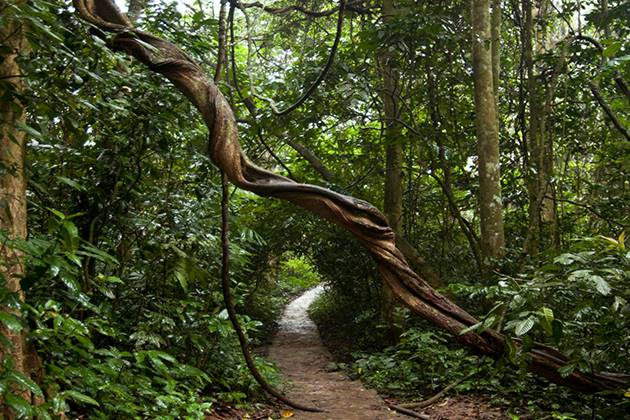 The plants in the forest are diverse as well. Most of the trees are a multi-layered canopy, which may reach a height of 70m. The flowers include orchids, liana, cauliflory, and fern. Some plants in the park are practical and can be used as medicines, edible fruits, or nuts.
Best Thing to Do & See in Cuc Phuong National Park
The entrance fee for visiting the forest is 40.000VND/adult. Cuc Phuong is a different world of nature and it offers some attractive sites:
Nguoi Xua Cave & The Dang Ancient Tree
The cave is a relic of prehistoric men dating back to million years ago. From the bus stop, the cave could be reached in just 300m walking. Walking about 2km you can approach The Dang Tree. It is a huge ancient tree that has a 10 diameters body and 45m height, which needs up to 8 adults to hug the tree. Standing under the tree, people become so tiny.
Parashrea Stellata Tree & Son Cung Cave
The tree is about 45m in height. From the center of the forest, you have to go 3km along the pathway. Also on this path, there is a Cave named Son Cung, where houses lots of sparkling stalactites.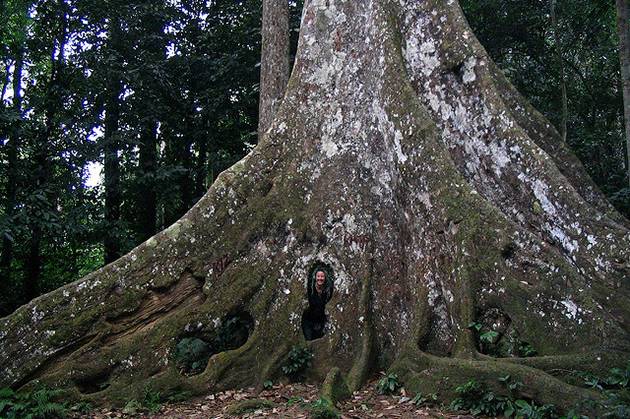 Muong Village
The village is situated right along the Buoi River. It is the place where keeps all the traditional culture of the local people, houses on stilts and fabric clothes.
Endangered Primate Rescue Center
Not only is it a reserve and research area, but the center is also a destination for nature lovers. Tourists can observe the life of the animals and collect some precious knowledge about their livings. Nowadays, the center raises nearly 160 individuals of 15 different primates.
May Bac Summit
At the height of 648m, the whole Cuc Phuong landscape can see seen from a bird's eyes view.
Cuc Phuong National Park Travel Guide
The best time to visit Cuc Phuong National Park is between December and April when there are no rains. You should avoid visiting the forest on rainy days as mosquitoes and leeches may attack you.
You should prepare the necessary equipment before visiting such as Shoes, hats, water, foods, mosquito repellents, and bandages.
You can have various choices for accommodation such as staying in Cuc Phuong resort or staying right in the forest at three different areas: Entrance Gate, Mac Lake Area, and Center Area.
The forest is close to some other tourist destinations in Ninh Binh such as Trang An Complex, Tam Coc Bich Dong, Hoa Lu former capital, Bai Dinh Temple, and Phat Diem Cathedral.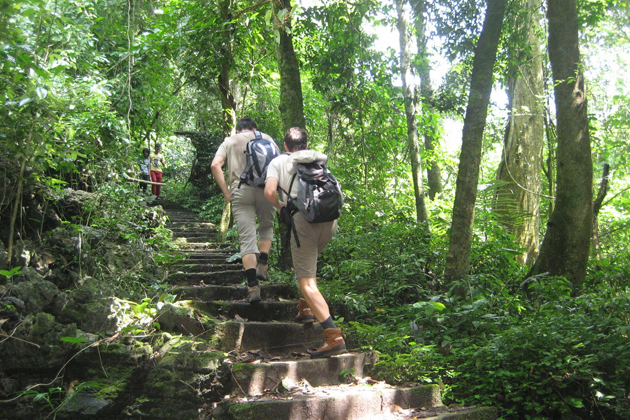 Book our Ninh Binh day trips to visit all of these spots would be a wonderful choice during your trip.