Vietnam is a heaven of food that foodies cannot miss. Here is the list of top 6 rustic cakes that you may only find in Vietnam, surely there is more than one famous cake that you haven't eaten before. The following traditional cakes will absolutely be captivating you for the first time. Enjoy reading and hope you have wonderful Vietnam tours.
Banh Cuon (Stuffed Pancake)
Banh Cuon is one of the most popular traditional dishes of Hanoi. It is very soft and thin. The cover of the cakes is made from rice flour. To ensure the whiteness and good appearance, the powder for the pancake is made from high-quality rice. Inside the cake, there are some ingredients includes mincemeat and finely chopped wood ears which all must be stir-fried beforehand. In the past, people used to taste this dish with hot fried tofu. Nowadays, there are many kinds of pancakes you can choose from onion pancake, cool pancake to hot pancake. Sometimes, at customer's request, the seller may make special pancake stuffed with an egg. Actually, you can taste Banh Cuon in any restaurant or even vendors in all corners of Hanoi, but Thanh Tri district is the best place to find this specialty.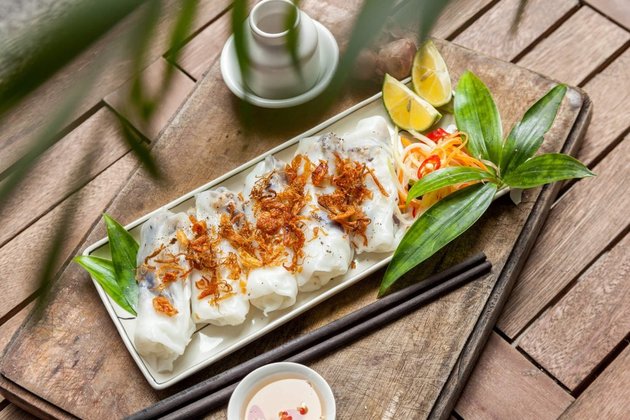 Banh Chung (Square Rice Cake)
As a must-have for Vietnamese New Year, Banh Chung is made from very simple and basic ingredients including glutinous rice, mung beans, and pork. The eye-catching square cakes with green phrynium leaves remind people of a lucky, prosperous New Year.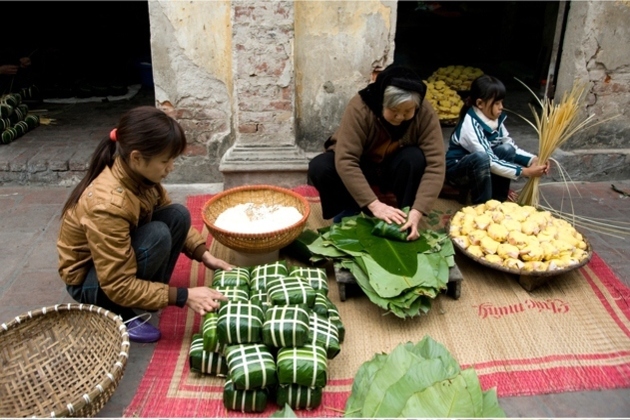 Banh Com (Green Rice Cake)
If you visit Hanoi in autumn, you will see many street vendors that sell green rice on every road in the city. They wrap green rice flakes in fresh lotus leaves. Beside green rice flakes, people also sell green rice cakes which are made of green rice flakes, green peas, and sugar. Nguyen Ninh is the most famous brand of this cake in Hanoi. To make the unique cake, they buy green rice flakes from Vong village or from rice land of Thai Binh and green peas are carefully selected from some villages on the outskirt of Hanoi. Stop by Banh Com Nguyen Ninh on Hang Than Street to taste this traditional delicacy.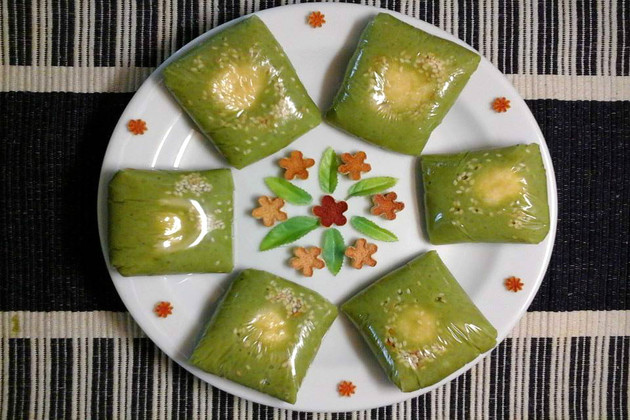 Banh Gai (Thorn Leaf Cake)
Banh Gai is the specialty of Hai Duong province which is made of glutinous rice flour mixed with herbal black. The cakes are wrapped by dried-up banana leaves. Inside are crushed green beans and sliced coconut, pumpkin jam, lotus seeds. Banh Gai has long been a traditional offering at festivals and a traditional gift at longevity parties. It's said that eating the cake frequently improves the quality of one's sleep, prevents blood clots, relieves a headache.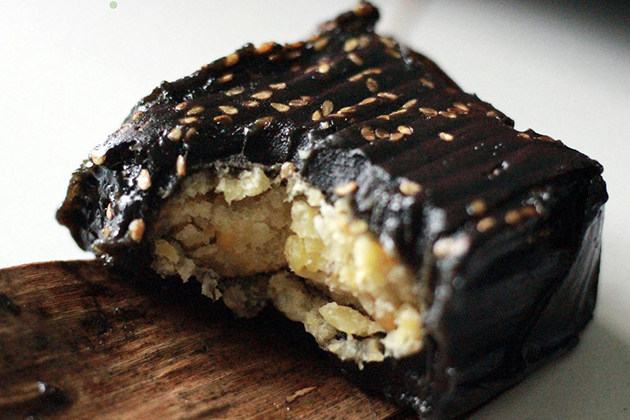 Banh Bo (Vietnamese Steamed Rice Cake)
Banh Bo is a sweet, delicious rice cake which is popular in the Central and South of Vietnam. It is made from rice flour, water, sugar, and yeast. There are several types of steam rice cakes such as baked steamed rice cakes, dairy steamed rice cakes and the ones with coconut with different flavors.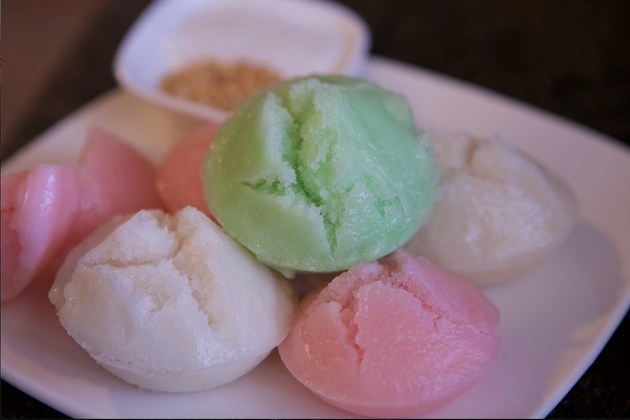 Banh Bot Loc (Steamed Clear Tapioca Cake)
As a specialty in Central Vietnam, Banh bot loc is made of shrimps and ground pork which are covered by tapioca flour. With the taste of tapioca flour, ground pork and the different way of processing shrimps, the cake leaves unforgettable feelings. This delicacy is often served with a special sauce which is the combination of fish sauce, onion, and cilantro create a kind of mixed flavors that is very interesting. If you travel to the Central or southern Vietnam, you will see Banh Bot Loc are available in many restaurant and vendors. In Hue, you can visit Banh bot loc mu Cai at 475 Chi Lang Street, Hue to taste this delicacy.