Hue stands out from the crowd with long-established cultures and unique cuisine. It is called the "cradle of Vietnamese cuisine" thanks to the amazing tastes as well as special culinary styles from royal dishes to popular ones. The list of 5 astounding Hue restaurants below will completely bring your Hue day trips all the essences of this well-preserved tradition.
Royal Park Restaurant
A magnificent palace with the design of ancient oriental royal architecture through impressive statues elaborately engraved stone pillars, and gorgeous surrounding gardens will be sure your first impression on coming to this must-see restaurant. A full taste of Hue cuisine will be delivered to your appetite through specialties decorated by dragon or phoenix patterns.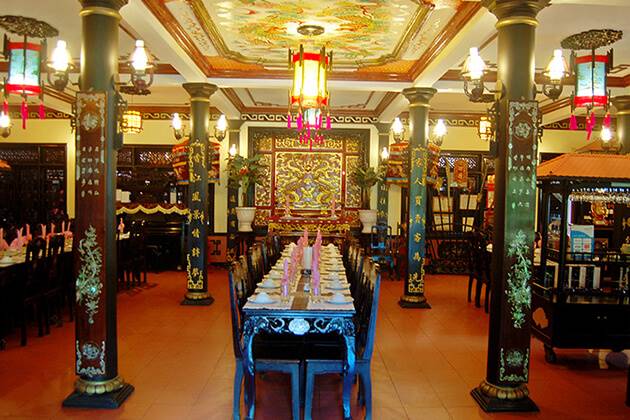 The restaurant, moreover, brings you the true experience of kings and queens when wearing their colorful costumes as well as seeing a banquet full of dishes on the luxury red wooden table.
Address: No. 35 Nguyen Sinh Sac Street, Hue City
Les Jardins De La Carambole
Located in the ancient French villa near Hue Imperial City, Les Jardins De La Carambole is known as the oldest French – Vietnamese restaurant in Hue. It was built in the old French style with original tiles from 1915 whose doors were designed with the dome style of the ancient churches abroad. The restaurant is the rich mix of European modern style and Vietnamese traditional one.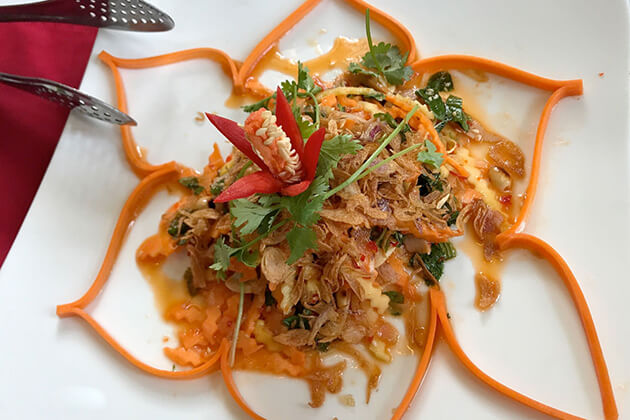 The delicious green mango salad served with grilled bass in the Mediterranean sauce and grilled beef with strong banana leaves in Central Vietnam with an extremely characteristic aroma of discharge and banana leaves are the must-try dishes of the restaurant. Besides, you should taste the fried banana cake with exotic passion fruit sauce for a great dessert.
Address: No. 32 Dang Tran Con Street, Hue City
Ancient Hue Restaurant
The restaurant is built on an old noble village nearby Perfume River under Nguyen Dynasty. With a campus of more than 2000 m2 designed in the traditional style, Ancient Hue Restaurant's yard is decorated by copper incensory, ancient wells, lotus ponds and surrounded by five-unit houses. The houses here are outstanding with many special furniture and furniture engraved with dragon shapes and delicate phoenixes, creating an extremely ancient and luxurious feeling. There are also display areas for antiques, paintings or long Hue clothes for visitors to visit and take pictures.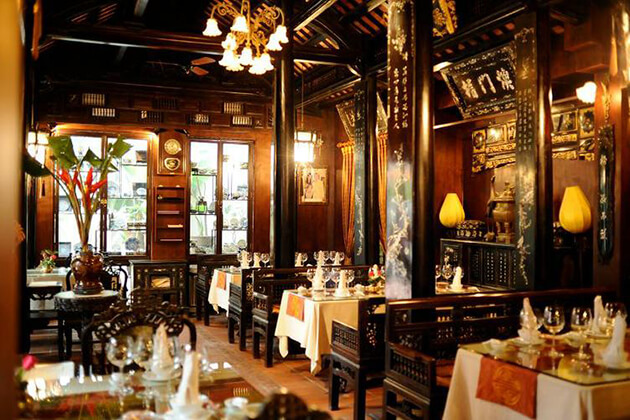 Well-known specialties at this restaurant are royal dishes with extremely impressive and sophisticated cooking and decoration. Furthermore, visitors can enjoy foods while watching martial art performances or Hue court music as kings and queens.
Address: No. 35 Pham Thi Lien Street, Hue City
Y Thao Restaurant
This restaurant has the architecture of an ancient villa with two main areas: the garden and indoor space. The space in the garden is quite large with many types of trees creating a fresh and airy atmosphere. The interior of the house is quiet, polite with a rather classic layout of the house. Especially, visitors can admire the beautiful collection of ceramics and furniture from the landlord in their living room to learn more about the life of Hue people before enjoying a meal in the garden dining room.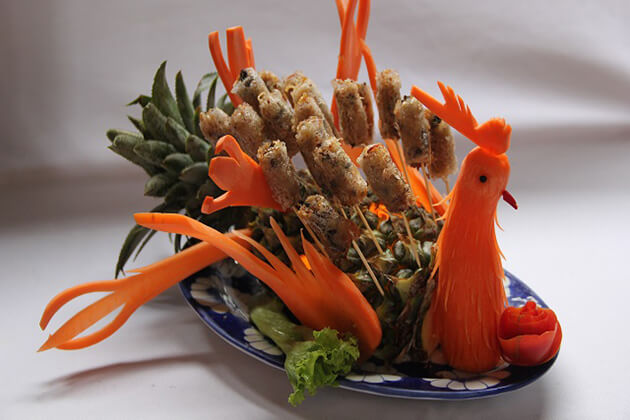 Together with amazing Hue specialties cooked by professional chefs, Y Thao restaurant opens a lot of cooking classes in Hue royal style for tourists to experience the elaborate process of Hue cuisine.
Address: No. 3 Thach Han Street, Hue City
Tropical Garden Restaurant
The restaurant owns the cool and beautiful space giving the choices for visitors to enjoy Hue cuisine among the wonderful ambiance of its garden. All of Hue traditional dishes can be found in the Tropical Garden Restaurant along with outstanding music performances bringing you a chance to take a closer look at unique Hue cultures.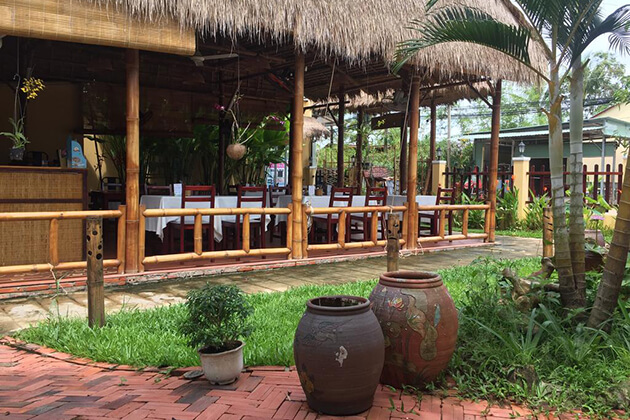 Address: No. 27 Chu Van An Street, Hue City