Hue is the place that gathers a number of tourist attractions, especially some famous ancient pagodas of Vietnam. However, the most ancient one would go for Thien Mu Pagoda – one of the destinations that are mentioned most when tourists visit Hue. Not only is the pagoda taken as a symbol in myriad numbers of romantic poetries or lyrical songs, but it is also regarded as the most sacred and attractive pagoda that no visitor should miss on their Vietnam vacation.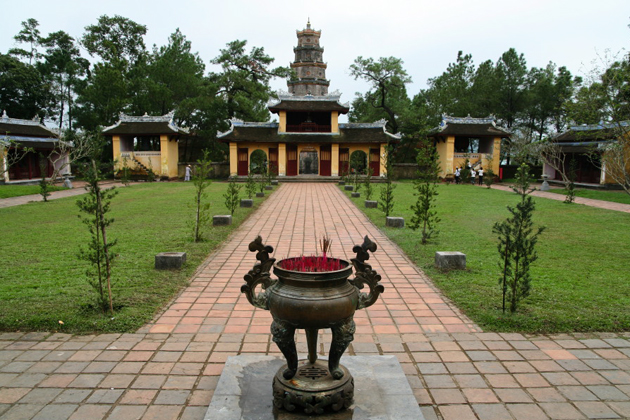 Thien Mu Pagoda History
Thien Mu Pagoda, also called Linh Mu pagoda, is an old pagoda lying on Ha Khe Hill, to the left of Perfume River, 5 km to the West away from the center of Hue city. It was officially built in 1601 under Nguyen Hoang Lord reign – the first Nguyen Lord in Southern Vietnam. In 1710, Quoc Lord – Nguyen Phuc Chu (1691-1725) ordered the craftsmen to cast Dai Hong Bell. And in 1714, the pagoda was again restored in a much bigger scale. It was the biggest reconstruction in history: Triple Gate, Thien Vuong temple, Ngoc Hoang temple, Thap Vuong temple, the sermon house, Scripture Pavilion, Bell Pavilion, Drum Pavilion, Van Thuy house, Thien house, Dai Bi temple, Duoc Su Temple, monks' house were all reconstructed. From then on, Thien Mu pagoda acquired a reputation as the most beautiful pagoda of the Ancient City.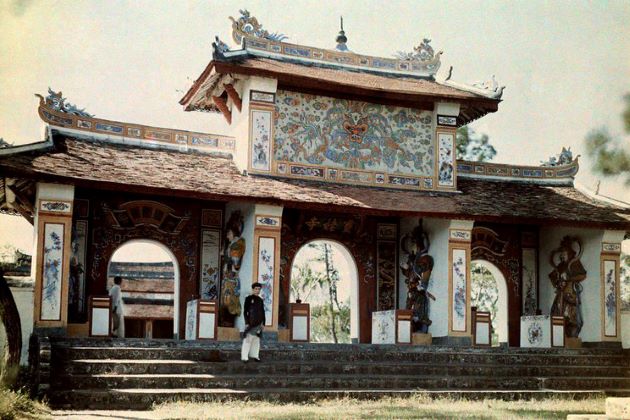 In 1844, King Thieu Tri decided to establish Tu Nhan Tower (which was changed to Phuoc Duyen Tower after that). Tu Nhan Tower includes 7 floors made of brick, and each floor adores one Buddha. 150 years have passed, and Phuoc Duyen Tower shades Perfume River every day, evoking many unexpressed feelings among tourists.
At the beginning of the 20th century, the pagoda was seriously damaged by the storm in 1904. Not until 1907 was the pagoda reconstructed by Thanh Thai king. And thanks to the attributions of Thich Don Hau Monk and other monks, nuns, Buddhists, and visitors, Thien Mu Pagoda was gradually restored. Although it is not as large as it was in the past, it is still august and majestic.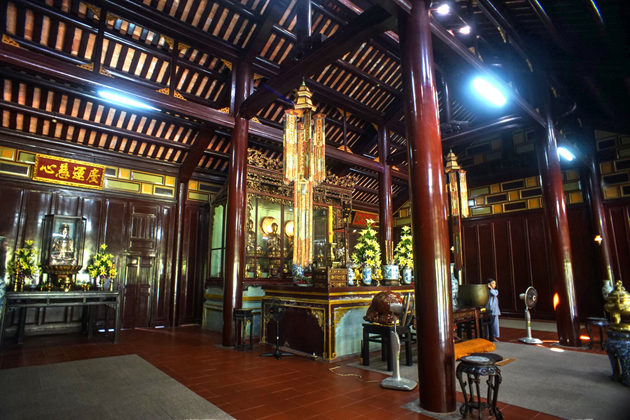 Tourists visiting Phuoc Duyen Tower shouldn't forget to see the engraved script in a stele set up in 1715 under Nguyen Phuc Chu Lord whose aim is to praise this first-ranked ancient pagoda.
Thien Mu Pagoda Legends
Origin of Thien Mu Pagoda
It is said that when Nguyen Hoang Lord was on his way to find a suitable place to build the country's capital, he met an old woman with grey hair in a hill next to Perfume River. The Lord asked the old woman for direction and the woman gave him incense and said: "You should hold this incense and walk along this river. The place where the incense extinguishes is the one that you are finding". Obeying the woman's advice, the Lord walked along Perfume River and when he reached the Hue Capital zone, the incense extinguished. He decided to choose that place to build his capital for the Nguyen Dynasty. The Dynasty lasted for more than 200 years and was reined by 13 kings. To thank the woman's advice, Nguyen Lord commanded to build a pagoda at the place where he met the woman to worship her and named the pagoda Thien Mu.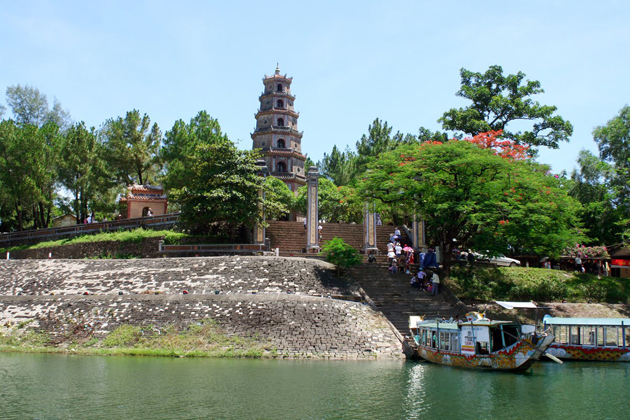 However, there is another version of the origin of Thien Mu pagoda. In 1601, Nguyen Hoang Lord – the first lord of Southern Vietnam, along with his army, after leaving Thang Long, moves to the South to settle here. He himself went around the place and observed to find a suitable place for his own capital. One time, when he was riding his horse along Perfume River upstream, he saw a small hill that had the shape of a dragon turning its head back. It was called Ha Khe hill. Local people said that an old woman wearing the red shirt and green trousers often presented and said: "In the future, there will be a lord coming here to build a pagoda, which will accumulate spirit, strengthen spiritual atmosphere and make Vietnam powerful." Therefore, people here called it Thien Mu Mountain. Nguyen Hoang Lord found the tale coincidently similar to his ideal dream. So he allowed his residents to set up a pagoda that faced Perfume River on the hill and named it Thien Mu Pagoda.
The Curse of Separated Love
Thien Mu pagoda is not only famous for its sacred and majestic structure, but it is also well-known for its diverse mysterious spiritual stories. When Nguyen Lord reigned Southern Vietnam, the perspective of marrying a person based on parents' wishes is strictly obeyed. It is said that during that time there was a daughter of a well-off family dating a poor orphaned boy. Because the girl's family didn't allow them to get married, both of them decided to drown themselves in Mu boatyard (which is in front of Thien Mu Pagoda). Ironically, the boy died but the girl was saved by local people. And then she was forced to marry a rich mandarin. Gradually, she forgot her old boyfriend and lived a wealthy life. The unjust soul of the boy remained under the river to wait for his girlfriend but she didn't appear. Consequently, he was so animus and cursed that every couple coming to Thien Mu pagoda would definitely break up.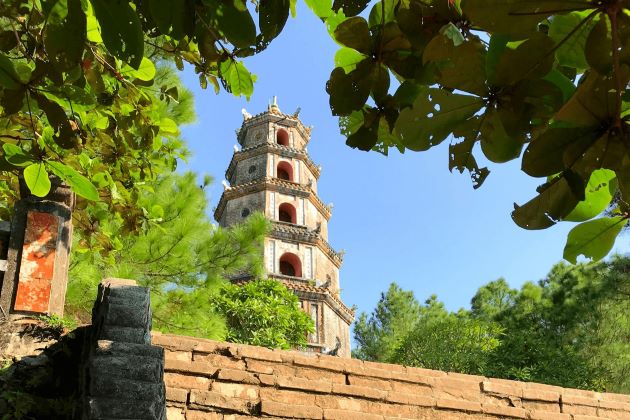 Other Outstanding Constructions in Thien Mu Pagoda
Dai Hung Temple
This is the main temple of the pagoda, constructed by a traditional double roof technique. The temple was restored in 1959. All the pillars and pedestals were made of concrete and then were wood-like painted. The temple adored Maitreya who has big ears to listen to people's miserableness, a big tummy to be tolerant of people's mistakes, and largemouth to smile at humorless things in life.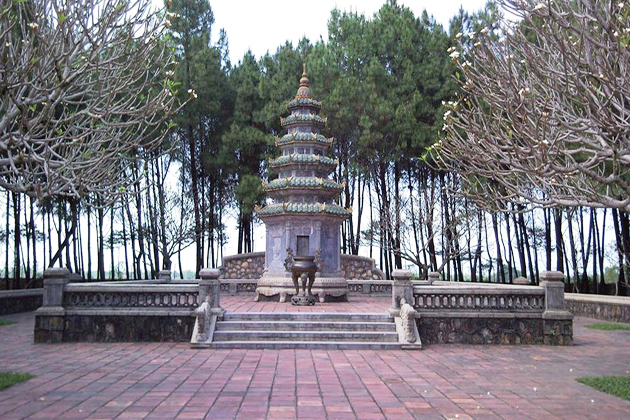 There is a horizontal lacquered board above engraved four words "Tu Ying Gao Feng" by Nguyen Phuc Chu Lord in 1714. Besides, a large bronze plaque inscribed sun, moon, and stars and also script about the donator of this bronze plaque who was a mandarin named Tran Dinh An is hung inside the temple. It is said that the temple is similar to Linh Thu Hill of India where the Buddha was enlightened.
Temple of Stratum Bodhisattva & Temple of Relatives
Temple of Stratum bodhisattva is behind Dai Hung Temple. Similar to other pagodas in Hue, Guan Gong (a Chinese General) is adored here (from 1907). This is normal in Vietnam due to Chinese Buddhism influence. According to legend, after dying, Guan Gong became a god who understood all good and bad things in the world; therefore, although pagodas always worship Buddha, there is still a place for Guan Gong. The pagoda also has a pack of fortune telling cards and the monks sometimes take responsibility for unveiling the secret in the cards. If you are a superstitious person, there is no doubt that this temple is for you.
Phuoc Duyen Tower
This tower is a symbolic feature of Thien Mu Pagoda. The tower has an octagon shape with 7 floors. Seven is a sacred number according to Vietnam Buddhism. The stairs system is also estimated to be divisible to seven. Inside the tower, the staircase is built based on a spiral shape from the first floor to the sixth floor. If you want to go up to the seventh floor, you have to climb up a separated ladder and unlock the door of the seventh floor because there is a gold Buddha statue there.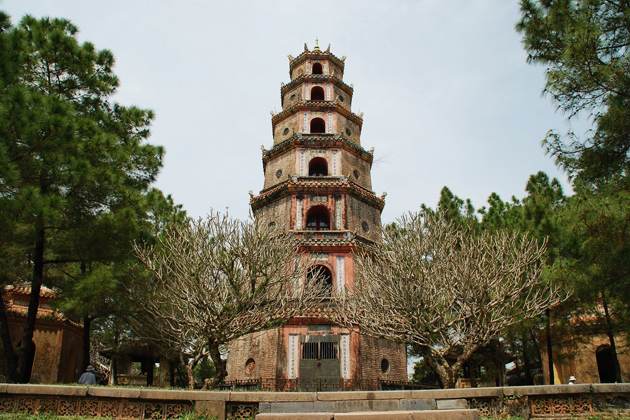 Hexagon & Quadrilateral Storeys
This is the place where important ancient relics are stored: stone stelae engraved Thieu Tri's memoir, stone stelae, and turtles under Nguyen Phuc Chu Lord. In addition, on Hexagon story in the East, there are some decorating patterns and ancient paintings. People here have symmetrically replaced the stelae, reconstructed the wall and harmoniously restored the color of the patterns
For four centuries, Thien Mu Pagoda with everyday echoing bell chimes which have appeared in numbers of folks and songs, with stunning natural beauties either during sunrise or sunset or with moonlit and breezing nights has represented the romantic and harmonious beauty of Hue.
Thien Mu Pagoda Travel Guides
How to Get to Thien Mu Pagoda
There is only 4km from Hue City to Thien Mu Pagoda so you can travel by car, taxi or motorbike. But a dragon boat is recommended for a perfect trip to this destination. It will take you to various attraction along Huong River such as Dong Ba Market (the largest commercial trading center in Hue), Truong Tien Bridge (the symbol of Hue with classic French architecture), Thuong Bac Pavilion and Nghinh Luong Dinh Pavilion (used by Royal families) then arrive at Thien Mu Pagoda.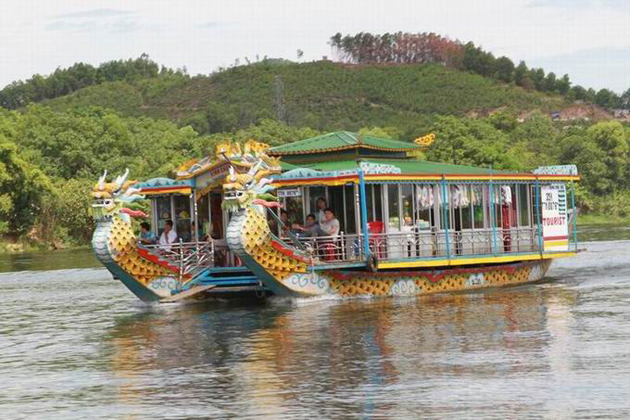 Useful Information for a Wonderful Visit to Thien Mu Pagoda
Opening hour: 8 am to 5 pm
Entrance fee: Free
Dress code: Wear elegantly, avoid short and sexy clothes
You are not allowed to visit Thien Mu Pagoda unless you follow the wearing rules
Try not to make noise and respect the historic and cultural values in the pagoda