Tam Dao is a small town in Vinh Phuc Province, 85 kilometers from the capital city of Hanoi which is literally translated as three islets or three peaks with its mountain range has three highest peaks which emerge like three islets out of the clouds. Situated at the average height of 1000 meters, Tam Dao's weather is mild and cool all the year round. That was the reason the French, in the 20th century, developed this destination as an ideal hill station for their summer vacation to relax and avoid the hot summer days of Hanoi. Thanks to the scenic natural landscapes and lush mountains in the middle of fogs, Tam Dao is a nice place to visit during Hanoi trips as well as Vietnam vacations.
Best Things to Do & See in Tam Dao
Tam Dao Bear Sanctuary
It is the home to more than 200 bears rescued by officials from illegal huntings and traffickings. They live in a comfortable environment and are taken care of by animal experts along with enthusiastic doctors and nurses. The bear sanctuary is only opened two Saturdays per month for tourists to see and interact with lovely and friendly bears.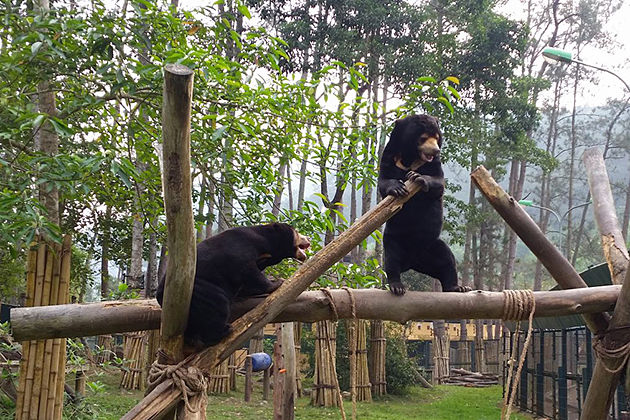 Tam Dao National Park
The National Park covers an area of 36,883 hectares of evergreen forests all the year round. It is covered by a rich flora, a great deal of rare and valuable plants and species of fauna belonging to 4 main classes: animals, birds, reptiles and amphibious ones. A park is a place of interest not only for tourists but also businesspeople and researchers. Among the variety of life forms in the park are several rare species such as cheek black monkey, Tam Dao snake-head fish and silver pheasant wood grouses.
Tam Dao Stone Church
French architecture is a highlight feature of Tam Dao. Though French ancient buildings have been mostly ruined, the ancient stone church still keeps its original structure throughout seasons of the storm. The old church was constructed in 1906 with the original form of a leaf-roofed house. Until 1937, Gothic architecture was applied to this work and gradually it was turned into one of the four famous stone churches in Vietnam. Tam Dao ancient church can be considered as a stone masterpiece. The church's apex is even like a lighthouse which helps people to find the right way to go.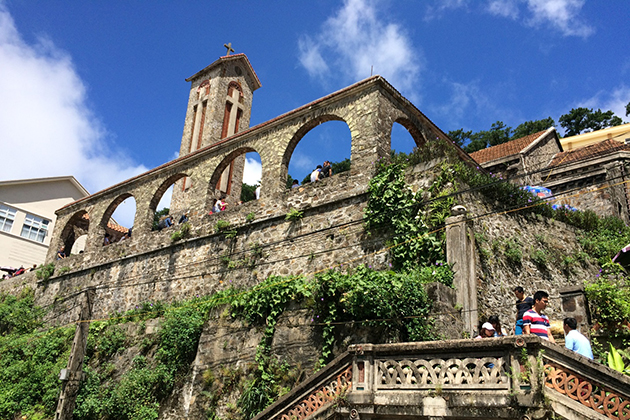 The most interesting thing is there are large stone windows surrounding the outer space. It is a nice place for visitors to sit on and admire the whole view of valleys. Many young couples also prefer this site as their wedding photo spot. The romantic beauty of this cathedral is still kept in almost intact through more than one hundred years has passed. This is the destination that tourists should not give a miss when visiting the foggy mountain town of Tam Dao.
Tam Dao Trekking
Recently Tam Dao becomes an ideal place out of Hanoi for trekking lovers who wish to see the beautiful nature and conquer the highest peaks. It is an interesting but hard adventure to discover the diverse ecosystem of the area. The best time to carry out trekking tours could be all year round, but the time between January and April is highly suggested.
Silver Waterfall
Falling from the height of 50m (165ft), Silver waterfall is the most beautiful one in town. Admiring the waterfall gives you awesome feeling as if you were in the fairy tale with the incredible spot in the world. To reach the fall, you have to go along a trail from Tam Dao town, and down to a deep valley. Finally, you will see the waterfall hiding in the lush mountains. In summer, waters from the small streams fall down over 50m with the reflection of the rainbow in the sunshine, harmonized with the sound of the stream, the jungle and the leaves echoing into cliffs like the call from hundreds of years ago. It is romantic with a scenic view from the waterfall to surrounding valleys.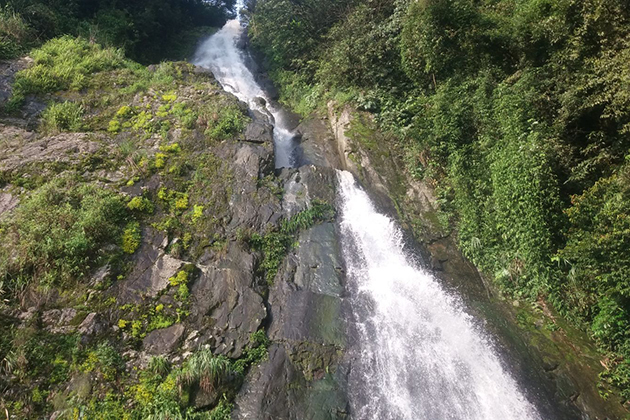 What to Eat in Tam Dao
Tam Dao Chayote
The most recognized specialty of Tam Dao is chayote. Thanks to the cold climate, chayote is grown well and have own taste which is different from anywhere. Chayote can be boiled and dip into fish sauce with lemon, chili or fried with garlic and beef. Chayote is delicious, soft but crunchy and naturally fresh.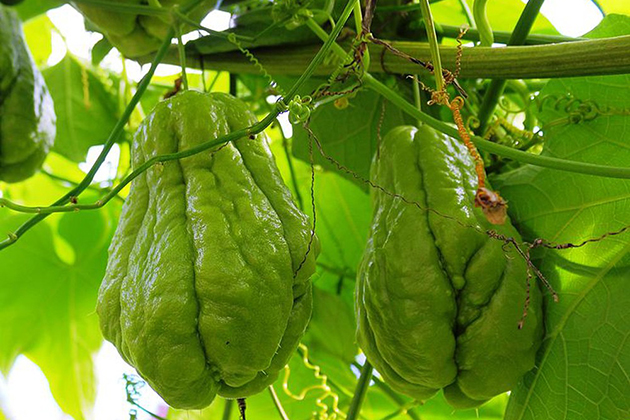 Hill Chicken
People will never miss this dish when visiting Tam Dao. Naturally farmed on big hills, chickens' meat is solid, toned and contains less fat. There are many ways to process chickens to mouth-watering meals such as boiled chickens, grilled or stir-fried chickens.
Tam Dao Pork
Tam Dao pork is another dish that is highly recommended in this town. It is wild boar so the meat is very toned. BBQ pork for dinners in a peaceful place is extremely a great thing to remember. Like hill chickens, the wild boar can be processed to many dishes like steamed, grilled, stir-fried pork. The pork's pieces are thin and chewy, not very lean nor fat. The more you chew, the tastier you feel.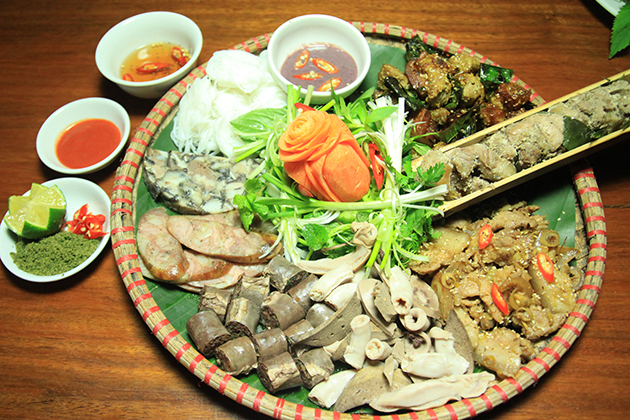 Tam Dao Travel Guide
Best Time to Visit Tam Dao
Weather in Tam Dao is cool and mild the year round. Visitors can visit any time in a year, but they are advised to stop by Tam Dao from September to January every year as the temperature is medium and there were fewer rains. It is a nice place to stay away from the heat of Hanoi in summer from June to August, but take caution on your trip as heavy rain makes serpentine roads more dangerous than ever.
How to Get to Tam Dao
By Coach
From Hanoi, make your way to My Dinh Bus Station at Pham Hung Street first. You can catch any bus named Hanoi – Viet Tri, Hanoi – Yen Bai, Hanoi – Vinh Yen and spend about 2 hours on the bus whose price ranges from 50,000 VND to 100,000 VND. Get off at Vinh Yen city and you should take a taxi or xe om (motorbike taxi) to reach Tam Dao.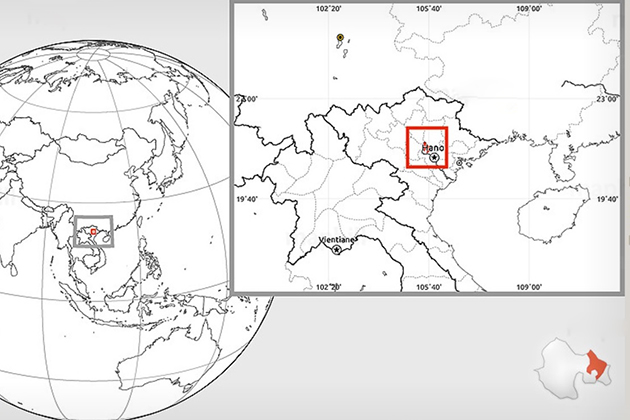 By Motorbike
Motorbike is a common means of transportation of people visiting Tam Dao. Driving through serpentine roads and scenic landscapes is a memorable experience. If you choose to drive from Hanoi over Nhat Tan Bridge, just follow the highway that leads to Noi Bai Airport. Driving over the airport, you will encounter a big intersection, then take the right turn to highway No.2 about 500m and turn next to Hanoi – Lao Cai Expressway and keep going straight. As you reach Vinh Yen, turn right to Highway 2B and follow the street sign that points to Tam Dao.
Accommodations in Tam Dao
Located not far from the capital city of Hanoi, Tam Dao is suitable for day trips out of Hanoi. It is a complex of different types of leisure and relaxations, including an amusement park, resorts, guest houses, homestays, garden villas, sports fields, swimming pool… Thus, accommodation in Tam Dao are varied to serve different requires of tourists. Belvedere Resort, Le Bleu Homestay, Hoa Binh Hotel are the best names of recommendation