Tam Chuc Pagoda festival has attracted thousands of pilgrimages in the early days of the Vietnamese Lunar New Year since its official open on 16th February 2019. The pagoda lies within the Tam Chuc Tourist Complex which covers a total area of 5,000 ha. Situated in the North of Ha Nam Province, Tam Chuc Pagoda is 60 km from Hanoi and it is being built on the foundation of the former pagoda and surrounded by newly built structures, a parking lot, an immense lake system, and lush forests. Tam Chuc Pagoda enchants the eyes of visitors by its great combination of impressive architecture and spectacular landscapes.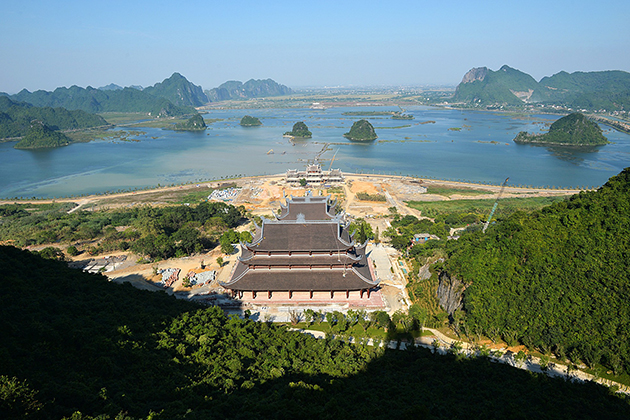 Tam Chuc Pagoda's Architecture
The ancient pagoda built in Dinh dynasty dating back 1000 years ago has been entirely damaged by time. People started to reform it a few years ago and now it is being rebuilt with the first phase expected to be completed in May 2019 when the pagoda hosts the UN Day of Vesak (Buddha's Birthday, Enlightenment and Passing Away).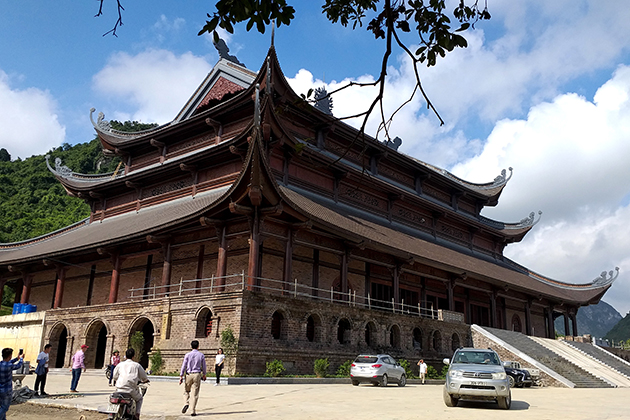 The new Tam Chuc Pagoda sits on a site of nearly 5,000 hectares, surrounded by lakes, mountains, forests, and valleys. Following the traditional Vietnamese architecture of Buddhist pagodas, Tam Chuc Pagoda Complex includes Cong Tam Quan (the three-arched-entrances gate), Dien Quan Am, Dien Tam The, Dien Phap Chu, Chua Ngoc (Pearl Pagoda). Inside these places are gigantic Buddhist statues carved skillfully.
Located at an altitude of 15 meters, the 3-storey Ngoc Pagoda is the final place to visit in the complex. Standing at the pagoda, people can admire the scenic landscape created by imposing nature and impressive structures built by human hands.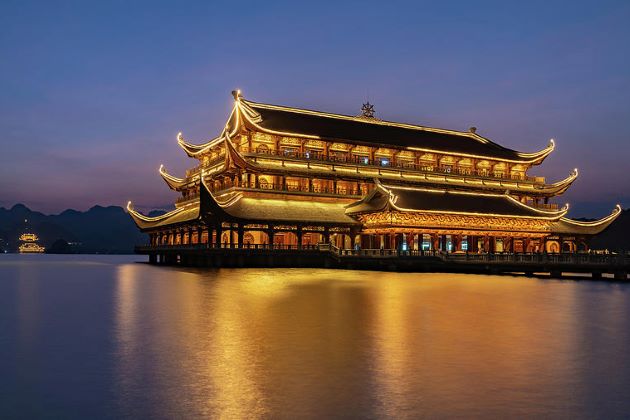 Besides giant blocks sculpted in Kim Lan ceramic village of Hanoi, as many as 12,000 murals depicting legends of Buddha craved into volcano rock by Indonesian artisans will brighten up the area. Further, a garden of 99 stone pillars, each 13.5m high carved with Buddhist teachings, will also be installed at the site.
Worshipping Statues in Tam Chuc Pagoda
Three colossal Buddha statues in black bronze representing the past, present, and future are situated in the very heart of Dien Tam The in which great pictures about Nirvana are hung. These statues are over 100 tons weight and they are the biggest statues in Vietnam, defeating the record of those in Bai Dinh Pagoda.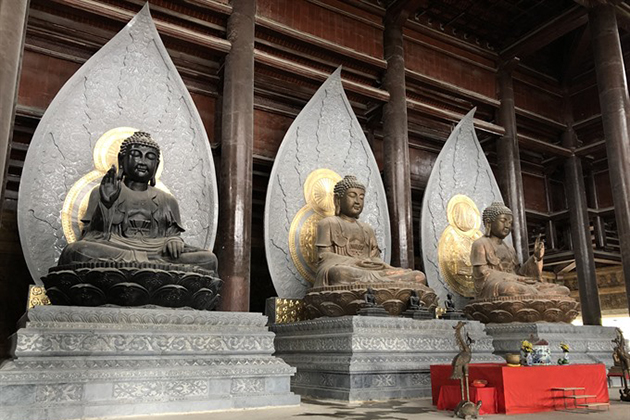 Under Dien Tam The is Dien Phap Chu in which a 150-ton Phap Chu statue occupies religiously. Dien Quan Am is the place people locate the gigantic Avalokitesvara Bodhisattva statue. The image is totally made from bronze and weighs up to 100 tons. Visitors also have the chance to admire other meticulously carved statues that make the complex mystical and sacred
The United Nations Day of Vesak in Tam Chuc Pagoda
The international day of Vesak is planned to take place in Tam Chuc pagoda from May 12th to 14th 2019. This is the third time the UN's commemoration of Vesak held in Vietnam. It previously took place in Hanoi and Ninh Binh. The event is expected to welcome 1,500 spiritual dignitaries, researchers from other countries, and thousands of Buddhist followers to raise mutual understanding and shared interests from Buddhist values and traditions.
Tips for Visiting Tam Chuc Pagoda: Opening Hours & Entrance Fee
Just 60 km from the capital city of Hanoi, visitors have wide choices of transportation to reach Tam Chuc Pagoda. The average time is 1.5 hours and you can take the scheduled train, bus, private car, or even motorbike.
On arrival of the parking lot, you have to take the electric car to reach the pagoda as the distance is a bit far. It takes you 30,000 VND every turn.
Free entrance fee
It is forming the religious tour route connecting the sacred Perfume Pagoda and Bai Dinh Pagoda. You may combine visiting those magnificent pagodas on your tour.
Visitors should wear proper clothes that do not reveal much of your flesh. It is recommended to have a scarf in your bag and show your respect to the monks.
Being such a big pagoda possessing many world records, Tam Chuc Complex is estimated to complete in 2048. It is a promising attraction that can serve both religious activities and sightseeing of visitors. Tam Chuc Pagoda will soon begin an attractive place in Ha Nam Province as well as Northern Vietnam.
Opening Hours: 6 am to 6 pm from Monday to Sunday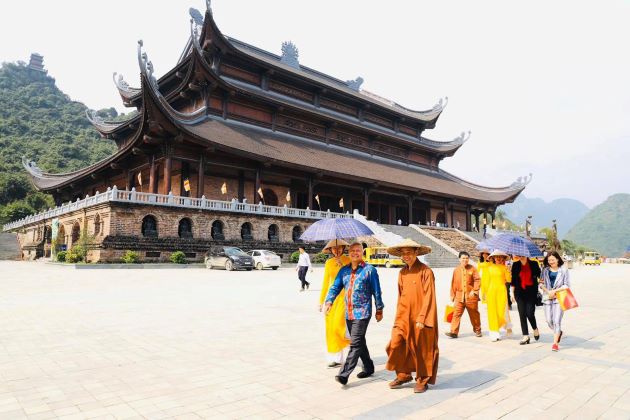 Tam Chuc Pagoda is the must-see attraction for your wonderful tours from Hanoi.