In the past January, Son Doong Cave in Quang Binh Province, Vietnam was ranked the third place in the top 11 amazing attractions nominated by the leading tourism magazine Telegraph. Son Doong Cave has recently gained the world's media thanks to its pristine nature, gigantic space, and mesmerizing landscape. Situated in the Phong Nha – Ke Bang caving complex, the cave is known as the largest natural cave in the world. With its phenomenal magnificence, Son Doong Cave has been an aspiration of many travelers for a Vietnam vacation.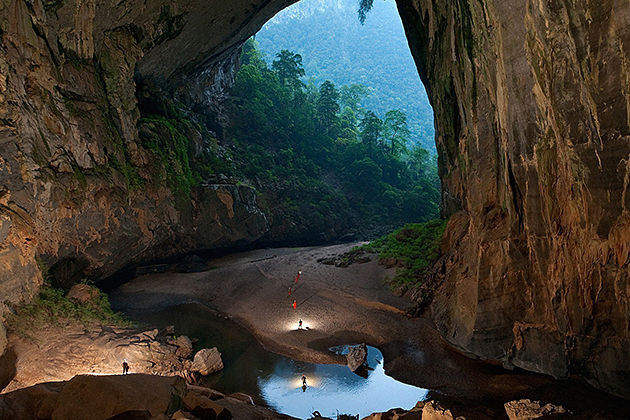 Son Doong Cave's Weather System
Not just unique because it is so massive, the cave is so huge that it has its own ecosystem and localized weather system. Explorers found out an intact jungle with diverse flora and fauna. Hundred years ago, some parts of the cave collapsed, allowing the sunlight to approach and vegetation was able to grow inside. There are monkeys and flying foxes living in the cave. Scientists have also discovered plant species around Son Doong's waterfalls which have never been seen before.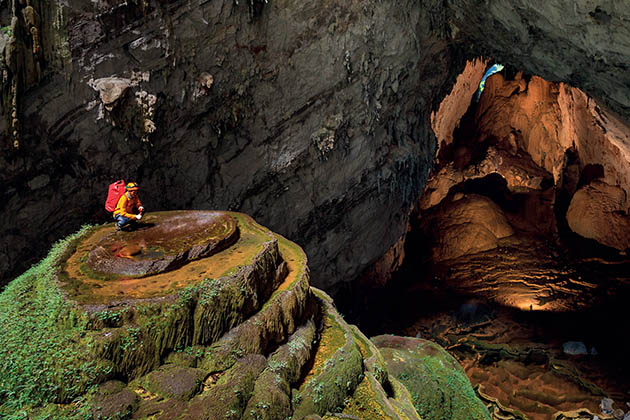 Best Time to Visit Son Doong Cave
February to August is the best time to travel to Son Doong Cave as these months are the dry season in Central Vietnam. The weather from February to April is pleasant and cool to discover the cave systems. From May to August, travelers have to prepare good health at this time is quite hot and humid. Heavy rains make Son Doong Cave expedition largely infeasible after August.
Son Doong Cave Tour Price
For foreign travelers, the adventure in Son Doong Cave in four days takes 3,000 USA. The price us that much because to serve a Son Doong Cave tour of ten passengers, there needs tremendous supports of over 30 people. They are caving experts, safety experts, and porters bringing supplies and cooking.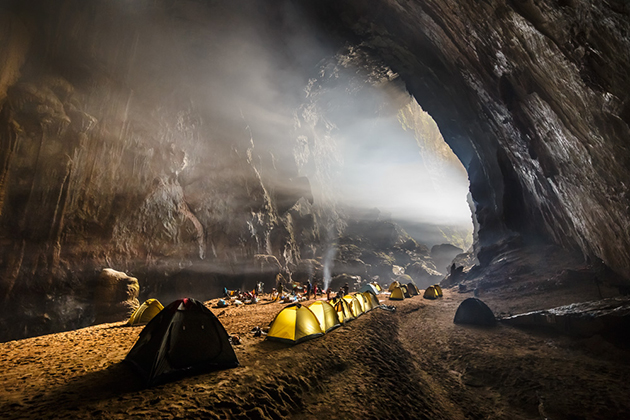 Son Doong Cave's Interesting Facts
The cave is 5.5 miles in length. It is so big that at it can accommodate a 40-story skyscraper at the tallest point. While at its widest point it can room an aircraft Boeing 747.
The entrance gate of Son Doong Cave has first discovered thanks to the rain. A local farmer whose name was Ho Khanh found the Son Doong Cave's entrance in 1991. One day, when he was earning his daily living by collecting aloeswood in the jungle, he unintentionally got caught in the heavy rainfall and getting worried about the flood sweeping through the jungle. He was provoked to seek shelter from the rain and accidentally the place where he sheltered was exactly Son Dong Cave.
Son Doong Cave is quite near Vietnam – Lao border and it has a very deep and huge lake inside.
Son Doong Cave is where can be found big limestone cave pearls. There is a system of emerging stalactites and limestone cave pearls scattered in ancient pools. Scare limestone cave pearls were formed by the natural phenomenon through hundreds of years, in which water dripped down, dried up, and left calcite layers covering grains of sand.
Son Doong Cave tours were first opened to the public in 2013. However, only 1,000 visitors are allowed to enter the cave each year and each tour to Son Doong Cave just lasts 4 days and 3 nights.